James Valentine, an attorney with Hyman, Phelps & McNamara specializing in regulatory law, sits down with Neil to discuss the FDA's accelerated approval of Biogen's Aduhelm for Alzheimer's disease and offers a contrarian take on the controversy.
Available on SoundCloud, here.
Available on iTunes, here.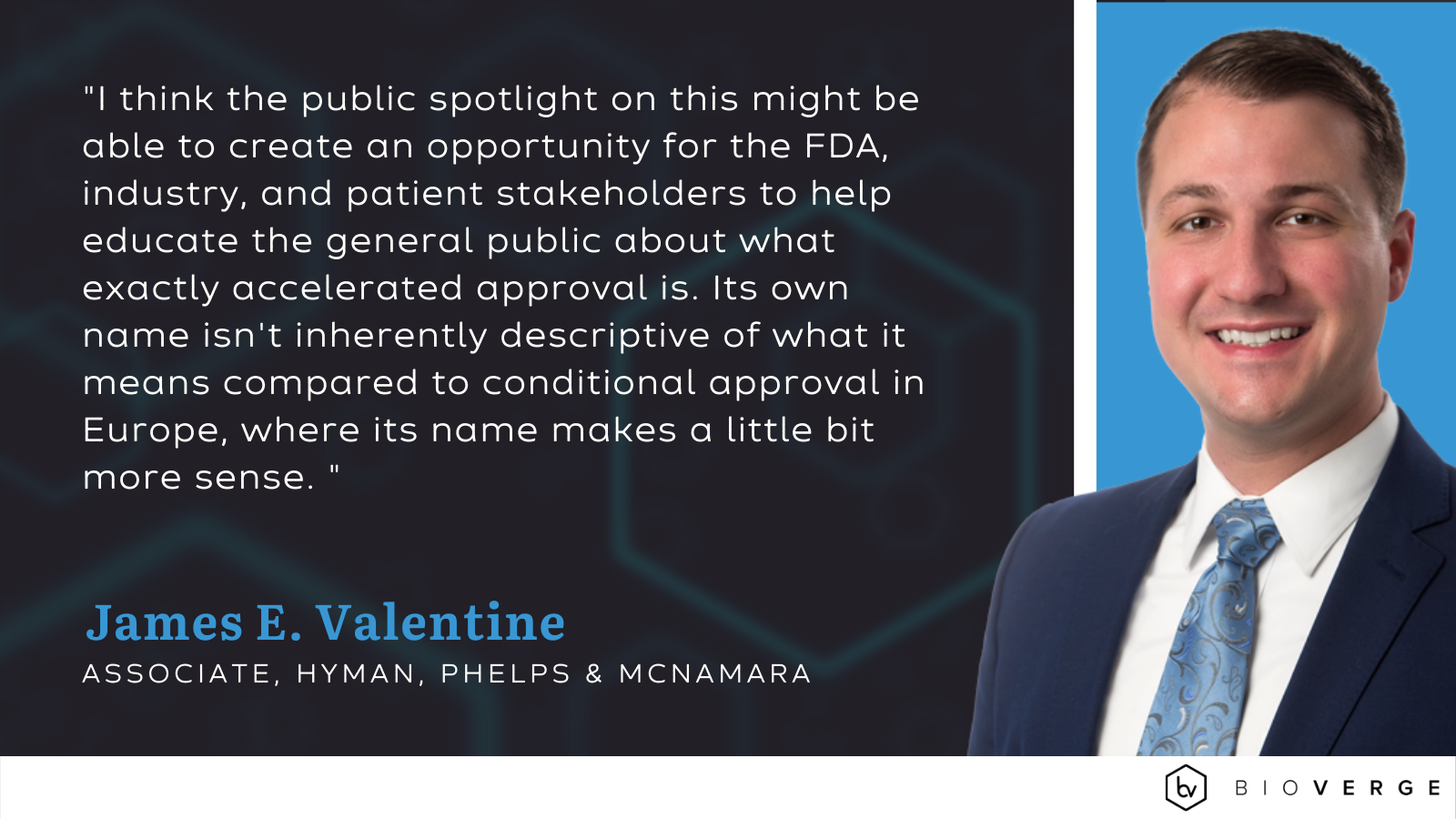 Full Transcript

Danny Levine (Producer)
Who do we have today?

Neil Littman (Host)
Today. We have James Valentine on the show. I'm super excited to talk to James. So we're going to talk about the controversy over the FDA's recent approval of Aduhelm. Or as you can imagine, this is Biogen's therapy for Alzheimer's disease or Alzheimer's affects 6.2 million Americans. James is a senior associate at Hyman, Phelps, and McNamara is also a professor of food and drug law at the university of Maryland school of law. I think what's really interesting in terms of James. His background is his regulatory expertise. James previously worked at the FDA in the office of health and constituent affairs while he was at the FDA he'd facilitated patient input in benefit risk decision-making. He also served as a liaison to multiple stakeholders on a wide range of regulatory policy issues. James also administered the FDA patient representative program and helped launch the patient focused drug development program as well as the FDA patient network.

Neil Littman (Host)
As you can tell from James's background, I'm really excited to have him on the show today to learn more about how the FDA works with and incorporates the patient perspective into their decision-making process and how that may have impacted the decision to approve a do help.

Danny Levine (Producer)
Yeah, we recorded this interview at the start of July, but a number of things have happened since then. What's happened since then.

Neil Littman (Host)
That's all right. To any, I mean, this is a fast moving saga. More news seems to be coming out almost on a daily basis. First of all, following a weeks of criticism around the broad label for educada MAB, it was approved for anyone with Alzheimer's disease. The FDA is now narrowing the recommended window to patients that have a milder form of the disease on the surface. That seems to make a ton of sense and is much more aligned with the patient population that was included in Biogen's late stage trials. Second, both Biogen and the FDA are now the subject of a congressional probe. That's being led by the house committee on oversight and reform. There's a lot of concern and speculation over the company's pricing tactics, as well as the FDA's approval process. I think lawmakers have raised concerns about the undue influence over the FDA's review process.

Neil Littman (Host)
There's a ongoing congressional probe around that likely in response to this Janet Woodcock who's the head of the FDA has also called for an independent investigation into Biogen and FDA's relationship during the process that led to the approval. Needless to say, things are really moving and evolving quickly. However, I believe the show that we recorded with James really hits the crucial points of the controversy head on. So excited to dive into that.

Danny Levine (Producer)
Before we turn to James, why don't you just help listeners understand exactly what we're talking about with the drug?

Neil Littman (Host)
Yeah, I think that's, that's, we'll provide some good context, Danny. As you can imagine specifically targets what are known as amyloid beta plaques that accumulate in the brain of Alzheimer's patients, as you can imagine, as the name implies, it ends in MAB. So it's a monoclonal antibody. The working hypothesis is that by targeting these plaques with the drug, you can actually destroy the plaque and slow down or stop the progression of the disease. Now it's really important to note that even with Aduhelm approval, there was no clear clinical evidence that targeting and destroying the plaque will stop or slow the progression of the disease. That's a super important point to keep in mind for the discussion with James. Cause there is a specific regulatory pathway that FDA utilize to approve the drug, despite the lack of evidence of the clinical benefit. James and I will we'll get into detail around that.

Danny Levine (Producer)
Well, if there's nothing else, let's turn to James,

Neil Littman (Host)
Let's do it. Hi James. I've really been looking forward to this discussion. First I'd like to say a huge thanks for joining us today and welcome to the show,

James Valentine (Guest)
Paul, thank you so much for having me.

Neil Littman (Host)
My pleasure today. We are going to talk about the controversy over the FDA's recent approval of . This is Biogen's therapy for Alzheimer's disease, which if I have my numbers, right, effect 6.2 million Americans, it was a highly controversial approval. I want to dive into the approval specifically, the role of patient focused drug development, your thoughts around this topic, given your extensive experience, which I think run counter to much of the criticism that's been captured in media at the moment, just for some quick background to help orient our listeners, as you can imagine, is the first new treatment approved for Alzheimer's since 2003, it's the first therapy that targets the fundamental pathophysiology of the disease, specifically the amyloid beta plaque in the brain, much of the controversy that we're going to be talking about today surrounds the lack of clinical evidence and the approval based on a surrogate endpoint of reduction of amyloid beta plaque in the brain.

Neil Littman (Host)
We're going to get into all of that with James, but first James, I I'd love to take a step back and talk about the evolution of the FDA with regards to the patient perspective, the role that plays in his decision-making ability. You had worked at the FDA's office of special health issues. Can you talk about what that is and then how that came about?

James Valentine (Guest)
Sure. It's a good question and it's always fun to talk about particular FDA offices given how frequently FDA has always reorganizing, so that particular office isn't even in existence by that name today. This office was actually, the very first office or even function at FDA that was geared towards engaging with patient stakeholders. There was never before a, a function for, liaising or even talking to patient stakeholders. Back in the 1980s during the HIV aids crisis, when so much activism was occurring and many of us have seen the photos or maybe were even there when, the aids activists with act up, surrounded FDA for a day and essentially closed down the agency to kind of protest the slow reviews and lack of approvals for HIV aids that really, caused FDA to realize that, obviously, patients were affected by their decisions, but importantly, that the needs of patients really should be considered.

James Valentine (Guest)
That led to the creation of the aids relation staff, which, over time as FDA then began to engage with other patient communities, breast cancer and other cancers kind of in the nineties and eventually all serious and life-threatening diseases, which as you could imagine as a really broad capture of different conditions that aids relation staff became the office of aids and special health issues and eventually office of special health issues today, it essentially resides in what is now the office of patient affairs within the commissioner's office and was because it was the first patient engagement office to exist. It serviced all of the medical product centers across the agency. I was there, were working not only with the center for drug evaluation and research, but also in biologics and medical devices, to help bring patient stakeholders, voices to the table either directly or indirectly, so that way they eat individually or kind of bringing information from their community could, share their experiences and their preferences with the agency.

Neil Littman (Host)
It sounds like this particular office has really expanded in scope over the years. His role has evolved fairly significantly since the eighties. And, it's, I think that this is all accumulated in the crashing of the commitment to patient focused drug development, which became incorporated in Purdue for five. Can you, can you talk about how that initiative has changed the way the FDA and the patient communities interact?

James Valentine (Guest)
Yeah. This kind of evolution towards patient focused drug development kind of reflects the overall evolution of patient engagement at the agency, which was one that was, primarily focused on, one being reactive. Honestly, it doesn't, it wasn't just with the HIV aids activists, but often FDA was reacting to when patients were bringing issues or considerations before them. It also was, done primarily with individual patients, stakeholders, for example, FDA had the FDA patient representative program, which allows patients to serve as a special government employees serving on advisory committees. You've probably seen patient representatives serve along with the medical and other scientific experts on committees, but also as consultants to the agency. With PFDD, after, many years of having experience now across many of the review functions at FDA and seeing the value of, what, tapping into the expertise that patients provide and their own lived experience and about their own treatment goals, really at the direction of Dr.

James Valentine (Guest)
Janet Woodcock, who was at the time, the Cedar center director, of course there was this idea that we should, the agency should be doing this more proactively, there's many development programs that don't have a patient advocacy organization, knocking on the door to have a conversation, FDA should be able to benefit from patient the patient voice, then these other disease areas. It also should be more representative, can we tap into, a larger proportion of the patient community and hear a range of voices? That's what were considering when were negotiating, when I was at the agency negotiating the fifth reauthorization of Paducah. And, the, I, the idea then was, we recognize that FDA at the time of a approval decision needed to evaluate drug benefits and risks and make that benefit risk kind of balance determination. That, there is no really there is no formula to apply to that.

James Valentine (Guest)
So there is judgment involved. PFDD, as we call it was designed to really help set the context for those benefit risk decisions through really what I consider a pilot, through these PFDD meetings as just a way to demonstrate that you can solicit this type of patient input that can really then help set those product, the context for those product decisions.

Neil Littman (Host)
Yeah. Thanks James. For the context, I want to come back to the point that you mentioned around weighing the risks and benefits, because I think that's really critical. I do want to put a pin in that and come back. I do want to shift gears and then now dive into the approval of right. The FDA granted accelerated approval to the drug, I guess a couple of questions. I mean, first, do you think the FDA's recent experience with the COVID vaccines may have paved the way for them to be more comfortable with this type of accelerated approval pathway in general? Actually before we even jump into that, maybe we can take a step back and can you explain to our listeners the purpose of the accelerated approval pathway in general, how it works and how it's different from a full approval?

James Valentine (Guest)
Yeah, no, and it's, this is a really important question because in the work that I do and, working in new drug and biologic development, I think that there are actually some misconceptions about what exactly accelerated approval is. So, so accelerated approval is really a tool that helps expedite drug development in certain appropriate circumstances. That's where you have a serious or life-threatening disease, and you have an unmet medical need that could be addressed by a given therapy. And, the way that it works is that rather than requiring a clinical program that studies the ultimate clinical benefit, particularly in slowly progressive diseases where it might take a really long time to show a treatment benefit of slowing or stopping that progression in order to see that between group difference. Instead in these cases, FDA's regulations allow that the agency to approve based off of a surrogate endpoint, like a biomarker to serve as the basis of approval, as long as that biomarker is I'm using air quotes here reasonably likely to predict that's the evidentiary standard.

James Valentine (Guest)
It has to be reasonably likely to predict the ultimate clinical benefit. So essentially it allows the showing of efficacy on a surrogate, which can occur sooner than of course, the showing on the clinical benefit, allowing that approval to occur in a more expedited fashion by having those shorter trials, but the trade-off is, and as a condition of that approval, the company must still conduct a post-approval study that will actually go on to confirm the ultimate clinical benefit.

Neil Littman (Host)
Okay. I think this is, I think really at the heart of a lot of the controversy. So, as many of our listeners probably know, right edge academy was approved, despite the fact that an advisory committee in this case, the peripheral and central nervous system, drugs advisory committee, what right. Was it our experts in the field found that there was no evidence supporting the approval, no clinical evidence supporting their approval. I think this was a large part of the controversy. So, as you said, it sounds like the accelerated approval pathway, even with lack of clinical evidence can use this surrogate biomarker as a proxy for the drug's effectiveness.

James Valentine (Guest)
One important thing is, not all surrogate end points are the same under FDA's regulatory framework. So, there's certain examples where, drugs are approved and they get full approval, based off of a validated surrogate endpoint, not all surrogates are, have the same kind of regulatory magnitude in terms of supporting approvals. You can have validated surrogates things like FEV one, which is a pulmonary measure, surrogate endpoint for asthma to get a full approval. Or for example, in hypercholesterolemia settings, you can measure CRM, LDL, cholesterol, and on that blood, bio-marker also get a full approval. That's because these endpoints are known to predict the ultimate clinical benefit. What distinguishes that from accelerated approval is that surrogate end points for accelerated approval are by definition unvalidated surrogates. To me, this is a big misconception, I even with the at-home approval, I I've seen some quotes of some of the, those criticizing the approval, including some advisory committee members that, kind of balk at the amyloid reduction, as, being approved on a, a surrogate that's not validated.

James Valentine (Guest)
In fact, that's not the regulatory criteria for this type of surrogate, so what that means is for accelerated approval, you can have a higher degree of uncertainty and lower predictive value because you only need to show that surrogate is reasonably likely to predict. So, what that means is if accelerated approval as an overall program works, we shouldn't expect all drugs approved based off of these unvalidated surrogates to actually have the clinical benefit be confirmed in the post-approval setting. So with Alto, it's really interesting, so the law doesn't require that, the amyloid beta reductions in the brain be so well-established that they are known to predict clinical benefit. You also don't need to show that clinical benefit directly at the time of approval, but that's what, some of the critics seem to imply, instead you're in a situation where there is uncertainty. It's really going to be left up to patients and physicians to decide whether to take that drug.

Neil Littman (Host)
James, as you had mentioned before, I think the key here is the warding reasonably likely to predict under the accelerated approval pathway. And, and so, I think you had, you had stated that you find it actually contradictory to hear some critics in the F suggest that the FDA violated public trust in approving the drug. Can you explain what you meant by that, in the context of this accelerated approval pathway?

James Valentine (Guest)
Yeah, absolutely. So, as someone who's worked for 13 years, my whole career as an advocate for patients to, have this voice at the table, be able to contribute to the discussion around drug development and review, first at FDA. Now at the work that I do actually representing these patient communities, it just struck me as very paternalistic to be having, ultimately, these people who are physicians, although they identify themselves as public health or consumer advocates to be asserting that their own discontent or disagreement with the decision, should be raising a red plaid red flag for the public. When ultimately, it's the general public, isn't the population that's going to have to bear either the benefits and risks of the marketed drug. It's not the public that is going to have to deal with the consequences of a potential type two error or said differently, a false negative, finding or decision, that a helpful drug would not be approved.

James Valentine (Guest)
That really is going to be the patients that people living with Alzheimer's and at risk for Alzheimer's, and they're the ones that have to deal with the potential of, continuing to experience cognitive decline and ultimately, being at risk of losing, their identities and their lives. To me, it was just contradictory to have people claiming to represent the public interest. They would ignore the fact that, these patients, this patient community, the Alzheimer's community themselves had actually spoken out about whether this is something they'd be willing tolerate. And, based off of what FDA said around the approval, it seemed to be real evidence-based informed input that they had received from patients.

Neil Littman (Host)
Yeah. James, I want to go back to the point about risks and benefits, and you had just mentioned type two errors. I, I want to dive into that cause you've written pretty extensively about, how much uncertainty is acceptable. I think actually specifically in a PCU stated, and I quote w when a disease is serious or life-threatening, and it has an unmet medical need because there are serious risks associated with not approving the drug. I use serious morbidity, oftentimes irreversible and progressive and risk mortality. FDA must also balance the risk of making a type two error or false negative conclusions from the data in hand. Can you explain a little more what you mean by that?

James Valentine (Guest)
Sure. So I think most of us in the scientific community and the clinical research community, have historically focused on type one error, which is the error where we would make a false positive conclusion. So, the whole paradigm is designed to test hypotheses to try to ensure that we're not making false positive conclusions. And, so when we, evaluate drugs or we ask advisory committees to evaluate drugs, they're primarily focused on, making sure that we don't approve a drug that doesn't actually work, but there are settings and the FDA's own regulatory framework acknowledges this, that, we should be balancing that consideration and protecting kind of the public health by avoiding type one errors by also avoiding false negative or type two errors. That is because of exactly what you quoted, the alternative for these patients is actually quite serious harm if we make the wrong decision and, basically conclude that a drug doesn't work when in fact it does.

James Valentine (Guest)
Ultimately, there's never a clear answer. I would say for almost any drug that's approved, there's, no drug works for every patient and, the amount of certainty we have about, the amount, the rate that a drug works for any population is also never 100%. It really always is this inherent balance between the two and in these conditions where harm would be very great for a potential type two or false negative conclusion. We really should be more kind of explicit in considering that, and, it's something that, I don't think is done routinely enough, and I think that's one place where patients can be advocates for themselves is to help make sure that decision makers, are really contemplating that possibility.

Neil Littman (Host)
Yeah. I think that's a really important, important point here. I want to go back to the role that patient input may have played in setting the stage for this approval. You had done a really nice job of laying out the history of the FDA, through the patient interaction, through the HIV aids epidemic. I think in more recent history, the approval that comes to mind was in Duchenne muscular dystrophy and the input of patient advocacies involved in, in the approval of that drug. I think Janet Woodcock was heading the FDA at that time as well. What role do you think that patient input played in the EduCon MAB approval?

James Valentine (Guest)
Sure. Kind of a initial disclaimer is that I wasn't involved in this product or with the patient advocates and advocating around this product. So, my reflections are kind of as an outsider, but what really stood out to me in looking at FDA statements around the approvals, including their own review documents were some consistent statements. I would say they primarily came from statements made by the head of the office of new drugs, Dr. Peter Stein, but certainly were reiterated in the joint Washington post op-ed. That was coauthored by the Cedar center director, Dr. As well as Dr. Stein and the head of the office of neuroscience, Dr. Don, where, they discussed that they had met with representatives from the Alzheimer's disease patient community in a meeting type that's called a listening session. During that meeting, those patient representatives shared their tolerance for less certainty of a treatment benefit.

James Valentine (Guest)
What was clear to FDA and what FDA articulated around making this approval decision was that they heard loud and clear that patients were willing tolerate the inherent uncertainty that comes with an unvalidated surrogate endpoint. What were talking about before one, that's only reasonably likely to predict clinical benefit. They knew that it was quite possible that clinical benefit would not be confirmed, which is kind of at the core of accelerated approval. To me, this is important, it, that it, because it helps FDA to know when it's actually appropriate to use tools like accelerated approval that, apply some type of flexibility, but introduce greater uncertainty. It's not going to be appropriate for FDA to use those tools in every case. So, in my mind, who better to help FDA decide whether or not to use some tool in its toolbox, then those who are ultimately going to bear the consequence of FDA's decision, which are of course the patients, the only other thing I, I want to add on this, thinking about, the role that patients played, sometimes, and you, you harken back to the approval of a Templar sin for Duchenne muscular dystrophy.

James Valentine (Guest)
Sometimes what you see characterized in the press is, patient in kind of input is called public pressure. To me, I think that's, a gross overgeneralization and has a, inappropriate connotation, cause really what I've seen, and, over the last 13 years, our patient advocates that, are data-driven evidence driven. They vary, work with their community to really thoughtfully contemplate, benefits and risks and try to, get a good idea of patients in their communities preferences. They present that in a way that really sets the context for FDA decisions. It really isn't, what that term public pressure would imply, which is more of a brute pressure to just try to force FDA's hand.

Neil Littman (Host)
Yeah. I think that's a really important distinction and clarification, w when I was a part of the California Institute for regenerative medicine, we had patient advocates at every stage of our process, including on the board in review panels, advisory committees and things like that. And, and getting the patient perspective was always critical in terms of assessing the merits of, providing grant funding to particular therapies. And, and I think industry as a whole has really definitely embraced this idea of, patient centric, drug development, and having the patient's voice heard. I think absolutely, we're moving in the right direction there, I guess, my next question, does, does this decision set a precedent going forward for how the FDA may be able to utilize this accelerated approval tool?

James Valentine (Guest)
Yeah. So, it's kind of an interesting question. One is, as I think back and look at the use of the accelerated approval tool, obviously it goes back to the HIV aids days. Now that tool was helped, helped HIV aids become a chronic disease. You look at its use extensively, more so than in any other, medical area, as in cancer. You look at how far we've come along and kind of being able to treat so many different types of cancer and even looking back, I think it was the second accelerated approval ever was in neurology. That was Betaseron for multiple sclerosis, and if you look across all of those examples, the same standard is being applied, with these unvalidated surrogates and, none of their use in any of those cases really changed the bar for approval. One thing that I've done in some research has actually read all of the medical and statistical reviews for FDA approvals specifically in rare diseases, but to look, to see, how FDA applies flexibility.

James Valentine (Guest)
One thing that, I've seen, since the introduction of the orphan drug act, which is how far back we looked was that FDA really, is extremely consistent, decade by decade and how frequently it uses it's tools for flexibility, including accelerated approval. I don't have any reason to believe from seeing this approval decision, nothing stands out to me as particularly unique compared to other accelerated approvals. And, I, I don't think using it in Alzheimer's is going to change the landscape any more than when it was used for Ms.

Neil Littman (Host)
James, do I have any of the drugs that utilizes pathway been removed from the market due to lack of further evidence?

James Valentine (Guest)
Yeah. There have been limited cases where you usually it's, the sponsor will voluntarily withdraw the product from the market, but by and large, that has not been a tool widely used often what happens is it's not a clear outcome of whether or not there's the ultimate clinical benefit. So, what we've been seeing is kind of extensions or additional information being sought to try to help answer that question. That's a, an interesting point that you raised because, to me, as I'm thinking about accelerated approval, a lot of people of course are worried that this is, there's a trend maybe to overuse a form of flexibility, but I had actually been, seeing FDA maybe tighten its use of accelerated approval and is someone who sees the value in that tool was worried about that tightening. And, and a lot of that had to do with the ability of FDA and sponsors doing these studies, being able to agree that, to a confirmatory study, which is that study that's done in the post-approval setting, to know that it will actually be designed in a way that would produce interpretable data.

James Valentine (Guest)
We've seen kind of recently, in October of last year, Cedar proposing withdrawal of McKenna, we saw in April this year, FDA's oncologic drug advisory committee meeting to review a number of drugs with oncology indications, so it seemed to be a bit of a part of a broader evaluation of accelerated approvals in oncology. So when I, I look at the, approval, it actually does give me some confidence that, senior leaders within FDA, believe that there is a, that we can, design these confirmatory studies so that they will be interpretable.

Neil Littman (Host)
And, and so I think that's a good segue into w what does Biogen need to do in terms of a confirmatory study? So, would this be considered a phase four trial that they would be conducting?

James Valentine (Guest)
Yes. In any accelerated approval, what will happen is oftentimes these PO phase four kind of they're referred to as confirmatory studies because they're confirming that ultimate clinical benefit. Those studies are either negotiated with FDA prior to the approval and are oftentimes actually initiated with recruitment starting prior to the approval. In other cases, perhaps where, the approval or the path to an accelerated approval was not clear prior to the drug getting approved, which may be the case for Abu helm. That confirmatory study is actually, the specifics of it are negotiated even after the approval, but what you'll see in any accelerated approval letter is a requirement for that post approval study. So, here Biogen, has certain milestones that they have to meet for drafting a protocol, submitting a final protocol and completing the clinical trial as a condition of their approval.

Neil Littman (Host)
Makes sense. So, it really sounds like there's a lot of concern in the media, in the public domain of, a backlash of sorts. There's a lot of speculation that this will lower the regulatory bar for others, it's endangering, public safety. It sounds like, this accelerated approval pathway is something that has always been in the, in the tool belt of the FDA. It's something that FDA has used many times over the years and over the decades that it does come with, certain laws regarding approval, as we've talked about in terms of, surrogate end points and things like that. I mean, do you, at any way view this approval of, fundamentally changing our altering the FDA standards in any way whatsoever,

James Valentine (Guest)
As I kind of talked about with the history of use of accelerated approval, and it really has been an application of the, that same standard, which I think is just not well, universally not well understood that reasonably likely to predict evidentiary kind of standard, so to me, I think hopefully if anything, the public spotlight on this, it might be able to create an opportunity, for FDA and even industry and patient stakeholders to help kind of educate the general public about what exactly is accelerated approval. I, it obviously in its own name, isn't inherently descriptive of what it means, perhaps compared to like conditional approval in Europe, which kind of makes its name makes more sense. The other thing is, I think, part of this is where there's just so much more experience with using accelerated approval and oncology. Even though I did mention, Betaseron for Ms.

James Valentine (Guest)
Largely, use of accelerated approval has been almost exclusively in oncology. Perhaps this is a chance for us to also, pull back the curtain on those cancer approved drug approvals, and use that where I think people really are comfortable with accelerated approval and the uncertainty tied to, accelerated approvals. I think, inherently people understand that cancer patients are willing to take on a lot of risks, maybe apply that, something that's relatable now to these other conditions, Alzheimer's other neurodegenerative conditions and beyond.

Neil Littman (Host)
Yeah. And, and I couldn't agree more. I mean, I, people have heard me harp on this idea of, operation warp speed with COVID and look how effective that was. Why don't we have something similar for all of these types of devastating diseases that have, our unmet medical needs. Know maybe this is a step in that direction. James, with that, I think we could probably spend the next two days talking about some of the nuances here, but I think we'll, we'll call it a day and I want to thank you for your insights and your time and for joining me on the show today.

James Valentine (Guest)
Yeah. Well, thank you for having me.

Danny Levine (Producer)
Well, Neil, what did you think?

Neil Littman (Host)
I thought that was an awesome discussion with James. Just to recap, what I heard was, and I think this is really the critical point that the FDA used. One of the tools in their arsenal it's called the accelerator approval pathway. It allows the FDA to approve drugs based on a surrogate endpoint that is, and I'm quoting reasonably likely to predict clinical benefit. So that's how and why Aduhelm was approved despite the lack of clinical evidence. That is what a lot of the controversy is wrapped up. Now this approval pathway has certainly garnered a ton of media attention, but it's not the first time the FDA has utilized this pathway. You heard James talk about the history of the FDA, working with patient advocacy groups, how they incorporate the patient perspective into their risk assessment. And decision-making process. You talked about, you heard James talk about some other approvals in the oncology space and a drug for Duchenne muscular dystrophy more recently.

Neil Littman (Host)
So, clearly things are still unfolding when it comes to a new home. What is really clear to me is that this approval will certainly drive increased investment in space from both pharma, biotech and investors, and may very well lead to the development of a much more efficacious drug in the future. To me, it's a huge net positive for patients at the end of the day. I think the jury's still out about the ultimate clinical benefits of, as you can imagine, but overall, I think the increase awareness is bringing to the sector, the increased appetite for other companies to develop new drugs, I think will ultimately be a net positive.

Danny Levine (Producer)
How much of this do you think was driven by just a fundamental lack of understanding among the public about this mechanism that the FDA used?

Neil Littman (Host)
Well, I think that's a large part of it. So you heard James talk in detail about the accelerated pathway mechanism, how and why that allowed for the approval of Aduhelm that did not have a clear clinical benefit, but the pathway allows for that based on these surrogate endpoints. I, I think a lot of controversy is around the misunderstanding of how the drug was approved, but, there's also a lot of criticism around the pricing of the drug. This is not an orphan disease, there's over 6 million Americans that have Alzheimer's. I think there's a lot of concern around, the Medicare and insurers paying for a drug that may not be effective and the ultimate cost to society. That's not w that we didn't get into that type of detail in discussion with James in regards to the pricing. I think there's a really critical issue. Actually that's something I'd love to say for another episode,

Danny Levine (Producer)
Bottom line. Do you think this is going to raise the bar in the future for the FDA and approving drugs on this basis? Or do you think this opens the door for more approvals like that?

Neil Littman (Host)
My hope is that it opens the door for more widespread use of the accelerated approval pathway, particularly for diseases that have no viable treatment alternatives that are unmet medical needs. Clearly there's a tremendous amount of backlash at the moment. There's, there are congressional probes going on. There's a whole lot of concern around this approval in particular. So, I think the jury is still out about how this will affect what the FDA does going forward, but I think it was a pretty clear signal that the FDA is not afraid to use this tool in their arsenal to approve drugs.

Danny Levine (Producer)
Well until next time.

Neil Littman (Host)
Thanks, Danny.

Danny Levine (Producer)
Thanks for listening. The bio verge is a product of bio Virginia investment platform, buttons, visionary entrepreneurs with the aim of transforming health viral birds provides access and enables everyone to invest in highly vetted healthcare startups on the cutting edge of innovation from family offices and registered investment advisors and non-accredited individuals to learn more, go to bio verge.com. This podcast is produced for bioburden by the use it for this podcast is provided the Curtis Jonah Levine collective.