Summary
On the latest episode of The Bioverge Podcast, Amit Etkin, Founder and CEO of Alto Neuroscience, sits down with Neil Littman to discuss the lack of innovation in psychiatric medicines, how Alto has identified AI-derived brain biomarkers, and how that is fueling its pipeline of precision therapies to treat mental health disorders.
"For us, a lot of this is fine-tuning our biomarkers by what we think we can also manipulate in terms of brain systems that we manipulate with a drug so that you can truly put this together in an engineering-minded approach."
Listen wherever you got your podcasts (links below)
#mentalhealth #techbio #AI #podcast #neuroscience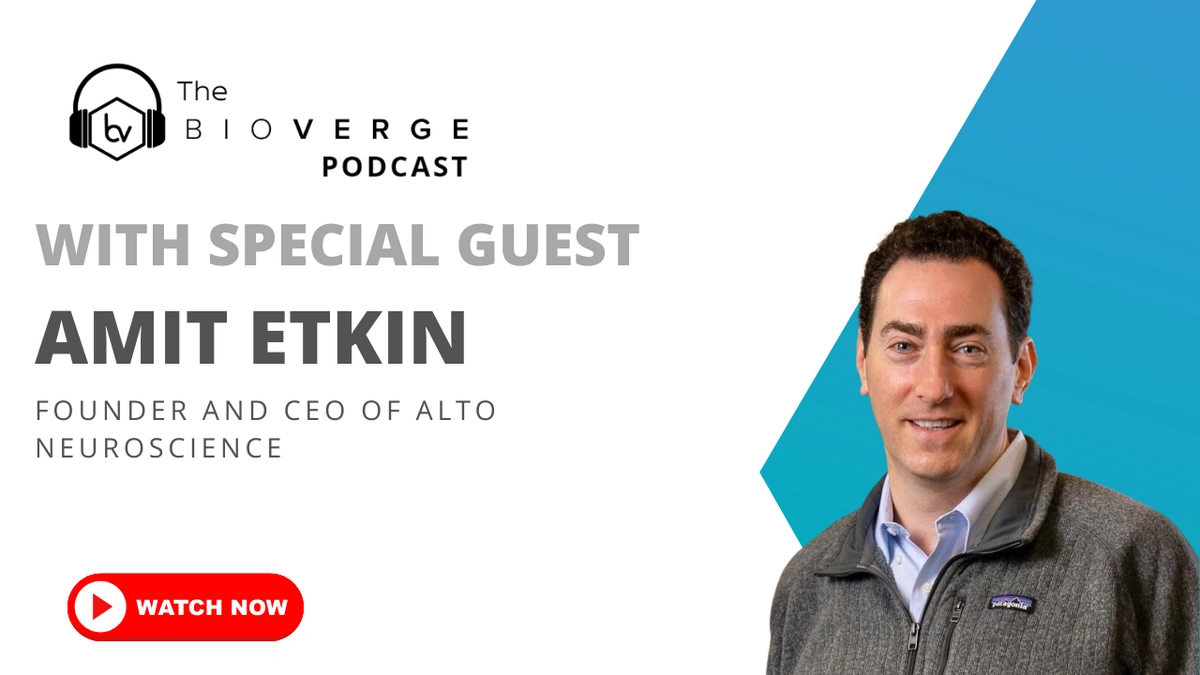 Transcript
00:09
Danny Levine (Producer)
You're listening to the Bioverge Podcast with Neil Littman.

00:29
Danny Levine (Producer)
Yeah, we've got Amit Etkin on today. For listeners not familiar with Amit, who is he?

00:35
Neil Littman (Host)
I am incredibly excited to welcome Amit to the show today. He is the founder and CEO of Alto Neuroscience, which is a clinical stage biotech company that is pioneering precision psychiatry. Amit is a trained psychiatrist, he's a neuroscience, and he served on Stanford University's faculty for over a decade before launching Alto out of his lab in, I believe it was November of 2019. So just before the COVID pandemic hit. As a previously attenured professor, amit was an international leader in the neuroscience of psychiatric disorders and their treatments. He has a proven track record of success with publications in high impact journals, and also has since raised, I believe, about $100 million of equity financing. They are pursuing, as I mentioned before, this idea of precision psychiatry, which I'm really excited to talk to Amit about, and what that means and what the state of psychiatry is today and what Alto is looking to do differently.

01:36
Neil Littman (Host)
The other thing that I want to mention, Danny, is for full disclosure, alto Neuroscience is a bioverse portfolio company.

01:43
Danny Levine (Producer)
We've seen enormous innovation in therapeutics, in cancer and autoimmune disease, but psychiatry has really lagged behind these other areas in terms of innovation and bringing precision medicine to bear. Why do you think that is?

01:59
Neil Littman (Host)
Yeah, it's a really good question, Danny, and I'm going to ask Amin about that because obviously have a great perspective, but you're spot on. The state of psychiatric medicine today hasn't really changed over the past couple of decades, and it's largely done by trial and error. We've made tremendous advancements in highly targeted precision medicines in areas like oncology, but we haven't made those same approaches in psychiatric medicine. I really want to dive in and understand some of the fundamental issues around that. It because the biology of the brain is so complex or other underlying issues that have prevented more progress? I think I saw a stat the other day. In the past 20 years, only one drug with a novel mechanism of action has won approval for some of the major psychiatric disorders out there, like major depressive disorder, PTSD, or addiction. I want to understand why there's been such a lack of progress.

02:58
Neil Littman (Host)
Given a meats background, he'll undoubtedly have a good perspective on that.

03:03
Danny Levine (Producer)
The idea of matching the right drug to the right patient seems so fundamental to anyone who's lived in a world of precision medicine. Alta is really an innovator in bringing this into psychiatry. Absent of that, has this just been a matter of trial and error for doctors to get the drug right?

03:23
Neil Littman (Host)
It has, yeah. In psychiatric medicine, it has been trial and error. You prescribe something, see how a patient responds, if they respond, and more often than not, they won't. You cycle them between drugs until you find something that works. That's kind of a sad state of affairs in this day and age. So, if we think about the state of precision or personalized medicine, we've made a lot of progress in other areas, and there's still a long way to go, don't get me wrong. For whatever reason, we haven't made that type of progress with mental health conditions. Obviously, the pandemic brought mental health to the forefront of all of our minds. I really love the approach that Alto is taking. I think they're trying to move psychiatric based drug development to what other areas have been doing for oftentimes decades now. I think they have this really novel approach.

04:18
Neil Littman (Host)
What I'm really curious about are, what are the types of biomarkers that alto is using? How are they using those to predict if a patient will respond or not to a particular therapeutic regimen?

04:29
Danny Levine (Producer)
Well, if you're ready, then let's do it.

04:34
Neil Littman (Host)
Amit, thanks for joining us. I am incredibly excited to welcome you to the show today.

04:39
Amit Etkin (Guest)
Thank you for having me and looking forward to the discussion.

04:42
Neil Littman (Host)
Today we are going to talk about psychiatric medicine, alto neuroscience, and your efforts to bring precision medicine to the world of mental health. Let's first start from the 30,000 foot vantage point with the state of psychiatric medicine today. If I think about areas such as oncology, there has been significant progress toward understanding the molecular mechanisms of disease, and specifically the genetic drivers of disease, in an effort to determine the most appropriate therapy. In the case of cancer, differences in an individual's biology and specific the genetic mutations of their cancer will impact the treatment they are prescribed and how likely they are to respond to a given treatment. What is the current state of psychiatric medicine today? Has there been a push for the same types of targeted therapies we've seen in other areas like cancer?

05:36
Amit Etkin (Guest)
If you ask that question 20 or 30 years ago, you get the same answer that I'm about to give you, which is a really unfortunate fact that very little has moved in this field, despite the huge need, which, frankly, has only been growing. Our our numbers that we often cite are those even before the pandemic? We all know how much worse mental health has become throughout the pandemic and afterwards. The sad truth is this is to the frustration of both patients and providers that we don't have any objective diagnostics to leverage. We don't really know what's going on with any of our patients. We select our medications by trial and error. Completely literally. The only information I would have as a psychiatrist about a patient and what to give them is if they happen to have taken it before and responded to it, which is no phenomenal feat.

06:31
Amit Etkin (Guest)
Or maybe if a family member responded to a medication maybe I'd grab that one first. That means that the course of any of our illnesses, and that includes depression, bipolar disorder, PTSD, schizophrenia, what have you, are chronic. They are these very long cycles. It takes us two to three months often to know if a drug has had a desired effect. We only know that through these experiential or symptomatic reports and no ability to actually learn how to do this better through each cycle within a patient or across the patient, across multiple patients. And that's super frustrating. There's a huge toll also just economically, socially to this. Unfortunately, this hasn't changed really since the era of modern antidepressants and antipsychotics.

07:29
Neil Littman (Host)
So, Amit, let's dive into that a little more before we get into what you're doing. At Alto Neuroscience, you mentioned this idea of trial and error, and that is still largely how psychiatry is practiced today. I'm curious why that is the case. Does it reflect an underlying lack of understanding of the basic biology of some of these conditions, or are there some other fundamental reasons?

07:53
Amit Etkin (Guest)
A lot of people do mention that the complexity of the brain could certainly be one reason why we have the problems that we have. We just don't understand enough about the brain, and when we do, that will somehow turn things around. I think it's actually more complicated, but also in a way more interesting than that, which is there's anthropology of medicine and science behind all this. If you think of what happened in the when the modern antidepressants SSRIs, for example, and antipsychotics, these second generation antipsychotics came in that were better tolerated, those ended up selling very well for pharma. What pharma got used to is basically creating MeToo copies of the same because they never really had to invest in understanding the science in psychiatry, especially on the clinical side, because we all thought were doing so well. Came some massive NIH sponsored studies in the mid 2000s that basically burst the bubble.

08:59
Amit Etkin (Guest)
By the time they burst the bubble, showing that actual care in the real world was nowhere near as good as we thought in our trials, the science backing the ability to develop new medicines when we're talking about people and developing that science in people as opposed to in animals, that wasn't there. The only response pharma really had at the time was pulling out of psychiatry. So that's in part a science issue. It's in part just how money was made around development of new drugs at the time. It's important to understand in all that our diagnoses are themselves their own historical process. We started out in the early part of the 20th century with more of a psychodynamic concept like basically Freud. Over time, and especially starting in the mid 70s, there was an effort to at least codify what we mean by diagnosis. Two psychiatrists when talking about the same patient, could literally use the same words and the same kind of reference points.

10:02
Amit Etkin (Guest)
That's what became the DSM, or the diagnostic and statistical manual, so called diagnostic bible of the field. And that never involved biology. You have a situation where the major stakeholders, the major constituents of what might move the field together, never reference biology. While, yes, it's true biology is complicated, the brain is complicated, it's also much harder if you don't really try, if you don't really have that solid human neuroscience that you're collecting along the way, in the way that people have done forever. With oncology in oncology, you look to get specimens of the tumor and understand what's going on in molecular level, and that's been going on for many decades. That analog of trying to get biological data on humans at a large enough scale to really build that science that was absent until the 2010s, it's really fascinating.

11:00
Neil Littman (Host)
I want to continue with of the history, and let's transition to of the founding story of alto. I'm always curious about the origin story. You were obviously at Stanford university and part of their faculty for over a decade before launching alto out of your research lab. Can you talk about why you felt the need to start alto, and then we can get into of your mission and some of therapies you're developing.

11:28
Amit Etkin (Guest)
Absolutely. That story starts essentially where the history of the field, if you will, and pharma leaving leaves off, which is around in 2010. I went on faculty. Around that time, there became more and more of an interest in understanding the brains of patients and how they differ from each other as individuals, and trying to ask really basic questions like when we call these two diagnoses different, what are their brains look like? Are they the same? Are they different? And really digging in from there. That's what I dedicated my work at Stanford around, is getting various types of brain measures, behavioral measures of brain activity, clinical measures, even genetic measures, and trying to understand really simple questions like, can we predict treatment outcome? We know that people differ in their outcome to treatment, but that doesn't necessarily mean it's predictable. That doesn't necessarily mean that there's a lawful and replicatable reason for why that is.

12:30
Amit Etkin (Guest)
Went after that kind of basic question or what does a diagnosis mean? How are diagnoses similar to or different from each other with respect to various brain functions? Getting a cartography of the brain with respect to psychiatric illness and treatment. It got to the point where, at that point, I was a tenured full professor at a big lab. I just gotten an h director's pioneer award and really came to understand that there's a limit to what we could do in academia. Despite all of the work that we'd done in being able to subtype these disorders and replicate these subgroups of people who are similar to each other symptomatically but different from each other biologically and have different clinical outcomes, that within academia to develop the next step, which is new treatments based on information is really not possible just to the structure of academia. Even in a wonderful place like Stanford University, it's just not possible.

13:28
Amit Etkin (Guest)
That led me to leave Stanford in 2019 to found Alto, left my tenured professorship, which is itself an interesting process that I hope more academics get to go through. A huge learning opportunity there and went after this core idea that we're now focusing on at Alto, which is developing new treatments, so entirely new drugs, not more SSRIs, not more traditional antipsychotics that work better because we're able to find the people that they work for.

14:03
Neil Littman (Host)
So let's talk about that last point. And thanks for sharing the founding story. I always find those fascinating. Alto has developed a biomarker based platform, really, as you said, to identify responsive patients as a way to drive drug development. Can you explain how the platform works? What are the biomarkers that you're looking at? What are the inputs and the outputs that you're looking at to try to determine how a patient will respond and if a patient will respond to a given therapy?

14:36
Amit Etkin (Guest)
Yeah, so let's first just define what we even mean by biomarker. In different parts of medicine, people talk about biomarkers in different ways. It's almost a term without a real definition. Let's just define what I mean in this case. Anything that's measurable, in my view, about a patient that is objective, that is anchorable either directly or indirectly in the functioning of in this case, the brain can be a biomarker. So, for example, if I assess a cognitive function, you can do that with a computerized test or an in person face to face or paper and pencil test. I'm assessing things like attention, memory, decision making. Those can be biomarkers because they directly assess the function of different brain circuitry. Likewise, I can directly measure brain circuitry with what we do, which is electroencephalography or EEG, also called brainwave recordings, or functional MRI, using an MRI that's sensitive to changes in brain activity.

15:42
Amit Etkin (Guest)
So that's measuring the brain itself. You can measure things like the behavior of the person over time. Everybody goes through a circadian rhythm. You sleep at night, you're awake during the day. Various biological rhythms ride with. That all that could be measured objectively. For us, the importance of a biomarker comes essentially in a couple of different facets. It's these things that measure the biology that's relevant to the brain. There are things that they need to be things that could be scaled. Because core for us is it's not just a research effort here. It's really an effort to change clinical practice. We have to bring our biomarkers, which guide the use of our drugs to the scale of millions of people in short order. There is a tech component to this. There is also a scalability component to this. They have to be robust and meaningful and reliable.

16:36
Amit Etkin (Guest)
The list I've just given you that we look at is not meant to also be the exhaustive list. There are other things that could be relevant as we grow and we constantly look at those. We also get measures of blood things like how the expression of genes changes in your blood that can also be a biomarker. It's more indirect in terms of measuring brain activity and I think that part of the field is a much earlier stage. It's better to get it than not to get it. We try to be open minded about what our biomarkers are as long as they fulfill those criteria and then ask whether a biomarker matches up to a drug in some way. You can imagine, for example, that you want to go after a process that you don't have a good drug for. Well, that biomarker may or may not be that useful, may not be that informative.

17:31
Amit Etkin (Guest)
Alternatively, if you have a drug for a process, you have no biomarker for measuring it. Think of how hard it is, for example, to measure social interactions which are relevant for autism. That's going to make it hard to develop that drug with a biomarker. For us, a lot of this is fine tuning our biomarkers by what we think we can also manipulate in terms of brain systems that we manipulate with a drug so that you can truly put this together in an engineering minded approach. There's this concept in engineering that you can't optimize or can't modulate that which you cannot measure. By having a biomarker of understanding how people differ in these core brain functions cognition, emotion, sleep and circadian rhythms and how they respond to a drug, how that differs across people and how those drugs change their brain. You can now really wrap an industrial, almost tech like flywheel or positive reinforcement cycle so that you can get better and better at finding those people faster and find more drugs that help certain types of people.

18:40
Amit Etkin (Guest)
You have to put those two together. In my mind this has to be an effort that has as its first principle the need to scale to the size of the population that we're trying to treat, which is in the United States millions to tens of millions of people.

18:59
Neil Littman (Host)
I love the approach, I think a quite elegant approach to developing novel drugs for mental health conditions. If I think I'll just pick a biomarker I'm more familiar with you mentioned EEG. I would imagine EEG fits your criteria perfectly as it's I'm guessing almost infinitely scalable. I mean, there's tons of infrastructure around EEG, probably not very hard for a patient to go get one done in today's existing environment. Let's now talk about your pipeline and think about how those biomarkers apply to you selecting indications to go after. I know your lead indication is major depressive disorder. Talk about how you selected that as a lead indication and why you selected that and maybe also just comment on how that condition is currently being addressed by existing standard of care.

19:57
Amit Etkin (Guest)
Yeah, so maybe I'll start there because that's a very simple one. We have a lot of different drugs for depression, but most of them are pretty much the same. We have primarily monominergic, that is Serotonin norepinephrine little bit of dopamine based drugs that basically all work in the way we understand from say, prozac, which is it blocks the reuptake, the the recycling of serotonin norepinephrine and therefore increases the levels of those neurotransmitters. That builds off of years and years of work previously that essentially initially through serendipity found that this mechanism has antidepressant properties. We also have antipsychotic drugs. They're labeled, of course, as antipsychotics because they were developed for the treatment of hallucinations and other so called positive symptoms in schizophrenia. They turn out to also help depression when given on top of or adjunctively to antidepressant. That's basically it and all that is basically discovered through Serendipity.

21:07
Amit Etkin (Guest)
There's a lot that's not addressed by those drugs. There's a lot of people, the majority of people in fact, who will not respond to those drugs. What we have left is some brain stimulation approaches like TMS or transcranial magnetic stimulation, which is very few people, or electroconvulsive therapy, which is considered a very effective but late stage treatment. Again, very few people. A few things here or there that have come in recently but have not dramatically changed clinical care. If you think of what that means, what's left? Well, we're treating a portion of people well, so we need to find out who those are. We then have multiple components of depression that are either left untreated or oftentimes are never even measured. Think of things like your cognition, your ability to deploy attention, to resist distractions, to make decisions, to hold information in mind and create memories that's particularly poorly addressed.

22:09
Amit Etkin (Guest)
Issues around sleep and disruptions of sleep in various forms are poorly addressed. We've thought about those facets of depression in terms of what we can measure. Again, that idea engineering concept of measuring and manipulating at the same time and then try to understand, based on what we understood about these brain circuitry measures in people, what kind of mechanisms, what kind of new approaches could we leverage to be able to get those people better by targeting those select processes? Let me give you an example. We've thought about the importance of cognition in depression a lot. This is work in the lab at Stanford and work at Alto turns out that there is a group of people with cognitive deficits in depression whose magnitude of deficit is similar to patients with schizophrenia. So really quite impaired. The rest of the folks with depression don't have that deficit at all.

23:14
Amit Etkin (Guest)
Really can think of this as two groups, obviously. Some mixture, some different gradations, but let's think of them as two groups. We created hypotheses around what is it that might really target what's wrong in the brain and those people with poor cognition. That led us to drugs that enhance brain plasticity, or the ability of the brain to adapt with input, with stimuli, and learn and essentially recover when faced with challenges. And drugs that enhance that process. Plasticity, as the core process are different from those that are like SSRIs or antipsychotics. That led us to look for and bring drugs into our pipeline that went after those processes. That's, for example, the case for Alta 100, which we'll talk about in more detail, I'm sure, a little later. The other facet here is we're starting with depression, but that doesn't mean we end with depression. Those same core processes, just focusing on cognition, as one example, are relevant in bipolar disorder, in PTSD, in schizophrenia across the board.

24:30
Amit Etkin (Guest)
A big implicit element to the design of Alto is once you crack that first nut and you figure out how to target that group of depressed patients and get them better, now you can start to leverage that knowledge and go to other disorders, and even more so, accelerate the development of these drugs. You just magnify that across different domains of brain function, different kinds of mechanisms. One perspective that has come out of all of this and the work that we did in even setting up Alto is it turns out that the drugs that we can bring in, a number of them. Be it for depression, schizophrenia, any other disorder have already been brought into existence by some biotech or pharma and at least taken through phase one. At least we know that in a human it's safe. Because nobody's used the precision approach, they haven't been leveraged in the right way.

25:29
Amit Etkin (Guest)
That fact, put together with our approach around biomarkers and finding the subgroups of people becomes really exciting, because that means you can move right into clinical development now, and you can start solving these problems now, rather than in some future ten years from now. That's really exciting in terms of the clinical change that will come just in the next couple of years. It leads you to look at what's been done through the past 20 years in creating interesting new molecules and just not developing them the right way from a completely new light. That light is just filled with opportunity at this point, from our own perspective.

26:09
Neil Littman (Host)
Yeah, actually, there's so much to dive into. There amit but I want to draw on that last comment you made about a lot of the drugs being ready for the clinic or being in the clinic, because one of the things that I was thinking about is how relevant are animal models for developing psychiatric drugs? I'm guessing probably not all that relevant. As you think about the drug development process at Alto, how do you think about using animals as part of the preclinical package and ind enabling studies versus, as you just said, trying to go directly into patients with drugs that have been tested maybe in other indications before? I mean, that there seems to be a critical balance there that you need.

26:54
Amit Etkin (Guest)
To strike that's, right? You'll have, of course, some animal work which you have to have from a safety perspective. You'll have some animal work that will tell you about cognition or whatever a mood analog might be in animal that is compulsory, if you will, in the early stages of seeing whether the drug even enters the brain of animal and does something. We don't take that information and give it particular weight for exactly the reason that you mentioned. I mean, just imagine, right? Can you really create animal model of schizophrenia in a convincing way that captures the human experience? Well, so much of schizophrenia, so much of depression is an inner experience that you'll just never know. Maybe you can, but we'll never know that with a mouse. But you can definitely model some things. You can model actually the things closest to what we measure in humans, like EEG or like behavioral tests, and it gets you started.

27:52
Amit Etkin (Guest)
For us, our focus then is on how do we use information in humans as quickly and as robustly as possible. Instead of creating animal model of a disease and seeing if something changes, why don't we give the drug to healthy people and assess brain function comprehensively in such a way that we can actually infer those same brain functions. You're trying to infer in animal, but now in a humand tie that much more directly to the kind of patient that would benefit from the drug. Once you get into phase two, it's all about for us. How quickly can you find the biomarker that characterizes responsive patients? Because now you're able to ask a question about how effective a drug is in a much more targeted way for the right people. And so everything, of course, comes in. You don't want to just ignore some piece of information.

28:44
Amit Etkin (Guest)
We put way more weight and way more effort specifically around getting really convincing human data as early as possible. Because one of the other things we've learned over the years in psychiatry is oftentimes you don't know if the drug works until you get all the way through phase three. And that's a really bad outcome. That's a lot of time, a lot of money, a lot of effort, a lot of patients having gone through trials wasted because you didn't have a signal early on that the drug was on the right path in a person. We really tried to take that to heart and build that in and make our whole process as a company more efficient by looking not just at a single drug, but at multiple drugs. I have to say that the good news from our perspective is that there's actually been quite a lot of really interesting basic science in bringing new drugs and targets to bear for us.

29:43
Amit Etkin (Guest)
I think now to look at it with a lens of precision and take advantage of that basic science progress, just get it into people and get it targeted as quickly as we can. Yes.

29:53
Neil Littman (Host)
Let's talk about that a little bit. You had mentioned previously, Alto 100, as one of your lead candidates. That program is targeting depression, as you mentioned. Can you talk about that program, what it is and how it works?

30:10
Amit Etkin (Guest)
Yeah. This is a drug very much along the lines of what I mentioned before, which is a drug that enhances brain plasticity and has actually been studied in depressed patients once before or in one big study before. In the same way as you would expect for any unselected depression population, a very large percent of the time that trial doesn't work because you just don't have the right people. That's exactly what happened in this case. Were able to look at the data for that. So we acquired that from another biotech. We were able to look at the data that guided us in terms of biomarkers we could use to select to find those people who respond to this proplasticity treatment in depression. We did a large phase two a study, a large study in patients with depression where we looked to see whether not only could we define what that biomarker is, but could we replicate that in an independent group of patients so that we can be really as close to certain as possible that we found the right subgroup.

31:15
Amit Etkin (Guest)
We reported that out earlier this year and found that there's a group of people, there are a little less than half of the population that respond really well to this drug and importantly, well to the drug, whether you're using it alone or on top of an conventional antidepressant that you had failed to respond to. It works in multiple different contexts very consistently. By works, what I mean is not just changing a biomarker, but changing symptoms. You really see that response rates are over 60% in those people who have the biomarker and little over 30% of the people who don't. So quite a big difference. That drug is now in a phase two B study started in January that we'll read out in the middle of 2024 that's a large. Study over 250 people, and that will be pretty clear evidence of efficacy in that group of people and contrasting it to people who don't have the biomarker.

32:17
Amit Etkin (Guest)
We include both kinds in our studies because we want to really show that if we found a biomarker, that in fact it does have the power that we think it does. This is a drug that none of these drugs come with labels, right? We're using it as antidepressant, but it could be useful in a number of other conditions anchored again to that biology because our diagnoses were never built to separate biology. They were built to be a language that we use to speak to each other around. The potential of this drug is really quite broad. While we started with depression, part of our pipeline is headed to schizophrenia as well. Any of these drugs like Alto 100 could go there as well. We're very excited for the results we've already had, even more excited for what's to come and feel like it's a good example of the approach that we're applying to other drugs in our pipeline.

33:13
Neil Littman (Host)
Yeah, it sounds like a great example with clinical validation in a number of patients. So that's very exciting. Let's move on and talk about a second candidate that you have in development, alto 300, which is targeting the same indication but using different targets. Could you talk about that approach and that drug?

33:32
Amit Etkin (Guest)
Yeah, so that drug, we've not disclosed the mechanism as yet, but it's a totally different mechanism. We presume it'll get at different patients with depression. Of course, that's an empirical question. We'll be addressing it in exactly the same way. A large phase two, a study that's wrapping up now that will allow us to optimize to find what the biomarker is and then independently replicate it in a separate group of people so we can be as close to certain that we've identified those people as can be and from there start another phase to be in depression again. People with and without the biomarker looking at outcomes on depressive symptoms. In many ways, it's exactly the same thing in terms of our core process. It's repeating the core premise of the company, but a different mechanism, we presume a different biomarker. It's actually pretty cool when you think about these two programs moving forward at the same time.

34:35
Amit Etkin (Guest)
They're six months apart or so at this point. That's not really a big difference when you get to the finish line of getting a drug approved. Let's say both these programs get approved at around the same time. Now, you would have a situation where you would have two different biomarkers that would have maybe some partial overlap, but largely define different groups of people, but together define a large portion of the depressed population as being sensitive to one or both of the drugs that changes clinical practice in a big way. I mean, one drug changes clinical practice but addressing a majority of people with depression with one or the other drug better than standard of care, that's really exciting. I think that sea change in how patients are assessed and their expectations about what treatment outcome should look like that's potentially around the corner in drug development timeline terms and gets me extremely excited just on this one aspect of our pipeline.

35:38
Neil Littman (Host)
Yeah, no, that's very exciting in terms of your pipeline, maybe just backing up a step on your website, I find that you present your pipeline in a very interesting way. You group it into three broad categories cognition targeting, emotion targeting and sleep targeting. I'm just wondering if you could comment about the rationale behind breaking your pipeline into those three categories.

36:05
Amit Etkin (Guest)
Yeah, so the rationale is really around the brain circuits that we think of as the primary targets for these drugs. It's not to say that a drug that targets cognition will have an effect only on cognition and nothing else. We actually think that's better thought of as essentially a leverage point that you have through alteration of cognition, for example, by enhancing neuroplasticity that then improves the overall clinical picture. Improving symptoms for those patients where it's really addressing their core problem. Each of these domains cognition, emotion, which refers to things like anxiety, elevated negative emotion or anhedonia, lack of positive emotion or motivation, and sleep and circadian rhythms reflect different circuits that we can measure with our various biomarkers across behavioral tests, EEG, and wearables. Not necessarily just reflecting those three biomarker to domain mappings, but each of them across domains. Those are the targets, they're all unique molecular targets, unique brain circuits that for certain subgroups of people will then be the right route into treating their disease.

37:22
Amit Etkin (Guest)
It's a mental heuristic to be able to organize our efforts and also to make sure that we have covered the different domains systematically. There are other things that we have not put on there that I would love to put in the future as different drugs are developed, different biomarkers are developed. But it feels relatively comprehensive. It also feels like, well, the beginning of an approach across diagnoses. By calling something a cognition targeting drug, I'm not calling it antidepressant, even though we think of Alta 100 as in depression, antidepressant for those people with the biomarker, it could also have an effect by targeting that aspect of brain circuitry that's abnormal in patients with schizophrenia or bipolar disorder, what have you. It's also a nod to the concept of core brain processes guiding us rather than historical diagnoses which as we've discussed, have their place but really aren't the right guide for drug development and ultimately for clinical care.

38:32
Neil Littman (Host)
Amit I'd like to switch gears now with our remaining time and talk about fundraising. I'm guessing, given your background at Stanford and in academia, fundraising was relatively new to you, but you've already seen different market cycles. Obviously Alto has been successful in raising capital and you've done it in, I guess what I would call rapidly changing financing environment over the years. Could you talk about your experience raising money and perhaps how the conversations have changed over the last call? It year and a half.

39:09
Amit Etkin (Guest)
Yeah, so you're right on about so many aspects of that. I tell people that I finally graduated school in my early 40s when I left to found Alto, and that's been a learning experience for me. So, remember, I founded and left Stanford, found the company and left to run in November 2019. The first experience was going right into COVID, which was a new experience for all of us, but quite an intro to being a biotech CEO. At the time, as you mentioned, it was great sprouting of our bowl cycle. At the time raising money was quite doable across any number of domains. One of the things that we had structured into our DNA from the get go was thinking about capital efficiency, thinking about quality, and thinking about what kind of effort you need to put in to get what kinds of outcomes and washing that through the whole company.

40:12
Amit Etkin (Guest)
What I mean by that is we don't use CROs, we don't use contract research organizations to run our trials is we think that's actually not particularly cost efficient and for the most part doesn't lead to particularly high quality. We really care about the quality of the biology here. The biomarkers are critical. No CRO has experience with it. We decided to do all of our trials in house. We work directly with sites, we have our own clinical operations team that has turned out to be very cost efficient. In addition to creating really high quality data, we've even now stood up our own fully decentralized, that is, fully remote data collection capacity for our biomarkers and recruiting people from all over the country online into that pipeline. That itself has also been very cost effective. Our lens of what makes for good data and how to really make sure that we can build on insights from our data allowed us to come into the current bear market cycle much more prepared, being a much more capital efficient company.

41:21
Amit Etkin (Guest)
Now, having raised about $100 million in equity across our seed A and B rounds, we're positioned to take four drugs through phase two randomized trials over the next year and a half, two years. We never thought of it as we need to be ready for a biotech winter, as we've seen now for over the past 18 months. It's just our core values, our core DNA prepared us for difficulties even in a situation, frankly, where there's a lot of cash available before the bear market, it's still a better way, we think, to do clinical development. Look, these conversations are never easy at a time when everybody's afraid of what's going to happen in the market and what does the future bring us. And there are a lot of uncertainties. We do feel like we're certainly good thinking about our use of proceeds, making sure that what we do generates value not only for patients but also for our shareholders.

42:31
Amit Etkin (Guest)
And so far that's paid off. I'm very proud of our teams internally for having made this work and designing almost from the ground up how we do our trials, how we collect data, how we quality control it, how we push it into the home and at scale, and excited to see where that lands us. As the trials get bigger and the number of pipeline drugs multiplies, yeah, we've.

42:56
Neil Littman (Host)
Been incredibly excited about the progress you've made. You did hit a really interesting point that I just want to comment on because I think it's probably counterintuitive and we have a lot of entrepreneurs in the audience. That's the idea of it being more cost efficient to run your own trials in house and have that infrastructure versus using a CRO. Because I think oftentimes in the decentralized world that we live in, and I have this conversation all the time, a lot of biotech companies are using what is more of the virtual model or decentralized model and pretty much outsource everything. You're doing what seems like almost the exact opposite of that, which is actually more cost efficient and obviously gives you more control over everything. Just I really want to highlight that point for all the entrepreneurs out there. Which actually leads me to my next question.

43:54
Neil Littman (Host)
Any advice for the entrepreneurs who are listening today? Either for those who are looking to start a company or maybe those who are out there struggling to raise capital given the current macro environment?

44:09
Amit Etkin (Guest)
Yeah, I won't be like some of the folks from the funding side who claim that there's never been a better time to start a company. It is a hard time to start a company. The reality out there is that there's no part in this that's easy and probably not going to be easy for some time to come. For those who are either thinking especially of leaving academia to start a company or those trying to develop a company at early stages, my main advice is really understanding where value is created and not just shareholder value. But real world value? What part is building for a potential future, creating things from an early stage that may or may not work out and which things you can say that you created something that is real that has value, that you can see where the path to a patient is in the near term.

45:12
Amit Etkin (Guest)
Because inevitably, there's great basic science to bring forward. Patients are waiting, there's so much need. So, as various people from different perspectives think about their own company or potential companies or maybe even a company to join, that thought of where is my straightest line? To something that's real, that's in the clinic that people will care about. Tends to focus your efforts, tends to focus your spend, tends to find the investors who are best aligned. Because I think we're past the stage now where really great basic science is funded just for science sake, with some rare exceptions that we really have to be thinking of as an industry, how do we actually deliver value? How do we deliver value in the context of price pressures and the IRA, and the nine versus 13 year issues for small molecules and biologics and pricing pressures from Congress and Insurers and all of this that at the end of the day, the straighter the line to meaningful clinical outcomes that'll get rewarded every single time.

46:23
Neil Littman (Host)
I couldn't agree more. So, great advice. Well, we could probably talk for the next couple of days about what you're doing at Alto and the science. I do want to be cognizant of your time and wrap up here and just wrap up with one final question. If folks want to learn more about Alto and follow your progress, there was a great recent article on Wired magazine, but other than that, how can they keep track of what you're up to?

46:45
Amit Etkin (Guest)
I think we do a pretty good job on social media. Twitter and Facebook just follow us on those platforms. We put everything on our own website. We try to get every news piece out there as it comes out. We've actually been doing a lot with video based snippets because we know that's one of the ways people like to take information. If you have questions, info@alternuroscience.com is a good way to reach us. Hopefully we're reporting what we're seeing as it comes out and there at various investor conferences and events over the years. I look forward to speaking with folks who are interested in Alto.

47:26
Neil Littman (Host)
Excellent. Amit, thank you so much for your time and a wonderful discussion.

47:30
Amit Etkin (Guest)
It's my pleasure.

47:36
Danny Levine (Producer)
Well, Neil, what did you think?

47:37
Neil Littman (Host)
I thought that was a really great conversation with Amit we got at the heart of their platform, and you heard him talk quite a bit about the buyer markers that they're using and even taking a step back. What does a biomarker mean to Alto and how do they use them in the process of developing psychiatric based drugs? And I think that was really fascinating. I'm not familiar with other companies that are taking a similar approach. It was really fascinating to hear the progress they've made in the clinic and some of the data that they've already had read out from, I believe, it was a phase two, a clinical trial and their path forward. It's a really promising concept where they have early validation for the scientific rationale and what they're doing. I am incredibly excited about what they're doing and their pipeline.

48:33
Danny Levine (Producer)
One of the things that struck me was the feeling he had when he was talking about what was possible in academia in terms of affecting the type of change he wanted to in bringing precision care to psychiatry, and that being limited, if successful. What do you think the potential for Alto to change psychiatry is?

48:55
Neil Littman (Host)
Well, you heard Amit talk about the differences and potentially the complementary nature of their pipeline in particular. Alto 100 and Alto 300, we didn't get into too many details about the mechanism of action with Alto 300, because that's not disclosed. You heard him say that Alto 300 and Alto 100 work in very different ways via different MOAS. Having one approved could be very powerful. Having both approved could be a complete game changer in the treatment of major depressive disorder and give psychiatrists additional tools in their armamentarium to treat patients. That one two punch could really be the game changer. One approved could be a game changer. Having those two approved because of the difference in how they work could really cover a much larger percentage of the patient population, which to me is really exciting, especially for an indication where there has been no progress over the past 20 or 30 years.

50:01
Neil Littman (Host)
As you heard a meet, say, at the top of the show, One of.

50:05
Danny Levine (Producer)
The other things you talked about was the potential to take therapies that might be clinical ready, or may have been in clinical development, but hadn't been developed properly in the absence of the use of a biomarker. What do you think about the opportunity there?

50:20
Neil Littman (Host)
Yeah, that's a huge opportunity. I mean, obviously this idea of I.

50:24
Amit Etkin (Guest)
Don'T know if I want to call.

50:24
Neil Littman (Host)
It repurposing existing drugs, but looking at drugs that have failed in the clinic for a lack of efficacy and going back and trying to understand if there's a subpopulation of patients that would respond to that given drug, if you could identify them a priority and then rerunning the trial is a tried and true method of drug development and saving drugs that have otherwise failed. There's tons of companies in the biotech space outside of the mental health arena that have done that and have done that very successfully. That is a tried and true playbook. I like that Alto is using it. In particular, you heard me ask the question about the lack of animal models being able to recapitulate the human psychiatric disorders as being a problem. So, obviously, using that strategy circumvents some of those issues where they can already be in the clinic and not have to go back to preclinical development and animal models that don't recapitulate the human disease very well.

51:21
Neil Littman (Host)
So I think it's a great strategy.

51:23
Danny Levine (Producer)
He also talked about being capital efficient, and I know you responded when he talked about the decision not to use CROs, in part because he felt there weren't CROs with experience with the biomarkers the company is using. What did you make of that and the way it's paid off in the current financing environment?

51:42
Neil Littman (Host)
Yeah, I mean, obviously that has been proven to be a great decision for Alto. They have complete control over the execution of the trials of all the data. They're not reliant on third party CEOs that may not have the expertise that they have in house. You heard my comment that I think that almost flies in the face of conventional wisdom when it comes to drug development, particularly for young companies that are looking to outsource virtually everything. That lack of control and those additional expenses may actually be higher using a sero than building a team in house with the required expertise. That's a decision each company is going to have to make on their own. It certainly worked out well for Alto. I really did want to just highlight that point to all the founders and company builders out there.

52:30
Danny Levine (Producer)
Any other lessons you walk away from this with?

52:34
Neil Littman (Host)
I think the big one is that from the company building sided equation, one of the things that we look at Bioverge is this idea of founder market fit. Although Amit is a first time founder, he's a Biotech CEO since 2019, so relatively green. However, based on his experience at Stanford, he's come up with all the evidence and the rationale and everything that Alto is doing. He brings a ton of credibility to what they're doing, even though he's a first time founder. It's been interesting even though the company is not that old, it seems like Amit has seen a lot in terms of different market environments in the Biotech arena. He's been in a bull market. They went through a pandemic, which obviously no one has been through before. We're now in a bear market of Biotech and a Biotech winter. He's seen a lot in his short time as a CEO.

53:33
Neil Littman (Host)
I find that fascinating.

53:35
Danny Levine (Producer)
Well, until next time.

53:36
Amit Etkin (Guest)
Okay?

53:37
Neil Littman (Host)
Thank you, Danny.

53:40
Danny Levine (Producer)
Thanks for listening.

53:41
Danny Levine (Producer)
The Bioverge podcast is a product of Bioverge Inc. An investment platform that funds visionary entrepreneurs with the aim of transforming healthcare. Bioverge provides access and enables everyone to invest in highly vetted healthcare startups on the cutting edge of innovation from family offices and registered investment advisors to accredited and nonaccredited individuals. To learn more, go to bioverge.com. This podcast is produced for Bioverge by the Levine Media Group. Music for this podcast is provided courtesy.

54:18
Neil Littman (Host)
Of the Jonah Levine Collective.

54:21
Danny Levine (Producer)
All opinions expressed in this podcast by participants are solely their opinions do not reflect the opinion of Bioverging or its affiliates. The participants opinions are based upon information they consider reliable. Neither Bioverge or its affiliates warrant its completeness or accuracy, and it should not be relied on itself. Nothing contained in accompanying this podcast shall be construed as an offer to sell, a solicitation of an offer to buy, or a recommendation to purchase any security by Bioverge, its portfolio companies, or any third party. Past performance is not indicative of future results. You close.