Summary
On the latest episode of The Bioverge Podcast, Anat Burkovitz, CEO of TrojanBio, sits down with Neil Littman to discuss Trojan's AI-drive antibodies platform, how it enlists the viral immune system in the fight against cancer, and why she thinks the technology will broaden the population of patients who will benefit from immunotherapies.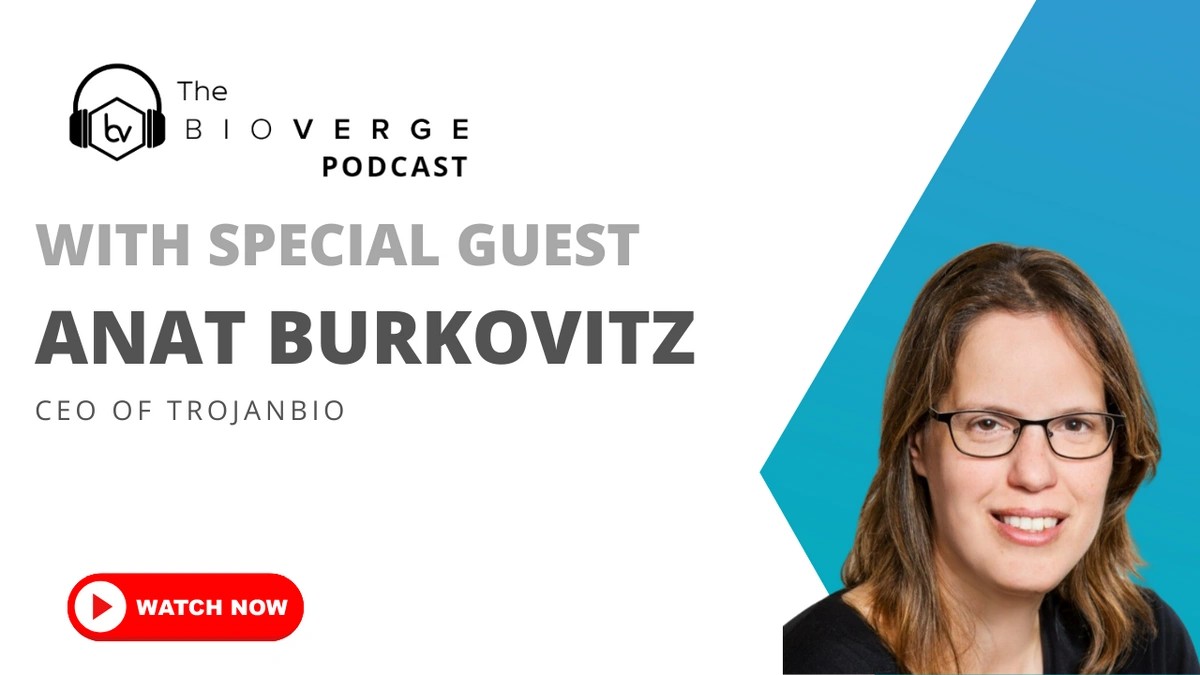 Transcript
00:09
Danny Levine (Producer)
You're listening to the Bioverge podcast with Neil Littman.

00:29
Danny Levine (Producer)
Neil We've BV BV Anat burkovitz show today for listeners not familiar with Anat, who is she?

00:35
Neil Littman (Host)
I am incredibly excited to welcome Anat to the show. Anat is the co founder and CEO of Trojan Bio, a preclinical immunotherapy company, and for full disclosure, a Bioverge portfolio company. Anat is a first time founder and a specialized computational biologist in therapeutic antibody engineering and design, which makes her the perfect fit for what they're doing at Trojan. So Danny Trojan is developing a novel class of therapeutic antibodies for the treatment of a variety of cancers with a focus on solid tumors. Their antibodies integrate viral peptides to efficiently activate the immune system for cancer eradication. So Danny, I want to just take a step back and set the stage for what they're doing, because to me, what they're doing at Trojan is really elegant biology and I'm just fascinated with it. So one of the challenges our bodies face when fighting cancer is our ability to recognize self from non self. Cancer is extremely challenging because it's able to evade the immune system, largely because our body doesn't recognize the cancerous cells as non self and therefore doesn't attack and kill them.

02:10
Neil Littman (Host)
Cancer has evolved a whole variety of different sophisticated mechanisms to hide from our immune system, which we're not going to get into right now. But what Trojan is doing is taking advantage of our normal immune response to virally infected cells by labeling the cancer cells as being virally infected, which then tags them as foreign to our immune system and labels them for destruction by our killer T cells. So it's a really novel and exciting approach to immunotherapy and the goal is again, to activate your own immune system to fight off the cancer. So I'm really excited to talk to Anad about some of the specifics about what they're doing.

02:49
Danny Levine (Producer)
Trojan is involved in an ever expending area of immunotherapies. How good are these therapies today? And how much room for improvement remains?

03:01
Neil Littman (Host)
Well, that's a good question, Danny. Some of them are fantastic. So if you think about some of the cartes that have been developed for hematological malignancies, they have very high response rates and those response rates are very durable. And so you're upwards of 85 90% efficacy with some of those treatments. So that's fantastic for solid tumors. For patients who respond, those therapies are a game changer. However, less than 20% of patients who are prescribed a checkpoint inhibitor, for example, actually respond to that therapy. So to your point, Danny, there is a lot of room for improvement in this class of immunotherapies, and in particular for therapies that are targeting solid tumors. So I think Trojan has a very unique platform to help increase the efficacy of immunotherapies, specifically for a variety of solid tumors. So I'm excited to talk to a lot about how they're engineering their antibodies with viral peptides.

04:07
Neil Littman (Host)
This has been done in various flavors in the past and so I really want to understand what they're doing differently and why that difference may yield better results than what we've seen historically.

04:17
Danny Levine (Producer)
And what are you hoping to hear.

04:18
Danny Levine (Producer)
From a not today?

04:19
Neil Littman (Host)
Yeah, I'm hoping to hear exactly that. So they have an AI based platform. So what does the platform allow them to do in terms of generating more antibodies, either faster or cheaper than they could without that platform? And then number two, how do their antibodies actually work from just a purely biological standpoint? And how is that specific for tumor cells versus healthy cells? And what evidence do they have that their approach is backed by scientific rationale? And what sort of data do they have supporting that these virally engineered antibodies can activate the endogenous immune system and endogenous killer T cells to then target the tumor? Well, if you're all set, let's do it. Danny, Anat, welcome to the show. A big thank you for joining us today. I'm incredibly excited to have you on this afternoon.

05:16
Anat Burkovitz (Guest)
Thank you for having me. Very excited as well.

05:19
Neil Littman (Host)
So today we are going to talk about immunotherapy Trojan bio and your efforts to develop more effective immunotherapies by tricking the immune system to think cancer cells have been virally infected. Before we dive into exactly what you're doing, let's start from the 30,000 foot vantage point of immunotherapy today. How is the field of immunotherapy reshaping the treatment landscape for cancer and changing the outcome for patients?

05:45
Anat Burkovitz (Guest)
Yeah, so what makes immunotherapy so special is that it activates the patient's own immune system to fight cancer. And this approach has shown remarkable success. And many type of cancers that were previously considered little are now treatable. So today we have immune checkpoint inhibitors that block signals used by cancer cells to avoid detection by the immune system. And by using the immune checkpoint inhibitors, the immune system can then recognize and attack the cancer cells. And we also have cart tissue therapies, which we modify the patient's own immune system immune cells to target and destroy cancer cells. And this advanced treatment have really transformed the landscape of cancer therapy. And type of cancers that were once considered untreatable are now manageable patients, experiencing durable response, achieving long term remission, and enjoying an improved quality of life.

07:02
Neil Littman (Host)
And it's really incredible the pace of progress we've seen in the immune therapy field and immunooncology in general. And just to put some stats around it, I mean, the global immunotherapy drug market I think in 2020 was valued at about 163,000,000,000 and is poised to reach 275,000,000,000 by 2025. So it's big business these days. Let's talk a little bit about some of the benefits that immunotherapies provide over other forms of treatment. You mentioned a few of those, but maybe we can go one level deeper in terms of what are they doing that previous therapies were unable to achieve?

07:41
Anat Burkovitz (Guest)
Yeah, well, an example for an earlier treatment is like chemotherapy, which is the use of drugs that target and kill rapidly dividing cells, including cancer cells. So, unlike immunotherapy, chemotherapy is not specific to cancer cells and can affect both cancer cells and healthy cells, every cell that's actually dividing rapidly. So, while chemotherapy can be effective against various type of cancer, it can also cause severe side effects due to its impact on healthy cells. Also. And that immunotherapy offers several benefits. First, it works by activating the immune system to kill only cancer cells while sparing healthy ones, and thus, of course, offers a more targeted approach with fewer systematic side effects. And also one more important thing that immunotherapy also offers long term and durable response, while traditional treatments have temporary effects and fight cancer only during the time of treatment. But immunotherapy continues to be effective even after the treatment has ended and providing patients ongoing protection against reoccurrence of the cancer.

09:15
Anat Burkovitz (Guest)
And I think that the last thing Which I already mentioned is the ability to treat the untreatable. And some cancer types, mainly different type of blood cancers, but also melanoma and lung cancer were considered very difficult to manage before the rise of immunotherapy. And now we can treat these cases with remarkable success.

09:41
Neil Littman (Host)
It's really quite amazing. And you had mentioned Some of the durable responses, and in many ways, immunotherapies still face some challenges where durable responses have been fantastic in a lot of liquid tumors or hematological malignancies, especially around the car t cells. And I'm thinking back to patients like Emily Whitehead, who was the first patient ever, and I hesitate to use the word cured, but basically cured of a disease that likely would have killed her in the past using a car. T you mentioned some of the solid tumors, but a lot of the immunotherapies targeting solid tumors have had challenges. Patients have not benefited from those. You mentioned some of the checkpoint inhibitors, and patients have a less than 20% response rate to a lot of the checkpoint inhibitors. For those who do respond, the drugs are a game changer. But what do you view as some of the limitations of immunotherapies today, and how well do we understand Why they don't work?

10:46
Anat Burkovitz (Guest)
Yeah, well, you're absolutely right. Immunotherapy works much better for blood cancers than solid tumor, and the percentage of 20% of response in solid tumors requires significant improvements. So let's dive into what is the key reason for that. So, the main difference between liquid and solitumor is that their location within our tissues making it very difficult for immune cells to penetrate. Solitumors, which neil, you already mentioned, makes cut t cells therapy less effective. And we mainly rely on immune checkpoint inhibitors. And this immune checkpoint inhibitors activates the immune cells already found in the tumor microenvironment and it was well proven that there is high number of immune cells in our tissues and in the tumor microenvironment. However, the problem is that the percentage of immune cells within the tumor that actually recognized it is very low. And we need to remember that cancer cells originated from our own healthy self.

12:12
Anat Burkovitz (Guest)
Thus immune system is not fully able to recognize it. So it is very challenging to achieve significant clinical results by activating these rare anti tumor immune cells. And moreover, it is a very complex system and these tumor specific immune cells present different types of checkpoint inhibitors and not only one and it makes it very hard to predict if or which immunotherapy would beneficial. So maybe just the two most important observation is in this manner are that tumor specific immune cells are mostly rare and display highly complex inhibition signals and this is why we still suffer from a limited success in treating solid tumors.

13:12
Neil Littman (Host)
Yeah, as you mentioned, part of the challenge in the body fighting cancer is the ability to recognize self versus non self. And as you mentioned, as tumor cells originate from the self, your immune system doesn't recognize them as anything other than the self and so therefore don't attack them. And so this is a great segue into what you're doing at Trojan where you are developing antibodies that seek to activate the antiviral immune system against cancer. So let's talk a little bit about what specifically you're doing and really why don't we start with the scientific premise and rationale for this approach.

13:47
Anat Burkovitz (Guest)
Yes, so, considering the limitations I've just mentioned at Rojan, we initially asked other subset of immune cells that reside within the tumor. And through an extensive literature search, we found out that there is an extensive number of antiviral memory T cells within all of our tissues and specifically in the tumor itself. And these T cells act as the first line of defense against viral infections and their abundance is several fold higher than tumor specific T cells. And moreover, these antiviral T cells express lower level of checkpoint receptors and their high abundance and lack of inhibition signal making their most powerful and abundant immune cell population residing within the tumor microenvironment. However, there is still one problem. This subset of antiviral T cells is not activated against the tumor because the tumor was not infected by a virus.

15:04
Neil Littman (Host)
So then let's talk about how you activate those antiviral T cells to target a cancer cell that has not been infected with a virus.

15:17
Anat Burkovitz (Guest)
This is actually our magic etrosan. We have developed a unique class of therapeutic antibody molecules that can label the cancer cells as viral infected cells, which then naturally leads to the robust activation of these highly powerful antiviral immune cells for significant killing of the tumor.

15:44
Neil Littman (Host)
And so I'm going to sort of summarize my understanding of things and correct me if I'm wrong, but so you're basically engineering antibodies with a viral peptide fragment. That antibody is highly selective for a specific type of solid tumor cancer cell. The cancer cell basically ingests that antibody goes through its natural process of degrading the antibody and viral peptide fragment. That fragment of the viral peptide is then displayed on the surface of a cancer cell via a traditional mac class one presentation that then tells your immune system that cancer cell is actually virally infected, which then targets it for destruction by these T cells that you were talking about. Is that the basic premise?

16:35
Anat Burkovitz (Guest)
Yes.

16:36
Neil Littman (Host)
Okay, excellent. That being said, Trojan is not the only company that has been trying to enlist the antiviral immune system to act against cancer. What have been some of the major challenges in this type of approach?

16:56
Anat Burkovitz (Guest)
Right, so due to the high potential of this approach, activating the antiviral immunity is also the focus of other pharma companies. And as you mentioned, to label cancer cells as viral infected cells, one needs to first deliver the viral peptides to the tumor cells. But it's not, that an easy task. First, one should find a way to specifically deliver the viral peptides only to the cancer cells and not to healthy ones. And second, peptides are not very effective as therapeutic molecules because they are easily cleaved by proteins in our body and rapidly disappear. So these are the two main challenges, specific delivery and protection from peptide cleavage.

17:56
Neil Littman (Host)
So why don't we start with the first one specific delivery. How are you going about ensuring that your antibodies are specifically targeted to cancer cells and are not having off target effects with healthy cells and tissues?

18:11
Anat Burkovitz (Guest)
So for this, we are using the anthroapoietic antibodies as a delivery vehicle. Antibodies display high specificity and a very compelling safety profile targeting only overexpressed receptor on cancer cells. So by engineering antibodies to include embedded viral peptide within it, we can actually harness antibodies to deliver the viral peptides to the target.

18:48
Neil Littman (Host)
Okay, and that's obviously a tried and true approach. So then let's talk about the second portion of the challenge. So one approach that's been done in the past has been to conjugate antibodies with viral fragments. But you're doing things a little bit differently. Trojan is actually developing viral peptides that are not just attached to the antibody but are part of its structure. Can you talk a little bit about the difference and why you're using this approach?

19:16
Anat Burkovitz (Guest)
Sure. Conjugating viral peptide to antibody was already done before us. The only problem is that it solves only the specificity issues. Okay. Because yeah, the antibody can deliver the viral peptide, can direct the viral peptide to the target. However, it doesn't solve the challenge of peptide cleavage because the peptide remains exposed as tails or bumps in the antibody and still get cleaved before reaching its target. So this is why we have developed torsion antibodies where instead of attaching the peptides to antibody. We actually replace suitable sequences within the antibody with the viral peptides and this way we create a fully native antibody without any tails or bumps. And the peptide is fully concealed within the antibody structure and cannot be cleaved until it reaches its target. So only after the antibody binds to the cancer cells and degradates within it, the peptide is released and can be effective in the right place.

20:46
Neil Littman (Host)
Not I've heard you describe the Trojan antibodies as having a double hit mechanism. What do you mean by that?

20:56
Anat Burkovitz (Guest)
Yeah, so torture antibodies truly show a remarkable mode of action. Our antibodies initially work in a very similar way to other therapeutic antibodies by binding and inhibiting of receptors that are overexpressed on cancer cells. And by this, the antibodies can stop this cell division and growth and this is the first hit. But what makes Trosian antibodies so special is their added feature. After the successful blockage of the receptor, the antibody enters the cell along with its receptor and both the antibody and the receptor are clipped into smaller peptides. And this is when the hidden viral peptide is revealed. And when the viral peptides are exposed within the cell, they are immediately presented on the cell membrane. And this is the point the cell raised the flag of viral infected cell and that's when the second heat kicks in. And this presentation is recognized by the powerful antiviral T cells responsible for killing of the cancer cell.

22:20
Anat Burkovitz (Guest)
So the first heat, our antibodies block the cancer cells receptor and the second one they activate the antiviral immunity to kill the cancer cell.

22:33
Neil Littman (Host)
And to me that's just such elegant and fascinating biology that we're able to do that in this day and age. So anat, I want to take a step back because I know part of your platform is really an AI driven platform to generate antibodies. So can you explain what role artificial intelligence has in what you're doing? What is it allowing you to do that you couldn't do otherwise? Or what is it doing faster and cheaper than you could do without it?

23:06
Anat Burkovitz (Guest)
Sure. So the integration of viral peptides into antibodies is a challenging protein engineering task that can be achieved either through extensive screening or through precise design using advanced AI tools. This is what we are doing in Trojan. So by harnessing the power of AI and computational biology, we could successfully transform our vision into a technology within one year. So importantly, our computational capabilities enable us to rapidly and precisely design frozen antibodies that carry integrated viral peptides. And this allows us to apply our technology to existing therapy antibodies as well as novel ones and providing our platform with high flexibility and modularity to combat various types of cancers.

24:07
Neil Littman (Host)
So let's talk about that for a moment. Various types of cancers. So I imagine the targeting arm of the antibody changes based on the indication. But do you use the same viral peptides across indications or are you able to swap out different viral peptides based on the indication that you're going after?

24:28
Anat Burkovitz (Guest)
This is actually what is interesting about our approach. We can increase the efficacy and the safety of Trojan antibodies by selecting the most suitable viral peptides for each indication. For example, if we are developing Trojan antibodies for lung cancer, we will integrate peptides from influenza or from coronavirus because the lung is the homing tissues tissue for these viruses and this will ensure the highest efficacy for torsion antibodies. But this has also has implications on safety because these antiviral systems for flu or corona are mainly in the lung and even if the antibody will reach other area of the body, we are not expecting significant immune response. And the same is for EVV had a neck cancer, HPV for cervical cancer and CMV for several internal organs.

25:42
Neil Littman (Host)
And so Anatrosin is a young company, but you already have a pipeline of therapies in development. Your lead candidate, Trojan E 84, is a treatment for colon cancer. So given the broad applicability of your platform, as you just described, how and why did you decide to start with colon cancer as your lead indication?

26:03
Anat Burkovitz (Guest)
Yeah, well, it was a very important decision for us. We had to carefully select the most suitable indication that aligned with our technology and also addressed a significant unmet need. So in terms of unmet need, colorectal cancer is the right choice. It is the third most common cancer worldwide and second cause of cancer death. And while immunotherapy has shown great success in patients with mutation in the mismatch repair mechanism, which accounts for only about 15% of the colorectal of colorectal cancers, so the remaining 85% of patients have tumor that appears similar to healthy cells and the immune system cannot act against them. So this is one huge unmet need. Immunotherapy just can't assist 85% of colorectal cancers. So another important thing is that several studies have revealed that most colorectal tumors contain high number of CV specific antiviral T cells. And these antiviral T cells that can act upon reinfection with CMV are just wandering around the tumor microenvironment without affecting the tumor at all.

27:50
Anat Burkovitz (Guest)
And this what makes colorectal cancer an excellent fit for our Trojan platform. By developing E 84 to target colorectal cancer and carry hidden CMV viral peptide within it, we can specifically label these tumor cells as CMV infected cells and to activate the existing immune cells in the tumor microenvironment.

28:23
Neil Littman (Host)
I always like to start with the target product profile or TPP and think about working backwards. Obviously it's still very early in the development of E 84, but would your expectation be that this would be used as a monotherapy or would you expect that it would be used in combination with other approaches?

28:42
Anat Burkovitz (Guest)
That's interesting, torsional antibodies actually work in a very different way compared to traditional immunotherapy and immune checkpoint inhibitors and therefore combining immunotherapies that target different pathways can have benefits in terms of patient outcome. Additionally, it is well documented in the scientific literature that activating the antiviral immune response eventually leads to activate to the activation of the anticancer immune response. So combining Trojan antibodies with immune checkpoint inhibitor in a sequential manner could be the key to achieving long lasting treatment effects.

29:36
Neil Littman (Host)
Let's circle back to E 84 specifically, I'd love to learn a little more about what you've done to date and your view of the development path forward for that compound.

29:48
Anat Burkovitz (Guest)
Yeah, well, we are very proud of this molecule because it is the first therapeutic antibody to contain immunomodular peptide as integral part of its structure. So the design of E 84 antibody was faster than we anticipated due to our AI and engineering tools and the replacements with CMV viral peptides resulted in stable natural antibody that could effectively and specifically target colon cancer. And this is the first hit, but we also observed the second heat against the cancer. We found that the integration of the CMV viral peptide in E 84 indeed resulted in the labeling of the cancer cells as viral infected cells and directly activated the antiviral immunity to kill the cancer cells. So overall for E 84 we have demonstrate its abilities to specifically target cancer cells, label them as viral and infected cells, and to induce their killings by the powerful antiviral immunity.

31:06
Anat Burkovitz (Guest)
And looking for the development path forward, trojan is committed to advancing the development of E 84 as quickly as possible in order to assist colorectal cancer patients. And this includes optimization of the molecule, conducting preclinical studies and developing the manufacturing process up to Ind approval, which will allow us to initiate clinical studies. And in addition to these efforts, we will utilize our platform technology to target additional indications, starting with ovarian cancer and triple negative breast cancer.

31:55
Neil Littman (Host)
Very exciting in terms of the breadth of the platform and the AI based component. Sounds like it really allows you to accelerate the development of novel antibodies that have been engineered with these peptide fragments. And so I'm really excited to see how this first one, E 84, performs as you're moving through Ind enabling studies and into the clinic. So certainly be watching that closely. I want to change gears a little bit and talk a little more about the sort of business end of things in the company. So, Trojan is based just outside of Tel Aviv. I know Israel is a hotbed for technology and biotechnology, but as you look for the specialized talent you need to build the company, are you able to do that in Israel or are you anticipating looking further and thinking about setting up additional offices in the US or elsewhere as you grow?

32:51
Anat Burkovitz (Guest)
Yeah, well, Israel is indeed a great ecosystem for creative and innovative developments in the field of biotechnology and also other fields as well. And we have been able to build a strong, well experienced team for the development of torsion antibodies. And while Israel remains our primary hub, we also recognize the value of global collaborations and the need to extend our team with individuals outside of Israel. So as we continue to grow, we remain open to expanding our operations and setting up additional offices in strategic specific locations that will offer complementary expertise and.

33:45
Neil Littman (Host)
Resources and not from a business development point of view. How do you think about potential partnerships with other companies, larger biotech or big pharma companies? Is that something that's on your radar that you're actively pursuing at this point?

34:02
Anat Burkovitz (Guest)
Yeah, absolutely. So to better understand our strategy, maybe we should talk about our IP strategy. And our patent application covers our platform in its broadest sense, meaning the integration of any immunogenic peptide within suitable location in any given antibody. And this means that besides our internal pipeline, we will also would like to collaborate with pharma companies that would be interested integrating the viral peptide into their products. So this strategic approach positions Trojan Bio as both a developer of its own pipeline and a partner for potential collaborations.

34:54
Neil Littman (Host)
Yeah, makes a lot of sense. A lot. So I want to be cognizant of your time and just wrap up with one final question. Although we could probably talk for another couple of days about what you're doing because I find it endlessly fascinating. If people want to reach out or learn more about what you're doing, how can they contact the company or follow some of your progress?

35:16
Anat Burkovitz (Guest)
Yeah, so we would love to contact. We have a LinkedIn page website and there is an info or an email that you can send us. We would love to contact and discuss share Trojan Bio, it's always a pleasure.

35:38
Neil Littman (Host)
Co founder and CEO of Trojan Bio. Thank you so much for joining us on the show today.

35:44
Anat Burkovitz (Guest)
Thank you, it's a pleasure.

35:48
Danny Levine (Producer)
Well, Neil, what did you think?

35:49
Neil Littman (Host)
I thought it was a really great discussion with Anat. It's a really exciting platform that they've built and you heard us talk about their lead compound E 84, which has some nice early preclinical data behind it. Obviously they have a long way to go, but I really just love the biology behind this company. And if they're successful, I think this really could be a game changer in how solid tumors are treated. And that's why I asked not the question around the target product profile and if this could be used as a monotherapy or a combination therapy. And you heard her response, obviously it's still very early, but it works in a very different fashion than the drugs that are already approved today. And so this could be complementary and synergistic with a lot of therapies out there. And so you could target a much broader patient population and get patients to respond to perhaps a combination that they wouldn't otherwise respond to.

36:45
Neil Littman (Host)
So I'm really excited about that potential.

36:47
Danny Levine (Producer)
You discussed with her the fact that Trojan isn't alone in seeking to enlist the viral immune system in fighting cancer. Where do you see the biggest challenges in this approach?

36:58
Neil Littman (Host)
Well, there's a lot of challenges, as you heard Anat describe. But I think one of the challenges is even if they are successful in having whatever cancer cells that they're targeting, let's say colorectal cancer cells, actually ingest their antibody, degrade the antibody and the viral peptide fragment, label the cell for degradation by killer T cells within the tumor microenvironment. Number one, are there enough killer T cells within that microenvironment to eradicate the tumor? I think that's a big question. Or does there need to be some additional modification to enhance the T cell response? So do you need to do some sort of ex vivo manipulation to enhance the number of T cells that would recognize that virally infected cancer cells? So I think that's still an open question and they're not going to know until they get into the clinic. So I think to me that's a big challenge and that's a big open question, but I really like the rationale.

37:57
Neil Littman (Host)
I think there's a lot of support for the rationale you've heard or not talk about. They're going after things like colorectal cancer, which is believed to have a high residence of endogenous T cells that can fight virally infected cells. So, I mean, it all seems to make sense, but we're not really going to know the answer to some of these questions until they're in the clinic.

38:18
Danny Levine (Producer)
What do you think of the company's approach in terms of using antibodies that contain rather than conjugate peptides?

38:26
Neil Littman (Host)
I love it. I think it's really elegant biology, as I've said, and they have a lot of IP around the space and I think it makes a lot of sense. You heard a not talk about some of the challenges that were faced by others who were adding a viral to the antibody as opposed to engineering it into the antibody. And so it seems like their approach has a lot of scientific merit behind it.

38:51
Danny Levine (Producer)
Well, until next time.

38:52
Neil Littman (Host)
Okay.

38:53
Anat Burkovitz (Guest)
Thank you, Danny.

38:56
Danny Levine (Producer)
Thanks for listening. The Bioverge podcast is a product of Bioverge, Inc. An investment platform that funds visionary entrepreneurs with the aim of transforming healthcare. Bioverge provides access and enables everyone to invest in highly vetted healthcare startups on the cutting edge of innovation from family offices and registered investment advisors to accredited and nonaccredited individuals. To learn more, go to bioverge.com. This podcast is produced for Bioverge by the Levine Media Group. Music for this podcast is provided courtesy of Jonah Levine Collective. All opinions expressed in this podcast by participants are solely their opinions do not reflect the opinion of Bioverging or its affiliates. The participants opinions are based upon information they consider reliable, but neither Bioverge or its affiliates warrant its completeness or accuracy and it should not be relied on itself. Nothing contained in accompanying this podcast should shall be construed as. An offer to sell, a solicitation of an offer to buy or a recommendation to purchase any security by Bioverge, its portfolio companies, or any third party.

40:10
Danny Levine (Producer)
Past performance is not indicative of future results.