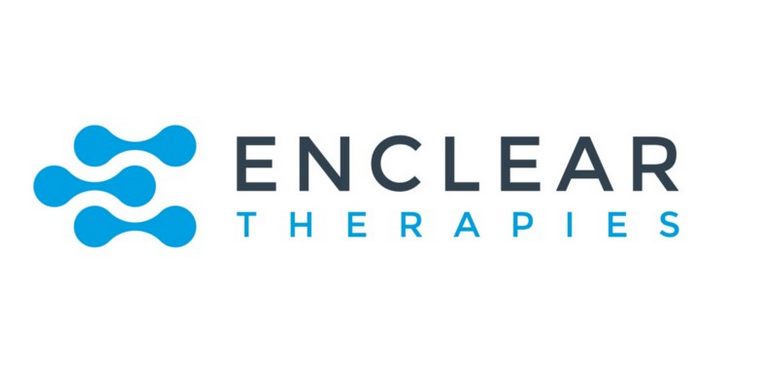 EnClear Therapies is developing device-based systems to reduce or stop the progression of neurodegenerative diseases by eliminating the toxic proteins known to drive the pathology of these conditions. EnClear's initial focus is on ALS (Amyotrophic Lateral Sclerosis) and related disease groups, such as PSP (Progressive Supranuclear palsy).
ALS, also known as Lou Gehrig's Disease, entered the mainstream in 2014, when the ice bucket challenge attracted everyone from pop celebrities to Bill Gates to help raise awareness and money for research. In total, this challenge helped the ALS Association generate over $220M in donations and over 2.4 million tags on Facebook. The organization announced that their goal was to keep running this challenge every year until a cure for ALS is found.
ALS is a progressive neurodegenerative disease that affects the brain and spinal cord, leading to muscle degeneration and mobility issues. This muscle and nerve damage usually progresses over 2 to 5 years, typically leading to death from respiratory failure. Despite extensive research and fundraising efforts, there are currently only 4 FDA approved drugs to manage symptoms and slow its progression. Approximately 5,000 people are diagnosed with this ALS every year. Every 90 minutes, someone is newly diagnosed or dies from this terrible disease. New developments in this area are urgently needed.
While not a cure, our portfolio company EnClear Therapies is developing a ground-breaking treatment strategy for ALS and other neurodegenerative diseases. EnClear targets toxic protein build up in the central nervous systems (brain and spinal cord) of ALS patients. The central nervous system is bathed in a liquid, called cerebrospinal fluid (CSF), allowing these toxic proteins circulate to neurons around the body. When these toxic proteins spread to motor neurons, they cause malfunction, paralysis, the deadly symptoms associated with ALS.
Currently, there is no other technology that can filter the CSF and sufficiently disable the target proteins in a therapeutic manner. EnClear changes this with their patented system that accesses, breaks down, and removes the toxic proteins.
There are two crucial advantages to EnClear's approach:
Their system accesses CSF to directly target specific, toxic proteins and enzymatically destroy them.
Their system is able to penetrate the blood brain barrier, a common obstacle for many other treatment methods. As a result, it delivers filtered CSF back to the complete central nervous system.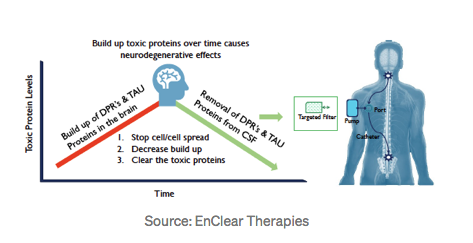 EnClear's technology will stop or significantly impair neuronal degeneration due to the spread of toxic proteins, drastically improving quality of life and disease prognosis for ALS patients.
As no alternative therapies currently exist, this is a breakthrough in neurodegenerative disease treatment. EnClear recently raised a $10 million Series A round from experienced healthcare investors, such as 20/20 HealthCare Partners ("20/20 HCP"), Thiel Capital, Amgen Ventures, GHS Fund (Quark Venture LP and GF Securities), Christian Angermayer's Presight Capital, Dolby Ventures, and Bioverge.
While ALS, Frontotemporal Dementia (FTD), and Progressive Supranuclear Palsy (PSP) will be the initial focus for EnClear, their team plans to expand their treatment strategy to target many other diseases in the multi-billion dollar neurodegenerative disease market. Their revolutionary technology has the potential to monopolize the space and change the lives of patients and their families.