Lindy Fishburne, managing partner of Breakout Ventures, sits down with Neil to discuss investing in seed- and early-stage bioscience companies, and what she learned working with entrepreneurial scientists at Breakout Labs.
Available on SoundCloud, here.
Available on iTunes, here.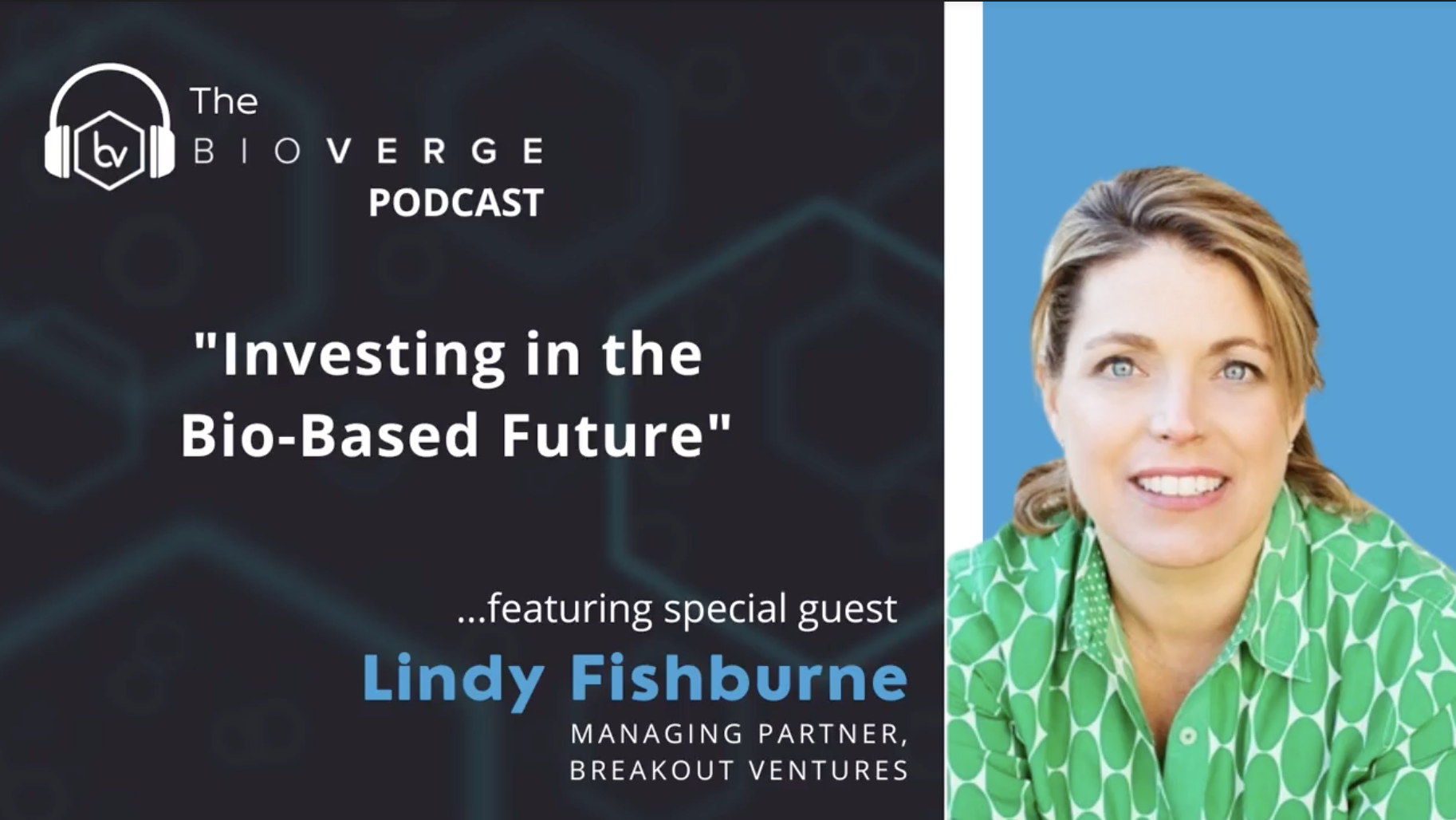 Full Transcript

Danny Levine (Producer)
Neil, we've got Lindy Fishburne today for listeners not familiar with Lindy, who is she?

Neil Littman (Host)
I'm incredibly excited to welcome Lindy to the show today. Lindy is managing partner at Breakout Ventures. Breakout ventures is a VC firm that invests in creative bio-science companies that harness the power of cells and computation to scale solutions in human health and sustainability I've known Lindy for many years, dating back to her time as the executive director of breakout labs and breakout labs was actually the philanthropic arm of the teal foundation that invested in what at the time I believe was a, what they call deep tech, which now is common nomenclature. But back then was pretty new. What breakout labs did was fun, very early stage science, really trying to bridge the valley of death or that translational divide to support companies to the point where they could prove that their technology was commercially viable to then attract more traditional venture. We've seen the market evolve a lot since the days of breakout labs.

Neil Littman (Host)
I'm really excited to talk to Lindy about the evolution from breakout labs to breakout ventures, what they're interested in funding today and her view on just the evolution of the overall market,

Danny Levine (Producer)
Where did break up labs kind of sit in this whole mix of accelerators and incubators that have been emerging over the past decade?

Neil Littman (Host)
Yeah, I mean, I, I tend to think about breakout labs as the venture philanthropy model, right? They were backed by philanthropic dollars from the teal foundation, but then they actually provided those dollars in the form of, I believe it was grant, I will have to double check with Lindy two companies, but then there was a financial return that would come back to breakout labs. If the company was successful, it was analogous to the, that we used at the California Institute for regenerative medicine, where there would be a return back to the state's general fund if a company was acquired or went public or had some liquidity event. That was, I think, pretty early, we see a lot of philanthropic organizations doing that these days. I think in particular breakout labs was really focused on funding. A lot of what was considered for a science fiction, really super novel types of orthogonal approaches within the, what was from the deep tech space stuff that really wasn't ready to attract traditional venture funding.

Neil Littman (Host)
The market has evolved now. We're seeing more dollars flow into those types of technologies, but it'll be really interesting to hear Lindy's perspective about how things have shifted over the years.

Danny Levine (Producer)
Well, what do you think that transition from breakout labs to breakout ventures say about the way the landscape has changed?

Neil Littman (Host)
I mean, to me it seems like a natural evolution, right? I mean, I think that there are a lot more investment dollars flowing into much earlier stage, much more, call them risky novel types of technologies than ever before. I think the, the evolution to break out ventures, what seems to be a natural one and fits within the broader macro climate that we're seeing these days, we're just seeing a lot more venture dollars flow into these types of companies. It seems to make a lot of sense to me.

Danny Levine (Producer)
What are you hoping to hear from Lindsey today?

Neil Littman (Host)
No, I just like to understand what her learnings were from breakout labs, how she's applying those to breakout ventures today, the types of companies breakout ventures is looking for today, if it's the same as what she was looking for before, if her thinking has evolved and, w where they see themselves fitting into the overall venture ecosystem.

Danny Levine (Producer)
Well, if you're all set,

Neil Littman (Host)
Let's do it. Hi, Lindsy, I'm super excited to walk into the show today. Thanks for joining us,

Lindy Fishburne (Guest)
Neil, thank you so much for having me.

Neil Littman (Host)
My pleasure. You and I have known each other for years now, and there's been, I think, quite a bit of overlap between what you've been doing first at breakout labs. Now at breakout ventures, what I spent many years doing first that the California Institute for gender medicine now at buyer verge, I think the common theme here, which we're going to dive into today is really funding, investing in supporting translational science, bridging the unfortunately named value of death. Before we dive into things, do you feel like that's where you've been spending the majority of your time in the recent years is funding that translational divide?

Lindy Fishburne (Guest)
I do. I think it's evolved a bit in that even earlier on, there's a real push to commercialize science from labs in a way that historically we haven't been as focused on, as a society. I think that pulling science forward so that we can commercialize it and benefit from it is definitely where we've been focused. And, as you've been living through, there's just enormous energy and now funding to support that in a way that there wasn't 10 years ago.

Neil Littman (Host)
I think you're absolutely right. It's amazing to see how much the ecosystem has changed. We're going to talk today about breakout labs, about the history there, the transition to breakout ventures, what you're seeing today in the marketplace, your investment thesis. I'd love to start and go back in time, really at the start of breakout labs, which I believe was formed in 2020. That was part of the, the teal foundation. Could you talk about the origin of breakout labs, what you were seeing in the marketplace in terms of needing to start an organization like breakout labs to support some of this, very early stage innovative science.

Lindy Fishburne (Guest)
Yeah. Just to be sure we're in the same timeframe we started breakout labs back in 2011 when the market looked very different than it does now. And, and breakout labs really emerged as a creative funding model to use philanthropic dollars out of the teal foundation to actually seed fund in today's world. I think they would be considered pre seeds, but pre-seed fund early stage deep tech, hard science companies often that were emerging from universities or people's garages. What we saw in that market at that point was you had computation and tools of scale from other industries starting to be applied to chemistry and biology, and what we think of as, deep, hard science and yet venture. The market was still very focused on web 2.0 and licking their wounds from the financial crisis. There was very little risk capital that was willing to take on technical risk, take on hardware risk, and basically build when it was unclear exactly what that future market might look like.

Lindy Fishburne (Guest)
We started to break out labs to provide that those early seed dollars. I think in some ways, most importantly, start to build that ecosystem where, for example, like you and I first met when the stem cell initiative was kicking off, but build that ecosystem of support. That entrepreneurs in this bio oriented space could start to have the level of connectivity that they'd seen their brethren have in tech, startups,

Neil Littman (Host)
Lindy, I, I really applaud your efforts because back then, I think that even the term deep tech was novel now I think that's a pretty common term, right. It was new back then and now things have even evolved to, there's this whole tech bio movement as well. In terms of just out of curiosity, the the funding structure and approach that you took at breakout labs, if I recall it was more like almost venture philanthropy, was that right? You are actually taking a, an ownership stake, or you had some returns that were looking to come back to breakout labs if the company was successful in the future of that, is that right?

Lindy Fishburne (Guest)
Yeah. We used a creative grant structure so that we could take philanthropic dollars out of a foundation and actually grant them into companies, which isn't typically how nonprofits work. Right. It's really easy to put a grant into a nonprofit. It's a bit more challenging to be able to use a grant into a company. We did that and we had a return provision such that if the company went on and was successful in the sense that they raised equity dollars down the road, we could have a below market rate return on those grant dollars. All of the return from the breakout labs companies came back into the foundation to basically fund that next generation of science. Almost an evergreen structure, if you think about it that way, it enabled us to have more patient capital, take some big swings because weren't trying to underwrite the same return that a venture investor would underwrite at that point.

Lindy Fishburne (Guest)
Were really trying to find improve the edges of the science of the scientist as entrepreneur and where the edge of that market was at that time. And it's your point? There was no deep tech, I think most people that came to our events because we spent a lot of time really trying to showcase our companies in this space in general and gel that ecosystem. I think they talked about science fiction more than, than deep tech at the time. I think one of our first companies, just an example, was modern meadow, where they were bio fabricating cells in order to create leather without the animal, right, without the cow. Now that is not, I wouldn't even get that much interest at a dinner table conversation, with that idea in 2021, but in 2011, nobody had even ever conceived of, being able to produce any animal based product without the animal at scale.

Lindy Fishburne (Guest)
They were really big new ideas around this movement towards a bio-based future.

Neil Littman (Host)
And, and I, I love those types of, swing for the fences home run type beds in really novel technologies. As you said, no one was thinking about those types of commercial applications back then. The other one that I recall from the breakout labs portfolio was cortex time, which was targeting Alzheimer's disease. I think that they had a very orthogonal approach where they are actually, I believe targeting what they believe to be an infectious pathogen that could potentially be the root cause of Alzheimer's. I think that company's gone on to actually go public. Maybe that would be another one I'd love just to learn a little more in terms of how that fit into your model back up at breakout labs. We can transition to figure out if that's part of your model now going forward into breakout ventures.

Lindy Fishburne (Guest)
Yeah. According to them is a great example of what we were looking for then, and to your point, continue to look for, which is a very novel hypothesis, a against a large unmet need, substantial market intractable problem that we haven't addressed in another way. You look at Alzheimer's, obviously we don't need to go through the data, huge market, massive unmet need. I would argue probably if we can solve Alzheimer's, it's like the biggest boon to the global economy because the drain of Alzheimer's patients and caregiving is so substantial. Yet what you saw in the space. I would argue, we're just now kind of 10 years later, I'm starting to see discussion of new hypotheses, but there had been a lot of money in a lot of philanthropic dollars dedicated to Alzheimer's given how substantial the challenge and the problem is. Yet they were all chasing the same hypothesis, wrapped up in towel, plaque and beta amyloid.

Lindy Fishburne (Guest)
There had been no positive results of actually improving cognition. Yet the money continued to flow regularly into the same approaches Cordic sign, which emerged out of an insight at UCF that was actually looking at a bacteria pathogen that is common in our mouths is the leading cause. I mean, basically the cause of Gingervitis and gum disease. They were the first to be able to show that pathogen actually can travel to the brain, which we did not know before they could quantify the amount in the brain and then be able to show how it's effectively eating and damaging neurons once there. For us, the ability to have a very novel hypothesis that had some very interesting early data points around it against such an intractable problem is exactly where I would argue at that point breakout labs. Now to some degree, breakout ventures needs to be playing in the sense that our funding went in to knock down the initial next data set, which allowed them to show this mechanism of action across another hundred brains.

Lindy Fishburne (Guest)
With that data be able to attract the follow-on capital to keep going and ultimately raise a series a with Pfizer ventures and Takeda and capital group, which was a great scientific validation to be able to have the old, like a Pfizer look at a very novel hypothesis and get interested in it. Cortex time now is about 60 days out from wrapping up a phase two, three clinical trial that hopefully fingers crossed. We are about to show improvements in cognition across mild to moderate Alzheimer's patients in a global trial. It's been super exciting to watch how they've grown, how they've continued to scaffold additional points around the science and the hypothesis and knocked down some of the outstanding questions. Now we are all eagerly awaiting the results from this trial and to your point and how the market has moved over time. They were actually able to a couple of years ago have what at the time was an early IPO based on the promise and the potential.

Lindy Fishburne (Guest)
I'm not even sure in today's market, it would count as an early IPO because the market has continued to embrace, therapeutics with big markets even earlier in their developmental process.

Neil Littman (Host)
Yeah, I think that's so true. I think, Lindy that's a, just a perfect case study in terms of the type of novel technologies hypothesis that you were funding at breakout labs, how the market is embracing those in today's environment. I think that's a great segue into maybe talking about what you learned your experience at breakout labs and how that led to what you're doing today with breakout ventures.

Lindy Fishburne (Guest)
Yeah. We started labs, there was this growing sense of, this wave that was emerging around innovation and a whole new set of talent that was coming to bear in biology and chemistry. And, we think about it overall as this democratization of science at the back then there was even this, citizen scientists movement a much more enthusiasm and recognition for scientists as entrepreneurs, scientist as founder, nobody flinches at those ideas. Now 10 years ago, the typical response was that's interesting science. You can be the CSO. We need to go find a business person to run the company. I think what has evolved in, in really rapid pace is the talent pool that is engaged in this industry, whether it's scientists as entrepreneurs that never intended to stay in university forever. They'd seen the path of their tech brethren and they had the vision of wanting to commercialize and make that impact and build that substantial, big next generation company.

Lindy Fishburne (Guest)
Also a new swath of talent that is now able to engage in biology and chemistry based on tools being more accessible, based on biology, becoming driven by computation and a whole set of folks that would think of themselves as more tech, tech studied people in tech experience, people now being able to bring the tools of technology to bear on biology. We've seen that talent base just rapidly increased. In many ways I would say upscale and that has followed and also helped. I think, further the amount of capital that is now flowing into this market where you and I have been evangelizing for years, way before the capital was there. I think as the talent has expanded as the sense of being able to leverage computation to lower binary outcome risk of biology and fundamentally the search for alpha and this search for returns in a market where they're not quite sure where it's going to come from the next generation of tech, you've seen this unbelievable shift of funding come into this space, that we think of kind of this bio built future.

Lindy Fishburne (Guest)
Now the money is going earlier and earlier to our earlier point, near deep tech is a space of it is now a, well-funded very interesting space with the fusion of lots of technologies coming together.

Neil Littman (Host)
Okay. Linda, there's so much to unpack in your comments there. I think it's such an exciting time in this, this area, but one of the points that you mentioned, which I do want to take a minute and dive into, because I think this is critically important is this idea of the, the scientist turned entrepreneur, the scientific or technical founder, right. I mean, that was always a common theme in the tech world, right? As the technical founder, as you said, that the scientists had historically been relegated to the CSO role. How do you think about at breakout ventures now, the role of the scientist turned entrepreneur, the, the, the technical SHEEO in terms of trying to build and scale a commercial organization. I mean, what role does, management capabilities play in your analysis, whether this is the right person for the job to build and scale a commercial operation?

Lindy Fishburne (Guest)
Yeah, we learned a lot, I would say investing whether it was through labs or ventures is all about building pattern matching and pattern recognition. We tried a couple different angles at this question over the years that, I think in some cases we will have to lick our wounds from in the sense that, we did the brilliant name-brand scientist, who's got the academic appointment and wants to keep one foot in their academic lab and the safety and the security of that. Try to run a company on the side. That's something you only do once because, if you're all in, they need to be all in also. I think that we have focused much more on that. Scientist is founder that most likely has not been their entire career in academia. At the 12th hour tries to make the switch, but probably came into that scientific expertise, maybe finished and has their PhD.

Lindy Fishburne (Guest)
What you're really looking for is that person that is attuned to being able to build the team. The bet you're making more than their brilliance and scientific credibility is their ability to attract people to want to work with them. To ensure that essentially every hire is better, smarter, more competitive than the higher before. And, and when you see how that's happened in the tech world, I think a lot of our scientists as entrepreneurs are open and are building in that way, that said, you will find the brilliant scientist who insures their brilliance by continuing to hire below them over time. You're never going to win that way. We are looking for those early signs of being able to attract a team, being able to attract fellow travelers that want to work with you that are supporting you and the ability to simultaneously hold tight to that founding vision and passion.

Lindy Fishburne (Guest)
That cause that's a big part of what you're investing in while also being able to hear the feedback, read the market and, shuck and jive and adapt as necessary. That's a hard thing to do to balance that, being the keeper of the flame and the overall vision and the fire in the belly while also taking in and adapting to feedback and market realities and being able to continue to evolve over time.

Neil Littman (Host)
Absolutely. I think I have a lot of battle wounds from this area as well, but th honestly, that's the best answer I've heard in terms of what to look for in terms of the technical or scientific founders and their abilities to build out the team around them. And, and I think there's a lot that goes into that. I think, what we've seen in recent years is at least in certain aspects of the market, the shift away from people that have 30 years of drug development experience, right. Those were the only types of folks that were getting funding. Now we're seeing, as you mentioned, maybe folks who just recently received a PhD who are able to now access funding that would have previously been inaccessible to them. I think that the market is evolving nicely. I think you articulated that perfectly in your answer there, I, I wanna transition to talk about some of the critical elements that you look for in companies at breakout ventures.

Neil Littman (Host)
So, we have a lot of entrepreneurs that are listeners. If someone's coming to breakout ventures to approach you, what, what are the key items that you're looking for?

Lindy Fishburne (Guest)
I think the most exciting things and where we are known for playing, and I think where we can really help entrepreneurs are those folks that are pushing an edge that have a fusion of science and some type of technology of scale that lets you see where that science can grow and why it would matter. We tend to focus on what we've, what we would call, technology, science of substance companies, of substance, that as they scale, if, and when they scale, it really matters and less focus on incremental moves. The safer bet because something is 10% better, faster, cheaper. We'd actually like more of a brand new approach that were saying before the novel hypothesis, the new category. I think that overall vision being grounded to some breakthrough, some novel science as to why you're going to be able to get there is what we're looking for coupled with, are these the best people, the right people to push this new idea forward, right?

Lindy Fishburne (Guest)
Does the marriage between the idea, the science and that team makes sense? Sometimes you've got the really cool out of the box idea coming from folks that are just not going to be credible to try to advance that. So you're looking for that match there. You're looking to understand, this balance of how bold are they, because as it's going to take a lot of work and a lot of time and a lot of dedication and getting knocked down and getting back up again. There is some amount of, irrational, boldness that's required, but it also has to be tempered with enough humbleness to know what you don't know and where you're going to need to get that early advisor, understand that you may have brilliant AI for identifying a new target or a new composition of matter, but you actually have never developed a drug before.

Lindy Fishburne (Guest)
Although your tools and technologies on the ID side might be really interesting in, unless you're able to balance understanding where you're going to need to work with those who potentially understand the market or understand that better, that next bit of translation, that humbleness is needed to be able to provide a, a balanced approach and wrapper where you think, okay, with capital, with network, with connectivity, this group is likely to be able to land critical milestones in a timely manner that facilitates moving the science forward and attracting the next capital to really have a go at scaling this and getting it into the market.

Neil Littman (Host)
Linda, I may have to borrow that term, irrational, boldness. I liked that one. Let's talk about the stage of financing. So you're still pretty early stage. That pre-seed seed series a, can you talk about the stage?

Lindy Fishburne (Guest)
Yes. I, I mean, as well, all the nomenclature in our world is, alphabet soup at this point. I think you see, now that we have $500 million series A's at times, and, precedes going into individuals that haven't even formed a company it's really hard to just land on the terms in the market. I would say based on the historical use of the terms, we tend to break out ventures. Now we're investing in creative, bio-sciences in entrepreneurs that are focused in hitting those first key technical milestones after they've got, they've got something. They've had an early proof of concept or they're taking IP out of university, but like there's a scientific heft and basis for their vision. We'll put the first 500,000 to a million in, I would call them early seeds in today's world. Those could be called precedes and we'll continue to do, 10 of those or so a year.

Lindy Fishburne (Guest)
The bulk of our dollars and exposure is really around high conviction series checks, which are probably more three to five to 7 million, depending on the round. The valuation in this market, all of that is still what I would call early stage for sure in terms of where they are on the technology, on the scale. At that series, a, you should have at least early indications around, to use a tech term kind of product market fit. Maybe that's JD, A's where you're working with a corporate to develop. Maybe that's an early partnership, that's early customers, but it's some sense of the market wants this. I have a sense of how to get it to them. We're building to scale from there.

Neil Littman (Host)
That begs another couple of questions to dive into, but the first one, again, for the entrepreneurs out there, you launched a breakout ventures with a $60 million fund. At what point will that fund be fully deployed and any plans for raising another fund after that?

Lindy Fishburne (Guest)
Yes. I, I should have updated you at the beginning. We have invested breakout ventures one and have 11 companies in that portfolio of cortex I'm to our earlier conversation, being one that is, has done quite well. Now if we cure Alzheimer's, we'll be very happy with.

Neil Littman (Host)
Exactly.

Lindy Fishburne (Guest)
We will have achieved our goal in many ways. In 2021, we actually launched breakout venture second fund, and we have just begun investing out of that fund. We've just closed our first three seed deals and closed our first series a. We are open for business and investing regularly now and looking at new and exciting deals and creative bio-sciences that, I think I have the best job in the world because every day you are surprised by some new solutions, some new approach in this bio based future.

Neil Littman (Host)
Oh, well, congratulations on the new fund. Very, very exciting. One other question that comes to mind was, do you have any plans to invest beyond series a? That, is that part of the mandate, or do you feel like your job's done by that point?

Lindy Fishburne (Guest)
We continue to basically hold in reserve to be able to engage in, typically I would say that series B or that next round, we're not going to be the funder that stays there forever for that, large growth equity crossover rounds. We're probably tapped out by that point. Typically when you're investing in series a, you're also reserving to support the company in that next round. A big part of what we've always focused on is really building our networks so that we can help facilitate the syndicate building for our companies. Ideally, you've got the capital around the table, such that if they're hitting technical milestones, the team is jelling. The market's responding, they shouldn't have to spend nine months out fundraising that next round. You've really started to do that syndicate building and networking early enough, such that next stage of capital is as well teed up as it can be if they're hitting those critical milestones.

Neil Littman (Host)
Yeah. Which, which is a huge value add for the companies and entrepreneurs. Linda, I want to transition the conversation a slightly, a venture capital to this day remains, I think a male dominated space, breakout ventures, features of female team is that by design or coincidence,

Lindy Fishburne (Guest)
We are, you know, do have fee. We are female led GPS. That was really how the best people came together to do the job. We're continuing to build out the team and we actually have a, a great new associate joining us. The team will be more diverse soon, but I think that we have all seen the advantages of new and different and diverse bodies managing capital, because as we're all familiar with how networks work when capital is in a wider range of hands, it naturally and inherently funds a broader range of entrepreneurs just based on network theory alone. I think we have a higher percentage of female CEOs than I, I think I'd say any other firm I've seen, not because we go looking, but because based on network, we are often introduced to phenomenal female CEOs. We are supportive and excited by the broader range of folks that are directing capital in this market.

Lindy Fishburne (Guest)
I think a that is driving greater accessibility for entrepreneurs coming into this space.

Neil Littman (Host)
I think that's critically important, right? I mean, democratizing, the access to capital is really critical in this space, as we're seeing more and more of what we talked about before, right? The scientists turn entrepreneurs that are building these really amazing companies based on some novel technologies. Lindy, I know we could probably talk for another two days about these topics, but I do want to end with any advice for entrepreneurs who are seeking financing and want to approach you, how can they learn more about breakout ventures? How could they get in touch with you?

Lindy Fishburne (Guest)
Yes. We are happy to review things pretty early, and we actually have the ability to get in touch on our website@breakout.vc. There's even a very simple form there that lets you share the company, the space you're in and that early paragraph of what you're working on. I want to be clear, we actually have that there because we review everything that comes in and get back to folks within two weeks. We're very sensitive and aware of taking, time and energy from entrepreneurs. I would say typically the best way to break into a conversation with a venture fund is through a CEO, somebody on the team of one of their portfolio companies. I think a big part of deals that we see in spaces we get excited about is that, and I think this is across most funds, right? You're seeing in your learning through the companies that you're invested in.

Lindy Fishburne (Guest)
One of our CEOs who, we trust, we love we've backed and they know us and they say, Hey, I really think you should take a look at this. That's always a very compelling intro and a great way in, but to our earlier conversation around democratizing access, not everybody has that relationship or has that in, which is why I think it is really important that we have something like this, open forum on the website so that those without the network can also get at gain access and we can be able to do review and get back to them quickly if we want to engage further.

Neil Littman (Host)
I think that's wonderful. Well, Lindy I want to thank you so much for your time today. Thanks for a great wide ranging discussion and yeah. Thanks. Thanks for joining me on the show today.

Lindy Fishburne (Guest)
I really appreciate it. Appreciate it. Great to catch up with you. Thanks so much.

Danny Levine (Producer)
Well now what did you think?

Neil Littman (Host)
Oh, I thought that was a wonderful discussion with Lindy. I particularly enjoyed her take on the, the scientific or technical founder question. I thought that was honestly the best answer I've heard in terms of what investors are looking for, for that type of, scientific, entrepreneur. I think it's a really tough question. It's one that I've struggled with over the years. We funded a lot of the scientists turn entrepreneurs at CIRM. We do a lot of deal with that a lot at bio verge and it's, it's walking a fine line. I think Lindy's answer there was really spot on in terms of what investors should be looking for. I think it also helps entrepreneurs to think about, well, what do they need to do to be a credible CEO? Particularly if they come from the academic background,

Danny Levine (Producer)
Where do you see breakout ventures fitting into the investment landscape today?

Neil Littman (Host)
Yeah, I mean, I view breakout ventures as a, as an early stage, venture firm that invests in, as Lindy said, I mean the deep tech, but particularly, computational biology. It's a lot of what we would call tech bio these days. I mean, sounds like it spans the various sub verticals within healthcare, but they seem to be a, a, an early stage, venture farm and I think are often what it seems like are trying to identify technologies a lot of times ahead of some of the more traditional players out there in the venture space.

Danny Levine (Producer)
What's the need you see today and seed and early stage funding.

Neil Littman (Host)
Well, there's been a lot more capital flowing into earlier stage round seed series a for your pre-seed you heard Lindy talk about the idea of alphabet soup when it comes to the nomenclature. I think it's, it's true. It's gotten a little out of hand, but right. I mean, we're, we are seeing, a hundred plus 500 plus million dollar series a rounds regularly these days. So, capital is flowing in earlier. I think that's great, but I think it's not being evenly distributed, right? There's a lot of firms that are all chasing the same deals. That's why we're seeing more of these mega rounds. So, I think Lindy's point about having a, a, a female led team in a diverse team, how that colors their view on really providing more access to capital to folks that may be, would otherwise have a hard time accessing that capital is spot on, right?

Neil Littman (Host)
I mean, trying to democratize access to ensure that enough people have the ability to get in front of VCs who can fund them. I think that's really critical. So, that's something that we're trying to do at, by verge as well. I think it's the role that breakout ventures plays, I think is really critical in the ecosystem. Even understanding that there's still a ton of capital within the ecosystem, but breakout ventures I think has carved out a very nice niche.

Danny Levine (Producer)
And her role at breakout labs. She had this incredible visibility into innovation and an entrepreneurial scientist. What do you think that did to shape her approach it breakout ventures?

Neil Littman (Host)
I mean, I, from the conversation, it sounds like the approach is very similar, right? I mean, you heard about some of the, maybe some of the battle wounds or lessons learned from breakout labs, but, it seems like the breakout ventures is really a, the next evolution of breakout labs. In my mind there would be no breakout ventures without first having breakout labs. And all of those learnings.

Danny Levine (Producer)
Know there's a unique set of folks who invest in seed and early stage rounds as someone who does this, did anything Lindy say hit a raw nerve or give you an aha moment or just speak to something you really related to from your own experience?

Neil Littman (Host)
Yeah. I mean, again, going back to the idea of the technical founder, the scientific founder, I mean, that's something that's very common in the technology world, w and you heard her talk about, looking at companies that are backed by folks that maybe just received a PhD, right. In, in traditional biotech investing drug development, right. Folks are looking for, 20 or 30 years of drug development experience. And there's a good reason for that. I think with this new computational overlay for a lot of the companies that we're seeing that are trying to solve fundamental problems in biology or health care, we are skewing in many ways towards, a younger generation of founders. And, I was really great to hear Lindy's point of view about what she looks for to assess, whether that person is the right person to lead a commercial enterprise. I think that in particular struck a chord with me.

Neil Littman (Host)
I think that's really critical as more firms think about funding early innovation, certainly something that we think about it by over with all the time. I think that point in particular jumped out.

Danny Levine (Producer)
Well until next time.

Neil Littman (Host)
Thanks, Danny.