Autism Spectrum Disorder, also known as ASD, is a complicated developmental condition with far reaching effects in areas ranging from communication to social skills. In the United States alone, ASD affects 1 in 44 children and over 2% of the global youth population. The present standard of care, behavioral analysis therapy, is marginally effective while the cause of ASD remains unknown, with no present cure. There is no clear way to track patient progress or the efficacy of interventions which often leads to overwhelmed parents. This can, in turn, lead to less effective therapy and treatment regression.
Adding to these difficulties is the individual lifetime cost of over 1.5M dollars, posing a daunting cost for therapies that parents are not optimally able to benefit from. The ASD therapy landscape is in desperate need of an easy-to-use, home-based autism intervention which allows for parents and therapists to measure and enhance treatment effectiveness.
This is where JelikaLite comes in with their development of the first home-based, non-invasive stimulation device for children with autism. Known as Cognilum, this solution combines a wearable neurostimulation and EEG-sensing device with an AI-driven data platform in an integrated system to analyze developmental trajectory and personalize future treatments in a feedback loop.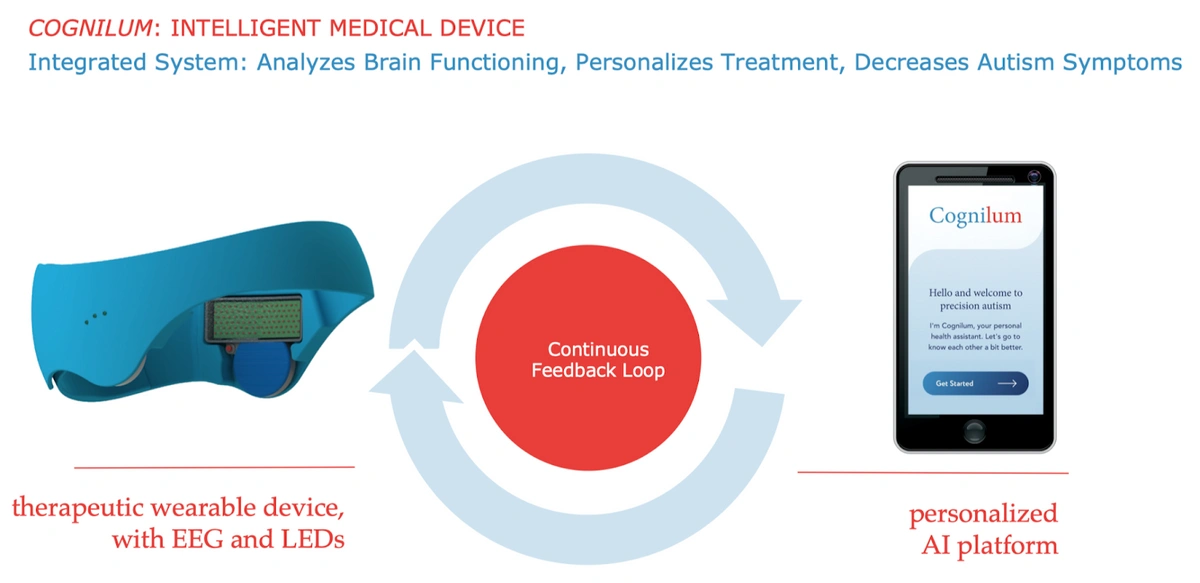 The wearable device stimulates the brain using near infrared light, taking patient safety into consideration, using an emerging neurostimulation technology known as photobiomodulation (PMB). Compared to pre existing therapeutic options for ASD, Cognilum allows for easy administration of therapy at home, which is incredibly beneficial to busy parents, and delivers personalized treatment without the need of a physical therapist. This technology has the potential to be revolutionary by delivering treatment to reduce core ASD symptoms.
JelikaLite is led by a uniquely talented leadership team which synthesizes the best of practical therapeutic experience and business acumen. One of its co-founders, Katya Sverdlov, CFA, Esq. who now serves as CEO, brings over 20 years of financial legal and startup experience to the table. Dr. Eugenia Steingold, CSO and co-founder, has upwards of 20 years of working experience with autistic children, from the sides of therapy and research. CTO Luis DeTaboada, MS is a specialist in transcranial photobiomodulation and medical devices while COO Elizaveta Logounova is a specialist in product and platform development management. The team also receives expert support from selected advisors in the scientific, AI and commercialization realms.
JelikaLite received strong, early clinical and market validation and in 2022, it was granted a Breakthrough Device Designation by the FDA for reduction of symptoms in moderate to severe ASD in certain pediatric patients. It has also been awarded an SBIR Phase I grant by the National Science Foundation (NSF) and has been recently accepted into notable accelerator programs such as Endless Frontier Labs at NYU and the NSF I-Corps. In December 2022, JelikaLite raised seed capital in a round led by Bioverge and the BRAIN foundation, which included participation from NY ventures.