Congratulations to CEO Eugene Cho and the entire Echo team on their acquisition by CELLINK!
>> Download the Investment Case Study
Redefining Microscopy for Life Science Research
Discover Echo was built around a singular vision: to rethink traditional microscope design. Every aspect of workflow, usability, and performance have been pushed to create a more modern and powerful product. Today, 71% of Research Labs own both UPRIGHT and INVERTED microscopes. Echo has developed the world's first hybrid microscopes that can easily convert between either configuration.
There is no other microscope in the market that can provide this. Echo also replaced eyepieces with Ultra Hi-Resolution touch displays to create an unparalleled experience.
Performance Summary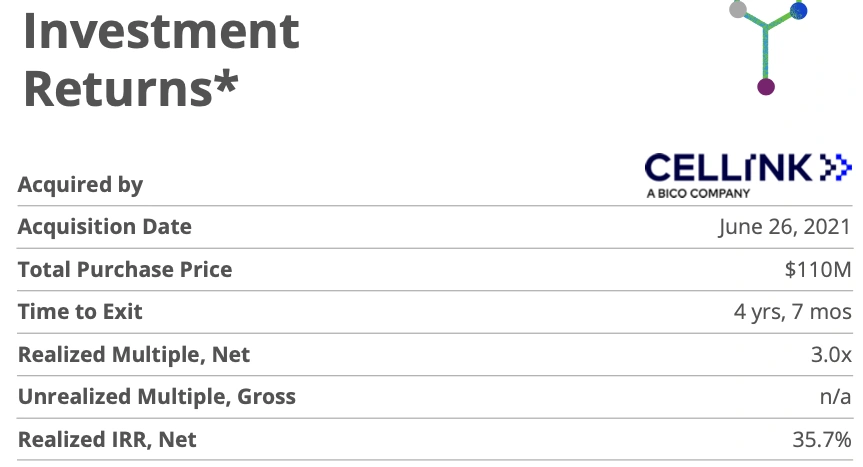 *Based on gross estimated total consideration at time of transaction
The Story
I first met Eugene in 2016 at the BIO International Conference while I was walking around the exhibitor floor. As I passed the Echo table, I noticed these incredible look ing microscopes, the likes of which I had never seen before so I stopped to chat and see what these futuristic microscopes were all about. After all, I worked in a virology lab many moons ago and had never seen a microscope this cool! Modern medicine as we know it would not have been possible without microscopy, and Eugene and Echo had the vision to rethink and modernize every aspect of traditional microscope design.
Long story short, in October 2016, Eugene invited me and the newly launched Bioverge to invest in the company's seed convertible note round. This was only the second SPV our firm had ever done and to this day I am incredibly grateful to Eugene for inviting us to participate in the round. At the time, we
firmly believed in the vision, product, and most of all the team and have watched enthusiastically over the years (and helped along the way when we could) as the Echo team executed against their strategy. As with any endeavor, it wasn't always smooth sailing as Eugene had to navigate complex international politics, tariffs, trade embargoes, and of course a global pandemic, all of which profoundly affected the company's oversees manufacturing and supply chains.
We remain in awe of how the Echo team was able navigate these challenges, pivot when necessary, and find new solutions to what seemed like the shifting sands of international politics. And Echo accomplished this all while continue to grow sales and push toward profitability!
We first invested in Echo when they had less than $1.8M of cumulative sales and followed on our investment through two additional SPVs over the years based on the company's strong performance. Fast forward to today, and Echo is expected to grow 65% in 2021 and hit $20 million of revenue with a double-digit EBITDA margin.
This journey is a true testament to the fortitude and grit of Eugene and his team at Echo, and a master class in what it takes to be an entrepreneur. From all of us here at Bioverge and all of our LPs who joined us in the journey, a heartfelt congrats to Echo on a hugely successful outcome!
- Neil Littman