NutriSense is building a data-driven nutrition platform. They track key metabolic biomarkers in real-time and leverage a team of expert dieticians to help users hit their health goals and create lasting behavior change.


Opportunity Highlights
---
Overview
Regardless of our personal health goals, it's well established that nutrition is a critical ingredient towards preventing and treating disease, and living a longer, healthier life.
That said, no matter who is selling you on the latest and greatest diet, the truth is that there is no one-size-fits-all approach to food.
Whether someone is overweight, at-risk for or suffering from a chronic disease, looking to start a specific diet (e.g. vegan, keto, paleo), an athlete seeking optimal fitness performance, or in good health and looking to age well with a focus on prevention, the optimal nutrition strategy for each of us is fully dependent on our genetics, our state of health, and our specific personal health goals.
Up to this point, navigating this world alone has proved challenging for most, requiring time and money, research and education, motivation and patience, prolonged sacrifices and self-discipline. Framed this way, it's easy to see why nutrition plans are doomed to failure for so many.
In a perfect world, our nutrition would be directed by our personal health goals, informed and optimized by accurate and continuous health data, and guided each day by a personal dietician whose role can be described as part concierge for nutrition expertise, part support group for encouragement, and part coach for motivation and accountability. If only...

NutriSense is building a data-driven nutrition platform. They track key metabolic biomarkers in real-time and leverage a team of expert dieticians to help users hit their health goals and create lasting behavior change.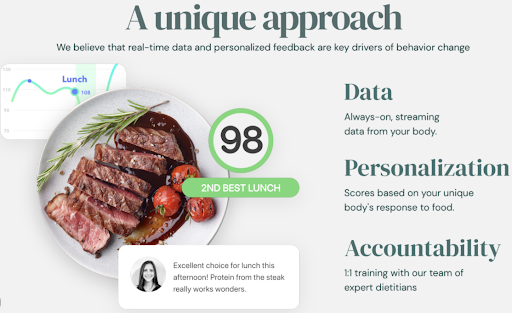 NutriSense users are asked to provide detailed information about their own health history and personal health goals. From there, A tailored nutrition plan and individual KPIs are established in collaboration with their personal dietician.
Data - always-on, streaming data from your body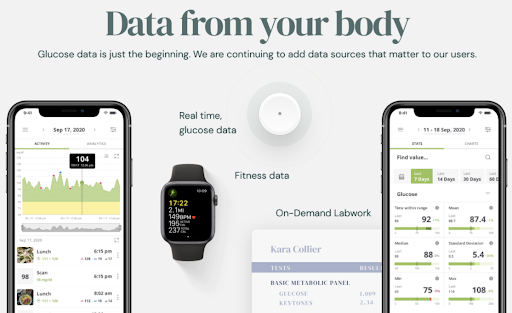 Users are sent a continuous glucose monitoring (CGM) patch that can be worn continuously for 2 weeks at a time, providing real-time data that is used to glean insights into personal metabolic health and your body's unique response to food.
Glucose monitoring is powerful, but is also just the beginning. NutriSense is excited to integrate additional sources of data, including activity monitoring, smart blood pressure cuff and weight scale, ECG and sleep monitoring devices, as well as on-demand, at-home lab testing (blood work, microbiome testing, food sensitivity analysis, etc.)
Personalization - scores based on your unique body's response to food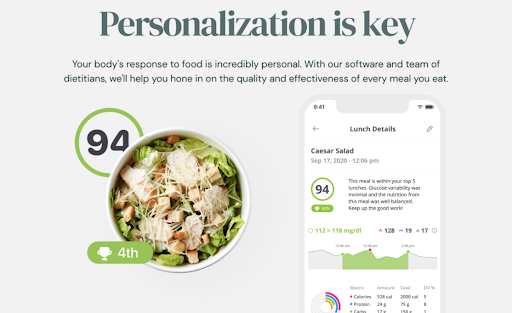 CGM and other health data sources are reported back to the NutriSense and the user's dietician in order to make adjustments and improve outcomes.
The NutriSense product roadmap includes plans to offer specialized "health tracks" for users that are centered around specific health conditions, personal goals and nutrition strategies, such as tracks for heart disease prevention, pre-diabetes, and IBS.
Accountability - 1:1 coaching with a team of expert dieticians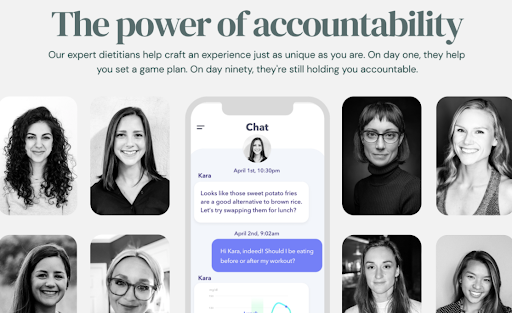 NutriSense dieticians are responsive within an hour and trained by the company to offer guidance on day-to-day decisions, interpret user data and make personalized adjustments to improve outcomes. Pairing users with a dietician is a powerful differentiator that is easy to overlook. People underestimate the strength of the relationship that can be formed between the user and their health coach. In a world where most doctors are not connected to or do not have enough time in the day to be responsive to all of their patients, NutriSense users trust their coaches and rely on them for on-demand expertise, personalized support, motivation, and accountability. The end result is a highly engaged user base.


Traction
Launched in January 2020, NutriSense has achieved incredible growth in a short span. Today, the company has 8.5K users and is on track to hit $38M ARR by the end of 2022. And it has accomplished all this with just $2.5M in spending. The team aims to reach $100M ARR by the end of 2023.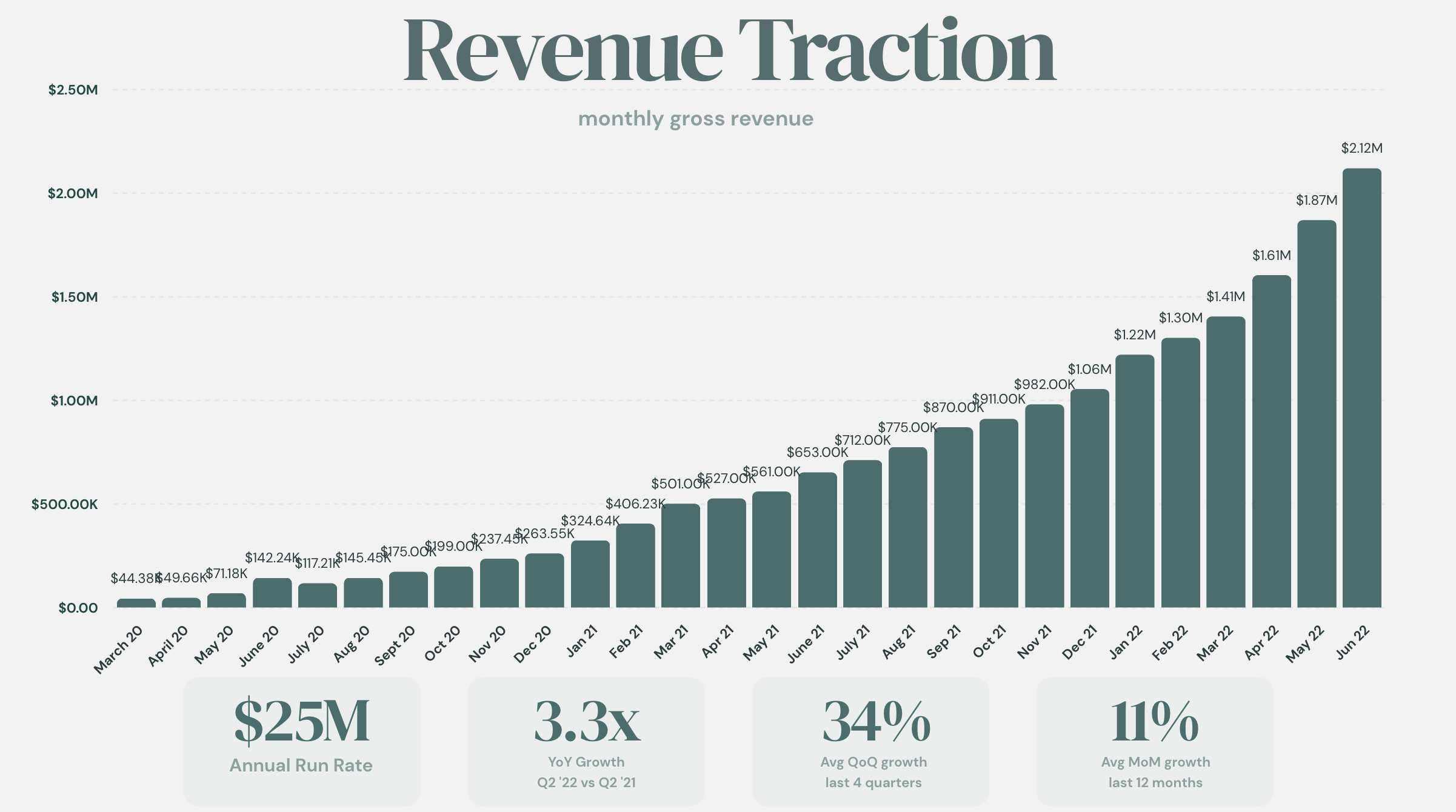 NutriSense has a subscription pricing model where customers pay $175-250/month for access to the CGM hardware, software, and coaching. The average customer acquisition cost of $250 is fully recovered within the first 3 months.
The company's user base is highly engaged and loyal. As of June 2022, each of the company's 8.5K users opened the app 8 times per day on average. In addition, 10% of customers coming from customer referrals.
Market Landscape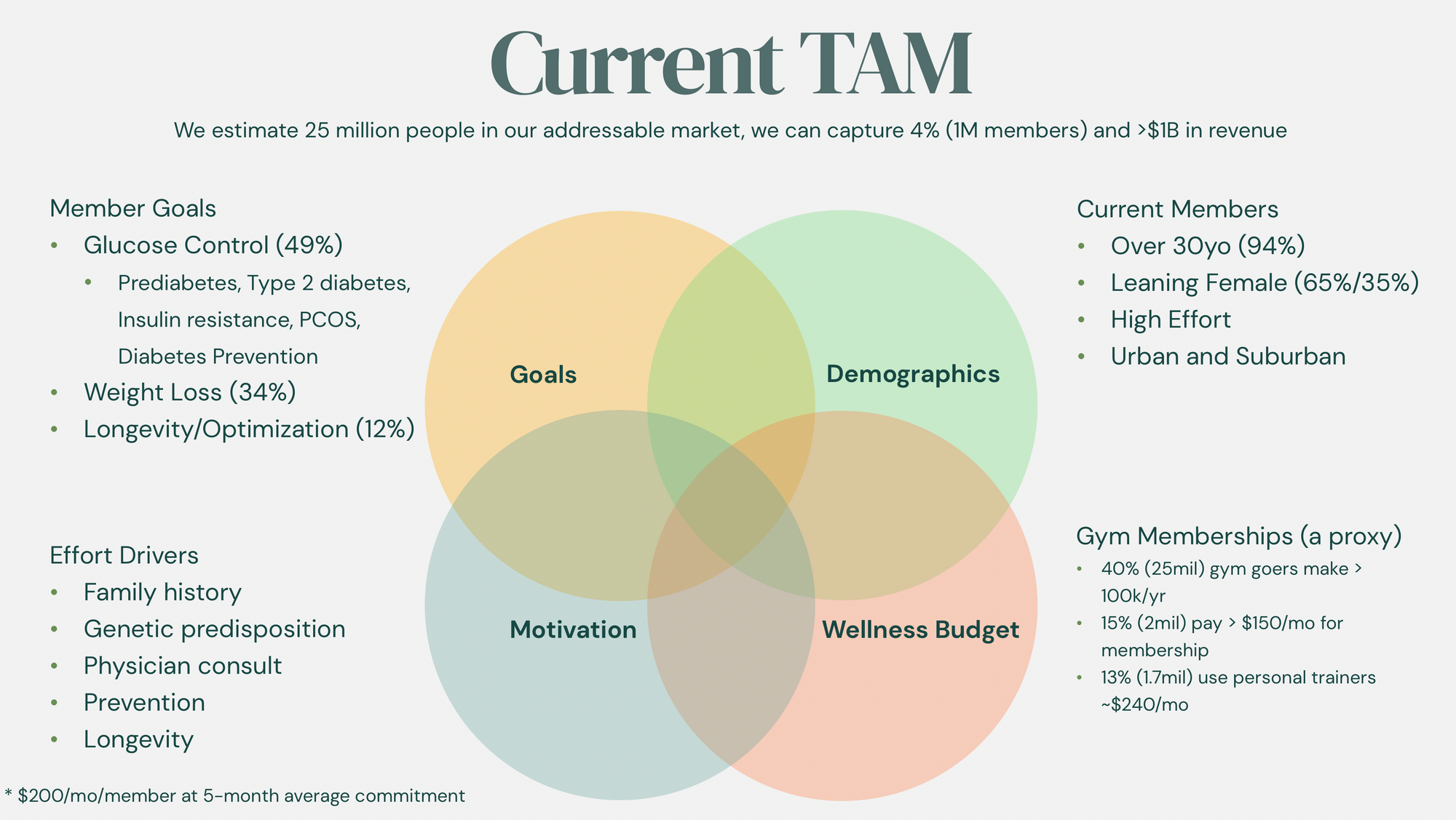 The company is tapping into the personalized health market, where consumers have demonstrated their willingness to pay for self-care and associated health services.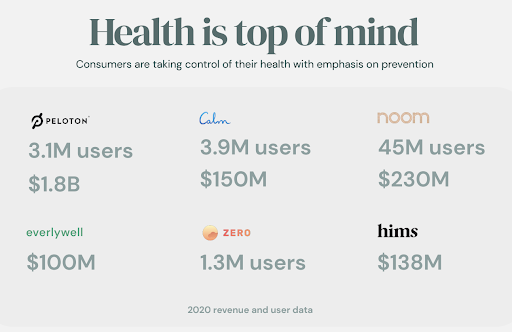 NutriSense doesn't see itself competing with other CGM companies (e.g. Levels, Zoe, etc.). Where they are trying to turn the CGM into a fitness wearable, NutriSense is building a data-driven treatment platform to help their members address and avoid different chronic conditions. Glucose data (via CGM) is just one of many inputs into the system.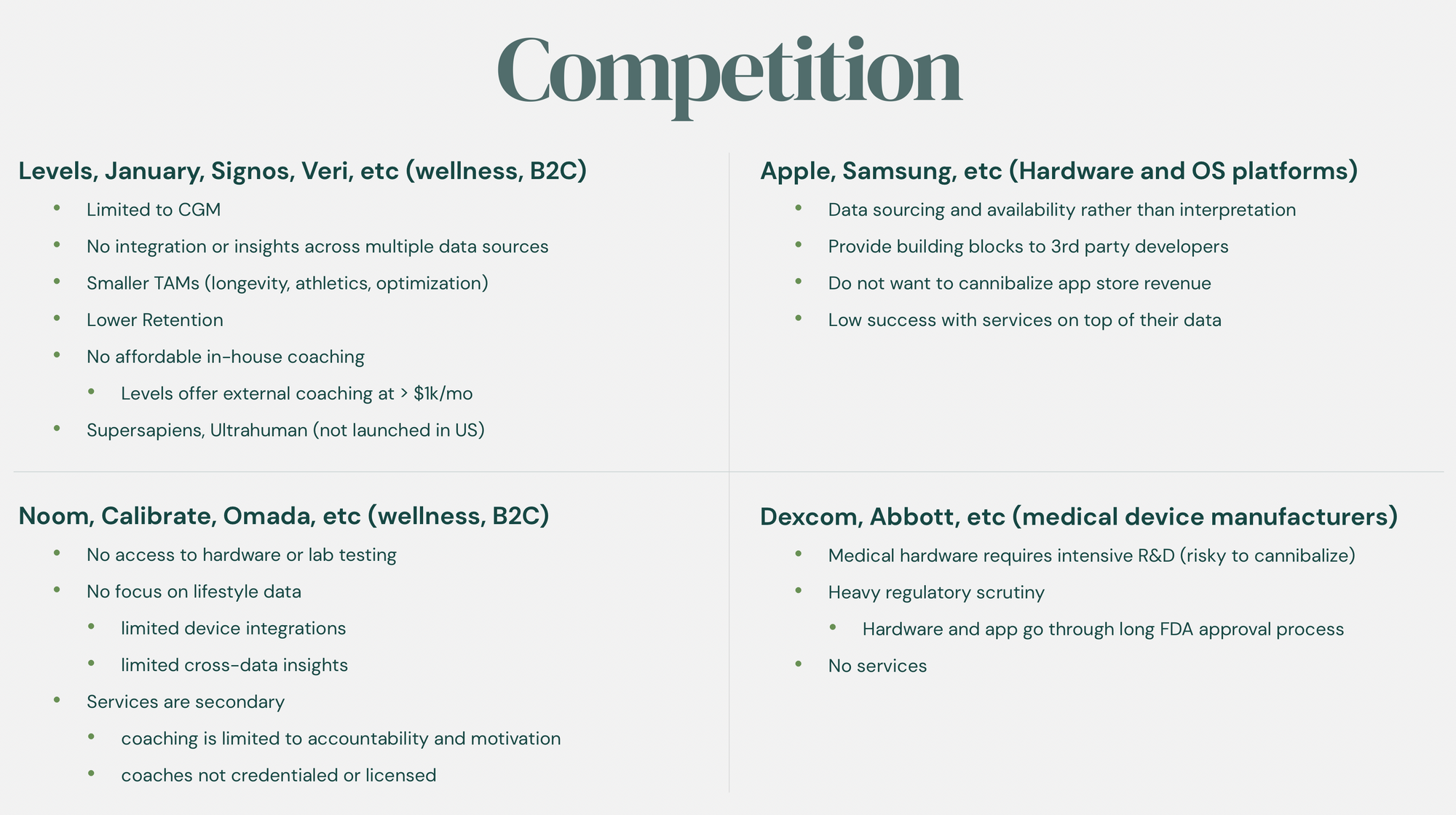 Most of the companies in the CGM space think that a hardware/software combo is enough to change user behavior. Peloton, Noom, Future, and other successful consumer brands have proven that hardware/software is not enough - human connections matter for long-term engagement and results.
NutriSense prefers competing with the likes of Noom, One Medical and Forward in building a concierge "physician as a service platform" with a full suite of products and services targeting common lifestyle diseases.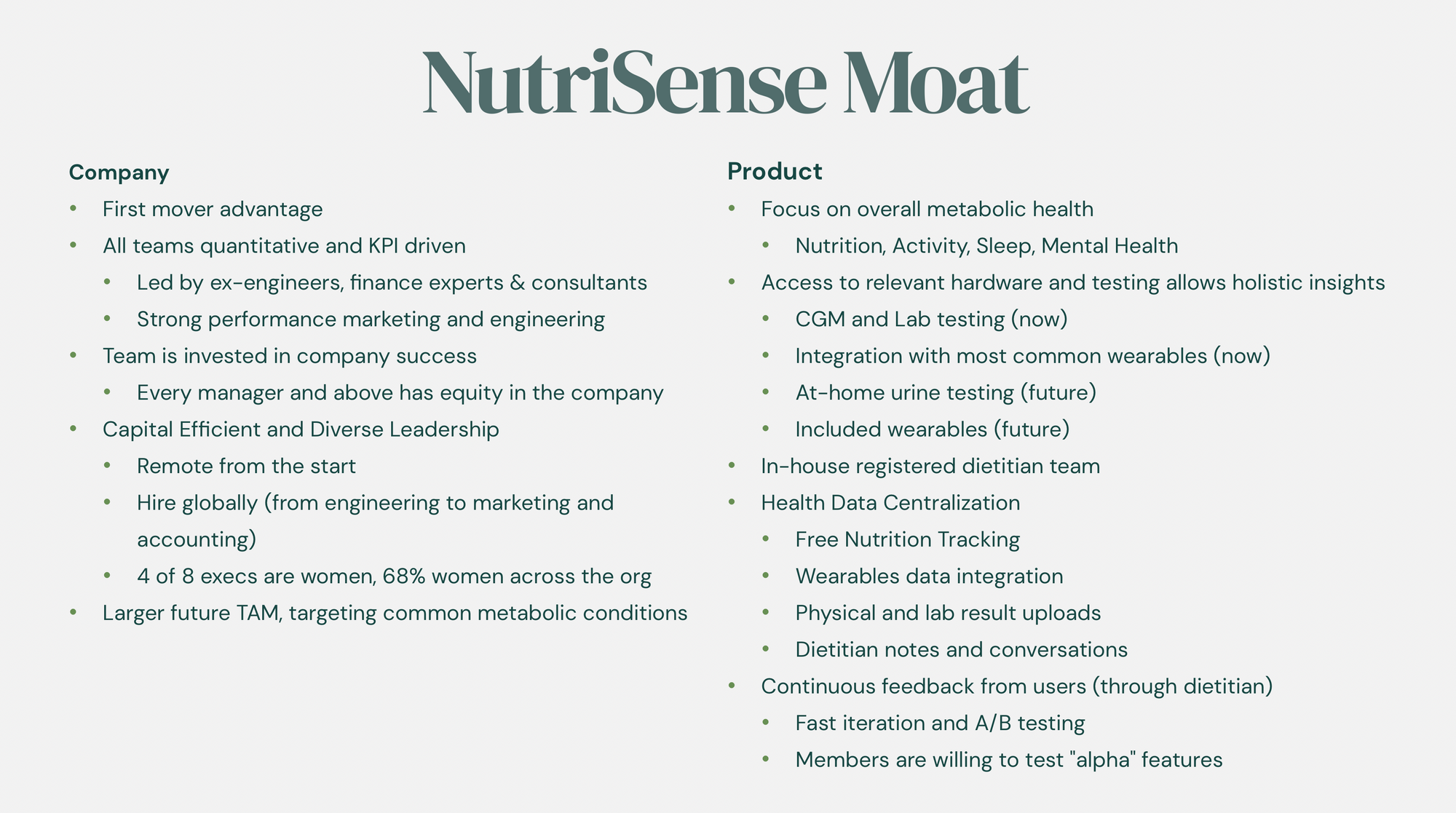 Team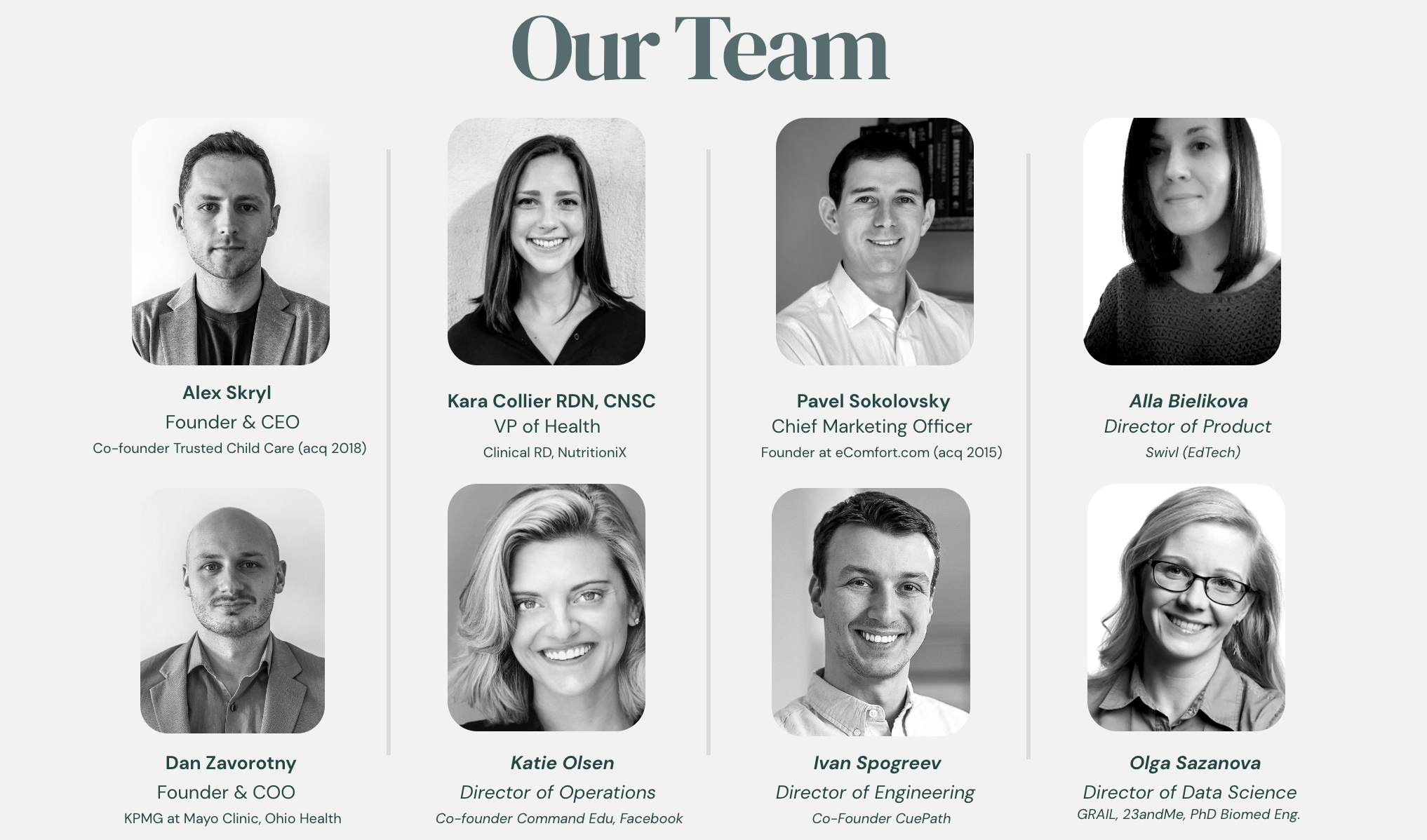 Multi-disciplinary team with a track-record of execution and success