Enveda Biosciences is unlocking new medicines by creating the first-ever chemical map of the natural world
Company Highlights
Oversubscribed $30M Series A led by Lux Capital, with participation from Jazz Venture Partners and existing premier co-investors: True Ventures, Hummingbird Ventures, and Two Sigma Ventures.
World-class Tech-Bio team at the forefront of machine learning, metabolomics, drug discovery and development. Several members, including CEO Viswa Colluru PhD, were early employees at Recursion.
In just one year, drug candidates identified for 8 separate indications, 3 of which already have promising in vivo results. Team speed is due not only to the technical platform capabilities, but also the company's early decision to build an "in-house" drug development CRO in India, enabling 5x speed and 7x cost savings.
---
Overview
Did you know that Aspirin, the world's top selling drug, is sourced from willow bark with a first recorded use in ancient Mesopotamia 6,000 years ago? How about Metformin, a drug used by 400M patients today to manage diabetes? It's sourced from a plant called Goat's Rue, with a first recorded use in Medieval Europe. Followed by cannabis (plant), psilocybin (mushrooms), and the list goes on and on.
Nature is the greatest source of products that we know! We've been using them as medicines for over 50,000 years. Products derived from nature already make up a collective $1T market spanning pharmaceuticals ($400B), personal care ($350B), and food/agriculture ($20B). And yet, shockingly, 95% of the natural world remains a chemical mystery!
This is largely due to the manual processing that has historically been required to characterize these compounds, especially those not yet known to man. Just imagine the novel compounds and potential medicines that remain locked up, waiting to be discovered.
If there was a way to replace the manual work with scalable, computational methods we could set out to map and characterize the chemical basis of planet earth and unlock new materials and medicines previously unexplored.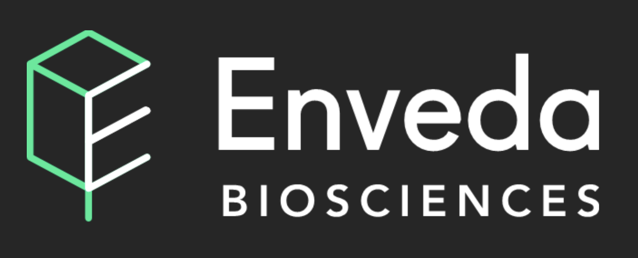 Enveda is creating the first high-resolution map of chemicals found in the plant-based, natural world.
Using machine learning and metabolomics (systematic study of the unique chemical fingerprints that specific cellular processes leave behind), the team has effectively built an advanced search engine capable of characterizing the chemical basis of the plant world and leveraging associated insights to discover new bioactive compounds and medicines.
The team began with a step deemed "Reverse Translation", which centered around aggregating humanity's collective wisdom about the plant-based world into a single biomedical knowledge graph spanning 23K+ plants and 16M+ relationships.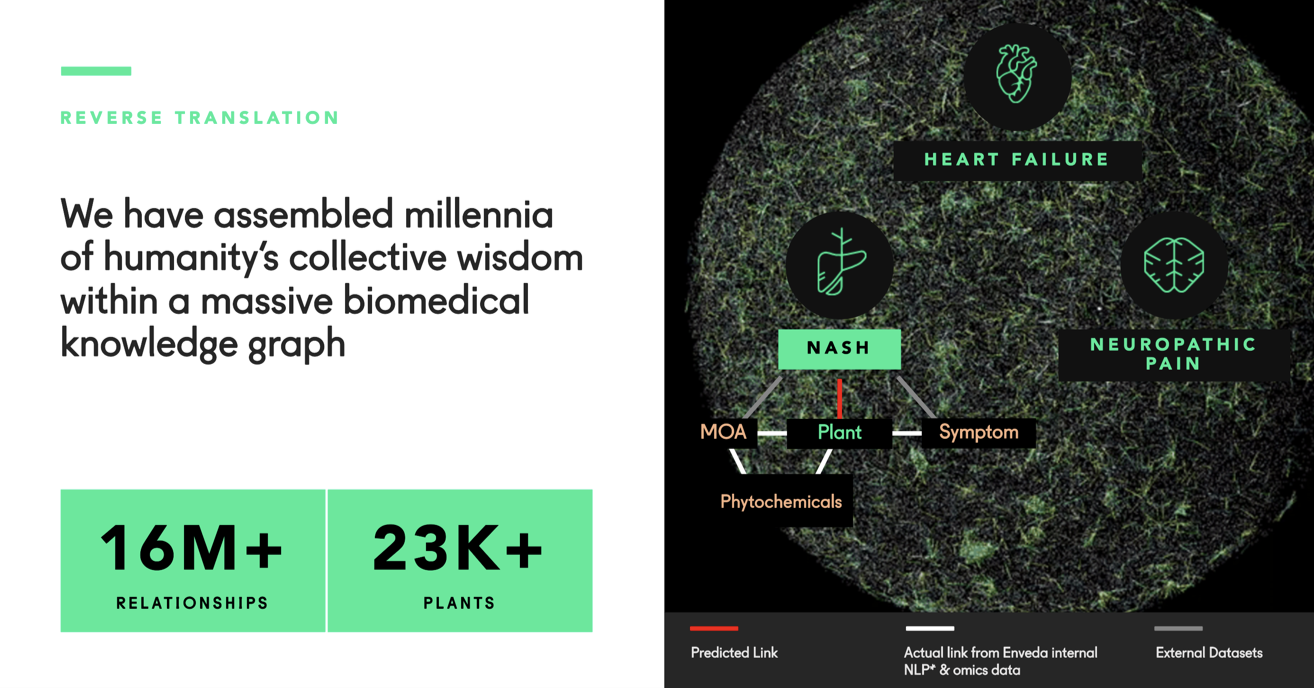 Using insights generated from the knowledge graph, the Enveda team has already produced 4 high-value drug candidates.
From here, the company has also expanded into "De Novo Discovery", where they can conduct deeper characterizations of known plants, insert these into the biomedical knowledge graph, and leverage insights to identify new chemical starting points and potential medicines.
This process involves organizing and clustering chemical signatures of molecules found in individual plants using a combination of mass spectrometry and machine learning.
Deep learning methods are then employed to predict molecules not yet known to science. This is a 100x improvement over human analog methods because published papers on plant-based compounds are so few and sparse. For context, less than 2% of molecules are known in a plant with more than 10,000 papers.
Finally, Enveda's team links molecules to bioactivity using in vitro and animal models, but unlike traditional approaches machine learning is also employed at this step. This leads to 100x faster characterization of molecules and how they distribute to various organs in animals.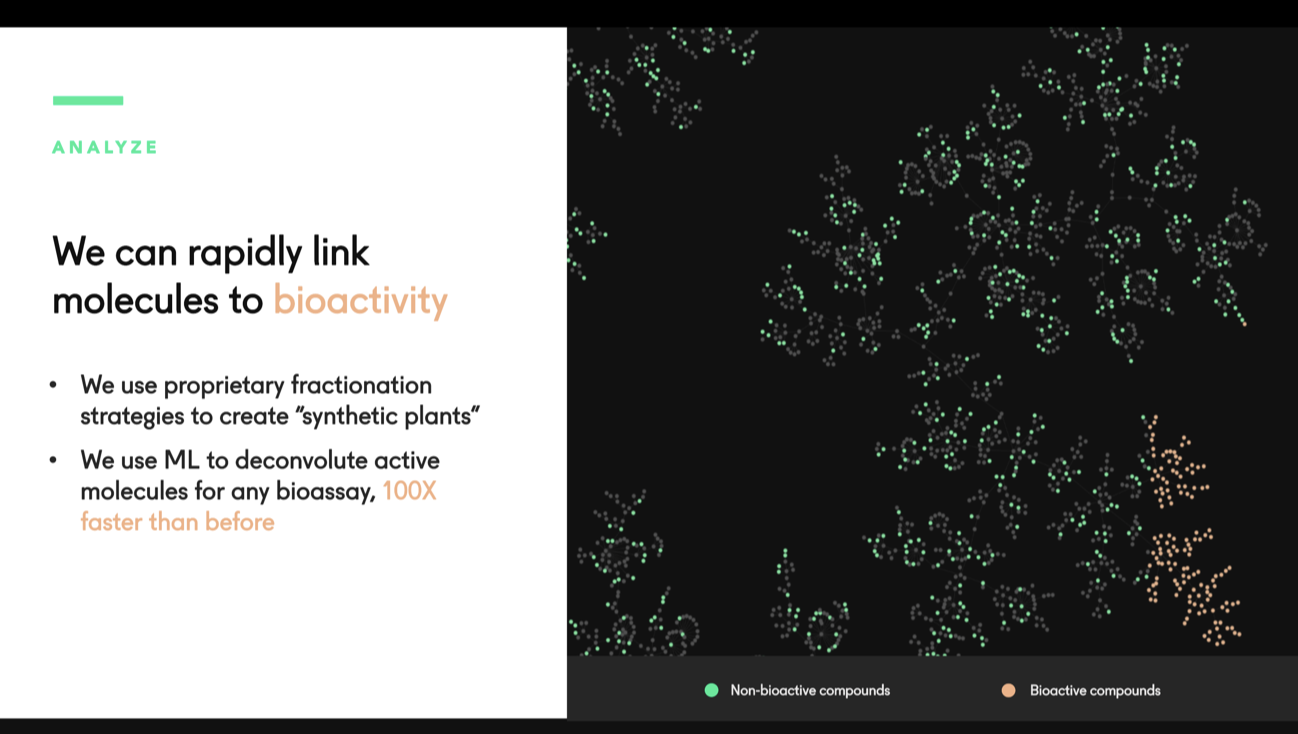 Enveda has made an astounding level of progress in just under 1 year since their seed financing. They have candidate molecules identified for 8 separate indications. 3 of those programs already have promising in vivo results. This team's speed is due not only to the technical platform capabilities, but also the company's early decision to build out an in-house CRO in India for in vitro and in vivo work, which gives them the ability to move 5x faster and be 7x more capital efficient versus working with outside CRO partners.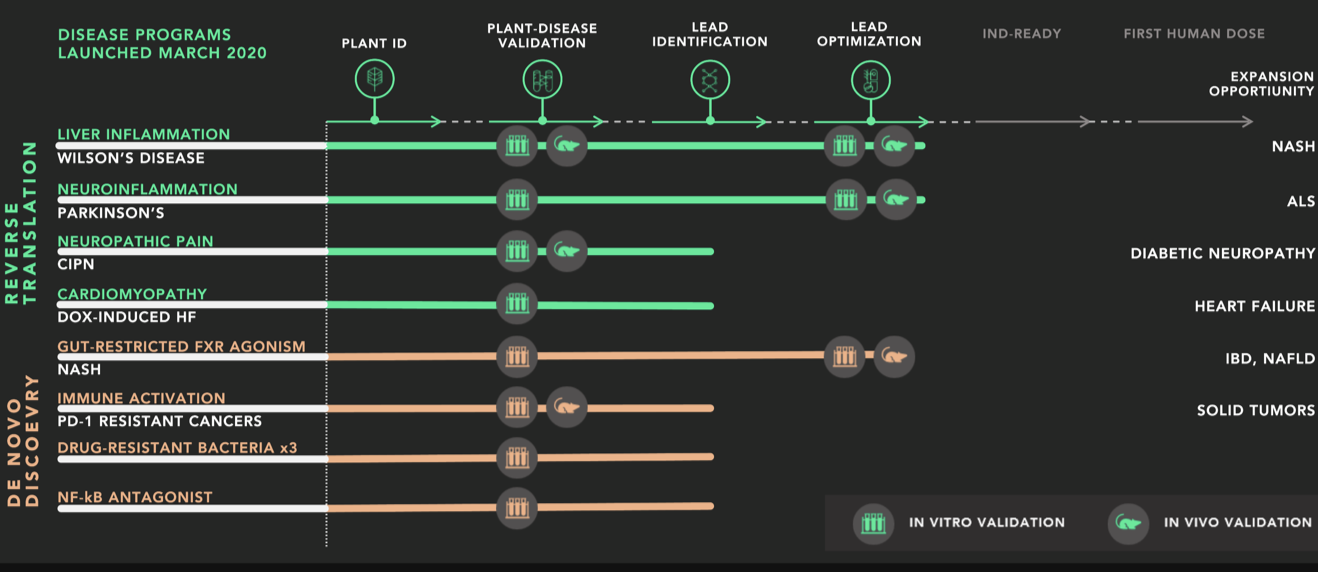 And excitingly, Enveda's current pipeline was inspired by studying just 100 plants. The company's next objective is to scale this to 1000 plants and beyond, a scale at which the the machine learning algorithms can be fully leveraged.
Enveda will target the following milestones in advance of their Series B financing, which is projected by 2023:
Scale their platform from 100 plants profiled during the seed round up to 1,000 plants profiled on the Series A capital

Build out machine learning capabilities to secure an unbeatable advantage from their competition

Advance 3 drug candidates to phase 1 clinical trials

Partner one of their programs with an outside pharmaceutical company

Generate 6 follow on drug candidates for their pipeline
Team
Enveda has assembled a world-class Tech-Bio team at the forefront of machine learning, metabolomics, and drug discovery.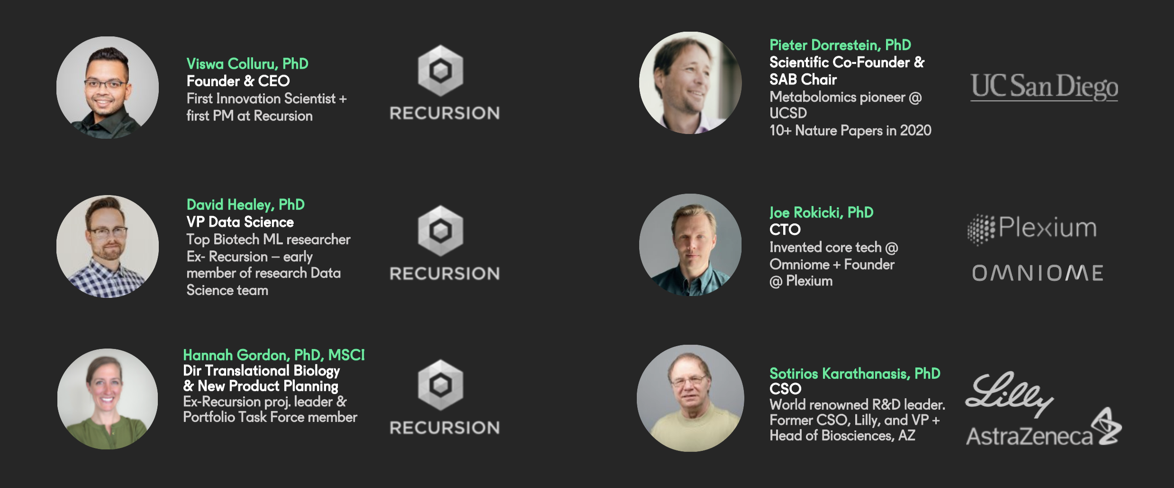 Viswa Colluru PhD, Founder and CEO: first innovation scientist and first PM at Recursion Pharmaceuticals
Joe Rokicki PhD, CTO, invented core technology at Omniome and founder at Plexium
Sotirios Karathanasis PhD, CSO, world renowned R&D leader, former CSO of Lilly and VP Head of Biosciences at AstraZeneca
David Healey PhD, VP Data Science: top biotech ML researcher from Recursion
Hannah Gordon PhD MSCI, Dir. Translational Biology & New Product Planning: ex-Recursion project leader and portfolio task force member
Pieter Dorrestein PhD, Scientific Co-founder SAB Chair, metabolomics pioneer at UCSD with over 10 Nature papers in 2020
In addition to a proprietary metabolomics and machine learning platform, the Enveda team includes experienced drug developers as well as an in-house CRO capabilities that give them a speed and cost advantage. These are two major advantages that sets Enveda apart from many other AI drug discovery platform companies at their stage.

Bryan Norman, PhD, VP of Drug Discovery: former Sr. Group Leader at Eli Lilly, with 25+ years as a medicinal chemist that delivered 10+ clinical candidates
Matt Healy, PhD, Computational Biologist: 20+ years in Comp Bio at Bristol Myers Squibb and Regeneron, including 5 marketed drug approvals.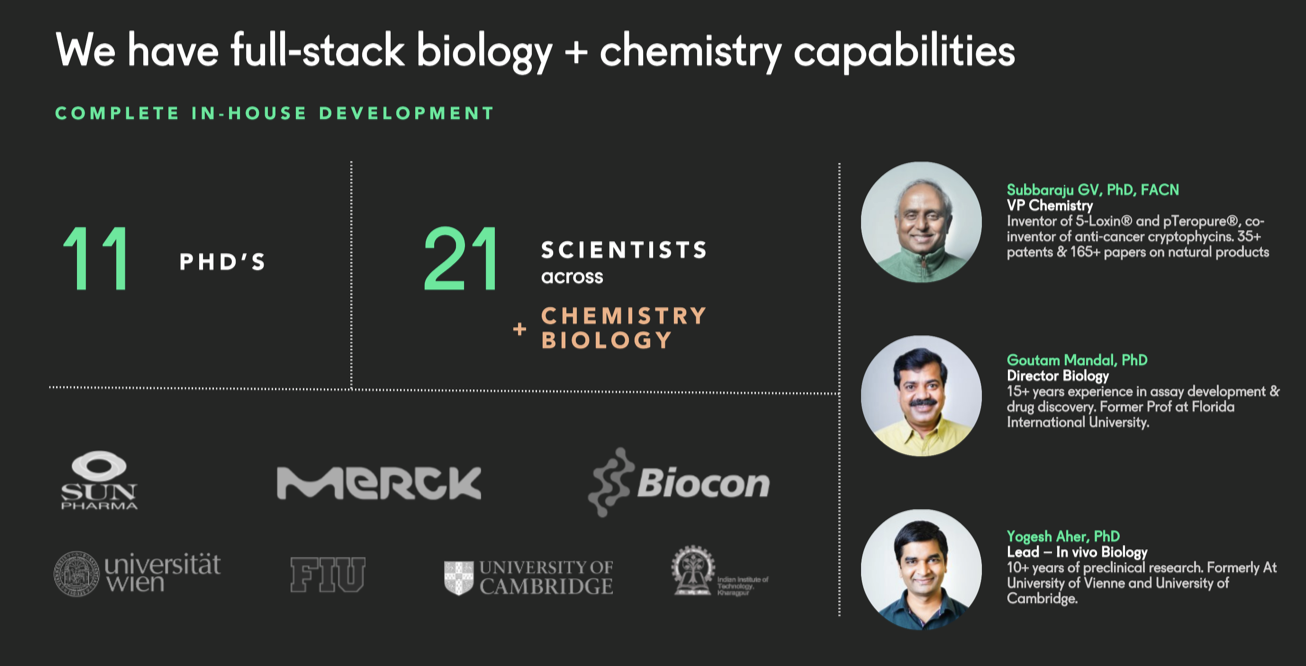 Market
Just 9 years ago, artificial intelligence (AI) and machine learning (ML) hit the biopharma scene, hyped as powerful tools with potential to dramatically transform the industry. They promised rapid and cost-effective delivery of new therapies, more effective and precise than what came before. At the time, these were bold claims to make, with very little to show in terms of real-world results. And while advocates believed the hype was founded, others doubted the future impact they would have.
Fast forwarding to today, it is safe to say that we have our answer – while it took nearly a decade to play out, AI/ML driven drug discovery and development have exceeded all expectation. Select AI/ML companies have now successfully brought AI-generated drug candidates through to clinical trials and established major partnerships with the world's largest biopharma companies, leaving no doubt that these technologies represent the future of drug discovery and development. A few highlights:
Recursion Pharmaceuticals (2021 IPO: $RXRX, partnership with Bayer)

Exscientia (April 2021 $525M Series D led by Softbank, May 2021 $1.2B partnership with Bristol Myers Squibb)

BenevolentAI ($1B+ valuation, partnerships with Novartis and with AstraZeneca, resulting in AZ's first-ever AI-generated drug target)

Atomwise (partnerships with Bayer, Charles River, Lilly)
Several key members of the Enveda team were early employees at Recursion Pharmaceuticals. They saw an untapped opportunity to apply these validated principles and be the first to decode the natural world. The Enveda platform has the potential to fundamentally change where scientists can look to discover new medicines, as well as the speed and scale at which they can find them.
Each indication that Enveda pursues will have a different market size of addressable patients. The three most advanced drug candidates are all targeting large market opportunities via a de-risked rare disease entry point.
The first is Wilson's Disease, an inherited genetic disorder that causes copper to accumulate in the liver, brain, and other organs. Wilson's disease is a $600M market. After showing proof of concept in Wilson's disease Enveda plans to expand into the much larger Nonalcoholic Fatty Liver Disease ( or "NASH"), a massive $31B market.
Their second asset targets neuroinflammation in Parkinson's disease, an $8.3B per year opportunity. The third program has been developed to alleviate neuropathic pain, a $2.4B market.
Enveda will follow a traditional biotech path of securing non-dilutive funding via partnering a subset of their drugs with larger pharmaceutical companies as they progress to the clinic as well as federal grants. If any of their programs have successful clinical trials, they will be in a position to divest from the programs for additional funds, or continue to raise capital and become a commercial pharmaceutical company themselves (likely as a public company).
Fundraising
Enveda previously raised $5M in seed capital and a $30M Series A led by Lux Capital. The company's investor base notably includes: True Ventures, Wireframe Ventures, Chris Gibson (Founder and CEO of Recursion Pharmaceuticals), Hummingbird Ventures, Two Sigma Ventures, Lifeforce Capital, and Village Global.
In 2022, Enveda raised an oversubscribed $50B Series B round, led by Dimension Capital. Funds from the Series B will be used to advance the platform's scale and capabilities, continue to build out the Enveda team, and generate new lead candidates for its drug pipeline. In addition, funds will be allocated to taking a subset of its pipeline through the IND process in preparation for human phase 1 clinical trials.