HepaTx is developing an allogeneic stem cell-based therapy as an alternative to liver transplant. Their proprietary SF-Heps cells are terminally differentiated adipocyte-derived stem cells. These cells can address multiple liver disease pathophysiologies through a variety of mechanisms of action. HepaTx's proprietary SF-Heps are based on a 3-part differentiation process with IP licensed from Stanford. Their lead indication is acute liver failure, which remains a high unmet medical need.
Company Highlights
Investment Thesis
Regenerative medicine is a broad field that includes tissue engineering but also incorporates research on self-healing – where the body uses its own systems, sometimes with help foreign biological material to recreate cells and rebuild tissues and organs. A major goal for regenerative medicine is to enable human tissue replacement through transplantation of stem cells that can be harvested from readily accessible tissues.
HepaTx's vision is to develop regenerative medicine solutions for complex chronic diseases that have not been addressed well by conventional drug therapy. The Company's approach is uniquely differentiated in its ability to generate a novel, scalable, off-the-shelf and effective cell therapy approach by converting donor fat stem cells into functioning hepatocytes for patient use. Large numbers of donor fat cells - adipocyte-derived stem cells (ASCs) - can be easily obtained by liposuction and HepaTx has developed methods for inducing ASC differentiation into functioning hepatocyte-like cells that HepTx calls SF-Heps. These features make liver regeneration via transplantation of ASC-derived hepatocytes a highly attractive possibility for regenerative medicine.
The Company's platform consists of proprietary methods for logically and methodically modifying the phenotype of stem cells and directing their differentiation into virtually any type of cell. The output of this platform is clinical grade cell therapies. SF-Heps are Hepatx's first product from this platform. Since many liver diseases share a similar pathogenesis in terms of decline in liver function/cirrhosis, the SF-Hep cell therapy product can address multiple liver diseases with the same product.
HepaTx has achieved early preclinical proof-of-concept, demonstrating their process can produce hepatocyte-like cells. They have further shown in vivo that these cells stably engraft in the liver, produce key liver synthetic function, and also positively modulate liver function in a liver damage prevention and treatment model.
Problem
While liver transplants are curative and many would benefit from a transplant, less than 3% of patients receive one. The market opportunity for HepaTx's cells includes not only the 15,000 people who are registered on the waiting list for a liver transplant, but an additional ~200,000 people who have later stage disease and are not currently on the waiting list.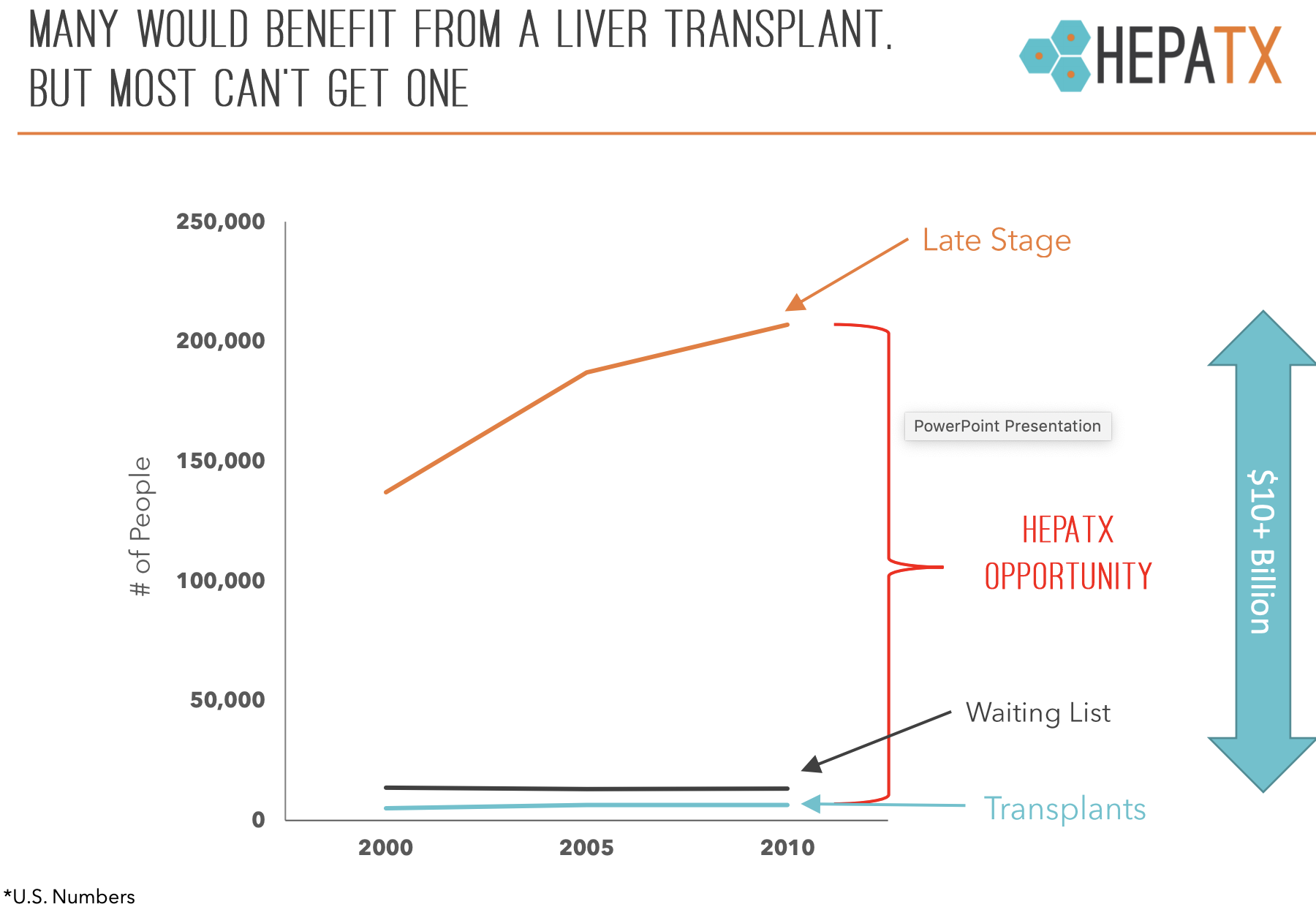 Solution
HepaTx's solution is to develop a novel, scalable, off-the-shelf and effective cell therapy treatment for liver disease by converting donor fat stem cells into functionally differentiated hepatocytes. The cells would be infused via the portal vein for engraftment into the liver. The cell's mechanism of action would include functionally engrafting into the liver to replace lost liver function while also reducing injury/inflammation at the site of via paracrine signaling. This solution would enable hepatocyte transplantation utilizing a virtually unlimited supply of donor cells.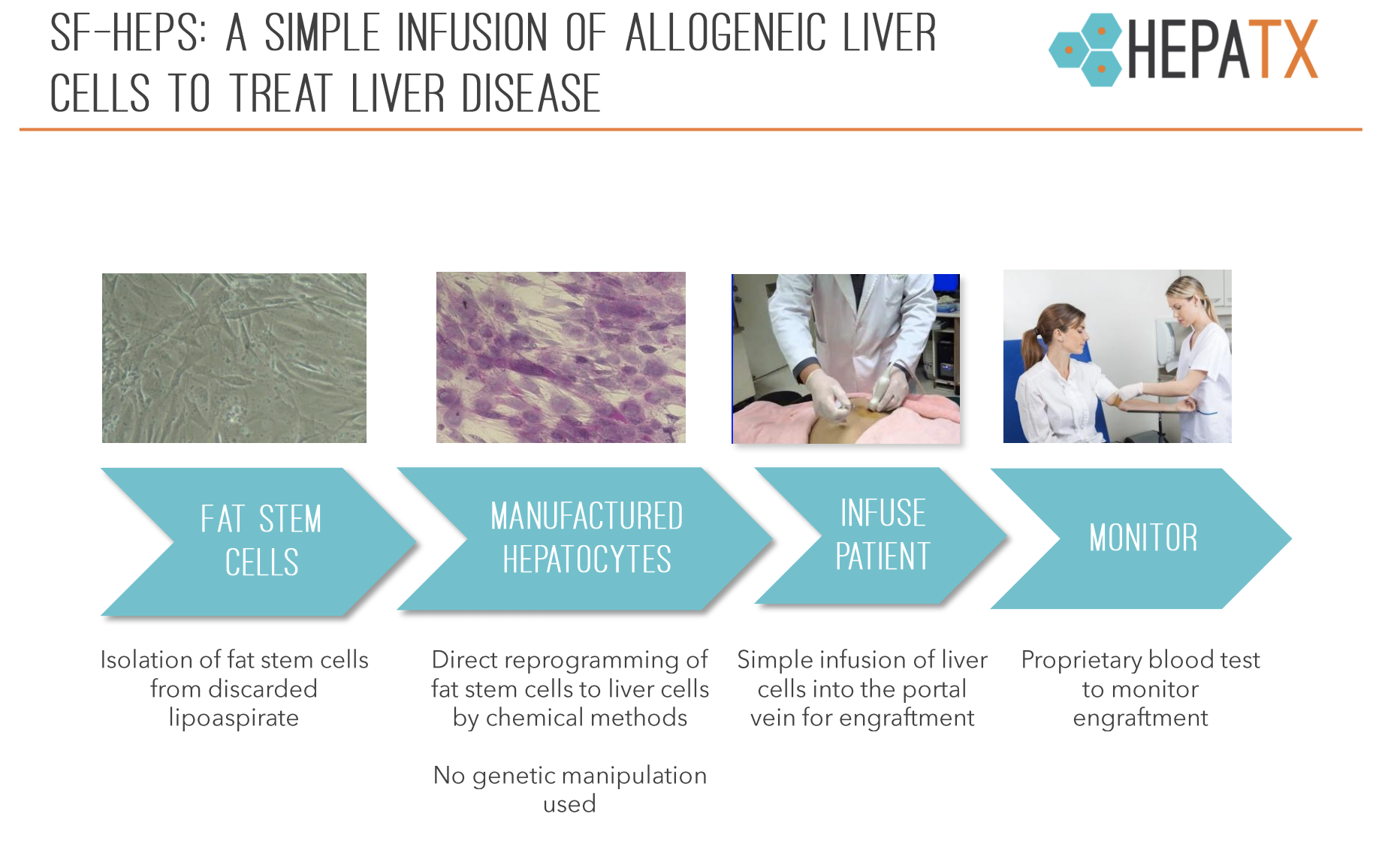 HepaTx's first program will be treating a specific indication for patients with acute liver disease given the high unmet need, speed to data readouts, and ability to achieve regulatory approval with a faster and more efficient path given the orphan nature of the disease. After clinical proof of concept is established, HepaTx will be evaluating the cell therapy in larger indications including chronic liver diseases such as NASH and cirrhosis.
Over the long term, the Company envisions developing additional allogeneic cell therapy products for indications outside of the liver disease space including regenerative cells from the pancreas, kidney and other organs through expansion of our technological know-how and pre-clinical platforms.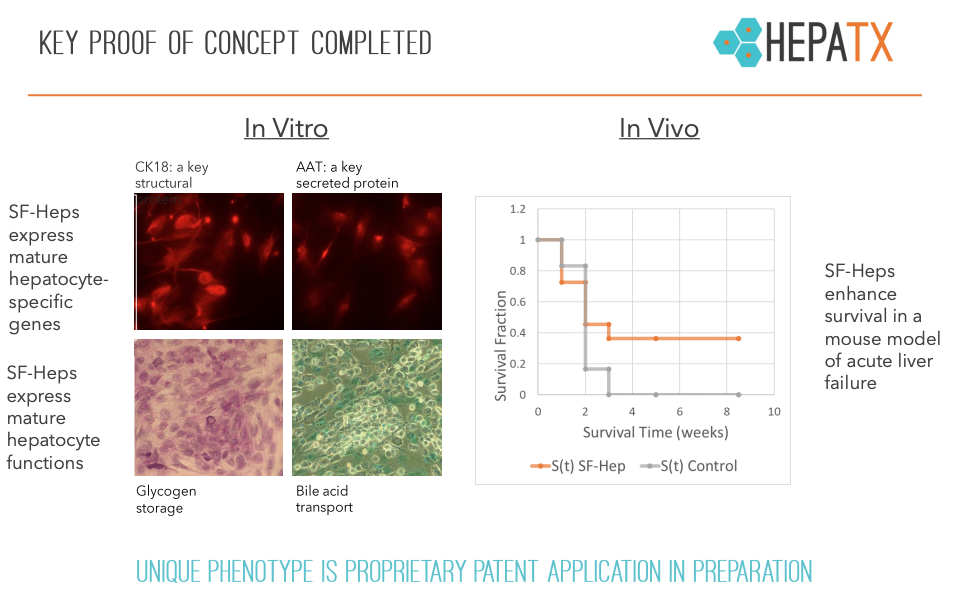 HepaTx' currently manufactures hepatocytes in their facility. The initial production process from the platform is dialed-in and ready for GMP transition. The Company's next milestone is to show preclinical proof-of-concept in a liver disease model that is relevant to human disease which will enable proceeding to IND-enabling studies. That work is currently in progress.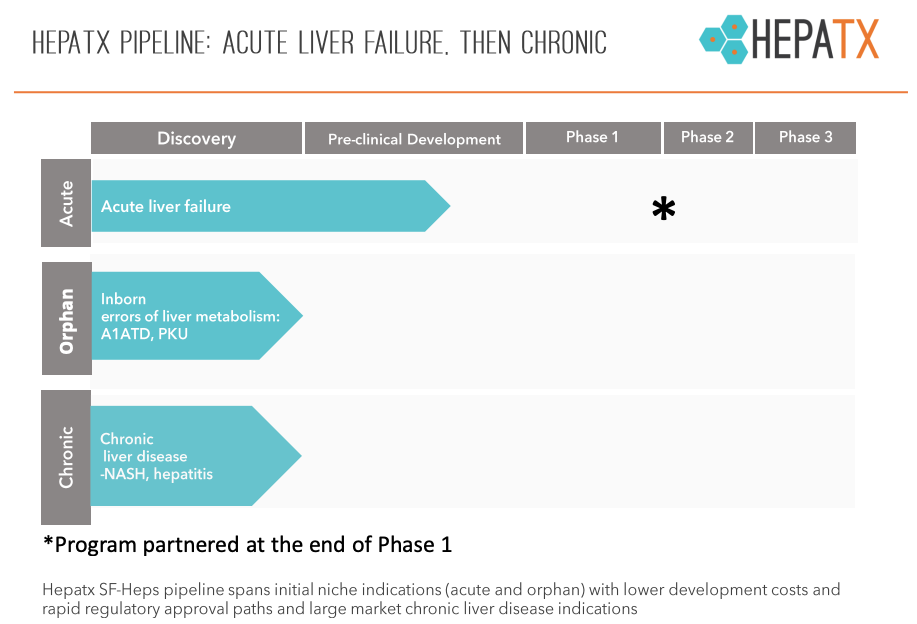 Market Overview
The global liver disease market opportunity was $14.5 billion in 2019 and is expected to grow to $27.6 billion by 2025, a CAGR of 11.5%. The U.S. market for SF-Heps is estimated to be $10B+: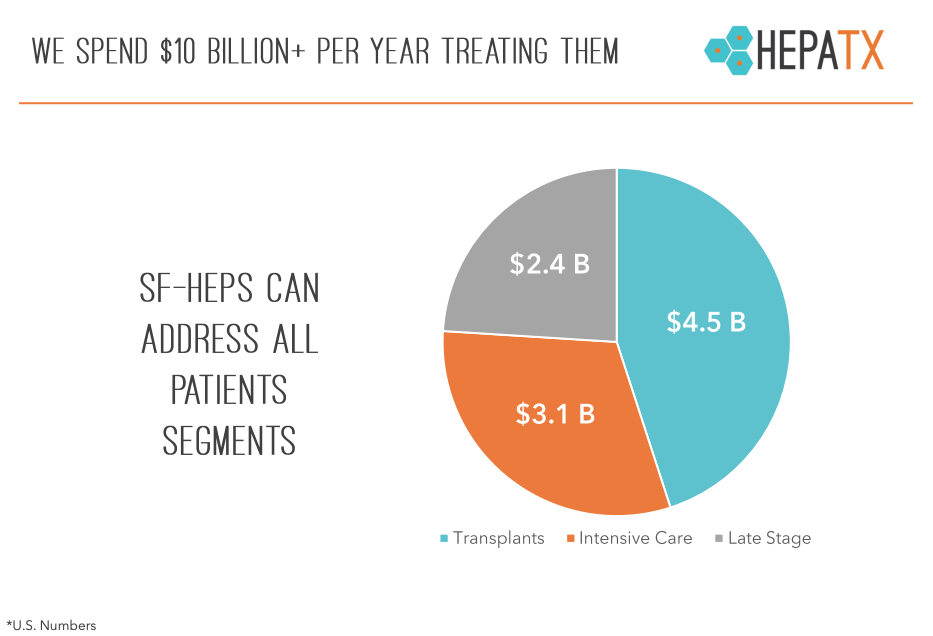 Examples of M&A, IPOs, or licensing deals in the space
Semma Therapeutics was acquired by Vertex for $950M cash. (2020, https://www.fiercebiotech.com/biotech/vertex-plunks-down-950m-for-stem-cell-player-semma-therapeutics)
Fate Therapeutics licensing deal with Janssen for $50M upfront and $50M equity investment for stem cell derived NK cells for cancer treatment. (2020, https://ir.fatetherapeutics.com/news-releases/news-release-details/fate-therapeutics-announces-worldwide-collaboration-janssen)
Mesoblast licensing deal with Grunenthal for $150M upfront for a cell therapy for back pain. (2019, https://www.globenewswire.com/news-release/2019/09/09/1913118/0/en/Gr%C3%BCnenthal-and-Mesoblast-Enter-Strategic-Partnership-for-Europe-and-Latin-America-to-Develop-and-Commercialise-Innovative-Cell-Therapy-for-the-Treatment-of-Chronic-Low-Back-Pain.html)
Tigenix SA was acquired by Takeda Pharmaceuticals for $400M. (2016, https://www.takeda.com/newsroom/newsreleases/2018/takeda-announces-intention-to-acquire-tigenix/)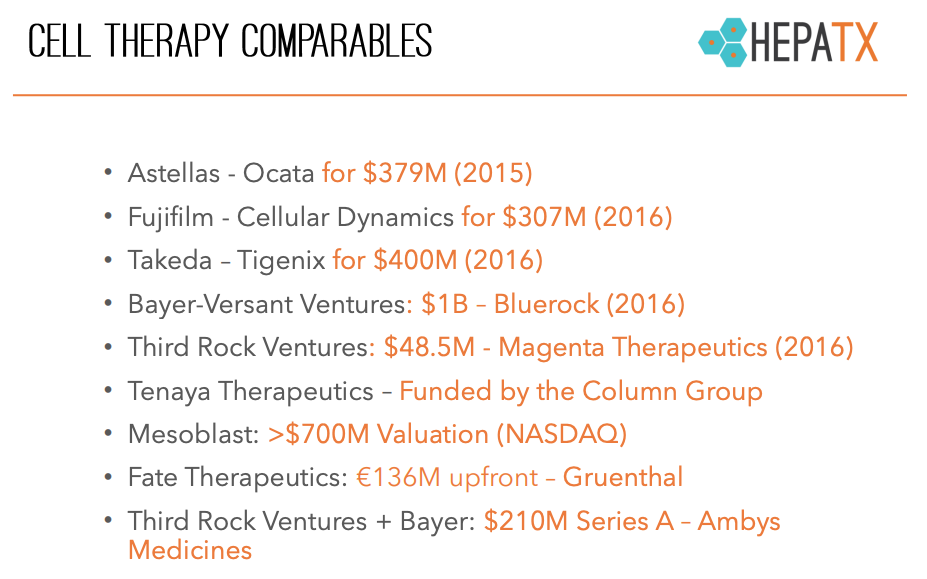 Two companies have marketed cell therapy products produced from the same stem cells.
Mesoblast (Melbourne, Australia) has developed a cell therapy for pediatric graft versus host disease that is approved in Japan and under review in the US.

Tigenix (acquired by Takeda) has developed a cell therapy for Chron's disease that is approved in Europe and under review in the US.