Company Highlights:
Repair Biotechnologies is developing a gene therapy to reverse atherosclerosis by providing immune cells with a novel way to break down cholesterol.
Market Opportunity: Atherosclerosis is the leading cause of heart attacks, strokes, and vascular heart disease and, as a result, is the #1 cause of death and disability in the developed world.
Tech Advantage: Whereas existing treatments only work to slow progression of new plaques, Repair's approach has demonstrated potential to also breakdown and reverse the size of existing plaques.
Traction: Successfully modified human macrophage cells to produce enzymes capable of breaking down cholesterol. Demonstrated a significant cholesterol reduction (40%+) in mice studies without side effects. Next, the team will be demonstrating the efficacy of this cell and gene therapy in mouse models of atherosclerosis.
World-class Team & Partners: Jim Mellon, the billionaire investor and Chairman of Juvenescence Ltd, Emerging Longevity Ventures, Thynk Capital, Aubrey de Grey and the SENS Research Foundation

Investment Thesis
Heart disease is a relentless plague on humans globally. Here in the U.S., it is the leading cause of death for men and women, accounting for 1 in 4 total deaths, or a new death every 37 seconds.
Those depressing figures are something most of us have heard about or worse, even experienced closer to home with a friend or family member being affected. With such a massive problem at hand, it's again no surprise that we spend $220B each year (approx. the size of a business like Netflix, Bank of America, or Disney) to combat the disease.


But what may surprise you is that all existing forms of treatment for diagnosed heart disease, such as medication, angioplasty (catheter with a balloon tip), stenting, bypass surgery, diet, and exercise, are solely focused on sloooowing the progression of the disease. Because none of them are going after the root cause, none of them are capable of reversing it!
And this is a problem that compounds over time. In fact, newly published research shows that half of people as young as their 40s are already developing atherosclerotic lesions large enough to be detectable by scanning technologies. And while not everyone is lucky enough to detect these lesions early, even those that are today cannot do anything to reverse the damage, they can only make adjustments and be treated to reduce further damage.
What if there was a way to repair the damage?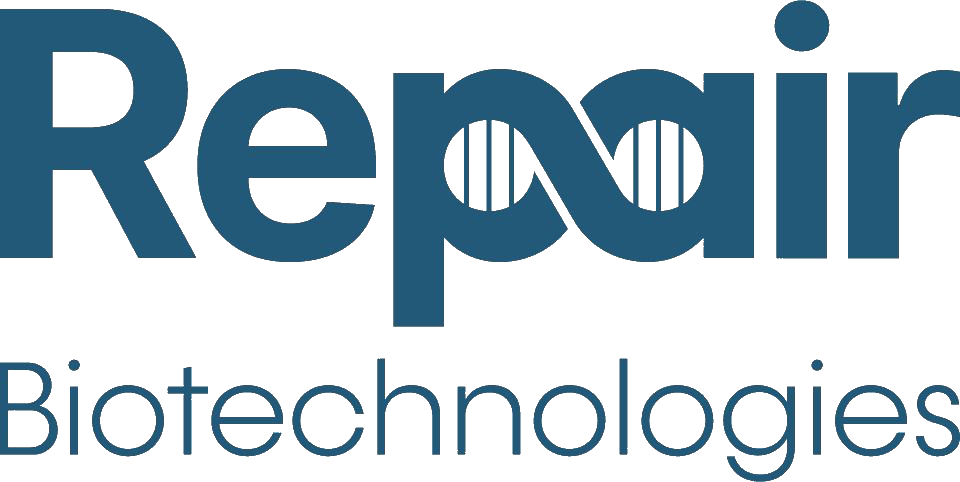 Repair is a preclinical biotechnology company that is developing therapies to reverse age-related conditions via repair and removal of biological damage that is the cause of degenerative disease.
Instead of working around and focusing on the the symptoms, Repair is going straight to the root case of the disease, atherosclerosis (ATH), and reprogramming immune cells to better handle the task at hand.

Quick Primer: ATH begins with damage to the inner lining of blood vessel walls. Once exposed, bad cholesterol (LPL) crosses the damaged lining and forms a fatty plaque that hardens the blood vessel walls, and grows over time, obstructing blood flow. All of this can lead to serious complications, including heart attack, stroke, and vascular disease.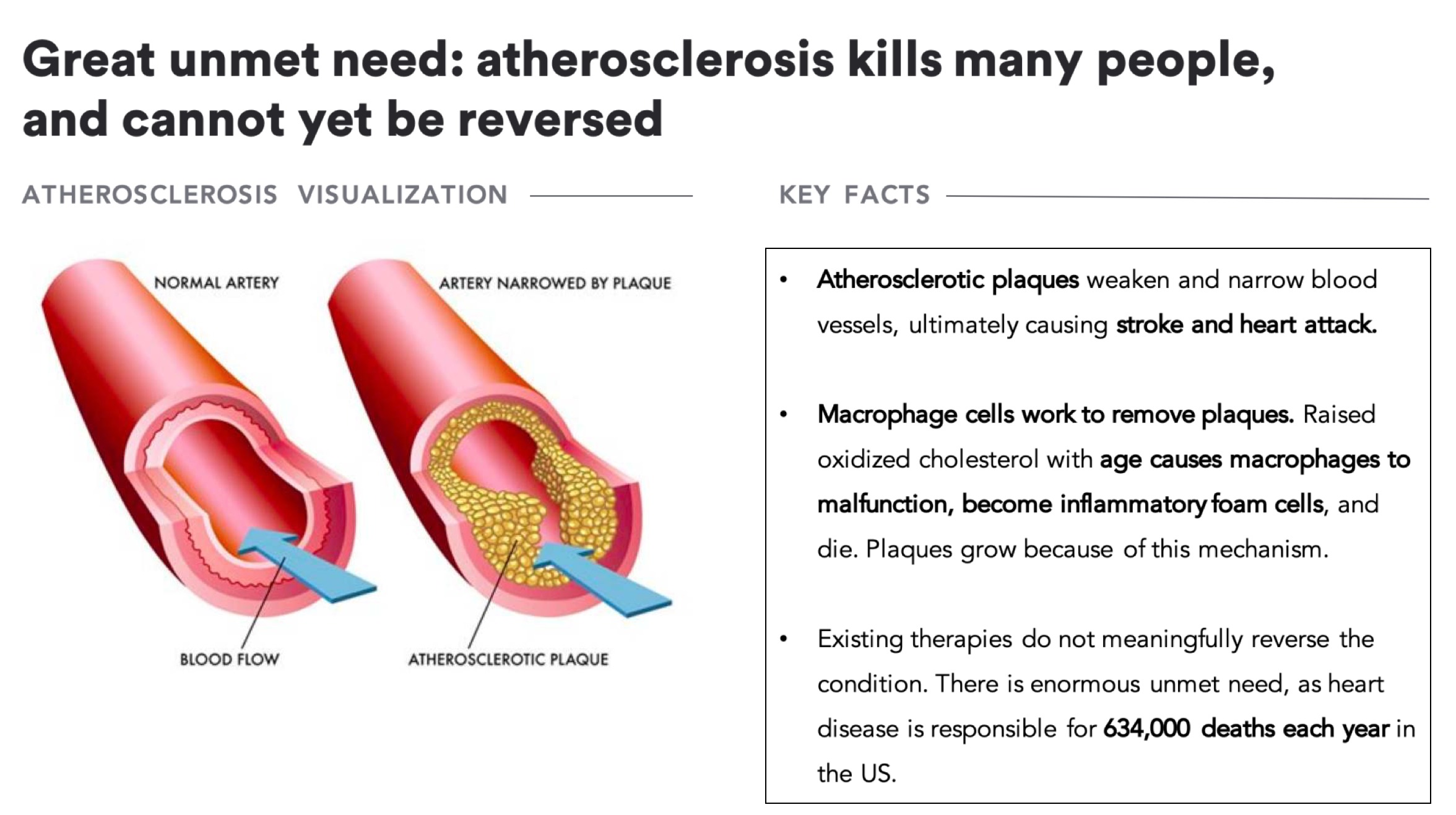 Clearly the plaques are the issue, but according to Repair, the key to reversing things is in understanding why the plaques form in the first place. It turns out that they are, in large part, due to the presence of white blood cells called macrophages at the site of damage. They arrive with great intentions, to get rid of the plaques, but the problem is that they are not good at that job. And as they struggle, it's their presence that leads to more inflammation and perpetuation of the problem, as additional macrophages are signaled to come and help, but they are doomed to the same fate! And the cycle continues.

Repair is developing a technology that gives macrophages the ability to break down cholesterol, an ability that they inherently lack. With this genetic enhancement in the lab, the modified macrophages became almost completely immune to the behavior described above. Repair is working to commercialize this therapy with a goal of reducing the size of existing atherosclerotic plaques in human patients by more than 80%! If successful, Repair's solution might come to be thought of less as a treatment for the disease, and more practically as a cure, which is a very heart warming thought.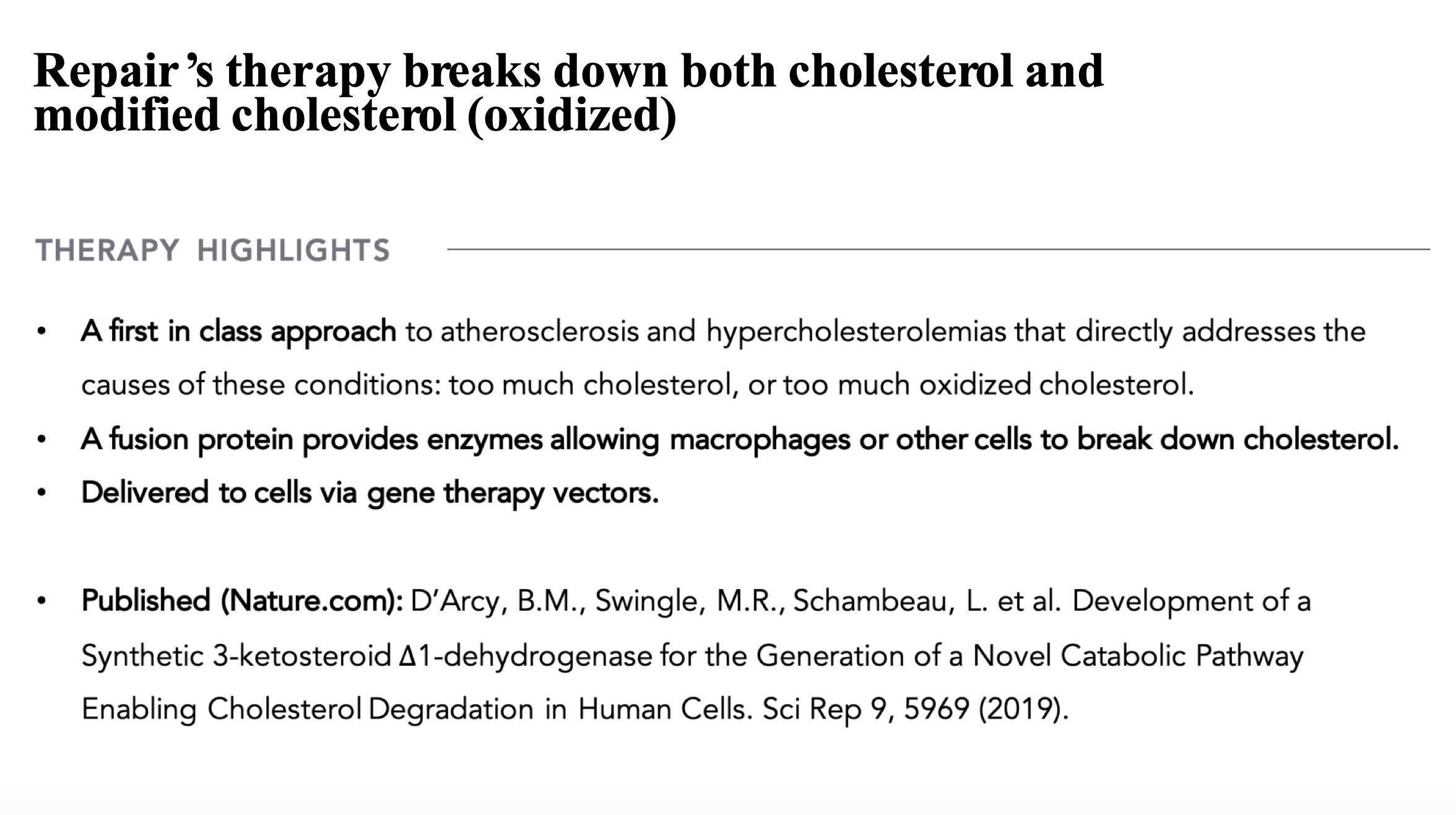 With age, and rising levels of oxidized cholesterol, humans lose the ability to effectively prevent cholesterol deposits forming as atherosclerotic plaque in blood vessels. Further, toxic forms of oxidized cholesterol such as 7-ketocholesterol contribute to many age-related conditions, including heart failure. Atherosclerosis alone is responsible for about one sixth of deaths in the developed world, making cholesterol (and particularly oxidized cholesterol) degradation a key component of human life extension.
Repair has demonstrated the rapid breakdown of cholesterol in vivo without serious side-effects, and prevention of foam cell formation via breakdown of oxidized cholesterol in vitro. In the image below, you will see that the untreated cells (left) are inflamed and foaming at their borders in the presence of cholesterol, while the treated cells (right) do not foam when exposed to cholesterol, enabling them to effectively breakdown the cholesterol as intended.

Testing the treatment in mice studies, the Repair team successfully demonstrated a significant reduction in cholesterol (40-50%) and no observance of detrimental side effects, despite the enzymes being delivered in an un-targeted fashion and at a high dose. Implementing targeted delivery stands to enhance those results even further. Additional studies are ongoing as the company continues to refine its therapy with lipid nanoparticle technology that makes it cheaper and allows for repeat dosing. The team will then move to demonstrate that its therapy can reverse atherosclerotic plaque and other pathologies in disease-specific animal models.
Dive Deeper: 2019 Nature Publication
Market and Regulatory Strategy
Despite cardiovascular treatment being a massive $22B industry, there isn't much out there in the reversing lesions space that has even come close to success in patients. Repair's cholesterol degrading technology would be the first drug ever to meaningfully reverse atherosclerosis, rather than just slow it down.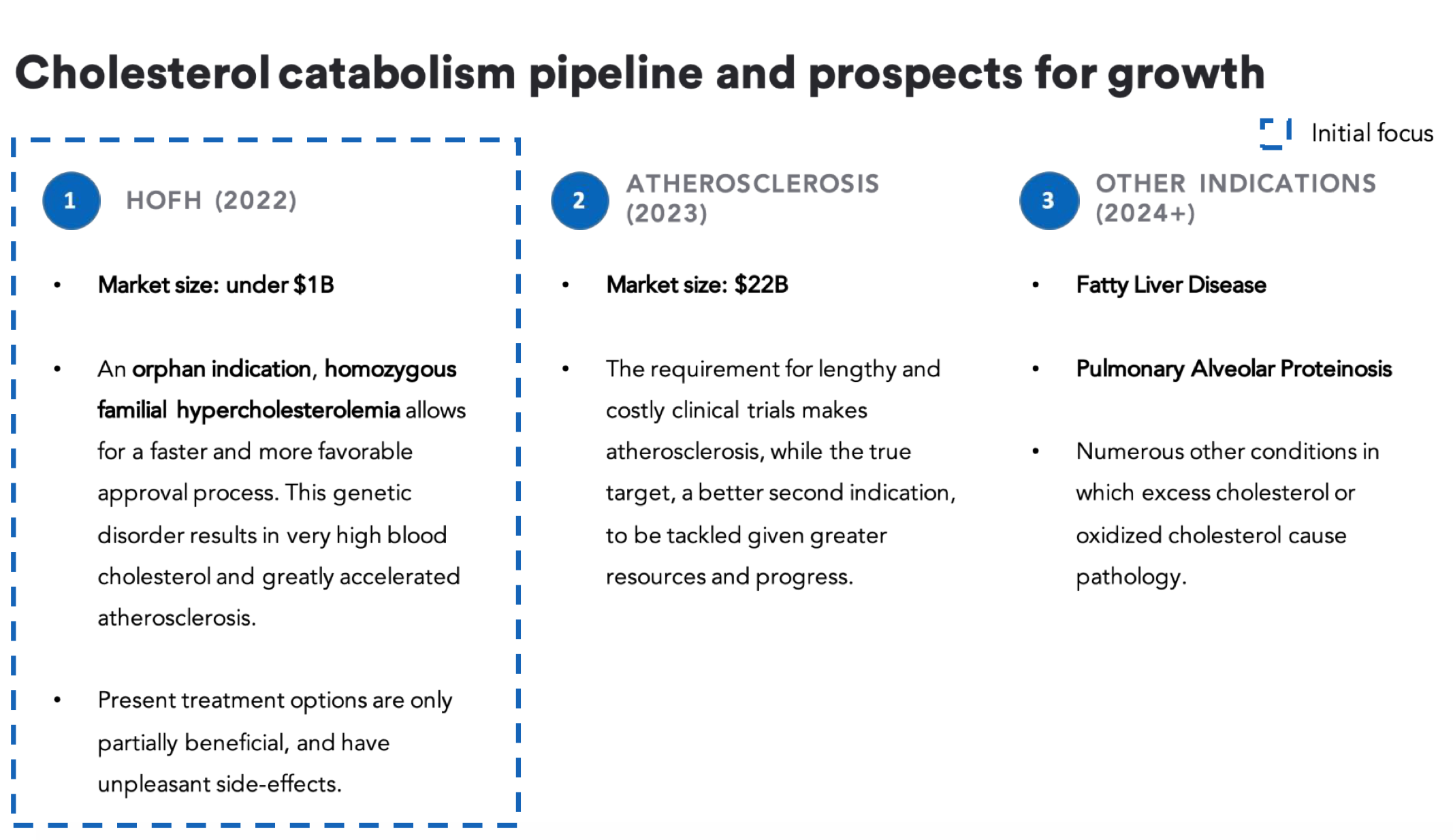 Repair will initially target an orphan disease, homozygous familial hypercholestrolemia, a rare genetic disorder that results in high blood cholesterol and greatly accelerated ATH. By developing a treatment for this patient population, Repair will be able to reach patient trials and FDA approval faster. The team expects to have a pre-IND meeting with the FDA over the next year, and an IND filed in 2022. Repair will then use data and resources generated in that process to supplement its push into the ATH market, followed by other conditions characterized by excess or oxidized cholesterol. But they do not intend to stop there.
Repair's Long-term Vision: to become a longevity development company in the image of Juvenescence Ltd, a $400M longevity-focused development company founded by billionaire and Repair investor, Jim Mellon. Juvenescence aims to rapidly accelerate the commercialization of novel therapeutics programs, incubating them at the preclinical stage and spinning them off as subsidiaries bolstered by funding and strategic partnerships. Repair intends to emulate this model by applying the repair philosophy to tackling age-related diseases head on.