Autism Spectrum Disorder (ASD) is the largest pediatric neurodevelopmental disorder in the world and affects an estimated 1 in 54 children in the U.S. and 3% of children worldwide.
Children diagnosed with ASD suffer from impairments to the way they communicate, behave, and interact with others, and are likely to have varying degrees of these symptoms for the remainder of their lives. In addition to the emotional stress endured by patients and patient families living with the disorder, the average cost of ASD to society is currently estimated to be a staggering $230B+ per year and growing.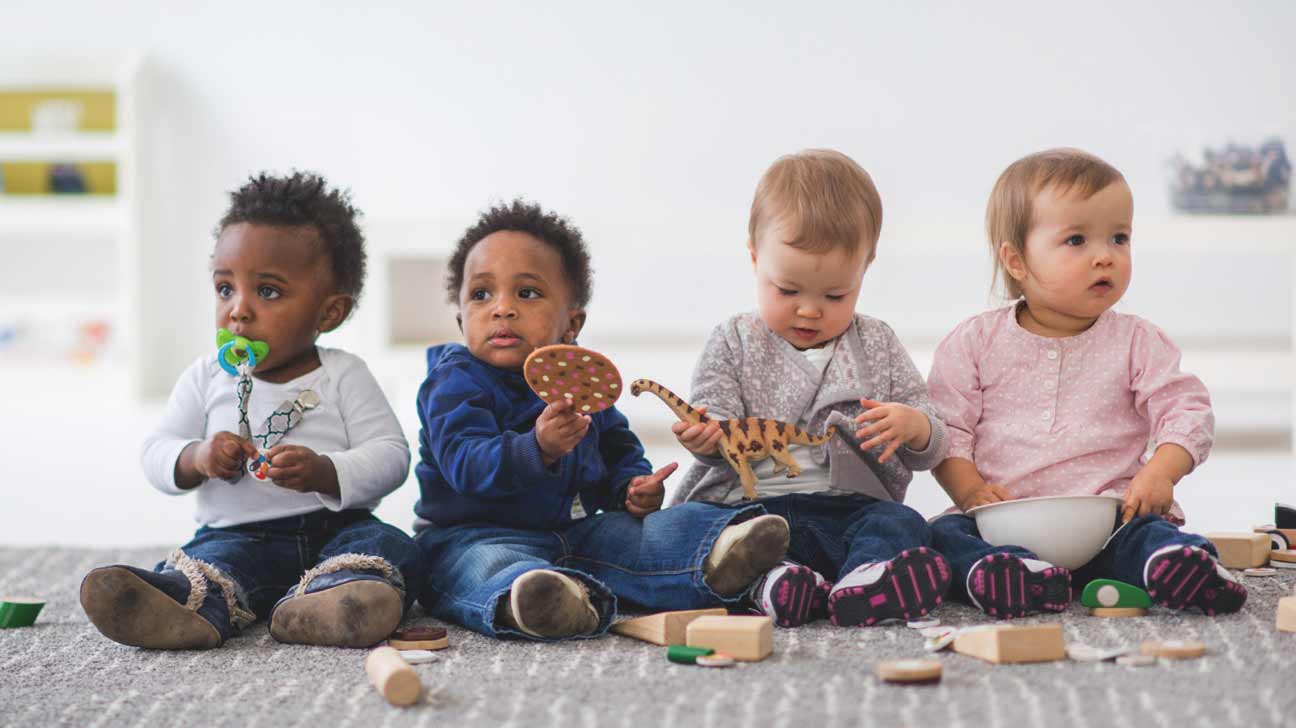 Did you know? Existing behavioral treatments for ASD are highly effective and have been proven to lead to substantial, life-long improvements in symptom severity. In some cases, early diagnosis and treatment between 18-24 months has even been demonstrated to reverse the course of ASD and lead select children toward a full recovery of the disorder!
Amazing. Problem solved, right? Not so fast...
In order to achieve those results with early treatment, we must be able to diagnose just as early. And therein lies the problem:
Today, behavioral evaluations are the only method available for ASD diagnosis. As you can imagine, screening infants for behavioral cues is time-consuming, challenging work. In fact, the assessments are so specialized, it is difficult for most parents to readily access qualified professionals. Many are forced to wait 3-24 months for scheduling alone.
So, even though the American Academy of Pediatrics guidelines recommend universal ASD screening at 18-24 month well-baby visits, in reality the average age of diagnosis is at 4.5 years old, more than 2 full years beyond the guidance, and a critical developmental period at that! Sadly, by that age, children are well beyond the point at which existing behavioral treatments are most effective and are likely to be autistic for life.
It is hard to imagine a more pressing case for enabling early diagnosis. In fact, it is estimated that up to ⅔ of Autism health-related costs could be eliminated with earlier diagnosis and treatment! And for some fortunate children, early diagnosis even has the potential to not only mitigate symptoms, but outright prevent the disorder.
Today, we have no alternative to behavioral testing for accurate diagnosis. What if there were a way to detect through biology as opposed to behavior? And what if it could also open the door to earlier detection?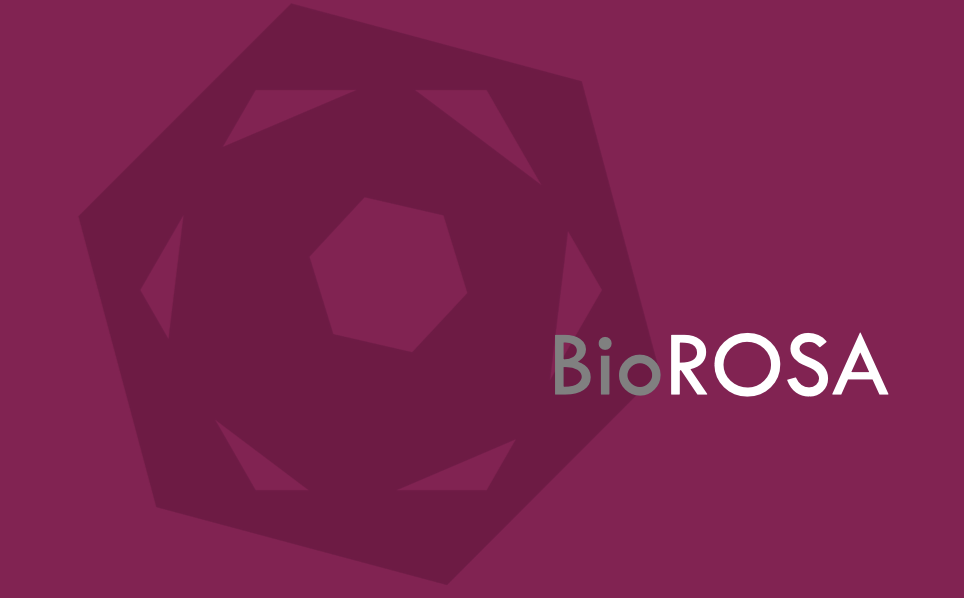 BioROSA is a computational biology company enabling the early detection of ASD via simple blood test.
Following a simple blood draw, BioROSA utilizes machine learning to analyze 20 metabolite biomarkers shown to be predictive of ASD, and can conclude whether or not the sample came from an autistic child, as well as predict the severity of symptoms.
BioROSA's blood test and analysis returns a simple, single-digit Autism Risk Score, whereby the lower the score, the more autistic, and the higher the score, the less autistic. Until now, no accurate blood tests have been developed to confirm autism. In a first, BioROSA algorithms can diagnose ASD with 95% sensitivity and 92% specificity.
Just as important as accuracy, if not more so, is the question of whether BioROSA can enable earlier diagnosis than today's behavioral tests.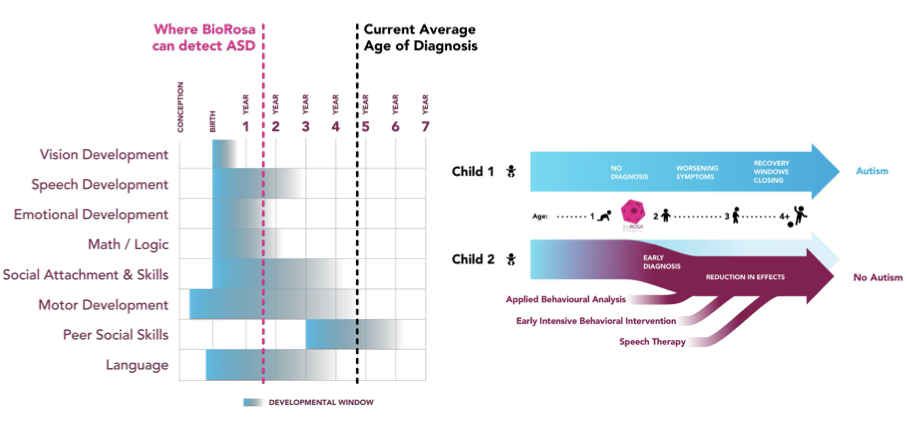 Where the average age of diagnosis today is 4.5 years, BioROSA's blood test is able to detect ASD at just 1.5 years, a full 3 years ahead of today's standard, and potentially before behavioral symptoms even emerge at all. This breakthrough opens the door to early diagnosis and intervention during a child's critical developmental window and possibly even outright prevention and recovery.
Pitch Video and Discussion
Market Opportunity

ASD is a growing problem with skyrocketing costs. It is estimated to affect 1 in 54 children in the U.S. (and rising) and 3% of children worldwide. For U.S. patient families, the projected lifetime expense of supporting a patient with ASD is $1.5-2.5M. And for the U.S. as a whole, the annual societal cost is estimated to be a staggering $460B (and rising).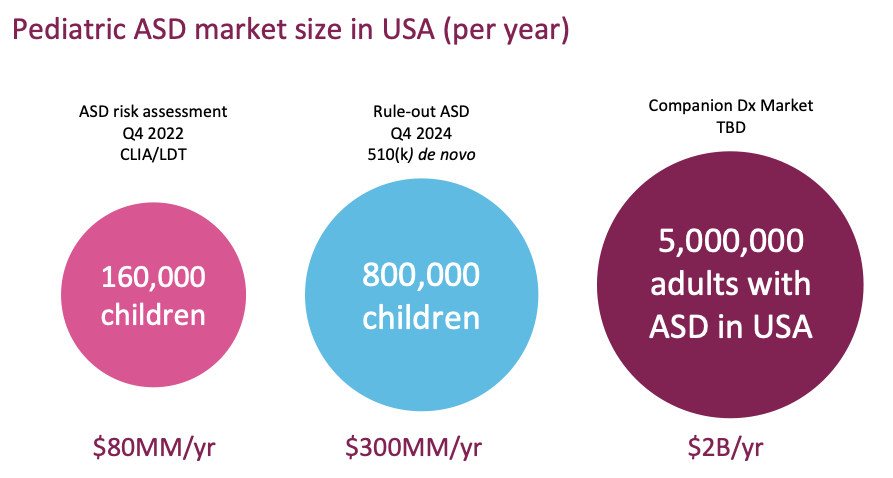 Strategy
BioROSA's scientific vision is to diagnose ASD as early as possible and be a routine screening test for pediatricians to detect risk at the earliest stages in order to begin therapy as early as possible.
ASD Risk Assessment & Diagnosis:
Initial target customers will be parents of children who are at risk or who display early signs of ASD. However, given that one in 54 children in the United States suffers from an ASD, BioROSA may be able to expand its customer base to parents of many, or even most, 18-month-old children over time.
BioROSA will first offer its laboratory-developed test (LDT) to aid in the diagnosis of ASD to established diagnostic centers. Importantly, BioROSA's LDT test will not require FDA approval; the only regulatory requirement for LDTs is the use of a CLIA-certified lab. Initial pricing is anticipated to be $500 per test, representing an 80% profit margin. The cost will be paid directly by parents until the test gains sufficient acceptance to become reimbursable by insurance.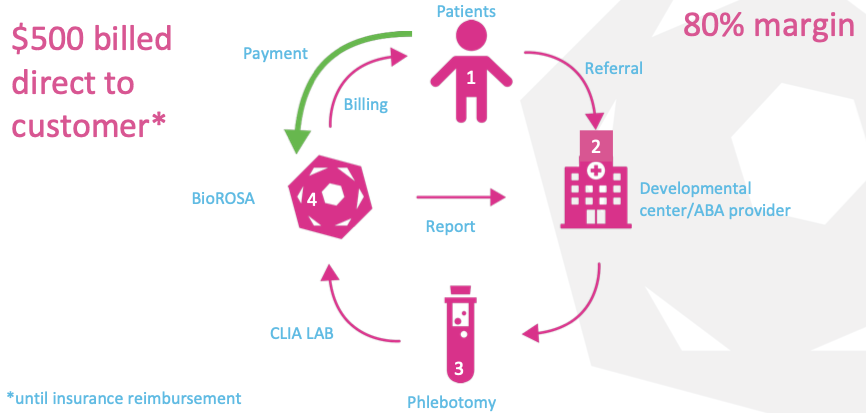 The American Academy of Pediatrics updated their guidelines for the first time in a decade in early 2020. The call for universal screening for ASD at 18-and-24 month well baby visits for early detection and treatment was a primary component of their mandated guidelines for pediatricians. Additionally, behavioral treatment is covered by insurance in all 50 states and insurers (i.e. payers) are keen on novel solutions for early detection, so that behavioral therapy can be started earlier in life, when there's higher rates of neuroplasticity and the therapy is more effective. BioROSA has extensive relationships with payers, KOLs, and behavioral treatment providers in order to have a synergistic ecosystem that can drive value and improved patient outcomes and eliminate major costs and afford improved resource allocation to the health system upon success.
Future validation and FDA regulatory approval will allow the company to move into a broader pediatric setting and the OB/GYN market for risk-assessment, diagnosis, and treatment monitoring markets.
BioROSA is set to initiate a 100-patient, randomized prospective trial by the end of 2020, to be completed in mid-2021. The objective of the study is to demonstrate that the company's proprietary algorithms can analyze patient blood plasma between ages 18-60 months and use that data to predict the presence of ASD and gauge the severity of symptoms.
Companion Diagnostics:
Another core component of BioROSA's long-term scientific and commercial strategy is to partner with therapeutic partners to help co-develop novel medical therapies through FDA facing clinical studies.
Because BioROSA algorithms measure both the presence and severity of autism, they have potential to be used as powerful companion diagnostic tools for company's developing drug therapeutics. The algorithms would provide critical information to determine whether patients would be good candidates for treatment and for an objective measure of whether the drug did its job.
BioROSA has already initiated companion diagnostic collaborations with Roche, Finch, UCSD, ASU, Emory, and in partnership discussions with others.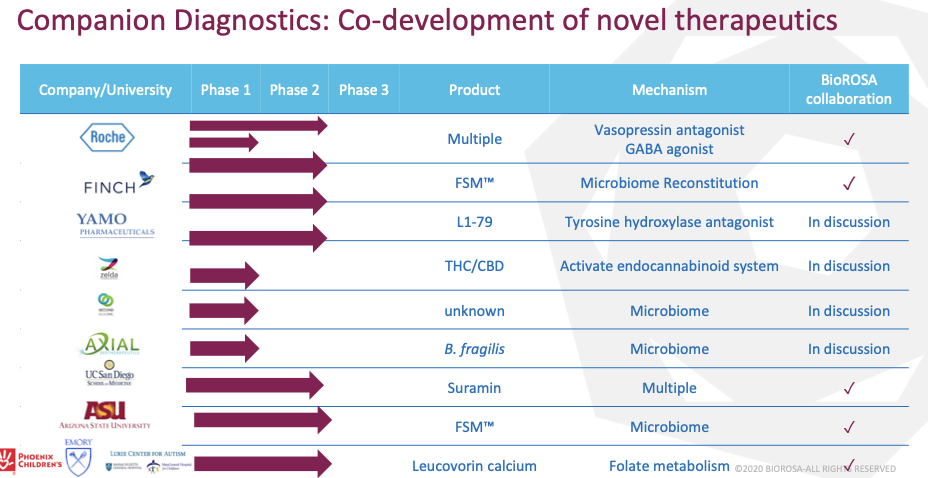 BioROSA and its therapeutic partners plan to test the BioROSA platform for pharmacodynamics, patient stratification, and efficacy determination for more quantifiable and objective endpoints within clinical trials for ASD. This opens the possibility for a therapeutic monitoring approach and companion diagnostic possibility based on BioROSA assets.
Exit & Comparables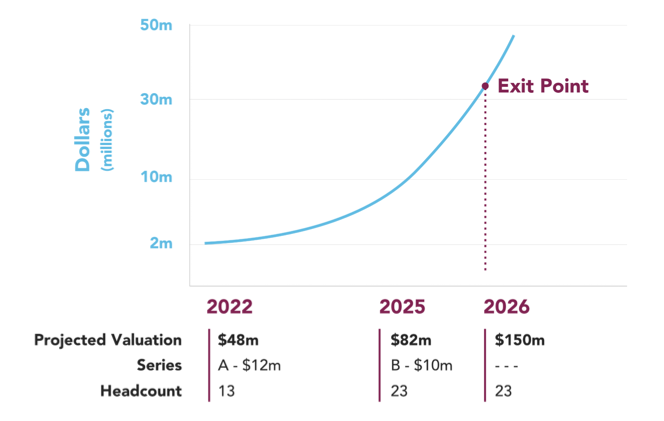 BioROSA's annual revenues are projected to exceed $40M by mid-2026. Diagnostic companies with equivalent revenues have sold at attractive valuations (8-14x revenues), including, for example, Sequenom ($371M), Athena ($741M), and Ariosa ($625M).

Technology
BioROSA currently possesses the industry's most promising blood test for ASD, performing with a diagnostic yield of 95% sensitivity and 91.5% specificity.
BioROSA's algorithms have been developed using the largest dataset of its kind, incorporating over 20 years of retrospective academic data, and subsequently validated and replicated results on over 300 replicated case/control datasets.
Additionally, the company has also taken a non-scalable academic testing platform using high performance liquid chromatography (HPLC) and converted it into a proprietary state-of- the-art high throughput liquid chromatography triple quad mass spectrometry (LC-MS/MS) testing platform. In a practical sense, BioROSA has taken a 4-6 hour process per blood sample and converted the process into a 10-15 minute process.
BioROSA's technology also has strong platform potential. Its metabolic analysis approach can be applied to a wide variety of conditions, including Parkinson's, ALS, schizophrenia, Alzheimer's, ADHD, and depression. In addition, the test can be combined with companion diagnostics for general screening.
Intellectual Property:
BioROSA has strong foundational IP related to biomarkers and algorithms for prediction of ASD through an exclusive licensing agreement with Rensselaer Polytechnic Institute (RPI) and has a powerful set of linear classification algorithms (i.e. machine learning algorithms) that help determine the most important variables to predict ASD risk based on biology alone. The company has also continued to expand its independent patent portfolio to cover the following areas: