EnClear Therapies is developing a novel drug delivery system capable of delivering therapeutics directly into cerebrospinal fluid (CSF) of the brain, circumventing the blood-brain barrier (BBB) to enhance brain tissue penetration and improve safety and efficacy.
Company Highlights:
Neurotherapeutics are a $100B market. When administered to the blood, 98% of neuro therapies fail to cross the BBB and reach affected tissues, and are highly toxic to the healthy tissues they meet along the way. Alternative drug delivery methods are severely lacking, characterized by non-targeted delivery, limited distribution and penetration, dangerous spikes in intracranial pressure, and lack of real-time monitoring, resulting in inconsistent dosing.



The EnClear platform is a superior, next-generation delivery technology enabling BBB bypass, broad CNS therapeutic distribution, deep tissue penetration, low toxicity, real-time monitoring, and automated precision dosing and safety controls. With these advantages, EnClear has potential to make existing treatments more effective and safer for patients, and accelerate the development of new therapies for underserved neurological diseases.

World-class management and clinical advisory team (Harvard Med, MIT, Medtronic, J&J, Boston Scientific, Stanford, Mass Gen, Northwestern) of experienced Medtech executives with expansive product development and commercialization track records and key strategic relationships.

Notable investors: Amgen Ventures, Thiel Capital, Healthcare 20/20 Partners, Presight Capital, Dolby Ventures, Sanford Biosciences, Q-State Bio, Bain Consulting's Head of U.S. Healthcare, Medtronic's Head of Program Mgmt/Strategy, and a Harvard Medical Professor in Neurosurgical Critical Care.

Now gearing up for a $20M Series B round. Proceeds will be used to advance the EnClear platform to market, including human clinical trials for oncology and an FDA submission.
---
A Massive Problem

CNS disorders affect over 30M people with devastating impacts on patients and their loved ones.

Through traditional means, therapeutics attempting to treat CNS disorders are not effective enough at reaching critical areas of the CNS to have a significant therapeutic effect.
The difficulty lies in delivering therapeutics past several significant barriers designed to protect the brain and spinal cord from being tampered with: the Blood-Brain Barrier, Blood-Cerebrospinal Fluid (CSF) Barrier, and the Blood-Arachnoid Barrier (a protective membrane that covers the brain and spinal cord).
Because of these obstacles, it is extremely difficult for drug therapeutics to reach specific localized areas in the CNS. The low likelihood of reaching the destination means that increased dosing is required to have a chance at resulting in a significant therapeutic effect. However, as the dosage goes up the problem compounds in the form drug toxicity, which damages healthy tissues and can result in serious side effects.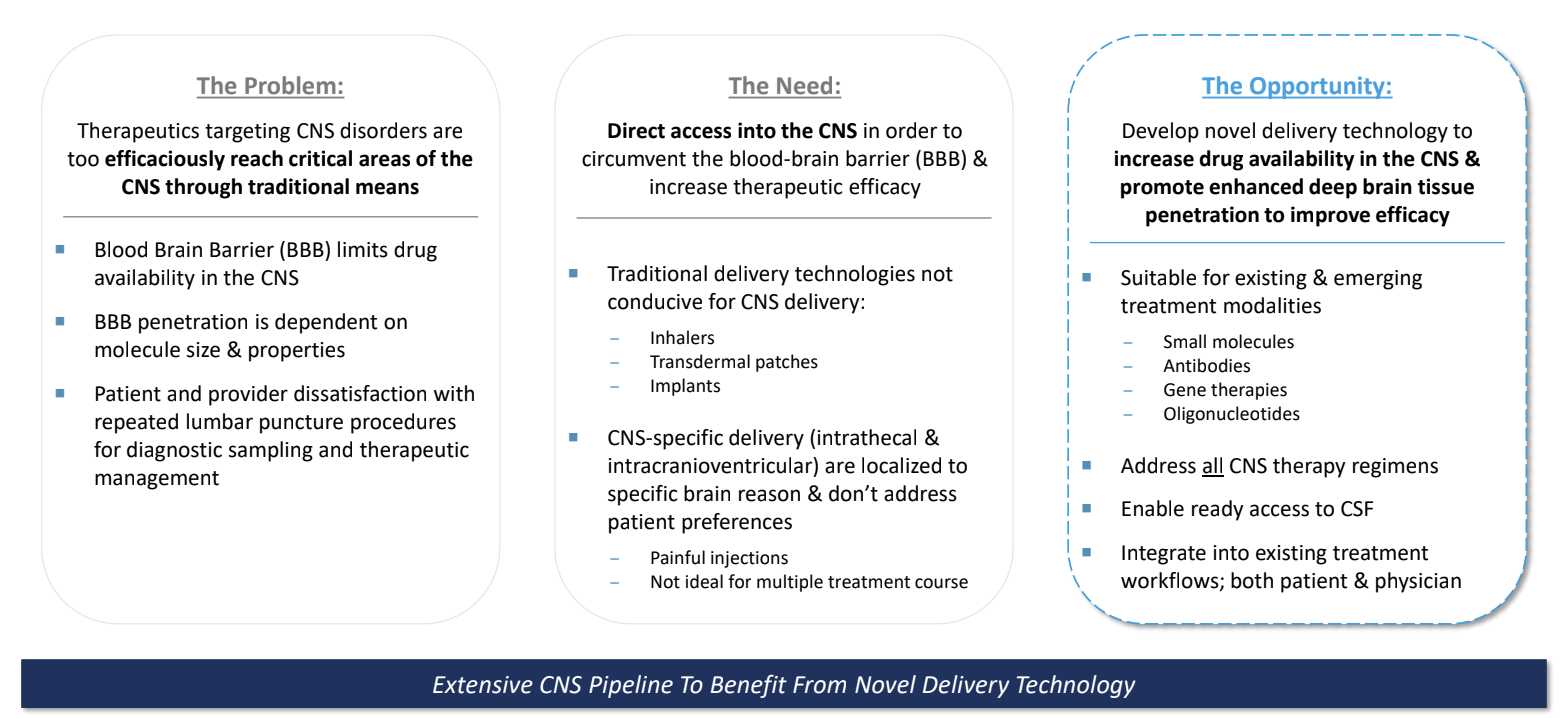 Discovery of a way to safely and precisely deliver targeted therapies across the BBB to specific locations in the CNS would be revolutionary. We could use that newfound ability to treat the inaccessible tumors deemed "incurable", avoid high-risk, invasive brain surgeries, and stop irreversible damage after stroke, head or spine injury. We could finally treat neurodevelopmental and neurodegenerative diseases (ALS, Alzheimer's, Parkinson's), epilepsy, and addiction, at the source. And so much more…
---
EnClear's Solution

EnClear Therapies is developing a novel drug delivery system capable of delivering therapeutics directly into CSF of the brain, circumventing the blood-brain barrier to enhance brain tissue penetration and improve safety and efficacy.
The EnClear System enables direct access to the CSF for the controlled, continuous, and personalized delivery of therapeutics. Dosage and flow rate are tracked and optimized in real-time to obtain precision efficacy and proactively reduce the risk of severe side effects and drug toxicity. The device is equipped with bidirectional flow (injection and extraction), so it can also be used as an access point for patient diagnostics and longitudinal monitoring.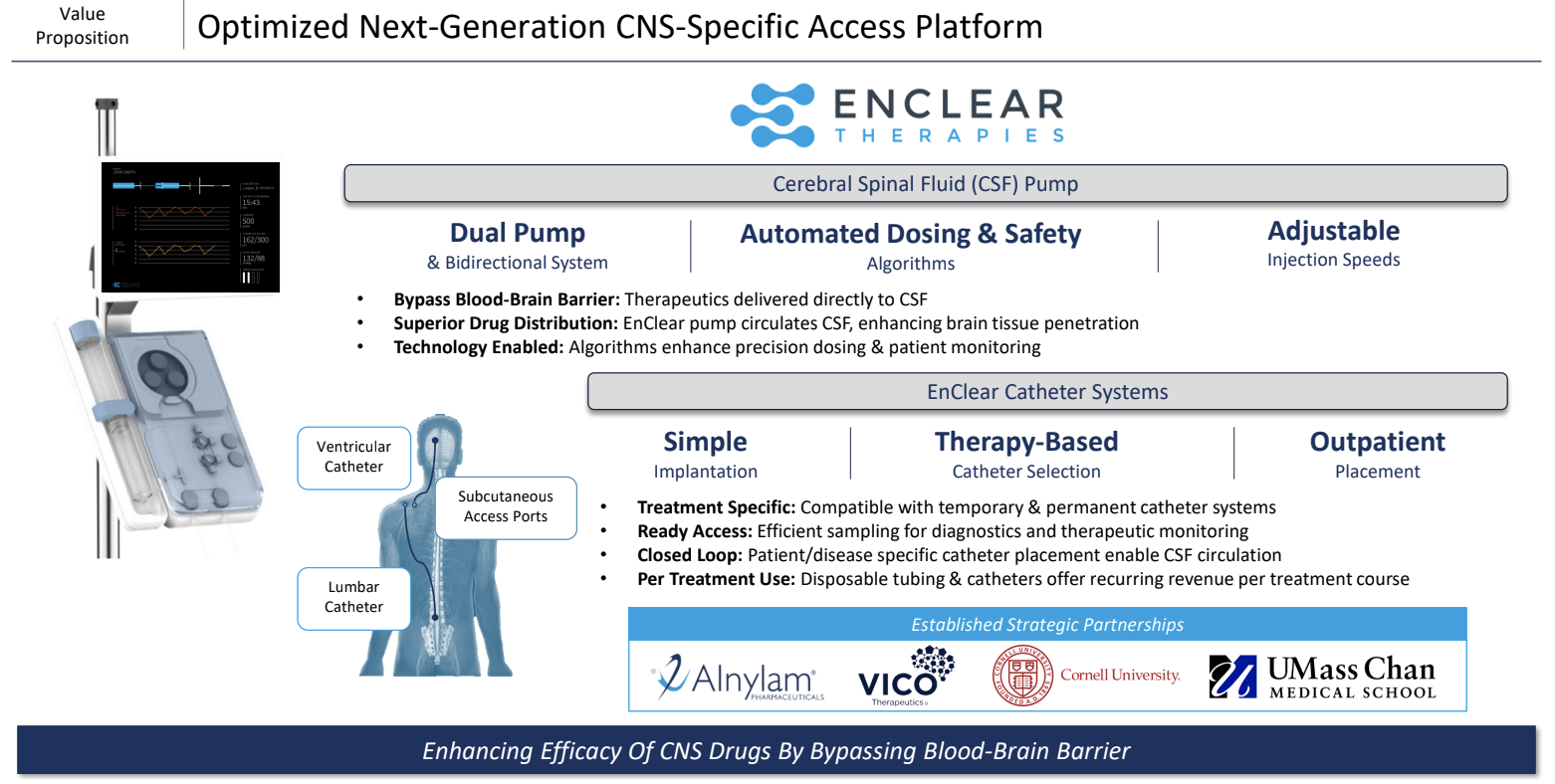 In large animal trials, the EnClear System has demonstrated its ability to increase drug availability in the CNS and promote enhanced deep brain tissue penetration for improved efficacy. The team has also shown that EnClear's CSF circulation improves the distribution of Methotrexate, an established neuro-oncology therapeutic, across all regions of the brain, outperforming alternative CNS delivery methods and validating the company's primary application in brain cancer.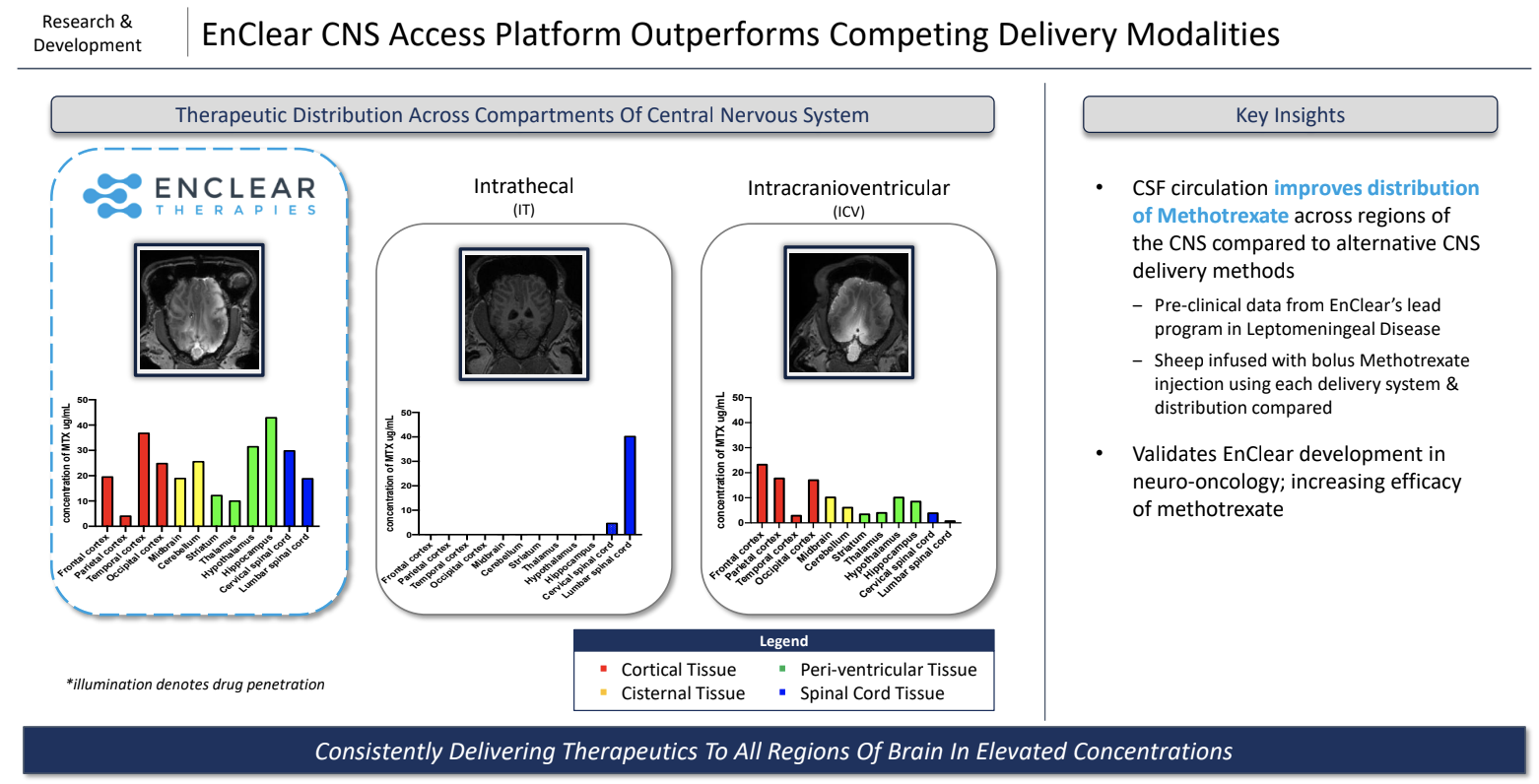 The EnClear team has established paid, strategic partnerships with major players, including Alnylam and Vico Therapeutics, who are leveraging the EnClear System to enhance bioavailability of their therapies.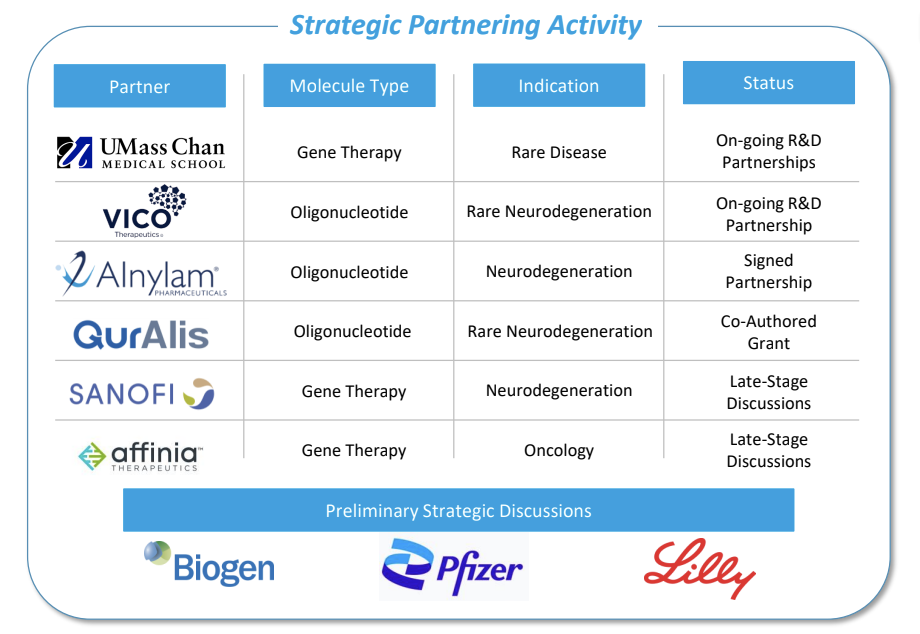 These partnerships are early validation of the market demand for next-generation CNS drug delivery and will also play a key role in establishing platform credibility among leading CNS-focused clinicians, scientists, and organizations.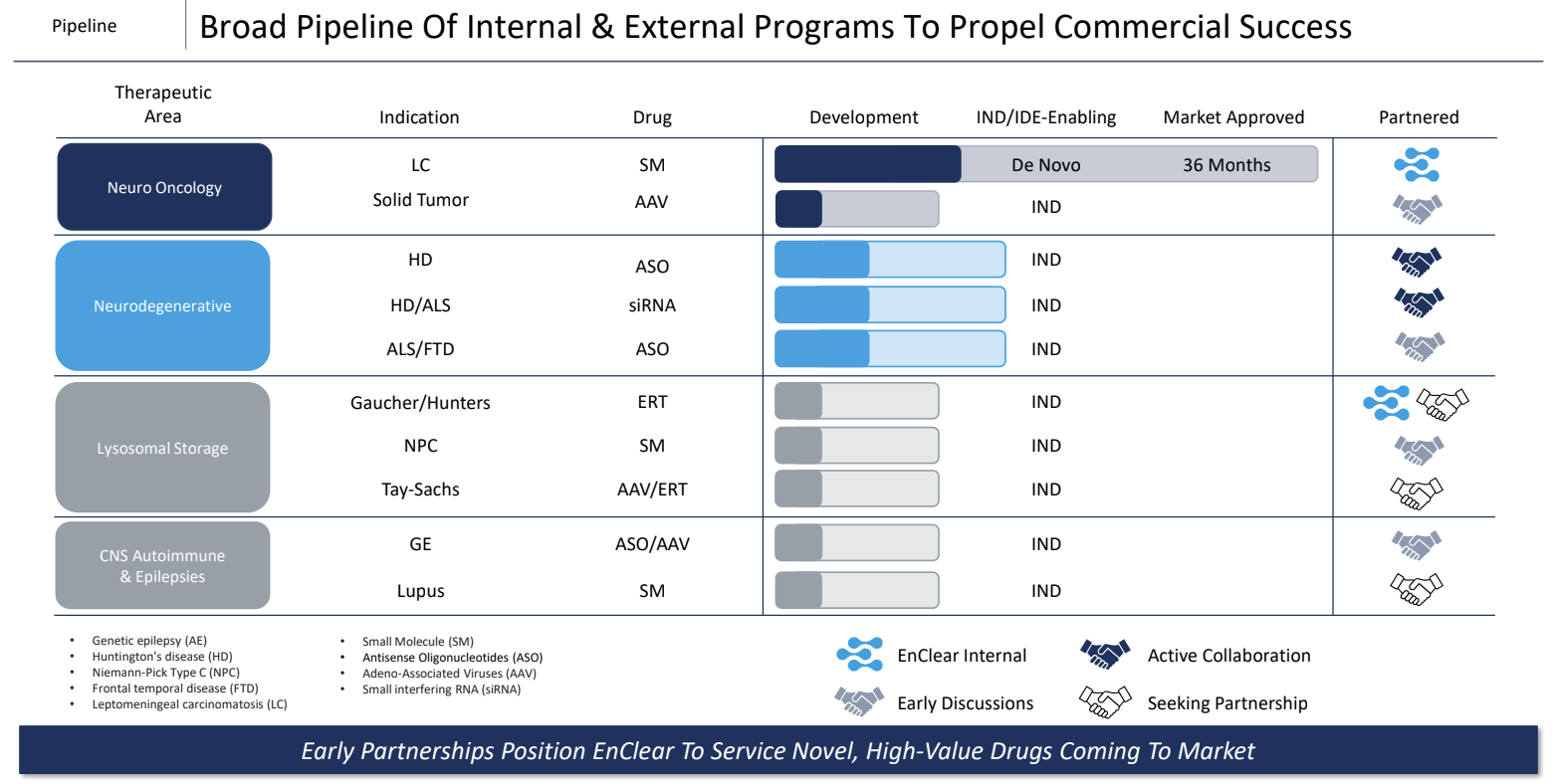 ---
Market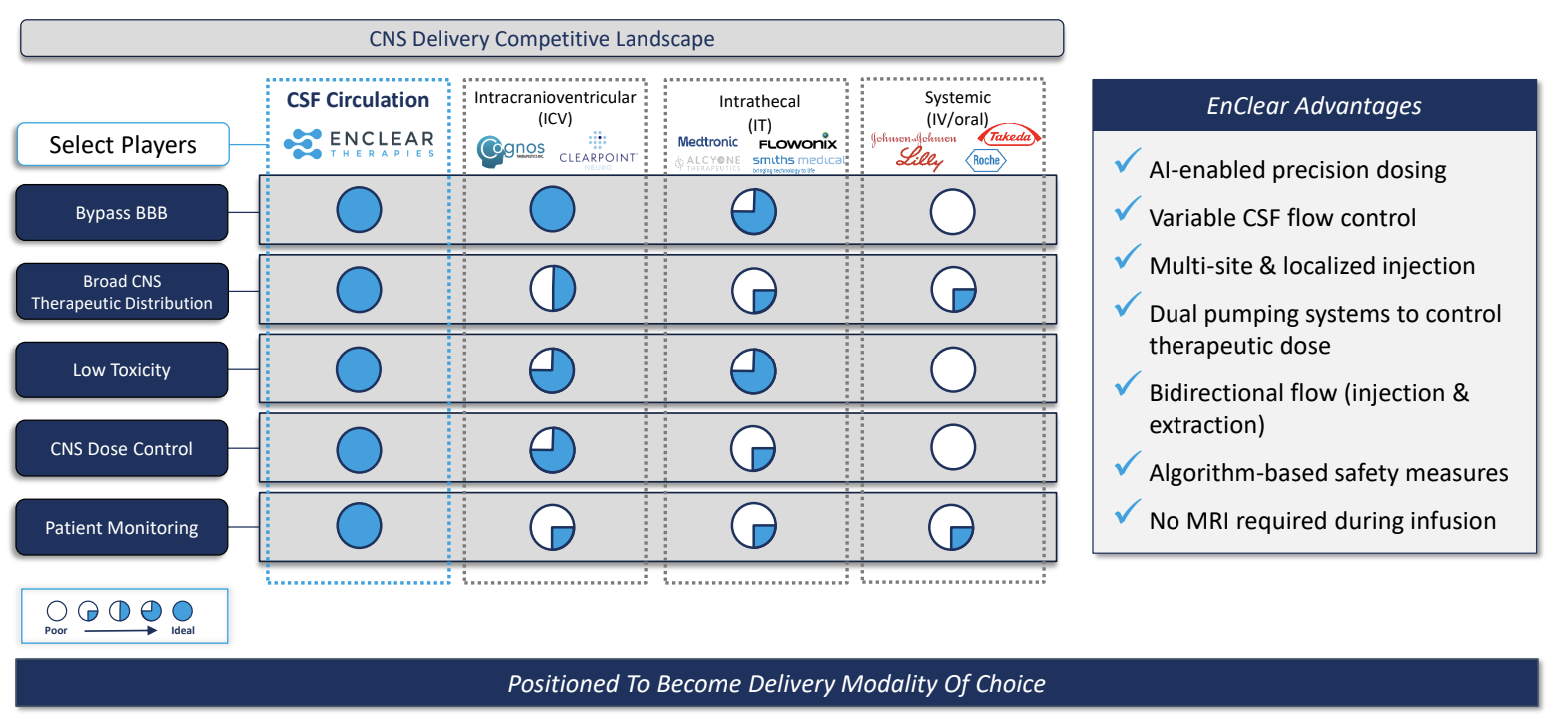 Exit Opportunities:
There has been an increasing trend toward drug/medical device combination systems, making the EnClear System an intriguing new entrant, with strategic partnership opportunities involving both Big Pharma (e.g. Baxter, Smiths Medical, Fresenius) and Big Medtech (e.g. J&J, Medtronic, Boston Scientific, Cardinal Health).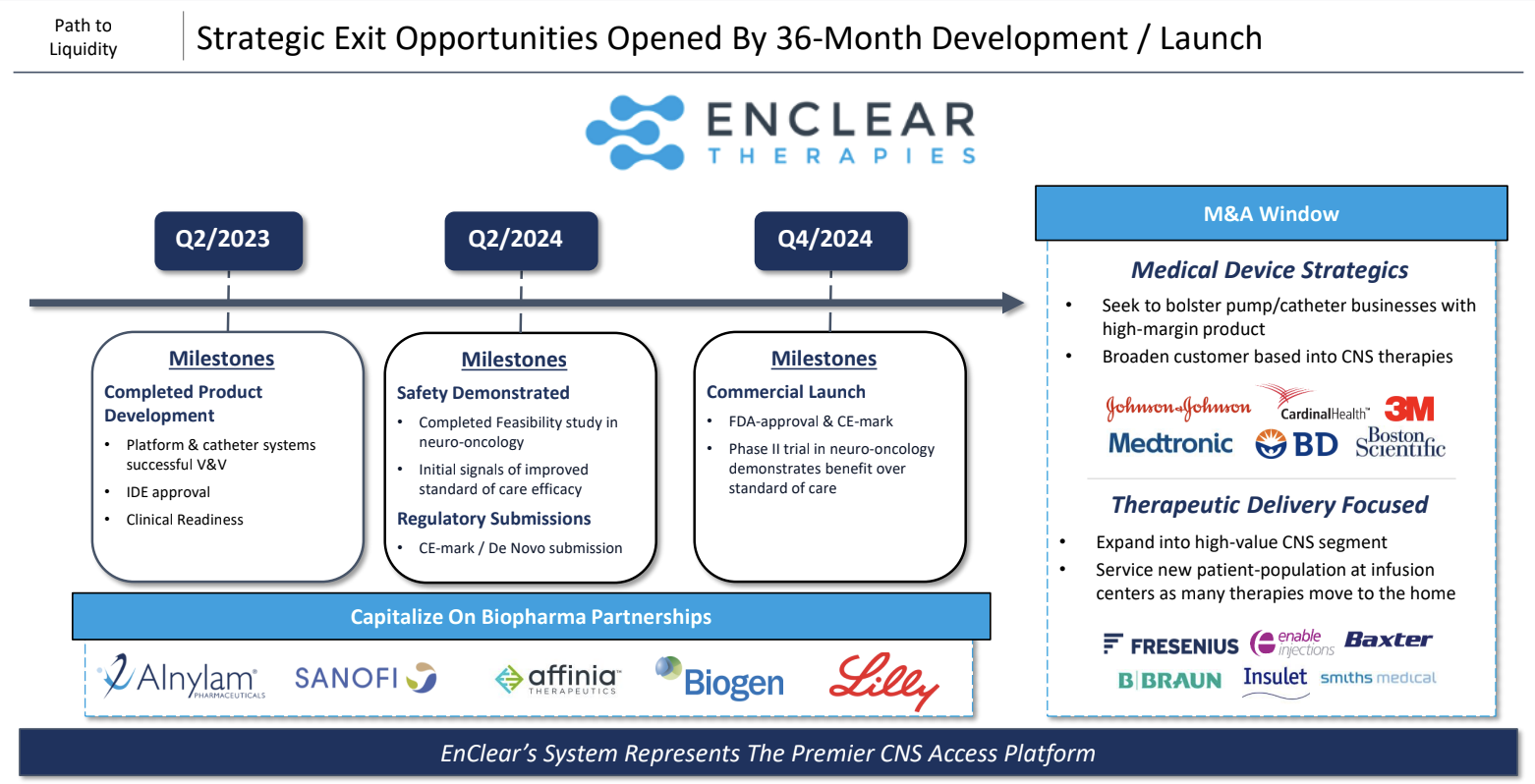 ---
Team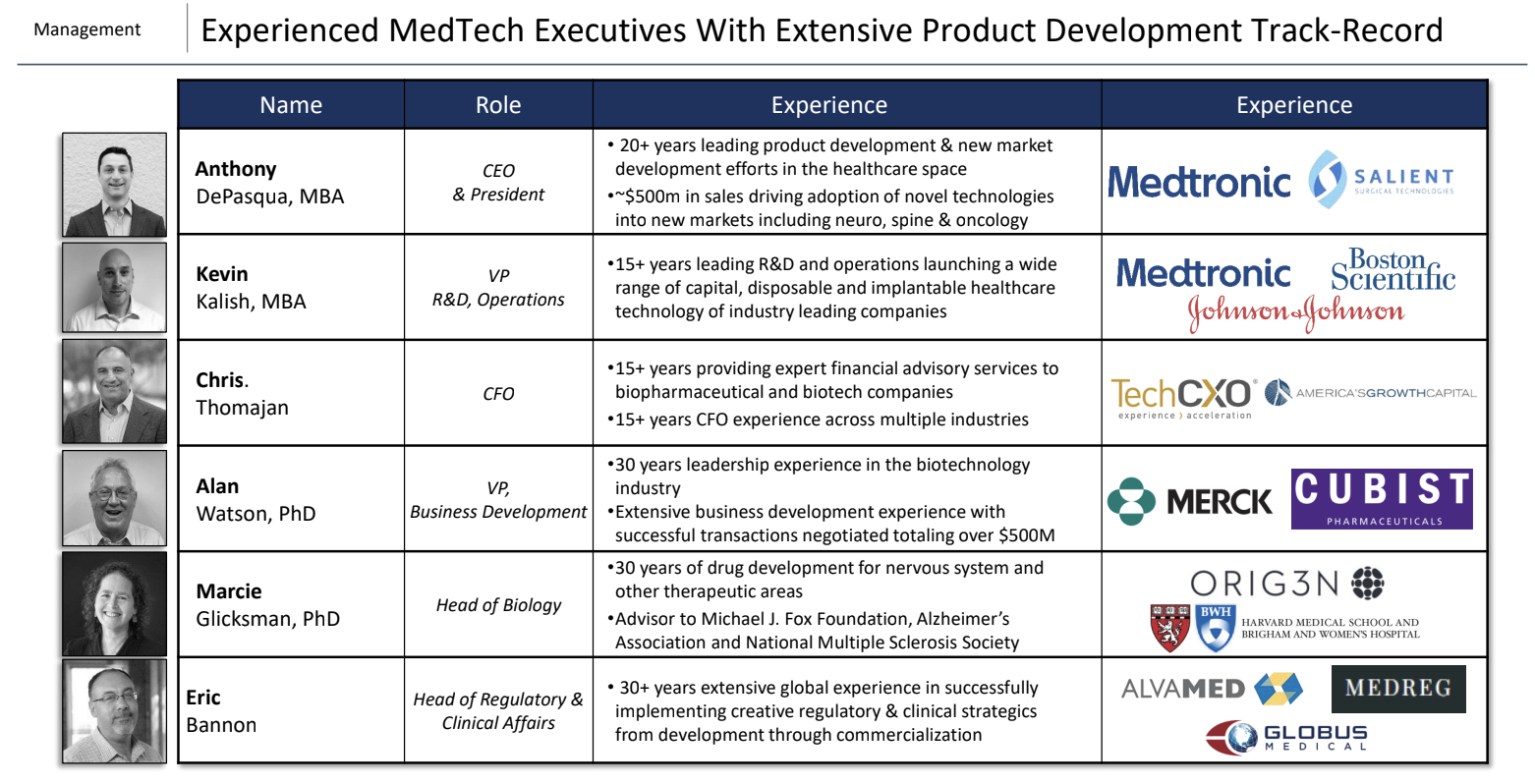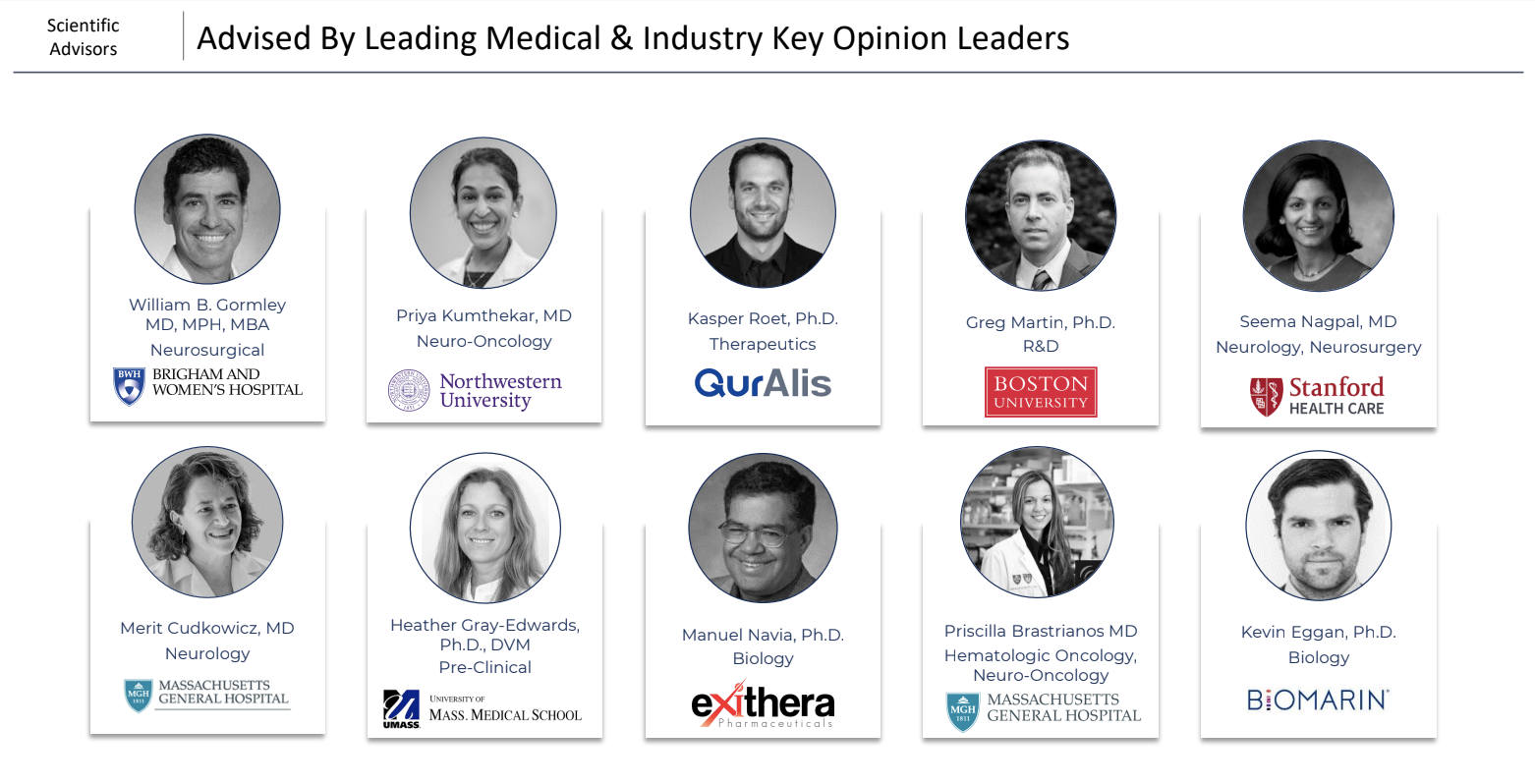 ---
Fundraising
Bioverge previously participated in the company's 2019 Seed, 2020 Series A, and 2022 Pre-Series B fundraises, alongside notable investors such as Amgen Ventures, Thiel Capital, Presight Capital, HealthCare 20/20 Partners, Dolby Ventures, Sanford Biosciences, and Q-State Bio.
The company aims to close its Series B by the end of Q3 and plans to use round proceeds to bring the EnClear platform through Phase I and II patient trials.