"You are what you eat!"
It's likely that we've all heard this saying, which alludes to the fact that the foods we put into our bodies have a direct effect on our health and well-being. That if we nourish our bodies with the right foods as 'fuel', we will perform better. And conversely, if we eat poorly, our health will suffer. Surely, no surprises there.
But what may not be as well understood is just much of an impact your daily food decisions can have on your health and happiness. Research published in the journal Cell recently discovered that even a small amount of 'healthy' food in an otherwise unhealthy diet could elicit a beneficial change in gene expression that could have profound physiological effects, and vice versa. In other words, our bodies are reacting to food at the cellular-level on a meal-by-meal basis. We are what we eat, indeed!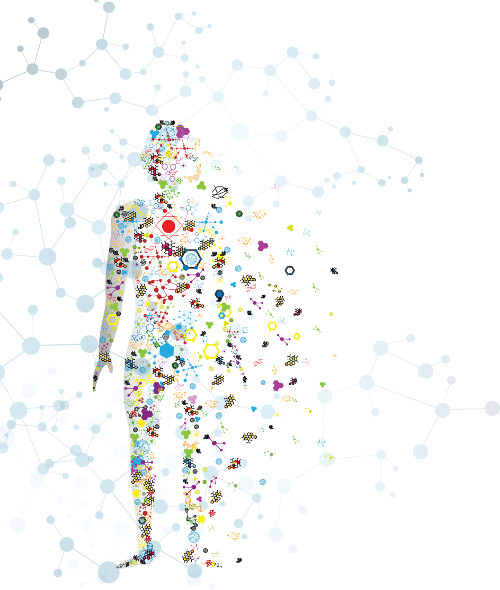 It's no surprise then that the CDC refers to poor nutrition as the leading cause behind chronic disease. Research has continually validated that those with a healthy diet live longer and have a lower risk of obesity, heart disease, type 2 diabetes, and certain cancers. Healthy eating can also help people with chronic diseases manage these conditions and, in some cases, even reverse them.
Because of this, more of us are taking responsibility for managing our health through diet. According to Nielsen, 80% of consumers have adopted a "food as medicine" approach to eating. While a step in the right direction, we remain overwhelmed and confused about what foods are good for them based on their biology and goals. And even if we know what we should be eating, we still struggle to find food options that we enjoy, and that are also conveniently available.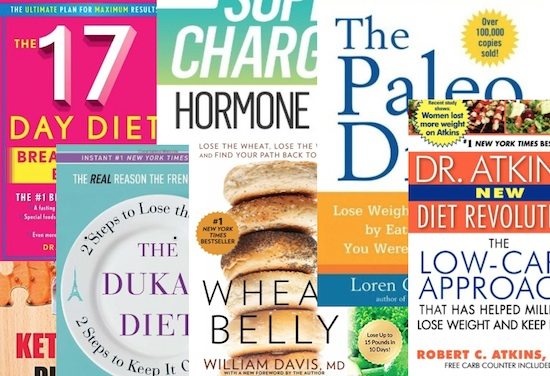 As a consequence, there has been an explosion of programs and tools to help us out. Some follow strict diet rules and others use lab tests or devices to help select food. Some focus on delivering food to make it more convenient, others send us supplements or probiotics to complement what we're already eating. Some are backed by peer-reviewed science and others follow the teachings of a nutrition guru.
With each of these concepts and their respective communities fighting for relevance, many tend to be branded as a one-size-fits-all solution. It's really no wonder that a clear winner has not emerged. In reality, there will never be one!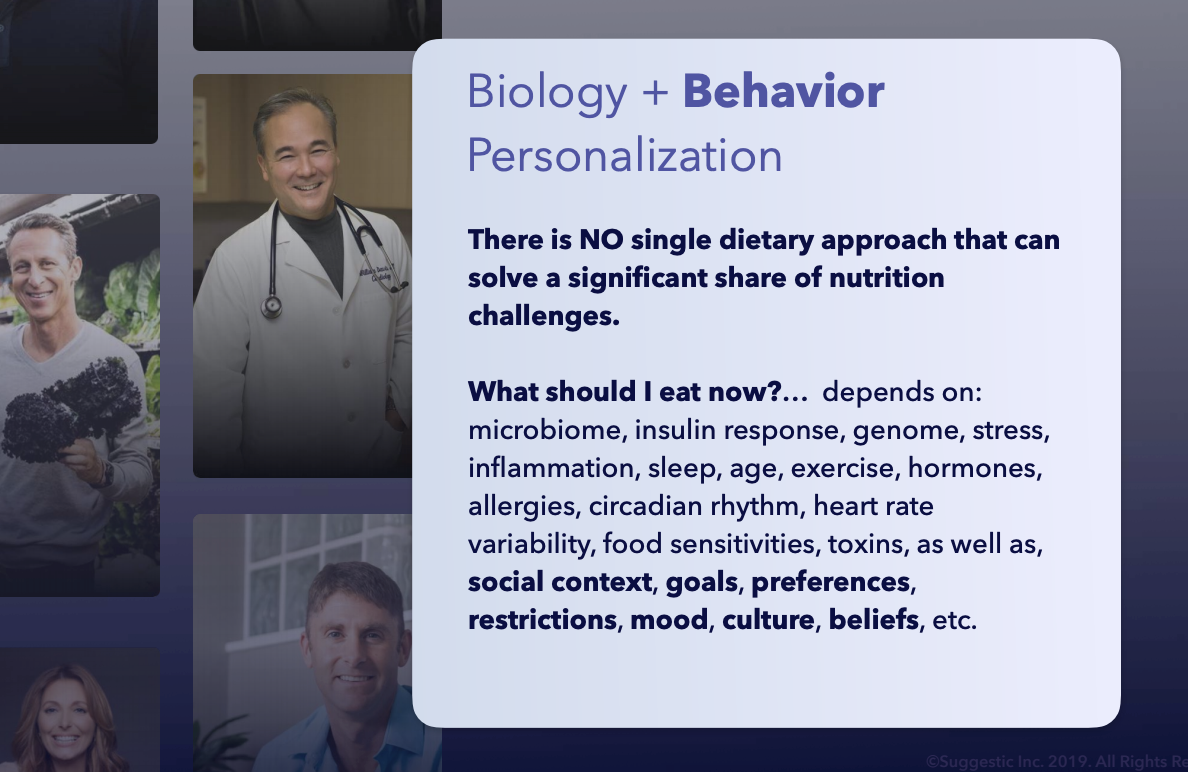 And that is because each of us is a unique individual with varying sets of personal goals, health states, genetics, metabolism, lifestyles, environments, food preferences, motivating factors, etc. The more personalized it becomes, the more guidance, dietary programs and food options that will emerge. This all leads to a perpetually fragmented marketplace where variety and options increase over time.
For the consumers who are genuinely interested in using food to improve their health, this can be overwhelming to the point of not knowing who to trust or where to begin. In order to successfully implement "food as medicine", it's becoming readily apparent that we all need personalized guidance to make easy, actionable choices in our everyday busy lives.
And for the businesses and institutions creating guided dietary programs to fill this gap, it's apparent they need to complement their programs with a comprehensive set of tools to reach people with personalized and convenient options.
Today's Status Quo
Mobile apps enable "food as medicine", but the massive $11B+ nutrition app industry is highly fragmented with 60,000+ app publishers, and growing. Everyone from health plans to fitness companies and from lab tests to nutraceuticals wants their own app and each caters to users with different needs, different preferences, different use cases, and different distribution channels.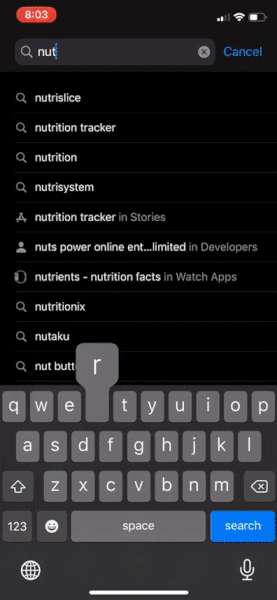 All that would be fine if developing an app, creating differentiated content, and growing a user community was simple and cheap to do. Unfortunately, this is far from the truth. A typical mobile health app takes 24 months and $1M+ to develop. On top of that, most are implementing similar infrastructure and functionality, and licensing the same data as existing apps on the market.
And when it comes to gaining consumer's attention and building a user base, app publishers feel that in order to stand out they need to build an all-in-one consumer app to dominate the rest, but in doing so, they have trouble truly differentiating and amassing users at scale. Given this is a recurring industry-wide problem, this amounts to a significant waste of speed and resources and ultimately hurts the consumer.
More Data = More Personalized
Ultimately, enabling truly personalized nutrition is a complex, big data problem perfectly suited for state-of-the-art artificial intelligence.
We have massive amounts of data floating around that all represent pieces of a larger puzzle. Which diets actually work? For which types of people and objectives? What are people eating? Buying? Where are they dining? Shopping? What other options exist nearby? What ingredients are in a particular dish or on a menu?
If we could match what each of our bodies need with the food we like the most, and then further match that to the food options around us, then we could effectively allow for food to become medicine.
To get there, you need to amass users and data. But judging by the perpetual fragmentation of the nutrition and mobile app markets, going it alone and trying to stand out and reach consumers directly doesn't appear to be the answer. Might there be another way?
Enter Suggestic
Suggestic experienced the challenges of fragmentation first-hand while competing early on in the direct-to-consumer market.
The Suggestic standalone app, launched in April 2018, did very well. It was downloaded 90,000+ times and maintained a 4.5 star rating (of 5). In the 10 months after launching, the company was impressively able to achieve an average 21% weekly compounded growth rate, a 5.6% conversion rate from free to paid user, and a 3.73 LTV/CAC (a measure of how valuable a user is to Suggestic over time compared to the upfront cost to find and make them a Suggestic user in the first place).
Despite this trajectory and a superior product, the company ran into barriers associated with the fragmentation of the nutrition space. By necessity, Suggestic had to shift its focus more toward identifying, marketing, and converting new users than doubling down on development of the differentiated product itself.
But in that sacrifice and search for users, Suggestic also gained a key insight. They found that creators of specialized content and services were just as much in need of an audience as they were in a tech platform to build a mobile experience for their users.
If the problem was associated with excessive fragmentation of the space, Suggestic saw that the solution could be in building a centralized platform - one that provides the features and tech infrastructure for other health and wellness companies looking to build mobile experiences for their customers, and unites creators of specialized content and tools with large, existing communities of individuals.
Suggestic quickly applied this learning to a new enterprise model. And in just 8 months since launch, the company has already amassed more potential users within its initial partnerships than the biggest incumbents (MyFitnessPal, Noom, etc.) have acquired over many years.
An Operating System for Personalized Nutrition
Suggestic is building an operating system for personalized nutrition. They offer a platform-as-a-service (PaaS) that enables organizations to build and deliver personalized nutrition solutions via APIs, SDKs, and white-labeled mobile apps.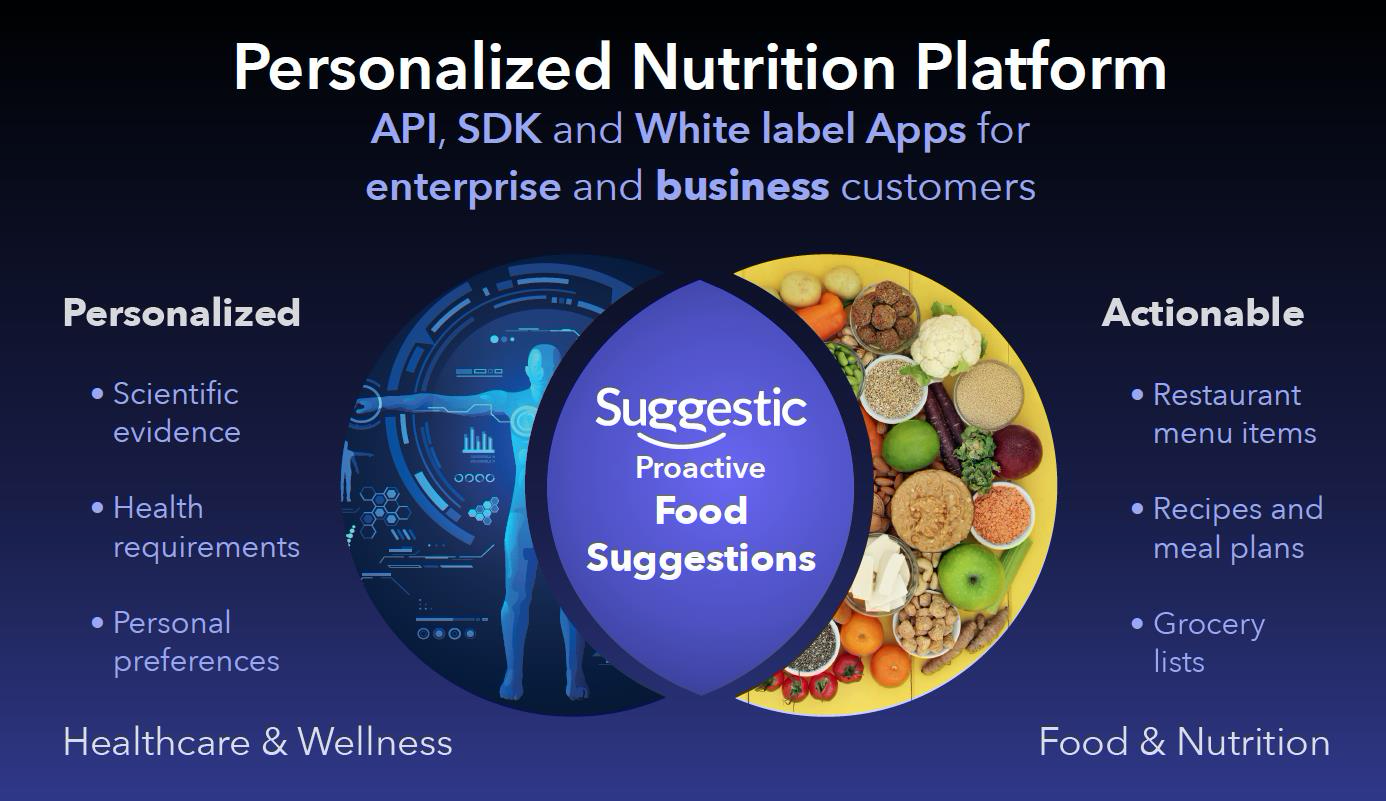 The Suggestic platform helps partners build beautiful and powerful apps, create personalizable programs that bundle with their own diagnostic and nutrition offerings, and the technology that allows them to incorporate advanced functionality and the most comprehensive data sources. All at a fraction of the time and cost.
Suggestic's development platform empowers organizations with all the tools needed to build world-class nutrition-related solutions by personalizing each body's needs, customizing with consumer preferences, suggesting and delivering food, tracking user progress, and continuously improving suggestions.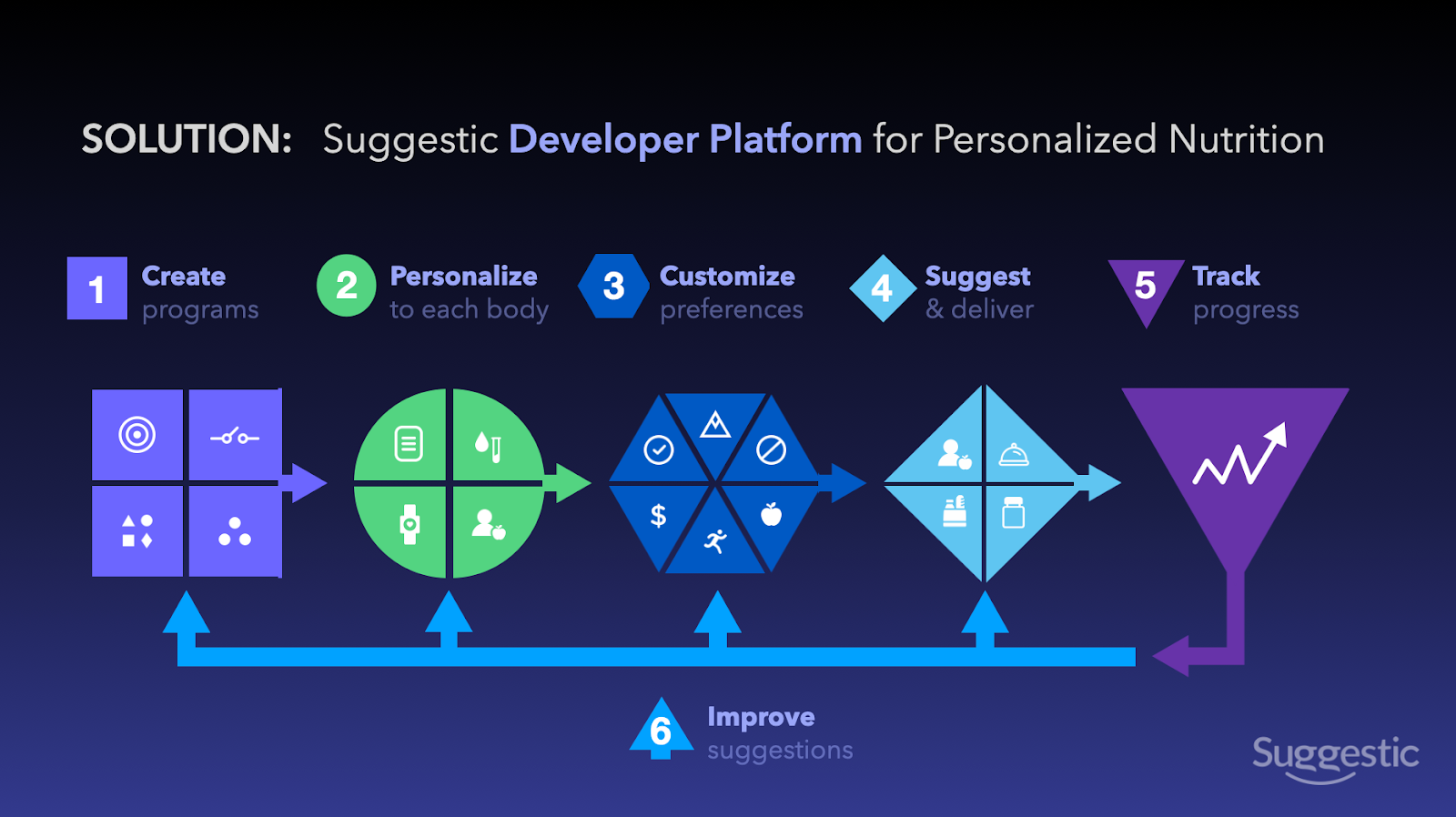 Experts publish dietary programs and video guidance without a tech team. Coaches and dietitians deliver, track and help the end-users. Consumers get personalization, actionable suggestions and guidance through an app.
The workflow on the Suggestic platform is as follows:
1) Program Creation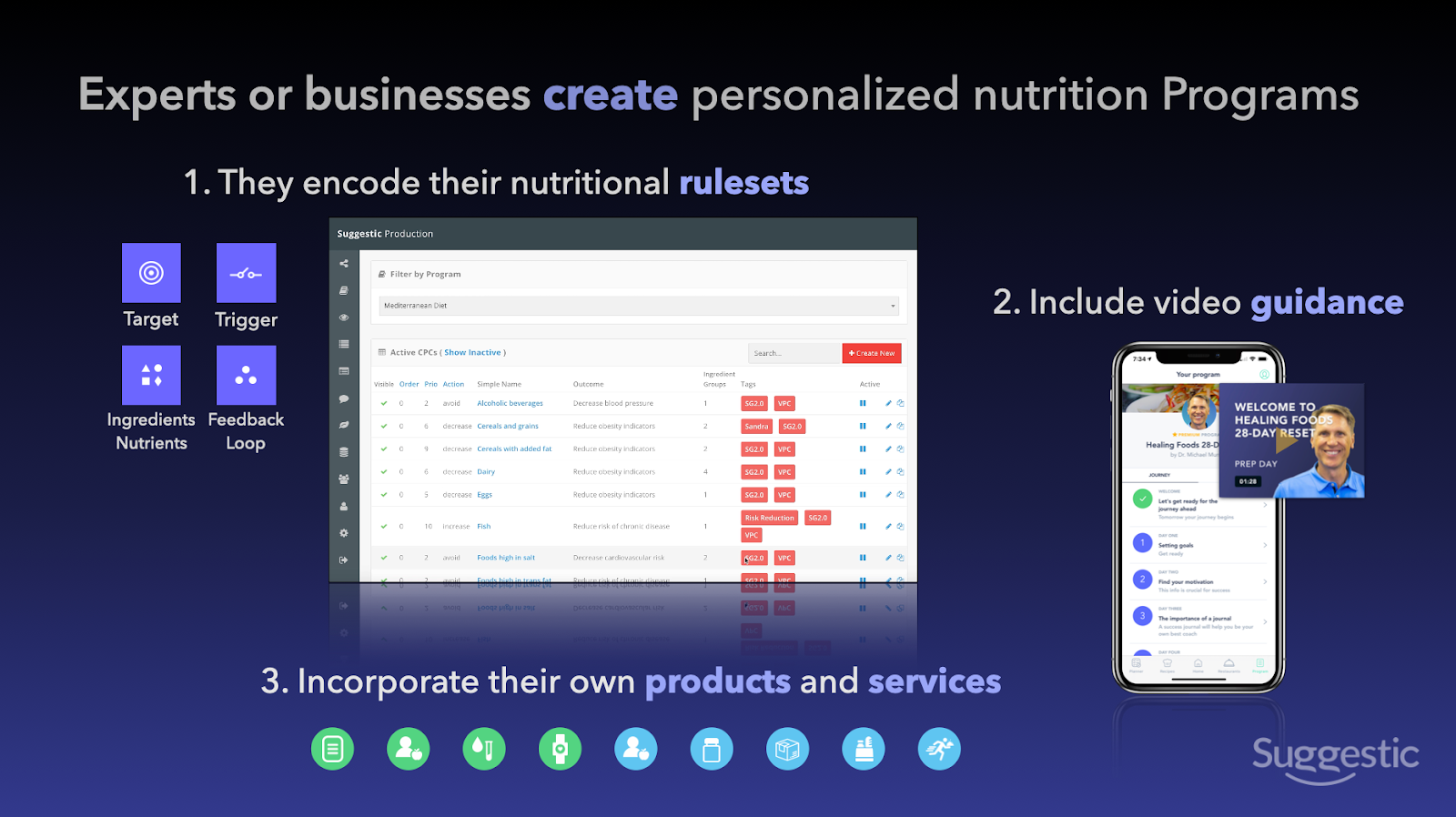 This is where Suggestic customers create their own dietary programs by first defining their own nutritional rulesets that will be used to filter and score the best food options for each end user. They also add video courses to guide people through lifestyle changes. Finally, they bundle lab tests, devices, coaching, food products and supplements. This is all incorporated into a Personalizable Dietary Program that can then be distributed through Apps.
2) Personalize and 3) Customize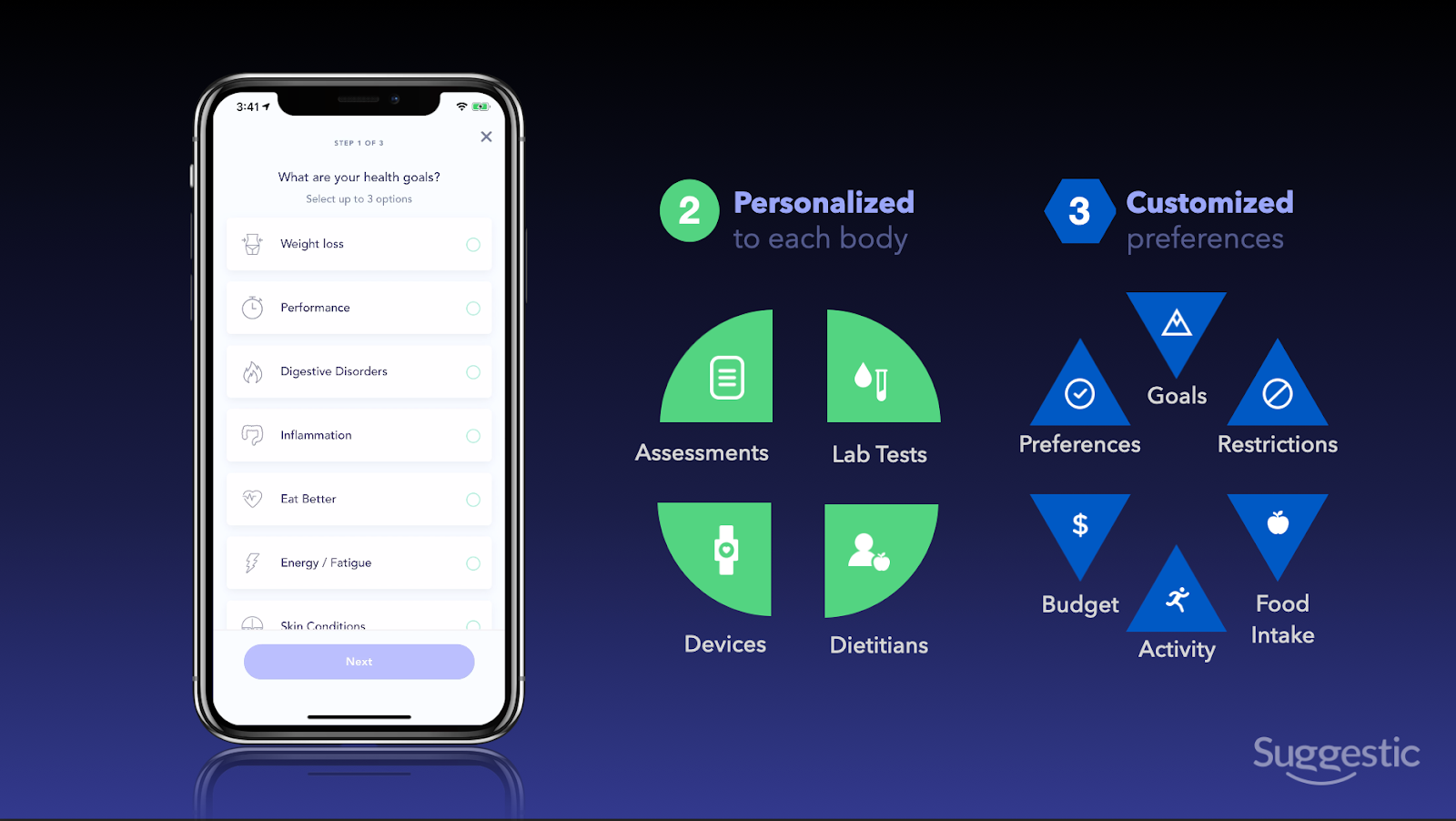 The dietary programs are then personalized to each body and customized by each individual. The personalization can be done by using the assessments, lab tests, devices or expert guidance included within each Dietary Program. This allows food options to be relevant, actionable and convenient to each user.
4) Suggest and 5) Track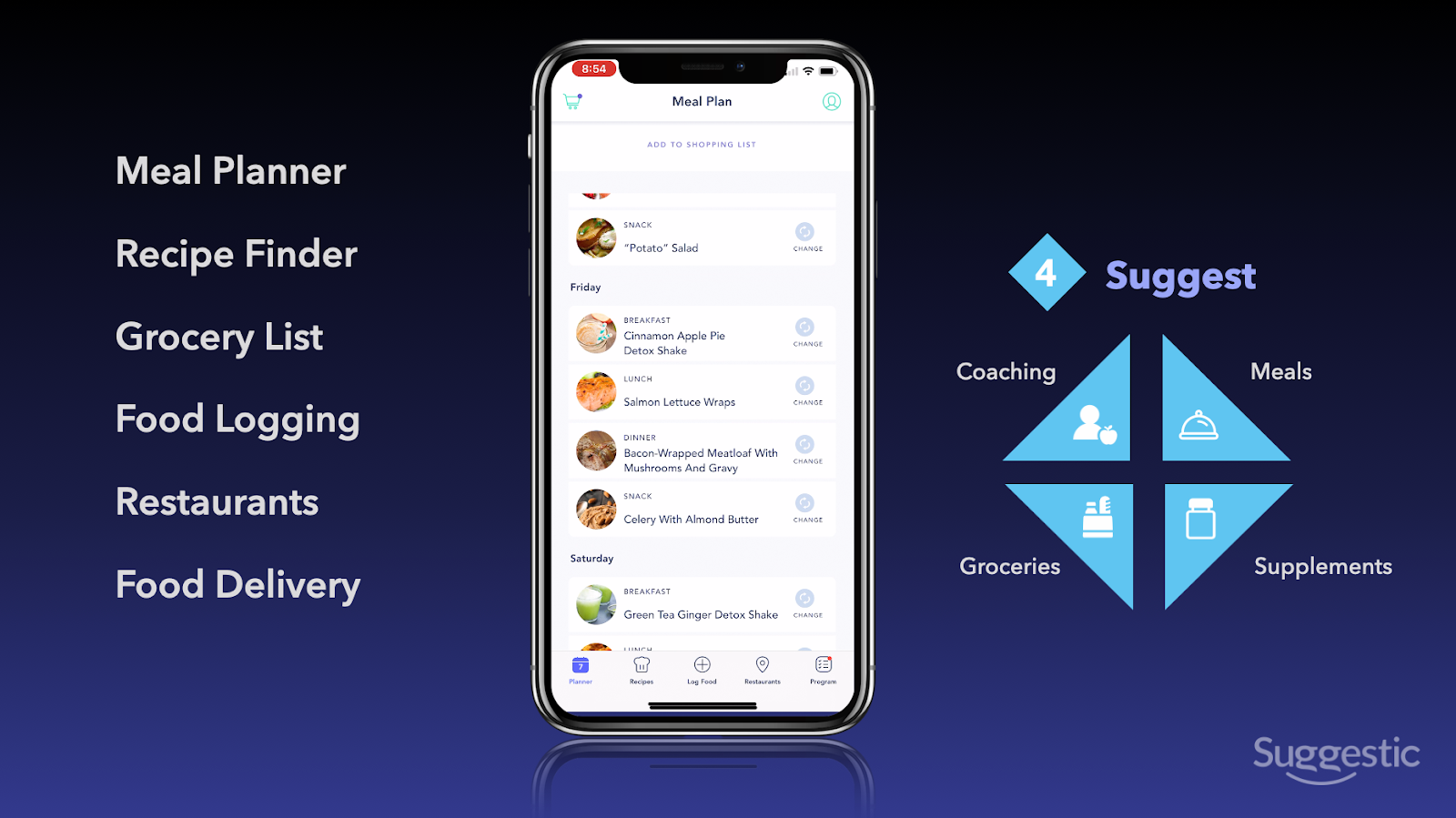 Each business or institution can then use the Suggestic platform to publish their own nutrition App that contains these personalizable dietary programs. The Apps published can be created by using Suggestic's developer tools like their API and SDK. Or they can easily use a white-label version of the Suggestic App.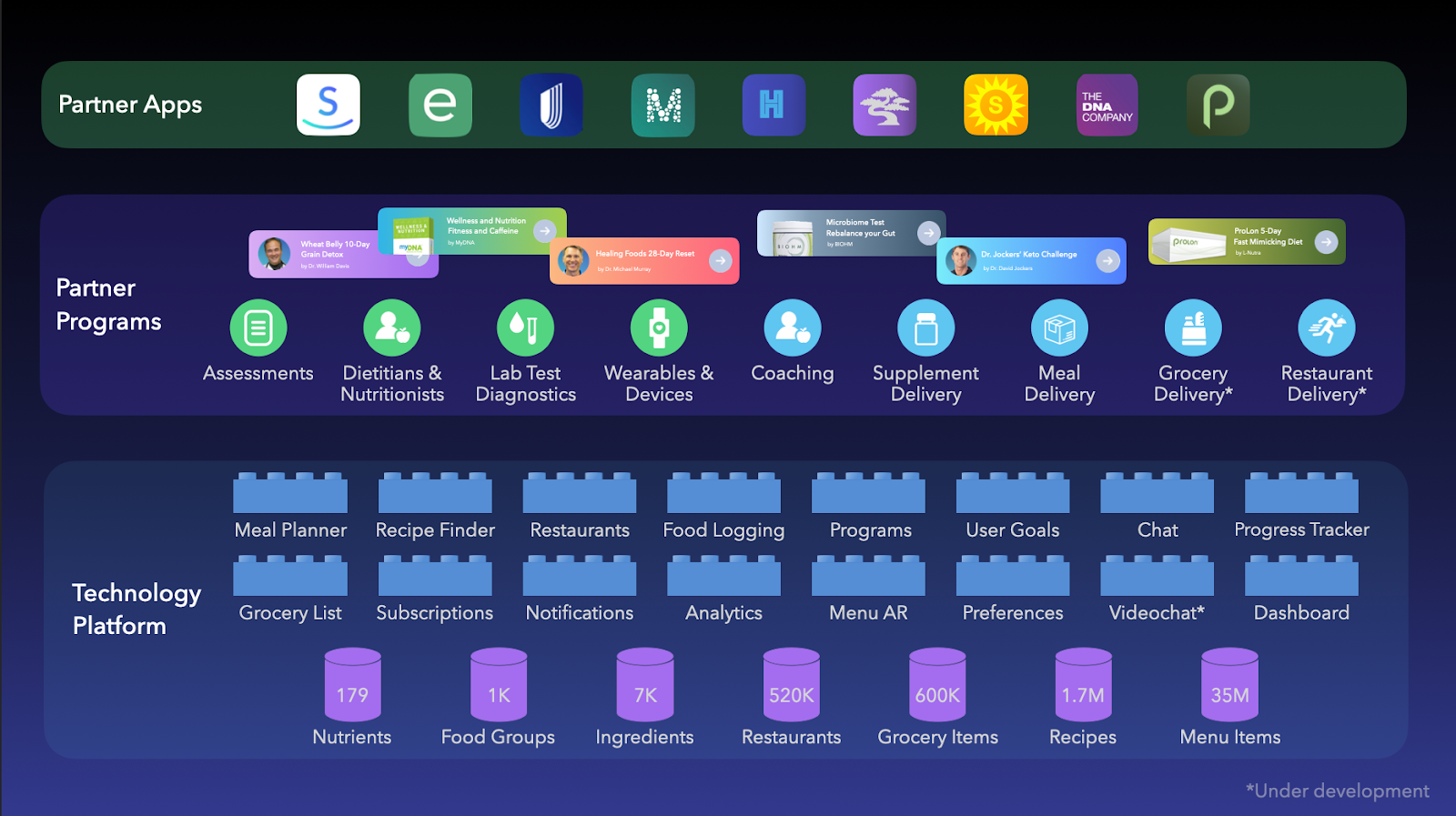 In either case, Suggestic enables a wide array of functionalities and data sources through its Platform, from meal planning, recipes, and grocery lists, to restaurant meals and expert guidance, to goal-setting, food logging, and analytics.
Restaurants – the app can tell you which nearby restaurants have a menu item that matches your diet and scores every item on the menu based on fit. It has 520,000 restaurant menus on the platform. The app matches users to restaurant menu items with a high level of accuracy (98.5%).
Recipes/Meal Plans/Grocery Lists – The system suggests meals/recipes that match user preferences and also provides a grocery list that users can follow to shop and make these meals at home.
Track and Measure - the company is working on feedback loops that track member usage and follows up with them to offer additional suggestions: people can log recipes, menu items ordered, and food consumed. UnitedHealth is thinking about tracking BMI and weight. They can also add soft outcomes such as well-being, brain fog, energy levels, and sickness. Hard outcomes such as devices/lab tests can also be added via partner integrations.
Centralized and Modular
The power of Suggestic is in its centralized and modular approach. For Suggestic, platform customers come in different shapes and sizes: some are Program Creators (they build dietary programs using their own content, products and services) and others are Distributors (they bundle multiple 3rd-party dietary programs and distribute these to their community of users). By providing the platform and development tools to bring these two categories together, Suggestic customers can leverage each other: Program Creators can find large-scale distribution and Distributors can integrate specialized content and tools for their user communities.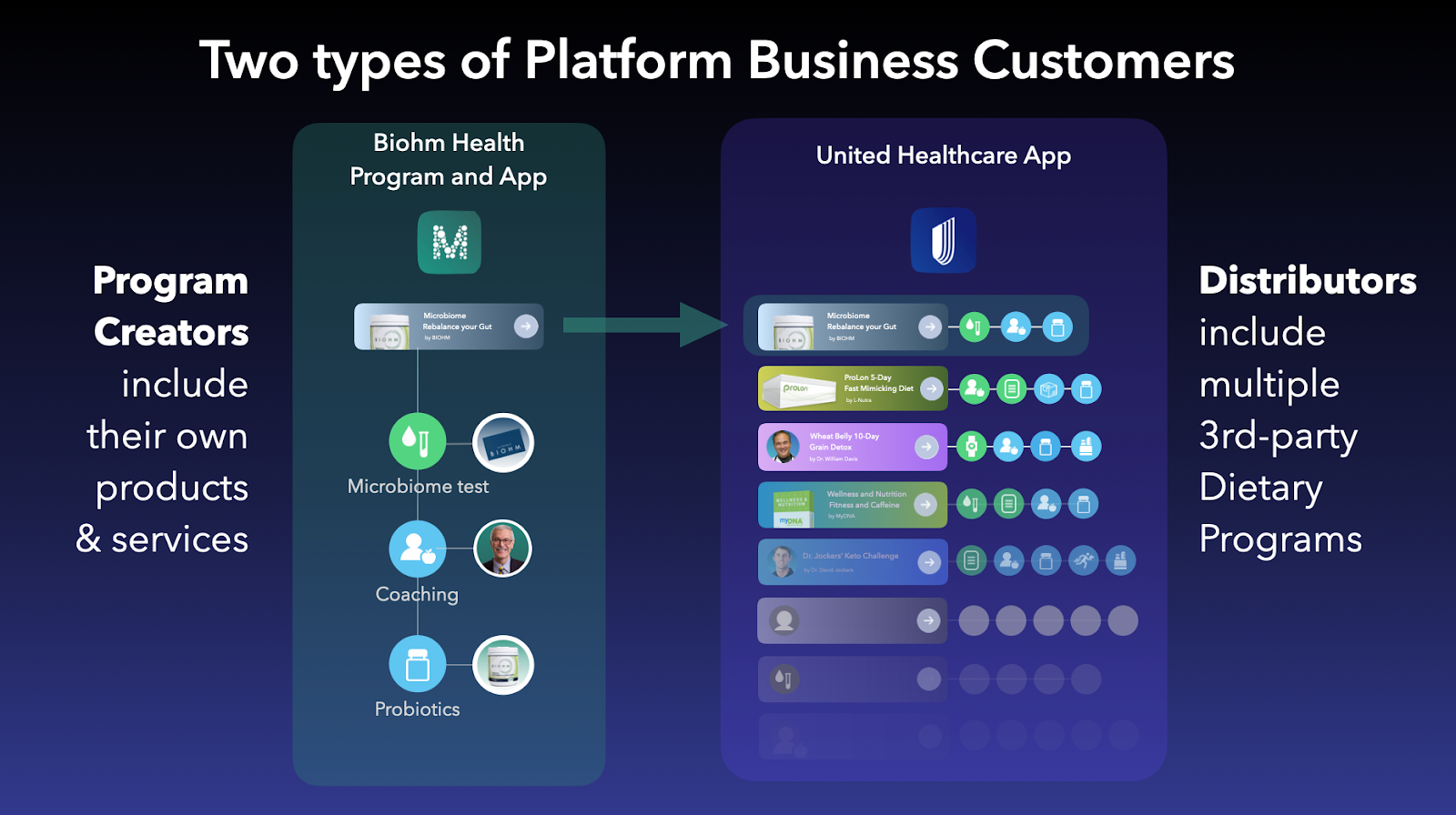 For example, Suggestic customer Biohm is a Program Creator. Using Suggestic's platform, they have created a nutrition program and standalone app called "Microbiome - Rebalance your Gut". Within they incorporate a microbiome test, coaching services, probiotic sales and nutrition guidance.
A separate Suggestic customer, United Healthcare, is an example of a Distributor. United Healthcare has created an app that includes a number of different nutrition programs for their patients and practitioners to choose from, and one such program included within is Biohm's "Microbiome - Rebalance your Gut" program.
The fact that Biohm's program can be integrated into United Healthcare's app demonstrates the true power of Suggestic's modular and centralized approach. Program Creators no longer have to focus on building standalone apps that do everything under the sun, or scramble to independently connect with consumers and grow their audiences. Instead, companies like Biohm can focus on what they know and do best, the "Microbiome - Rebalance your Gut" program and then enable others in the Suggestic platform paid access to the resultant program.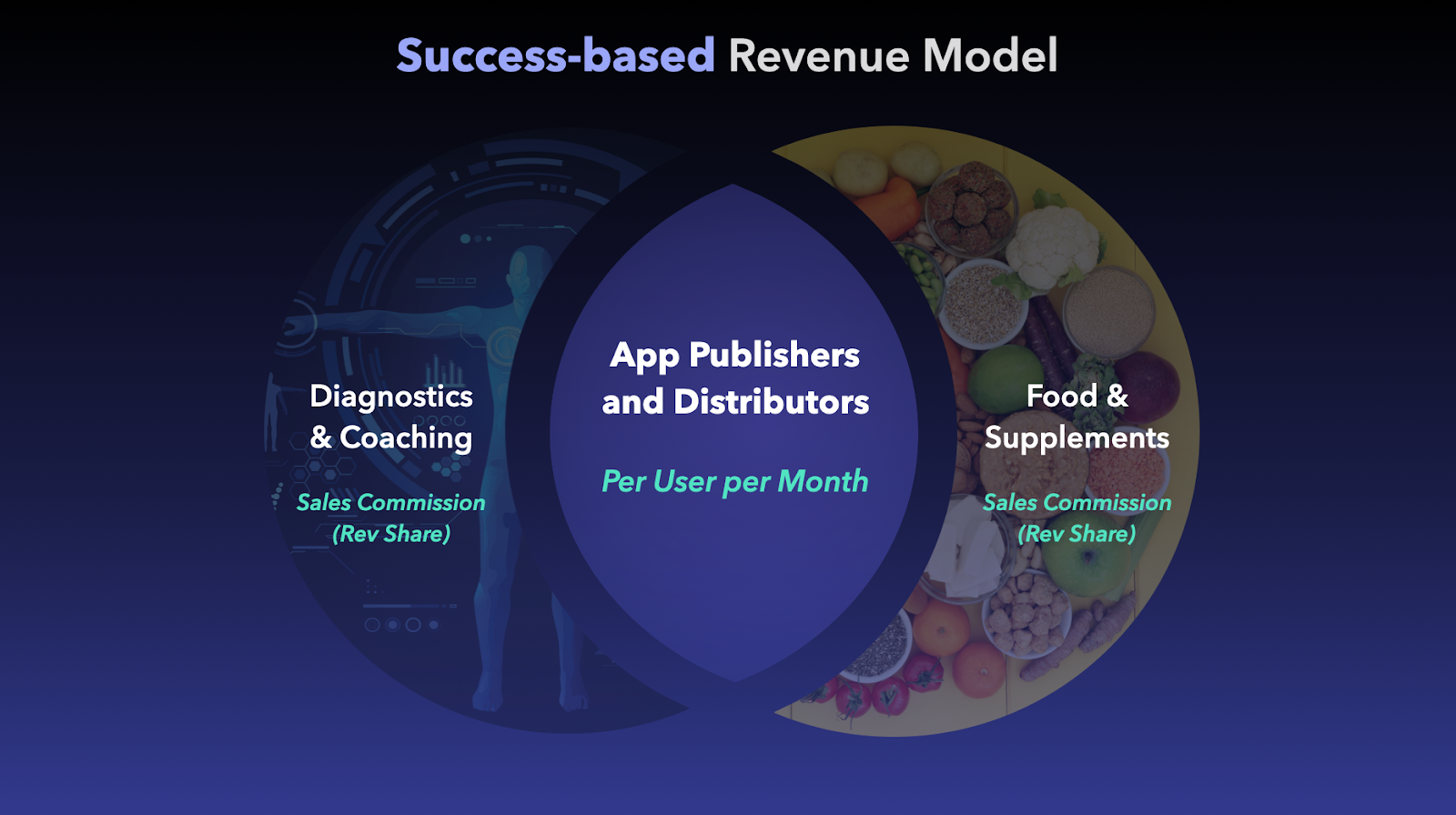 In exchange for this access, Suggestic's Distributors pay monthly fees per user. Suggestic Program Creators pay a revenue share of the sale of their digital programs, as well as for their products and services sold through the platform.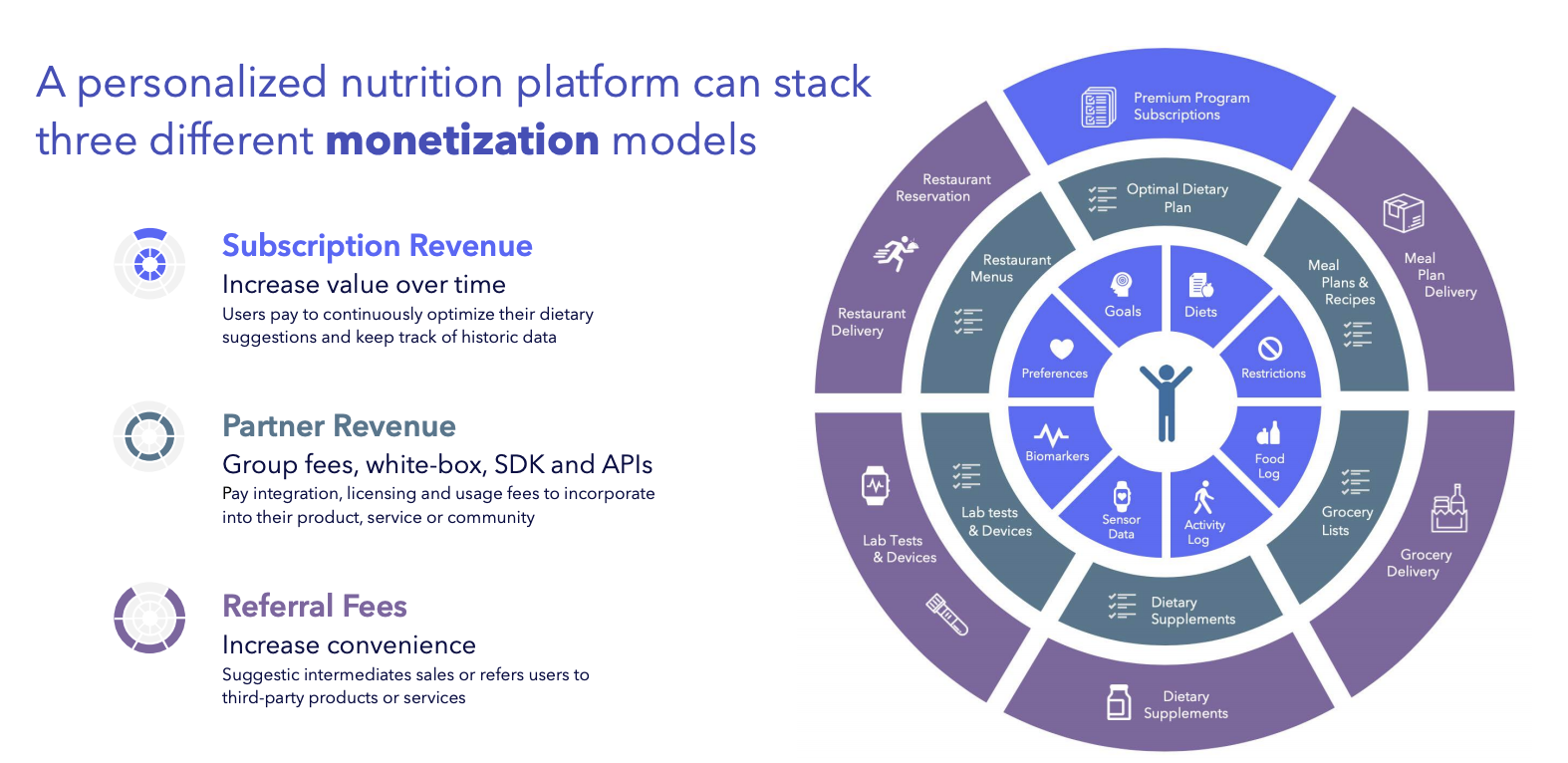 In seamlessly connecting Program Creators with Distributors, Suggestic has effectively positioned themselves at the center of the intersection of the healthcare, wellness, food, nutrition, and mobile technology industries. This central vantage point allows us to be the dominant infrastructure player for personalized nutrition as these trillion-dollar industries collide.
Vision:
Suggestic's Platform will become the industry's technological standard for Personalized Nutrition. By being a diet-agnostic technology platform Suggestic can empower the full ecosystem of economic actors that will personalize and deliver nutrition. The more data, the more AI can learn to make better predictions about which food suggestions each person will buy, order, cook and eat. Better predictions = better engagement, better adherence, and better health outcomes.
(VIDEO) A Conversation with Suggestic CEO Victor Chapela (~8 mins Overview + ~15 mins Discussion)
Why Now?
Three trends are converging to open a window of opportunity:
1. Social: Online information has accelerated the shift in food perception from "food as fuel" (calories) to "food as medicine" (nutrients). This has started to erode the incumbent brand influence in both food and healthcare.
2. Economic: Almost every large company in the food, nutrition, fitness, healthcare or wellness spaces are creating products and services to influence health through nutrition.
3. Technological: As mobile computing power and bandwidth have significantly increased the world has moved to a mobile-first approach.
Traction:
Suggestic is not demand constrained. They are working with some of the biggest brands in health and wellness and, in just 8 months, they have closed $7.6M in total contract value and reached $2.5M in annualized recurring revenue. They also have a pipeline of 150+ prospective partners with $1M+ in the final contracting stage and are receiving 1-3 new organic leads per day.
Closed: Amway, United Healthcare, LifeDNA, Sova Health, MyDNA, The DNA Company, BIOHM Health, Biocanic, Guidewell, Mountain Health, Yubi Health
Final contracting: United Healthcare, Amway, L-Nutra, Pepsi, Burn to Give, YourCoach, Nutridoc
Market:
The "food as medicine" market sits at the intersection of health & wellness ($3 trillion) and food & nutrition ($5.3 trillion) and is estimated to have surpassed $268B and 48 million households in the U.S. (Nielsen 2016).
The market for Suggestic's personalized nutrition platform includes all mobile Health publishers developing their own apps to complement their existing products and services. The company estimates ~60k mobile health app developers worldwide that have or could have nutrition related content, representing a total addressable market of $11B.
Competitive Landscape:
The market is extremely fragmented. Suggestic's competitors can be categorized into two main buckets:
Those who offer data (a component in all nutrition apps, but still requires 1-2 years of dev): Yummly, Edamam, Nurtritionix; and
Those who offer nutrition services or apps (black box solutions or custom development): Nutrimedy, Nutristyle, Nutrino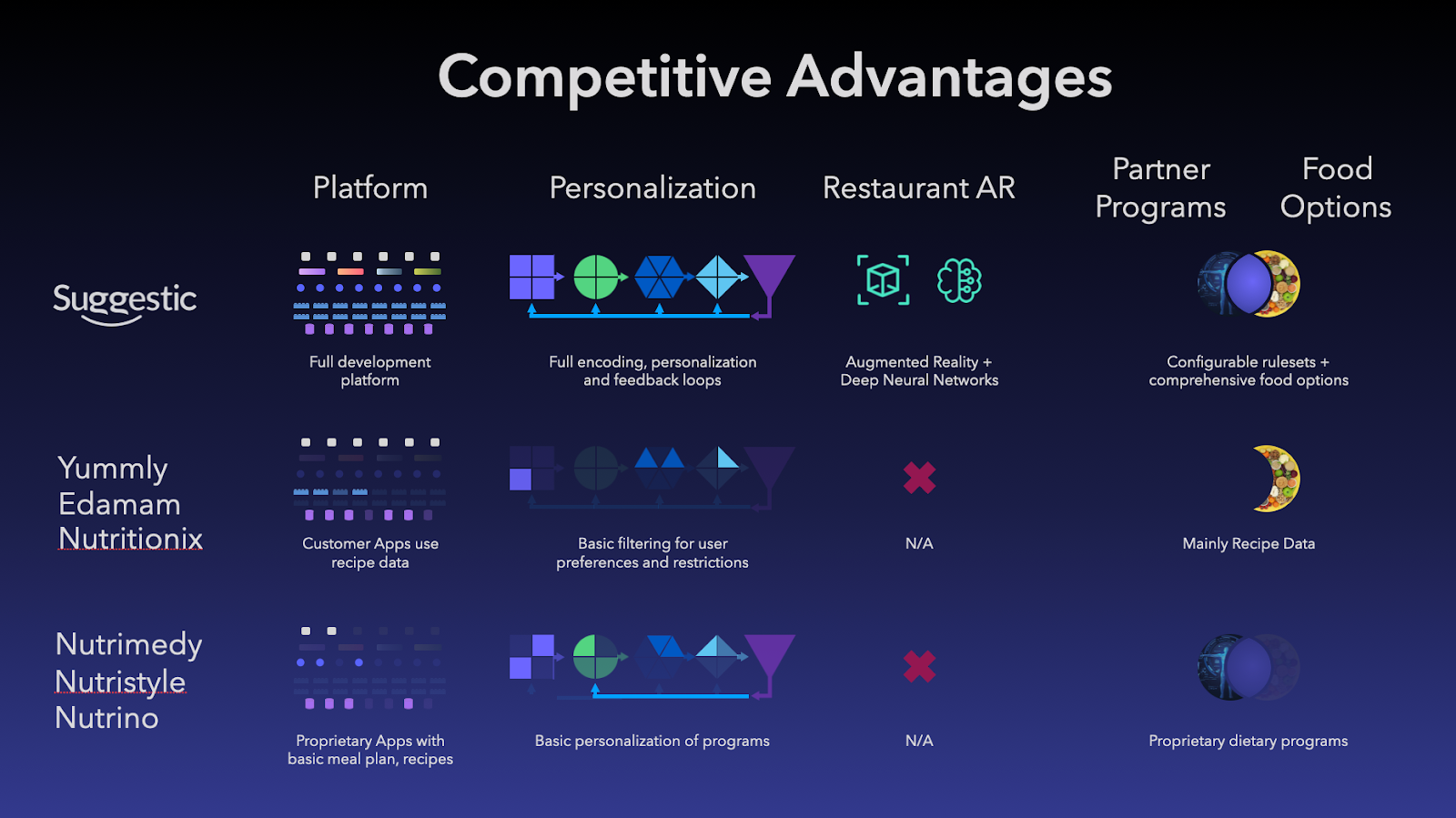 Suggestic is the only comprehensive nutritional analytics platform when it comes to: 1) providing comprehensive nutritional rules sets that are connected to meal plans, restaurants, and grocery lists; 2) connect a specific patient/users health goals with the appropriate nutritional plan (allowing customization/personalization); and 3) offering a restaurant app that leverages AI to overlay a food score on menu items using augmented reality.
What sets Suggestic even further apart is that they are a centralized solution that empowers an ecosystem for all players to collaborate by allowing dietary program creators to work with app distributors, while having access to the most comprehensive data and functionality.
In addition, the company spent five years developing its AI-based platform and the world's largest restaurant nutrition-related database. They filed for 3 patents in relation to deep learning and augmented reality technologies filed with priority date of 2016, 2 of them granted in 2019. Conservatively, Suggestic has a 24+ month tech head start, a 12+ month data head start, by far the strongest ecosystem synergies, a market validated product, and a deep understanding of end-user requirements.
Customer Testimonials:
MYDNA (Customer): Suggestic is much better than other companies when it comes to harder to interface, query, and use meal plans on their platform. Suggestic tags their recipes with caloric counts and mix of fat/carb/protein, which is also rare, which is also rare. They have 35mm menu items, which is rare, but the real secret sauce is the querying.
BIOCANIC (Customer): Suggestic was the only company in this space that has a good enough API to connect into Biocanic's platform. MyFitnessPal doesn't have good API integration and Real Plans doesn't have API integration at all. And nobody else could offer up Suggestic's restaurant functionality – it really resonates well with customers. Another advantage of Suggestic versus its competitors is that it is very flexible in terms of configuration – physicians can set dietary restrictions on the platform – and this configurability does not appear on other platforms.
BIOHM HEALTH (Customer): The app is the best in the market. Suggestic is the "whole package".
LEIDOS (Prospective Customer): Overall, Suggestic has the broadest set of capabilities in the market. No other company can offer the meal planning, connection to grocery list/grocery stores (including order fulfillment and delivery), and the restaurant app/analytics. This feedback was provided by Leidos, a company that is close to being a customer. Both Leidos and United Healthcare are potentially huge customer contracts, so this feedback is especially important..
**Additional Takeaway**: What's interesting here is that different customers cite different competitive advantages as the reason they chose Suggestic, supporting the argument that Suggestic is the broadest and most comprehensive platform in the marketplace.
A Patient's Perspective:
Suggestic may be selling to enterprises, but it's us, the consumers and patients, who ultimately benefit. For example, take a look at the journey of Teresa, a patient diagnosed with SIBO (small intestinal bacterial overgrowth) and was given a list of FODMAP ingredients to avoid as part of her treatment. It had over two dozen ingredients that seemed almost random: from honey and apples to sausage and artichokes. It was daunting. Eating highly personalized dietary programs can be exhausting. Reading labels at the grocery store, scanning and thinking through every item in a restaurant menu, or figuring out what recipe to cook is almost impossible without help and guidance.
Fortunately, she was instructed by her doctor to use the Suggestic App. In it, she found an easy way to comply with her newfound dietary restrictions, while at the same time eating food she actually enjoyed. Teresa wrote back to the company: "Thank you, thank you! I don't know what I would have done without your app. It allowed me to go through my 4 week FODMAP diet and I am now SIBO free! I honestly hated the FODMAP diet and would have never been able to do it without your app."
There are thousands of dietary plan variations, and when personalized and customized, this can explode to an infinite number of permutations. Eating healthy is a personal endeavor. And we all need help navigating this complexity. By helping organizations to build and deliver personalized nutrition solutions, now every dietary program, every company and every individual can have access to these same tools.
Exit Strategy:
Suggestic is striving to exit via IPO, but the team expects acquisition inquiries along the way. In fact, they have already received five inquiries to date including household names in the tech, food, and nutrition worlds. Interestingly, all of which are now interested in becoming customers. By sitting in the intersection of the food, nutrition, healthcare, wellness, fitness and technology industries, a majority of Suggestic's current 
or future customers and partners
 have potential to become acquirers.
---
Keep Going
-- Published IP
-- Suggested Reading:
"There Really Is No "One Size Fits All' Diet Plan, According to Study" (Huffington Post)
"EU-funded Food4Me Project Paves Way for Personalized Nutrition to Better Public Health" (EUFIC)
CDC National Center for Chronic Disease Prevention and Health Promotion: Nutrition Fact Sheet

Scientific Literature:
"Personalized Nutrition by Prediction of Glycemic Responses" (Cell)
"Diet-Induced Developmental Acceleration Independent of TOR and Insulin in C. elegans" (Cell)
"Integration of Metabolic and Gene Regulatory Networks Modulates the C. elegans Dietary Response" (Cell)

---