Summary
On the latest episode of the Bioverge Podcast, David Kirn, Co-Founder and CEO of 4D Molecular Therapeutics, sits down with Neil Littman to discuss the limits of existing AAV vectors and how his company is using its Therapeutic Vector Evolution platform to invent customized vectors that allow it to take a disease-specific approach to unlock the potential of genetic medicines.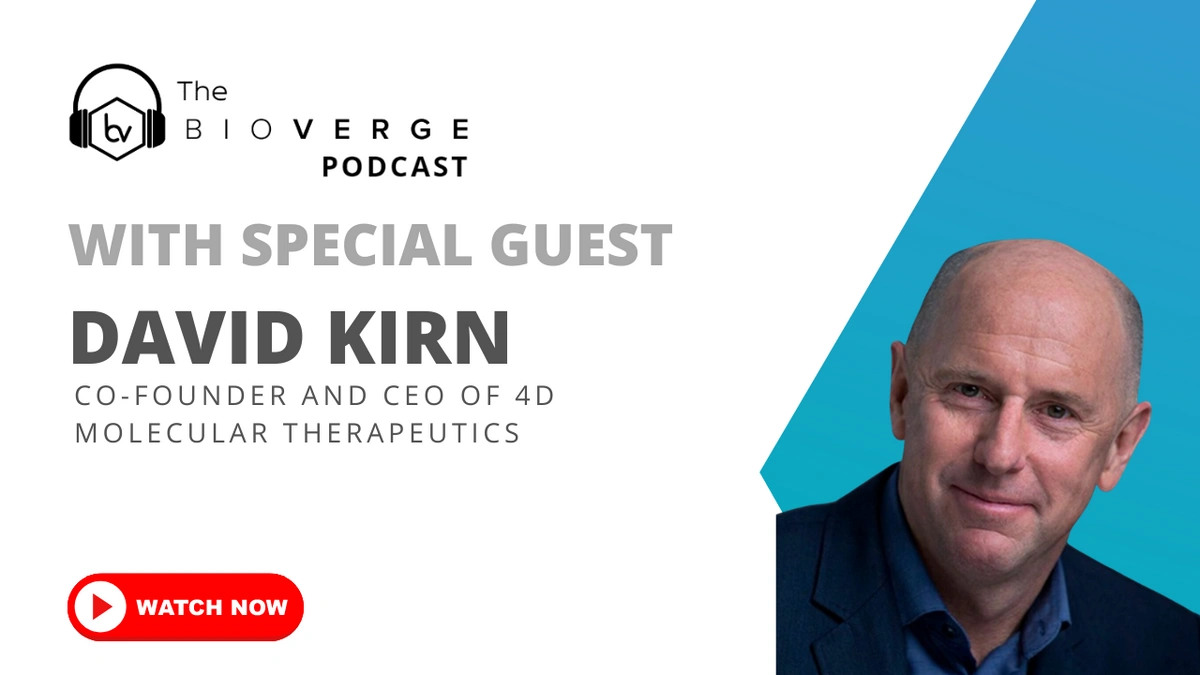 Transcript
00:09
Danny Levine
You're listening to the Bioverge Podcast with Neil Littman.

00:29
Danny Levine
Neil, we've got David Kern on the show today. For listeners not familiar with David, who is he?

00:35
Neil Littman
I am incredibly excited to welcome David to the show today. David is co founder and CEO of 4D Molecular Therapeutics, a clinical stage, publicly traded biotech company that harnesses what they call the power of directed evolution for the development of targeted gene therapies. David is a physician scientist. He's a biotech entrepreneur with over 25 years of experience in the industry at both large and small companies, including Novartis, J and J Celgene Ignite Immunotherapies, which was a company that was acquired by Pfizer and others. David has really focused his career on a very specific niche around viral vector based therapeutics. This is gene therapy and oncolytic viral cancer immunotherapies. He is also a UC Berkeley professor. He's actively teaching and mentoring students in biotech entrepreneurship, which is actually how I first met David many years ago, recently. David is also the co founder and on the board of Directors of Life Sciences Entrepreneurship Center at UC Berkeley.

01:44
Neil Littman
I'm incredibly excited to talk to David, certainly about 4d Molecular Therapeutics, or Ford DMT for short, but also really about what he's seeing in the biotech ecosystem overall, the types of conversations he's having with the next generation and young biotech founders and entrepreneurs these days and what advice you would give to folks these days.

02:06
Danny Levine
What's the problem Four DMT is trying to solve?

02:10
Neil Littman
Yes. 4D is really built around using adeno associated vectors or AAV vectors. There's a number of limitations with the use of existing AAV vectors today. I want to drill down with David into what some of those challenges and limitations are and then how Four DMT is overcoming those challenges by using this idea of directed evolution, which is technology that was licensed by Fordmt from David Schaefer's lab at UC Berkeley. How is this idea of directed evolution overcoming some of those challenges that we see today with the use of AAV vectors? David will have a great perspective on all of that.

02:52
Danny Levine
This is not the first biotech to use directed evolution, but as far as I know, this is a fairly novel application of it.

03:00
Neil Littman
I think it is a novel application specifically focused around AAV. Interestingly, four DMT is pursuing both rare and large market diseases. As I mentioned before, they're a clinical stage company, so they have clinical safety and efficacy data. They have some results that just came out in February from Fabric Disease cardiomyopathy. I want to talk to David about those results. They have clinical POC at this point based on this underlying platform technology that they have. The other thing, as frequent listeners of this show know, that I like to talk about is this idea of platform versus asset centric models in the biotech space. David has really done a great job threading that needle. I'm really curious to get his perspective on the business model there and the pros and cons versus platform versus the asset centric development model. Well, if you're all set, I'm all set.

03:58
Neil Littman
Let's do it. Danny, david, I am incredibly excited to welcome you to the show today.

04:05
David Kirn
Thanks for having me.

04:06
Neil Littman
Today we are going to talk about Gene, therapies 4D molecular therapeutics and your platform for developing disease specific vectors to target genetic diseases. Before we dive into the details though, given your involvement at UC Berkeley teaching and mentoring biotech entrepreneurs, I'd like to start with your high level thoughts around the biotech ecosystem. David, it seems like there are more and more biotech entrepreneurs than ever before. What's your perspective on the biotech startup ecosystem these days?

04:39
David Kirn
Well, I think you're right. I think it's really exploding. I certainly see this on campus at UC Berkeley. There's probably 15 different organizations on campus that have tie ins to biotech innovation and entrepreneurship. I think it's an incredibly exciting time. That having been said, this is a very difficult business. It's complex, and I think when innovators and entrepreneurs early in their career decide to go down this road, I think it's really important to get as much education and knowledge as you can and as much mentorship as you can, because this is not for the faint of heart. This is an exciting but very difficult business model that we have in biotech. It requires hundreds of millions of dollars of investment and fundraising and ten plus years to get products approved. It's incredibly exciting and has a huge impact on the world. It's challenging and I think mentorship and networking and podcasts like this are essential part of the background that these entrepreneur innovators need to succeed.

05:56
Neil Littman
David, we're seeing, I think, more and more younger founders these days emerge who aren't necessarily interested in pursuing a career in academia and they're looking at other options. You obviously do a lot of mentoring and have done a lot of mentoring over the years. What advice do you give to particularly young founders who are looking to start out on their own?

06:21
David Kirn
Well, I think first and foremost, what I try to convey to people is this is not Facebook or Apple, where a couple of college dropouts can start something in their garage with some money from friends and family. The amount of money capital that has to be raised to develop drugs, the time it takes, the need for regulatory oversight, the intellectual property and patent issues. This is a much more complex kind of organization to start up versus what people classically think of in high tech. I really try to share that with people and convey that to them that like, hey, don't think you can just rush into this and you're going to be the next unicorn in a few years. That's not how this industry works. I do encourage early stage innovators and entrepreneurs to try to get some experience at larger organizations first. Now, that could be at a consulting firm where you see lots of different companies.

07:34
David Kirn
It could be at an investment bank where you get exposed to a lot of different companies and business models. It can be in organizations that support business development. I do challenge folks to get some experience first and not think that you can go straight from undergrad or even grad school into this at the highest levels, especially as a CEO entrepreneur. I just think that is a difficult proposition. So I try to maintain their excitement. It's an incredibly exciting field, and you can make a huge impact. I think being humble and getting experience and exposure to the ecosystem for several years before going off on your own is important.

08:23
Neil Littman
David, you're clearly talking from experience yourself. Let's talk about your experience, particularly with 4D Molecular Therapeutics, or I'll say four DMT for short. The company was built around technology licensed from David Schaefer's lab at UC Berkeley. Can you talk about the early days of getting four DMT off the ground?

08:43
David Kirn
Yeah, absolutely. I would say first and foremost, I had 20 years in the industry before coming to that point to start 40 Mt. I got into the industry from UCSF. I was on the faculty there and made the jump into biotech in the early to mid 90s when it was still very new, very high risk. A lot of people thought I was crazy for doing it, but I just learned a tremendous amount at Onyx, which eventually got multiple drugs approved and was acquired by Amgen for $10 billion eventually. The investors in that company, blue chip investors, great management team, great scientists, I just learned a tremendous amount there. I had another couple of startups before I started 4D, so I came to 4D with significant experience. My career had really been focused on innovation in the viral vector therapeutics area, so both viral vector based gene therapy approaches as well as cancer oncolytics and Immunotherapy.

09:56
David Kirn
I had sold my last company, where I was founder and CEO for about ten years, that was called Generics. It was a private company that I sold when the lead asset got to phase three, and I was really looking for the next big thing in viral vector based therapeutics, I was networking. I went to QB three and spoke with Reg Kelly and Doug Crawford there, and they said, hey, if that's what you're looking for, there's this guy at Berkeley who's doing some really innovative stuff with directed evolution to come up with novel improved vectors for gene therapy. For me, it's one of these things where I was looking for something like that, and this technology was really ideal for what I was looking for in my next company to build and hit it off with Dave Schaefer. And we've been going strong ever since. We're ten years out now, so there's.

10:52
Neil Littman
A lot to dive into around the business model that I want to come back to because I want to drill down into the technology first. You've really built four DMT around using AAV vectors. Before we get into what you're specifically doing, let's talk about the limits with the use of existing AAV vectors that are being used today. What are some of the challenges in delivering these therapies?

11:21
David Kirn
Yeah, so that's a perfect introductory question to the area. I think anytime as an entrepreneur innovator, you start a new company, you're building off something that's there already, but there's an unmet need. I think you have to really start with what's that unmet need. So, with AV, the good news is it's a stable particle. It is able to deliver transgenes to target cells with relatively little immune response compared to, say, adenovirus. There's certainly a huge amount of clinical data showing relative safety with AV to date. So that's a good news. There are examples of approved products for SMA One and for LCA Two in the eye with first generation conventional vectors and even now hemophilia. The bad news is and the limitations with AV are as follows. These are capsids, essentially protein coats, almost like a soccer ball with DNA inside it. These have not been targeted to any tissue in the body.

12:33
David Kirn
Not surprisingly, if these didn't evolve to target specific tissues that we want to treat, in the vast majority of cases, AAV is going to be very inefficient at transducing cell types that we want to transduce as entrepreneur innovators and as physicians. Delivery is very inefficient as well. Whether it's by IV delivery to skeletal muscle and Duchenne muscular dystrophy, or intravitral injection to try to target the retina, AV delivery is extremely inefficient to the vast majority of tissues in the body. The third big limit is that since these are in the population, these capsids, many people have preexisting immunity to these capsids and therefore can bind them with antibodies and prevent efficacy, and generally those patients are excluded. Finally, because of the inefficient delivery, inefficient transduction, very high doses are typically used many thousands or tens of thousands of particles per cell, and that can lead to inflammation and toxicities.

14:02
David Kirn
We started the company, these were the four hurdles were staring at saying, okay, these are the hurdles we need to overcome to unlock the full potential of gene therapy.

14:16
Neil Littman
David, you had mentioned some of the work that David Schaefer is doing at Berkeley, and specifically you mentioned this idea of directed evolution. My understanding is that this directed evolution really underpins the 40 mt platform. Can you talk about and explain this concept of directed evolution?

14:36
David Kirn
Absolutely. Well, first of all, I'd start by saying it's a Nobel Prize winning technology that was developed by other scientists. It was awarded about four years ago, but it's been applied to enzymes, industrial enzymes for chemical engineering, it's been applied to antibodies and other phase display, et cetera. It's an incredibly powerful technology that allows us to essentially use the principles of evolution to rapidly generate novel biologics that have the features that we want. The way we apply it to the AV capsid, which is again, just a protein coat, is we start by generating massive diversity. So evolution, the first step is diversity. In this case, we've generated on the order of 1 billion different AV capsids. Instead of taking one or two that are present in nature that everyone else uses, we started by creating a billion versions of this. We did it through a variety of molecular biology techniques to induce that diversity.

15:57
David Kirn
Now we have this library, almost like a small molecule chemical library, but in this case it's a capsid library. The protein coat, that's the delivery vehicle for gene therapy. Each one of those capsids then is manufactured and it's barcoded with its own DNA. Getting that one to one linkage is an incredible feat and trade secret that our scientists have been optimizing for the last ten years, building on what Dave Schaefer did in his lab. So that's the starting material. Now, the second step, we actually go to the whiteboard and we ask the question for the treatment of any disease with AV gene therapy, what characteristics, what features do we want that capsid of AV to have? So, in other words, how do we want to infuse this into the body? Do we want to go intravenously IV? Do we want to do aerosol delivery to Long?

16:56
David Kirn
Do we want to do intravitreal injection to target the retina? We start with what's the tissue and cell type I want to target and treat. What's the route of administration I want to use and then what's the dose range that I want to be in, to have a reasonable cost of goods and no manufacturing constraints, and also to be in a dose level that's been shown to be safe in prior studies. In some cases, we also ask the question, do we want to build in resistance to antibodies in the human population if we think that's going to be an issue? We put all these together on a whiteboard and we call that the target vector profile for our product. The third step, then we take that profile, we take the physical capsid library, and now we administer the library into primates. Again, we have to use non human primates to be as close to the human situation as possible, because evolution is critical to be in the right species.

18:05
David Kirn
So we can't do this in mice. We go into non human primates and we administer the library by the route of administration that we want to use in the clinic for the product. We wait a couple of weeks and then we harvest the cells or the tissues that we wanted to treat. We harvest those, we bring them back to the lab and we break them open and we look to see what capsids made it there by looking at their DNA barcode. What you would have is say 0.1% of the vectors in our original library would have made it to our target cell of interest. We then grow those vectors up because it's still many hundreds, if not thousands of vectors that made it there. We grow those up and we do another round in another animal, this time more stringently, so at a lower dose or after exposing to human antibodies, and we use that to increase the stringency.

19:01
David Kirn
After that round, when we look at what reached the cells, it's even smaller population of capsids that made it. What we're essentially doing is competitive selection where these vectors are competing with each other to see which one fits that target vector profile the best. After two to four rounds of this, we've funneled down from a billion variants down to one or two, which are dominant, which are clearly the best for matching that target vector profile.

19:30
Neil Littman
David, I love that idea of the target vector profile. It sounds like you may have been borrowing from the idea of a target product profile, which is very common in drug development. I think that's a really interesting way that you view things. Let's talk about then the different indications that you are pursuing. You're pursuing both rare and large market diseases. You have a pipeline that extends across ophthalmology, pulmonology and cardiology. I think about your technology, it really appears to be broadly applicable. How do you think about the potential indications to pursue and then how do you prioritize them?

20:10
David Kirn
Yeah, well, I think that's the ultimate challenge with a platform and product company. As you rightly point out, this platform of directed evolution of these AV capsids is incredibly broadly applicable. We can essentially develop a vector for any tissue we want to target in the body. For us the challenge was to say, look, we have to focus. We don't have unlimited resources, people, finances, et cetera. At the same time, this is high risk, developing novel therapeutics and novel caps. Since we can't predict what unforeseen problems may arise in the clinic, it's very difficult to predict which product candidates going to win. So we also have to diversify. We just, after a lot of debate and discussion, felt like three shots on goal with three different vectors by three different routes of administration was the way to go. We invented vectors for intravitual delivery to the retina.

21:21
David Kirn
There's a huge unmet need there. There's 200 rare diseases and multiple large market diseases in the eye that we could target. We really felt that was an important area to be in. The retina is very stable, doesn't turn over, so we're going to get long term expression there. We were also interested in lung disease by aerosol delivery that had failed with traditional Avs. Historically there was a huge unmet need there and then IV to muscle and we started with the Heart because there was a partner, Pfizer, who was very interested in that as a target. We like that diversification of building products from three different vectors, three different routes of administration to really try to derisk the company overall. We've now taken five products into the clinic with these three different vectors. Sure enough, we're finding that some products are working incredibly well right out of the chute.

22:23
David Kirn
Others have had unforeseen challenges that have slowed development and we're overcoming those, but it's slowed development. I think that diversification has served us well.

22:40
Neil Littman
David, I want to talk about some of the results that you've seen in the clinic, but I do want to just pick up on a really important thread that you mentioned there, which I think is an ongoing debate within the biotech industry. This idea of developing a platform technology and a platform based company versus the asset centric development model of developing one or maybe two therapeutics and driving hard towards clinical data. Can you talk about it, but love to expand upon your thoughts around this notion of building a platform versus pushing a particular therapeutic fast to get to clinical proof of concept. How do you balance those two?

23:22
David Kirn
Yeah, I think these are all valid business models and I think it's just up to the entrepreneur innovator and the investors to all be aligned on what you're trying to build. I think one extreme is you're a platform company. You never develop your own products. You just are almost a CRO for other companies to enable their products. That's certainly not an unreasonable business model. That's never been very interesting to me because I'm a drug developer and I like to develop products and I think the upside of that model is pretty limited. On the other extreme is you see some companies where maybe they've outlicensed a product from Big Pharma or from a university and that company exists, just developed that one product or maybe two related products, but basically in that model, they're really experts in drug development in a specific therapeutic area and that's a reasonable business model.

24:22
David Kirn
It's high risk because you're kind of putting all your eggs in that one basket and if it fails, there's not much left. If investors and the entrepreneurs who start that company are all aligned and that's a perfectly fine business model. I personally have always gravitated towards the combination of platform and product because I like the fact that you're developing a platform that could result in many different products for different therapeutic areas while also having the value generator of products that are being developed that you own the rights to, that most investors are going to want to see, especially if you're a publicly traded company, they're going to want to see that you own the rights to some important products. I like that balance of a platform and product company, but they're all certainly reasonable business models.

25:17
Neil Littman
David you mentioned another really important point that I want to pick up on is that idea of owning the rights to your products. You've been very successful with partnerships over the years. Could you talk about, first that notion of balancing the partnerships versus giving too much away and then maybe just highlight a couple of the partnerships and some of the strategy behind those partnerships?

25:38
David Kirn
Yeah, I think why do we consider partnerships? Well, it's a way to get resources, certainly cash research support, financial research support. Sometimes it's expertise. The partner will have expertise in a certain therapeutic platform or a certain therapeutic area that's beneficial. Certainly they may have the ability to do large phase three studies and or commercialization in a way that a small company can't. Finally there's the validation as you're building a company. One really good way to validate your company and your technology in the eyes of investors is to have partnerships with important companies. When we started out, we had a Roche partnership, we had a Pfizer partnership, and this really, I think, was validating in the eyes of investors and helped us get significant investments as well as having the benefit of the partnership. Now, that having been said, if you want to build a big public company, you have to retain enough rights that you're still attractive for investors and attractive to a potential pharmaceutical acquirer down the road.

26:59
David Kirn
Because that's what drives your price in the public markets is really that idea that eventually you may get acquired by a large pharma and if you've given away too many rights already, then that's never going to happen. If you never partner, well, then you got to raise a lot of money and it's higher risk. I think I've always tried to get a nice blend of some de risking partnerships early on, but retain the rights as long as we can to the biggest value driver products. In our case, at 40 Mt, that's our large market. Wet AMD and Diabetic Macular edema product 41 50. We've retained the rights to that because we felt like that's a multibillion dollar market and that's something that investors and a potential acquirer down the road would be very important that we'd retain those rights.

28:02
Neil Littman
Yeah. David and just one more point on that, and it's probably a hazard from spending a lot of my career in business development, but as you think about retaining rights, there's all kinds of different ways to slice and dice that. Maybe you could talk about a specific experience that you have at Fordmt or maybe just general advice for biotech entrepreneurs out there is you can retain rights for specific products or for specific indications for a specific product or specific geographies. Are there maybe red flags that you would watch out for or is it very product specific?

28:35
David Kirn
Well, I think it's product and platform specific. What we tried to do with our platform is make sure weren't giving away too much. If were going to give worldwide rights to a partner, we wanted to make sure it was just for our vector with their transient payload. We didn't want to give away the disease target writ large because there might be new disease targets that come up later that we couldn't pursue if we did that. Likewise, we didn't want to sell or partner off the entire vector because we wanted to leverage what were doing with a partner and use that vector for other diseases involving the same tissue. We really tried to refine what their rights were to keep it as narrow as possible. Then, as you said, the other is geographical. The thing that we want to protect as much as possible for our large market opportunities like 41 50 and Wet AMD is that US market, that's at least 50% or more of the worldwide market.

29:40
David Kirn
If we can retain that but maybe monetize the rights from other regions in the world, that's another way to kind of thread the needle and retain enough value but still get do a big deal and get the resources from a large BD deal. Anyway, I think that's how I've thought about it over the years and sounds like you've had similar experiences.

30:06
Neil Littman
I have, yeah, a number of ways to slice and dice these deals. David, I want to circle back to some of the clinical data that you've seen so far. In February you announced updated interim safety and efficacy data from, I believe it was two phase one two trials in fabric disease cardiomyopathy. Can you talk about those results?

30:31
David Kirn
Yeah. We've released recently data on three different programs for 43 ten is our product in fabric disease cardiomyopathy. This is a disease where the leading cause of death is heart failure. The problem for these patients is they have a mutation in an enzyme that basically acts to clear toxins out of the cell. Since they don't have that enzyme, the toxins can build up in the heart and elsewhere and cause significant problems. The standard of care is to give very high doses of the enzyme into the blood every two weeks and that just really has minimal benefit and essentially no benefit on the heart. We designed 310 with a vector that we evolved to target the heart with relatively low doses that would be safe and effective IV. Were excited to report out recently that the first three patients that we'd treated with this disease who'd made it out to a year had shown very significant improvements in their heart function and quality of life.

31:48
David Kirn
Even by imaging showing that we cleared out some of that toxin substrate out of those cells by expressing the enzyme there, we also reported biopsy results showing a high level expression from our vector throughout the heart tissue and expressing that enzyme to really cure the cardiomyopathy. So, early days, but very exciting proof of concept for that program.

32:16
Neil Littman
Yeah, no, that's very exciting. How do you think in general about the regulatory pathway for some of your clinical candidates? This a traditional phase one through phase three pathway? Are there specific designations that you can take advantage of, such as RMAT or others for accelerated approval? How do you think in general about a regulatory strategy for these types of products?

32:42
David Kirn
Yeah, I think the regulatory path is driven more by the disease indication and the current standard of care, more so than the particular therapeutic modality. I think FDA says, look, I don't care if it's an enzyme or antibody or a small molecule. Clinically, here's what matters to patients and here's the unmet need. We go into certain populations, such as, say, choroid armia in the eye, where this is uniformly blinding, there's no available therapy for those patients. We think about, hey, is there an accelerated approval pathway where we could choose a surrogate endpoint that's reasonably likely to predict for clinical benefit long term and get to the market very quickly, even potentially with a single arm study? Conversely, for something like wet AMD, which affects millions of people in the US. Elsewhere, and where there are pretty good standard therapies today, that's one where we're going to need two large randomized phase three studies to get onto the market.

33:57
David Kirn
I think it's really driven by the patient population and the unmet need and the severity of the disease outcome more so than our particular technology makes sense.

34:09
Neil Littman
David, why don't we actually that's a great segue to talk about patients. You've developed partnerships with a number of patient advocacy groups. How do you work with these groups and how do you look to them to potentially inform clinical decision making, if at all?

34:27
David Kirn
Well, I would say if you want to treat rare diseases, which, again, are quite attractive as targets, working with a patient advocacy organization is an incredibly powerful way to do it. First of all, they know the disease and the impact on their day to day life better than anyone. Thinking about endpoints that you could point to that would be predictors of benefit, clinical benefit, they know better than anybody, and so they can really guide your clinical development. They have access to patients through newsletters and their website, and so you. Can get the word out about your clinical trials and help with recruitment. Many of these are quite well funded. The best example of this is the Cystic Fibrosis Foundation where we've been working together for over five years now and they put over $15 million into the company, some of it investment in the company and some of it earmarked for CF drug development.

35:38
David Kirn
They're sitting on an endowment of multiple billions of dollars. They can be a funding source as well if they agree with your technology and your therapeutic approach. These patient advocacy organizations can help in a huge number of ways.

35:58
Neil Littman
David, I've seen that firsthand when I was at the California Institute for Regenerative Medicine. We had patient advocacy representatives in almost everything we did. We had many patient advocates actually sitting on the CERN board. We had patient advocates as part of our clinical review process. And I think you are spot on. They have such deep expertise in their disease area that they bring a tremendous amount of value. Circling back to the earlier conversation we're having around what you call the TVP or the TPP for a lot of pharma products, they have such a good they provide such tremendous experience in terms of how the product can be used and what they would want to use to treat their own disease. I think it's really invaluable and I scratch my head. I don't know why more companies don't engage with patient advocacy groups, but anyway, I'm a big advocate of that.

36:54
Neil Littman
David, let's switch gears and talk about the macro environment and how that may or may not impact your plans going forward. Clearly, the macro funding environment overall has been challenging. In biotech in particular, it's extremely challenging with a lot of companies trading at or below cash value. How do you think the macro environment has changed your plans for moving therapies through the clinic, if at all?

37:27
David Kirn
Well, I'd say that first of all, for entrepreneur innovators listening to this podcast, it's really important to remember there's a lot of things that are very challenging that you can control, that you need to be on top of, and then there's a ton of stuff you cannot control. You point out, rightly, that the macro environment can really impact your planning, your ability to raise capital, and those are things that can be pretty unpredictable. When went public at the end of 2000, were able to take advantage of the fact that tons of money flooded into biotech during the pandemic for a variety of reasons. We did an IPO that was oversubscribed probably 15 times and we raised $225,000,000 approximately. Fast forward a year later and even though we had hit every single milestone we said were going to hit, we raised 125,000,000 at about the same price as we'd been able to raise at the IPO.

38:41
David Kirn
Soon thereafter all of the stock prices, our sector went down dramatically due to macroeconomic forces. Also some read through from what other gene therapy companies had struggled with. That kind of paints a brush across all gene therapy companies, no matter how much you say you're different. I guess I would just say that you have to be ready for these swings. I think it's for me, the way I've addressed this is to try never to get too far out ahead of our skis. Even in good times, if we can raise the money, we raise it, but we don't up our spend. We try to keep it conservative, we try to keep a long runway because we just know that things can change. We try to have a diverse business model which could be more resistant to changes in the market with business development deals, for example.

39:42
David Kirn
I think you just have to have that constructive paranoia where you're ready for these things. We're fortunate that we raised money again. We did our IPO at the end of 2000, we raised money again in the fall of 21 even though the price wasn't very attractive. We got some pushback from certain investors and we said, look, we think it's smart to take money because we don't know what the future holds. Now fast forward, we're in a great position. We have cash out into 2025 so we can weather this downturn. A lot of other biotech companies that overspent and got ahead of their skis are going bankrupt and running out of money. Anyway, that's kind of how I think about it and I think we'll weather this storm. Biotech is cyclical, it'll come back and it'll be hot again at some point in the future. You got to be ready for these downturns.

40:36
Neil Littman
Yeah, no question. Actually, just out of curiosity since we're on the topic of your IPO, so as you mentioned that you completed your IPO at the end of 2020. If I recall, you initially planned to do an IPO in 2019 but instead decided to do another private round. I'm just curious, what was the thinking behind doing another private round versus going public in 2019?

41:01
David Kirn
The market just wasn't there. We weren't in the clinic yet and we thought there was significant interest in the company. When went to looking to do an IPO and we really asked the question can we do a high quality IPO that's going to raise enough money to get us out far enough to hit a number of value inflections, we just felt it wasn't there. As painful as it is, we felt it was better to pull that than to try to force an IPO and then have to be back raising money again in six months without incremental data. Fortunately, our investors that came in on our series A and B stayed with us and supported us and bought us enough time to then do a very successful IPO. I guess that's another learning that I have is it's very important to get the right investors into your company early on so you can weather those downturns and you can have a delay in a program and still survive, whereas if you have the wrong investors around the table, that's not possible sometimes.

42:23
David Kirn
Yeah.

42:23
Neil Littman
Actually, David, let's talk about that for a minute. I mean, as you said, finding the right investors and the right mix of investors is incredibly important. As you rewind back to the early days. Who were some of those investors? Were they all venture capitalists? Did you have some angel investors? It sounds like maybe you had some nondilutive funding as well. Could you talk about that mix that helped you create this successful entity that you have today, whether the storms get public, all of those things?

42:54
David Kirn
Yeah, I guess the topic that raises is who do you take money from and what are the pros and cons? Right? Because everybody's, it's an ecosystem, everyone's got a job to do, and there's trade offs for everything. In the case of 40 mt, I wanted to avoid early stage VCs if at all possible. It's not that those people aren't incredibly bright, they are, they're incredibly good at what they do. I felt that their model would be very much like, hey, let's try this product, and then if it works, we can always build a big company later. I felt that was way too risky. I'd seen that with other platform companies where investors come in, they've got a shorter term horizon, there's a downturn in the market, and all of a sudden they're killing all your programs except for your lead, and then you bet the farm on the lead.

43:51
David Kirn
And I really wanted to avoid that. Instead of going to early stage VCs, I went to foundations, patient advocacy groups and foundations, and also I went to pharmaceutical partnerships for the very reason that we wouldn't lose control and we could continue to diversify our product portfolio. So that's what we did. Were able to avoid early stage VCs. We did a large investment round with Pfizer leading it. Our series b was an institutional round, and at that point were able to bring in more crossover investors. These are the investors, as who invest in the last round or two of a private company and then invest in the IPO and bridge you into that public market. They're much less controlling, they are much less likely to change your plans. They're, they take less control at the board level. We got a great group of crossover investors, viking BVF, Janice Arrowmark, Kasden, who then stayed with us for three or four different rounds.

45:27
Neil Littman
David, I think that's so fascinating. I think that's a great lesson for all the biotech entrepreneurs out there. There's lots of ways to finance and build a company. You don't necessarily have to go to early stage VCs that might be a fit for some companies, but there are certainly other alternatives. So thank you for sharing that. David, I want to be cognizant of your time. I'm sure we can spend another couple of days talking about some of the details in your technology, but I want to wrap up with one final question I like to ask, and that's always around culture. I often don't feel like we talk about culture enough in our industry. It's obviously critically important to building a successful company. How did you think about the culture when you were building for DMT? Did you have a culture in mind that you wanted to shape and build, or do you really think it was a result of the hiring decisions that you made and a culture emerged from.

46:20
David Kirn
The people that you hired, very much the former. So it was very intentional. I'd been fortunate that I'd had three other companies that I'd founded and I consulted for more than ten different companies, so I'd seen a lot of different cultures and I came into 4D. In any company, I am a co founder on now, where I was very intentional about setting a culture and then hiring people that fit that culture and retaining the people and rewarding the people who fit that culture and moving out the people who don't. Because a culture can be polluted so quickly by just a person or two. You have to take it very seriously. I think the worst thing you can do is put the cultural statement on your boardroom wall and just ignore it, because then I think a lot of employees look at that as very hypocritical and look at it with a cynical view if you're not taking it seriously.

47:27
David Kirn
At 4D we set out with an explicit culture. We hire for it when we evaluate people throughout the year, we evaluate not just on whether you hit your goals, but how are you performing according to the corporate culture and guiding principles. We find that really reinforces the principles. Every time we're at an all hands meeting, when we call out somebody for doing well, we link it to a guiding principle. Our guiding principles are as follows one was Dare to Cure. We really wanted to have a mindset where were not looking for incremental improvements, but really transformative therapies. I think that takes a certain amount of guts to think big like that and take those risks. So one was dare to cure. The second was breaking boundaries. We wanted people who thought differently and just didn't do things because that's how they've always been done. We felt that was essential.

48:30
David Kirn
Relentless preparation and execution is our third guiding principle. That's just all about you can't prepare too much for an important presentation or an important negotiation or an important meeting with the FDA. And so we're really relentless about that. Our fourth guiding principle is beyond yourself and just keeping in mind that everything we do, it's for patients families, it's for our employees and teammates families to make sure they are supported and taken care of. It just ripples through everything we do. I think that's a fourth and very important guiding principle for us is beyond yourself.

49:23
Neil Littman
I love those principles. I think they're all extraordinarily powerful. So, David, I think we better leave it there. I would like to say a big thank you for joining me on the show today.

49:34
David Kirn
All right. Thanks so much, Neil, for having me. It's been great. Really appreciate it.

49:41
Danny Levine
Well, Neil, what did you think?

49:42
Neil Littman
I thought that was a really great and wide ranging conversation with David. We talked a lot about their platform for directed evolution, how that's different than what is being done today, why it's different, how it's more specific to certain cell tissue type things like that, which is, I think, incredibly exciting. I was just really fascinated with the story of how David built 4D from the earliest stage, the earliest days and earliest stages around, forming the company, licensing the technology, building the culture, ultimately taking the company public. And it's a long journey. They still have a long ways to go to get approved drugs. It's just that entrepreneurial journey I find endlessly fascinating. You heard David took, I guess what you would call maybe a slightly nontraditional path in terms of early financing for the company, going out to disease organizations for financing, striking partnerships for nondilutive capital coming in, as opposed to going to early stage VCs.

50:53
Neil Littman
We know drug development is very expensive. It was really interesting to see that he took a different path, and they've been very successful. There are a whole variety of different paths that are maybe slightly nontraditional that companies can take to build an integrated therapeutics company like what for DMT has done.

51:12
Danny Levine
There's a lot of interest in the industry today to develop vectors that can target specific cells and have other properties. You talked with David about their use of directed evolution. How effective an approach do you think that is to getting to ideal vectors?

51:32
Neil Littman
Well, it sounds like it is an ideal approach. You heard David talk about going from a billion vector capsid sequences throughout the process to selecting the one or two appropriate vectors for a given therapeutic purpose. That's obviously an iterative process that they've refined over many years. At the end of the day, the proof is going to be in clinical results. They have relatively early proof of concept in the clinic showing that their approach is working. Still early days, they still have a long way to go to get approved therapies, but obviously it is working. They have positive clinical data both around safety, around efficacy. Clearly what they're doing is working and it is different and it is really unique. It was really fascinating to hear David's perspective on how he went about building this platform and having multiple shots on goal with several different assets with different delivery approaches and different indications and how that served to derisk the company overall.

52:44
Neil Littman
I think that was just a really fascinating conversation.

52:47
Danny Levine
Well, that is a challenge that companies with these broadly applicable platform technologies face. How do you think about the balance that four DMT is striking between being a platform company and being a product company, and particularly in the current financial environment where developing a pipeline can be limiting?

53:09
Neil Littman
Yeah, there's no question it's a challenging environment out there and entrepreneurs need to probably not have as many programs that they can finance in parallel. There's just not as much capital as there was two years ago, so you need to prioritize a little more. But I really like David's approach. Right. There is no one right answer. You can build a platform company and that is a business model and you can license out different technologies that come out of that to other companies that are then going to develop the resulting therapeutic. And that's fine. We've seen a lot of successful companies do that. Or as David said, on the far end of the spectrum, you could have a single asset to have tremendous expertise around that asset, that indication and drive really hard to make that work. We've seen lots of successful companies acquired for billions of dollars based on that model as well.

54:00
Neil Littman
David decided that for DMT, he were to thread the needle, have a basket of assets, have the platform, but then really pursue the development of these assets in different indications, with different delivery mechanisms and have that as the way to derisk. And so I really like that. Right, so it's the platform, but there are lead assets to prove the validity of the platform. So I like that approach. I really agree with that approach. I think that's really exciting. There is no one size fits all in the industry.

54:34
Danny Levine
You asked David about the funding environment today for DMT, raised the sizable amount of money through an IPO and then more in a subsequent offering. He talked about avoiding early stage VCs in his private rounds. Any lessons here for biotechs in raising and spending cash?

54:53
Neil Littman
Absolutely. I think the big takeaway is that there are a number of ways to finance an early stage biotech company. One does not necessarily have to go the traditional route of raising large rounds from traditional early stage biotech VCs to build a successful biotech company. You heard David go through his example and specific experience. And so I think that's really powerful. I can just echo my experience from Serum, where Cerm would provide, and I think still does provide up to $20 million of nondilutive funding for companies to really move into and move through early stage clinical development. I think Term now was funding up the phase three clinical development, but there are pockets of money out there beyond the traditional Biotech VCs that you can tap into, whether it's non dilutive funding from patient advocacy groups and organizations or places like Serum, or it's non dilutive funding from strategic partners, which you heard David talk about.

55:57
Neil Littman
I think my big takeaway is you have to be a little creative here and again. There's no one right path. It's going to depend on a lot of the nuances around what you want your company to be, how much control you want to maintain, and what your vision is for the future.

56:14
Danny Levine
Well, until next time.

56:16
Neil Littman
All right. Thank you, Danny.

56:20
Danny Levine
Thanks for listening. The Bioverge podcast is a product of Bioverge, Inc. An investment platform that funds visionary entrepreneurs with the aim of transforming healthcare. Bioverge provides access and enables everyone to invest in highly vetted healthcare startups on the cutting edge of innovation, from family offices and registered investment advisors to accredited and nonaccredited individuals. To learn more, go to bioverge.com. This podcast is produced for Bioverge by the Levine Media Group. Music for this podcast is provided courtesy of Jonah Levine Collective. All opinions expressed in this podcast by participants are solely their opinions do not reflect the opinion of Bioverging or its affiliates. The participants opinions are based upon information they consider reliable, but neither Bioverge or its affiliates warrant its completeness or accuracy, and it should not be relied on itself. Nothing contained in accompanying this podcast shall be construed as an offer to sell, a solicitation of an offer to buy, or a recommendation to purchase any security by Bioverge, its portfolio companies, or any third party past performance is not indicative of future results