Summary
On the latest episode of The Bioverge Podcast, Francisco Gimenez, Partner at 8VC, sits down with Neil Littman to discuss how his background in data science and bioinformatics shapes his investment approach and the potential to transform drug development with technology.

Francisco dives into the nuances of techbio vs. the biotech company creation model and touches on a wide range of topics from AI/ML to biomanufacturing.

Thanks Francisco, this was a fun episode!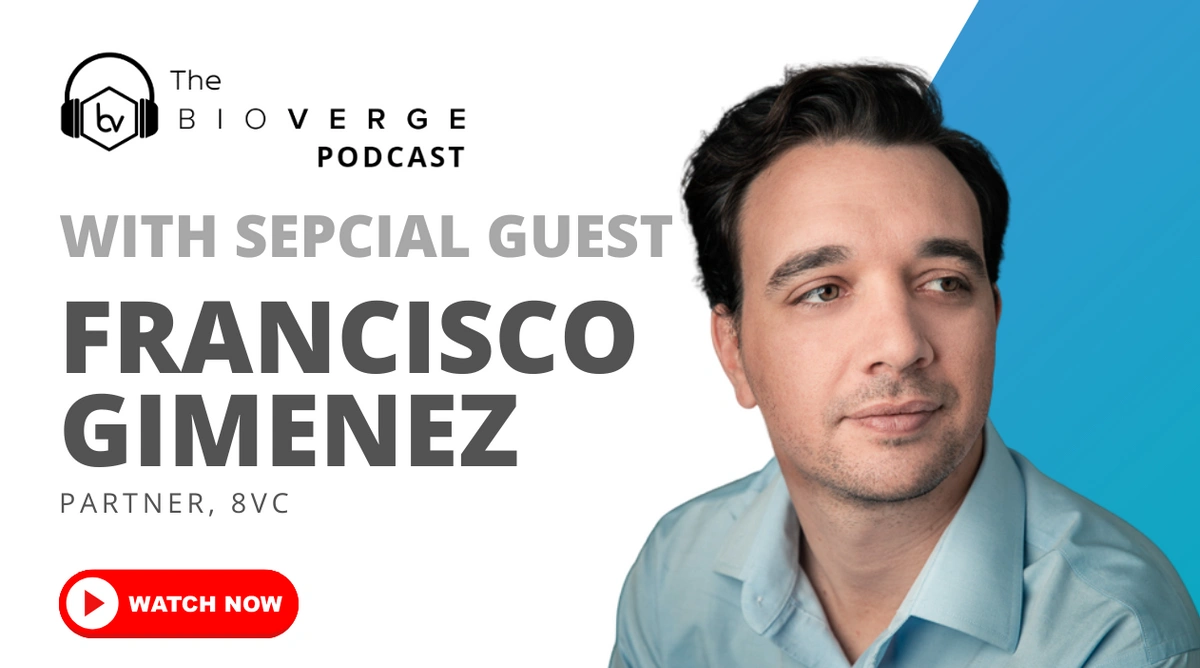 View on YouTube, here.
Listen on SoundCloud, here.

Listen on iTunes, here.

Listen on Spotify, here.
Transcript
00:29
Danny Levine (producer)
Neil. We've got Francisco Jimenez on the show today. For listeners not familiar with Francisco, who is he?

00:37
Neil Littman (host)
I am incredibly excited to welcome Francisco to the show today. Francisco is a partner on the investment team at Eight VC, where he focuses on BioIT, health, It and enterprise AI investment. Francisco was previously the resident data scientist at Formation Eight and was previously the founder of Cathyist Science, a data science consulting and recruiting firm that helped early stage companies build data science teams. He has a PhD in Biomedical informatics from Stanford, where he was a Ruth Kirsten Fellow and he was the commencement speaker for the Stanford School of Medicine. In 2015, he earned his BS in Electrical Engineering and Computer Science from UC Berkeley doing research in Parkinson's disease at UCSF. I'm incredibly excited to welcome Francisco to the show and talk about what he and ABC are investing in within the tech bio ecosystem.

01:33
Danny Levine (producer)
Francisco became a venture investor after living in the tech bio world. Before tech bio was a thing, he was working in bioinformatics. What's happened to bioinformatics during the past decade?

01:47
Neil Littman (host)
Yeah, it's a good point, Danny. I think Francisco was probably in the bioinformatic space before that was a sexy area. I am excited to ask francisco his point of view about the advances he's seen over the past ten or 15 years, because I know that when he was doing his work and he did a lot of work focus around clinical decision support for radiology. The technology has grown in leaps and bounds since when he was first doing it as a student. Really excited to get his perspective on how far the field has come, what the technology is being used for today, and then really what he is particularly excited about in terms of their investment thesis at eight B. C the different verticals they're investing in, how AI plays a role across these different verticals within Healthcare and some of the companies that they've invested in.

02:41
Danny Levine (producer)
How unusual a path was his to becoming a venture investor and how valuably do you think his background might be in regards to making investment decisions?

02:52
Neil Littman (host)
Well, I'm sure his background colors a lot of his investment decisions, but there's no one way to get into the venture world. There are just lots of different paths for partners to get into the VC ecosystem. I think Francisco has a very specific niche based on his education, his interest, what he's done in the past, and I think that helps inform where he focuses as a partner on the investment team.

03:18
Francisco Gimenez (guest)
Right?

03:18
Neil Littman (host)
I mean, he focuses on, as I mentioned, BioIT, health, It, AI investment. Obviously his background is perfectly suited to those areas. I'm really excited to talk to Francisco today about some of the technology trends that he's seeing, some of the investments that they've made, and what he is most excited about for the future.

03:38
Danny Levine (producer)
What else do you hope me to hear from him today?

03:40
Neil Littman (host)
Yeah, I actually want to talk to Francisco about the tech bio ecosystem and how that compares and contrasts to traditional biotech venture creation, because I feel like Francisco probably has a pretty good perspective on that, and that's a topic that I'm just endlessly fascinated by. I really do want to reserve of time touch on that. Well, if you're all set, let's do it. Danny Francisco, I am incredibly excited to welcome you to the show today. Thank you for joining us.

04:14
Francisco Gimenez (guest)
Thank you so much for having me.

04:16
Neil Littman (host)
We are going to talk about your own path to becoming a VC, your investment approach, and how technology is transforming biotech. You earned your BS in Electrical engineering and Computer sciences from UC Berkeley and then received a PhD in biomedical informatics from Stanford. I'd like to start with your own journey and specifically what drove your interest in biomedical informatics.

04:40
Francisco Gimenez (guest)
Yeah. Let's start maybe at the academic side of things, but I entered into Electrical Engineering, computer Science at Cal. Honestly, it seemed like an interesting space, but I was 18, so I didn't know better and really liked the concept of AI, which in 2005 was kind of a non starter field. Spent two and a half years in undergrad doing school and would say I was mediocre at best in my schooling. I think it had a lot to do with the fact that it wasn't really applied in the real world. I enjoyed programming. I could do problem sets or whatever, but did not really see kind of a purpose to a lot of what I was learning. I was fortunate enough to be able to join a lab in my junior year. I took a semester off and I joined Christoph Bankowitz's lab at UCSF in 2008.

05:51
Francisco Gimenez (guest)
He was doing gene therapy for Parkinson's disease, where you'd basically put these rigs on people's heads to insert a needle into their brain to infuse in that very appropriate region of the brain, a viral vector to have some transgene that had a curative effect on Parkinson's disease, this crazy Sci-Fi stuff, especially in 2008. He had this need for bringing in computational talent. In large part. The lab was funded by Andy Grove, who was in that window of time saying that bio needed computers and they were doing everything wrong, and they brought me in to kind of help usher in that wave. I spent a lot of time doing everything from basic It work like fixing the printer all the way through from consolidating the information and data storage and servicing within the lab and then starting to build out. More tools for more reproducible analysis of the research where we're circling a whole bunch of things or registering MRIs to his typology images and whatnot.

07:00
Francisco Gimenez (guest)
We could do a lot of that with image analysis, which kind of fell within my AI purview. Really loved that, loved the work, loved the application, loved the purpose and came back to school and it was like I went from every class kind of being a box you check to graduate to kind of almost being like a buffet of things to learn to apply to this project. I was still involved with the lab and so I was so reinvigorated, honestly, and I'm so thankful to Chris for giving me that opportunity and did significantly better in school afterwards. More importantly, I was able to do some really cool research and write some publications that allowed me to have a strong application to Stanford. At that point I had been doing a bunch of imaging informatics and Stanford was really the foremost imaging informatics program in 2010.

07:56
Francisco Gimenez (guest)
I went to Stanford, I was very lucky to get in, I attended and again, it was kind of the same concept of AI in 2005, but Image Analysis in Medicine in 2010 was also kind of a backwater field because the tools weren't very good and the applications were nonexistent. I was again very lucky in that in 2012, obviously, Alex Net won the Imagenet Challenge and my field went from this very niche, under explored backwater of informatics to within by the time I graduated in 2015. One of the fastest growing areas of biomedical informatics, which was really funny to have that happen to me. My friends in gene editing who were using zinc fingers and taylons also had CRISPR come out the same year that Alex Net came out. Their PhDs went from kind of mediocrely obsolete to like very cutting edge. Overall it was a really good time to get invested and involved and excited about cool applications and spaces and then getting lucky in that a lot of the research and tooling in those spaces caught up to the interests and made those fields really large.

09:16
Francisco Gimenez (guest)
Graduated from Stanford in 2015 with my PhD and had been in venture kind of part time since then and went into Venture full time after that.

09:28
Neil Littman (host)
Francisco, before we dive into what you're doing today, your initial work as a student, really, and during your PhD really focused on clinical decision support for radiology, which as you said, was probably about ten years or so ago, how do you think AI has changed and evolved since when you were doing your initial work?

09:51
Francisco Gimenez (guest)
I don't think I can possibly overstate how much AI changed in the window of time I was at Stanford. It was literally overnight when Alex Net won the Imagenet Challenge with deep neural nets in spring or fall of 2012. My qualifying exams are basically you just answer a bunch of questions about the history of your field and you're supposed to know everything that ever existed in your field. My Qualifying exams were around December of 2012, so a few months after that. I like to joke that everything I studied for and everything I was questioned on, and my qualifying exams was already obsolete by the time I gave them because deep learning pretty much overtook everything. I got one question, my final question by Rob Tips Ronnie at the end of my Qualifying exams was asking me, what about deep learning? I kind of gave my perspective because obviously you're up close and personal, you've seen the stories, and a lot of that work came from imagenet, which of course was done at Stanford.

11:07
Francisco Gimenez (guest)
I had a perspective on it and I always made fun of neural nets. It's kind of like a joke model. There was work by Andrew Ing. He had this internal wiki to Stanford called Unsupervised Learning and Feature Learning, which he put out in 2009, which showed that people were starting to think about and always kind of thought it was a joke. By when we finally saw that data was pretty real, and it was like 25% lower error on Imagenet Challenge the following year, both an equally large reduction in error, but also the top five winning models were all deep learning models, when a year before, there was only one deep learning submission. It's akin to the story about like, the Fosbury flop, right, where everybody was doing the high jump in one way, I think, like head first. When Fosbury came into this really goofy way to jump over the high bar, it was both sufficient to win when he competed using it the first time, and necessary to win on all subsequent years.

12:23
Francisco Gimenez (guest)
It's like a singular point moment where everything changed overnight. One thing we to think about in BC I like to joke about is when has technology hit it? What technologies have hit their fallsbury flop moment where it's enough to win because it's so good, and then even to be able to compete, you have to do it that way in the future. So, yeah, it's tough to even describe. That was just for Image top five image classification. Of course, now we're looking at like generative AI and LMS and all this other stuff. Even then it was huge to see that change. You kind of knew that the world was going to change with all the subsequent applications. Majorly impactful, how it's impacted. Medical imaging is kind of the second part has been slower because anything with medicine and technology is slow. I like to think about that Bill Gates quote, which is, we overestimate what we can do in one year, and we underestimate what we can do in ten years.

13:30
Francisco Gimenez (guest)
Every radiologist kind of thought, this is dumb. The cutting edge ones were like, you're all out of a job, and everybody was really scared about losing their jobs to AI in the mid, like 2015 era. They all kind of have, like, said, we're not going to lose our jobs to AI now. I think we're actually getting to the point where the technology is getting strong enough to where it's being incorporated into fringes of clinical workflows and making its way more into more interesting clinical workflows. I like it when I see the nontrivial or non obvious application so everybody can think of a mammogram going in and having AI classify or detect whether or not you have cancer, I think. Nobody, unless they've been in a radiology reading room, would understand the value. That is optimizing hanging protocols to speed up readers ability to just look at images, or automating report writing with references within the images to sections within the images, or references within the report to sections within the images.

14:49
Francisco Gimenez (guest)
Those are the things that get the radiologist really excited. We're starting to see those kinds of interesting innovations start to hit, and I'm very excited about what the next few years holds for that transformation.

15:03
Neil Littman (host)
So, Francisco, a lot of great stuff to dive into there, and I love the analogy of the fallsbury flop, which I wasn't familiar with that term before, but I certainly know what you're talking about. That was just an incredible moment, I think, of transformation. Let's dive into that and let's get into your investment approach, some of the recent investments you've been involved with. Before we dive into the specifics, let's start from the 30,000 foot vantage point. Can you start by talking about your investment thesis generally at Eight VC as a firm, and then we'll get into some of the specifics around the healthcare and the life sciences.

15:46
Francisco Gimenez (guest)
Yeah, so as a firm, right. ABC has existed since 2016. We were the same team that was working together at Formation Eight, which has been around since 2012. I think that the initial thesis was essentially we didn't call it as such, but as vertical SaaS. At the time, Joe called it the smart enterprise. It was basically like there was all these consumer technology companies like Google, Facebook, whatnot? We had all the best technology but weren't the largest part of GDP at that moment. We had the major areas that were kind of untouched by technology. Once again, this is like 2011, 2012, or next gen technologies, like insurance, like in banking, health care, you name it, they weren't adopting these really innovative technologies. Joe's perspective was the next decade we're going to see this confluence of factors of like, cloud software, better databases, better ways to do analytics, better use of data to have these nonlinear increases in productivity of a company.

17:09
Francisco Gimenez (guest)
We need to be investing in companies that do that transformation, which now is very blossay because vertical SaaS is literally what everybody wants to invest in this software sector. I think we started opening up our Aperture to this notion of beyond just software and cloud software, but more broadly into when are there technological innovations that can transform large and existing facets of the modern day economy? What we're never going to be great at, although some people are learning about it, we always try to learn. What we haven't been great at is things like consumer tech or net new market creation systems. What we're very good at is understanding very large and unsolved problems in the world today and then mapping that to novel technological innovation and using that tech innovation to solve those big meaty problems. It's how Richard Hamming used to say the way you should be thinking about your research in his famous article you and your research was you have to know the top ten problems in your field and every time you learn something new, you test it against one of those ten problems.

18:34
Francisco Gimenez (guest)
That's constantly the way we're thinking is we have to know the top end problems in modern society and we have to constantly be staying on top of novel technology and seeing if it can solve one of those problems. It's really where does tech bring an advantage and novel technology bring an advantage to solving meaningful problems in the world today? One question that Joe always makes us answer before we start diving into a company is what's possible now that wasn't possible five years ago, that makes this company work now? If we can't answer that, then it might be an incremental type of company, it might be a great company, just not one that a VC should invest in, right? You can start a restaurant and have it be valuable or fast food franchise or something. That was possible 50 years ago, just as it is now.

19:33
Francisco Gimenez (guest)
You can make a great class flowing business, but it's really about what's possible now that wasn't possible five years ago. And that generally means technological drive. That's the broad spectrum of ABC and what's core to our DNA. Well, maybe I'll pause there and then I can speak to how life sciences out of that.

19:53
Neil Littman (host)
Yeah, that was going to be my follow up question. How does that thesis as a firm then apply to the life sciences and healthcare verticals?

20:03
Francisco Gimenez (guest)
Yeah, so basically our life sciences team is about 25% of the fund and it's the same concept. Where does technological innovation transform or solve the meaningful problems that we're facing in life sciences today? That comes in two aspects or two arms to our thesis. One is what we call the applications of the life sciences and the other the infrastructure of the life sciences. The applications are all the end products that come out of life sciences, R and D. Therapeutics is pretty much the major weight there. Diagnostics devices and other kinds of products that we apply to patients. The infrastructure of the life sciences is all the tools, services and technologies that we want to invest in that actually make R and D better, faster, cheaper, more productive. That's everything from early stage preclinical or even academic Rnd tooling systems like novel sequencers or single cell analytics systems through data management at the life sciences level.

21:22
Francisco Gimenez (guest)
Imaging data management, signal data management, genomics data. Management and analysis therein to clinical trials enablement better ways to run clinical trials which are the most expensive part of a drug discovery motion better tools to commercialize those and bring those to patients and then better ways to manufacture those at scale. Furthermore, it's kind of then we start overlapping with healthcare services and healthcare delivery, which my partner Sebastian does a fantastic job on. There's kind of a gray area between when does, say, Pharma and Life Sciences stop and healthcare services begin and there's cool stuff that overlaps in that area. All of that is what we would call the infrastructure component. Those are really cool because they feed in together. A great company that has great infrastructure enables novel biotherapeutics companies and if we're doing our job right, allows us to see into the future. Or like that old saying, the best way to predict the future is to invent it.

22:25
Francisco Gimenez (guest)
Our technology that we invest in the infrastructure side open up new areas of therapeutics or devices or diagnostics, we should be the first in line to figure that out. When conversely, our products companies, our therapeutics companies are encountering similar problems or teaching us about a space that we think there's huge inefficiencies in, we're very primed to think about infrastructural companies. The example of that is, for example, with a lot of cell therapy company investments, all of them universally have huge issues of manufacturing that's very expensive, it's hard to do. We have invested in cell therapy manufacturing companies. The more you invest in a cell therapy manufacturing company, the more you learn about cell therapies out there that need these technologies. You're more primed to think about great cell therapies to invest in. These circuitous or virtuous loops really help educate us. Overall, it's that it's these two arms to this notion of tech innovation, solving the life sciences, and that's solving it for patients through products and solving it through infrastructure and then having both of those components teach us about the other.

23:41
Neil Littman (host)
Francisco I love the synergy between those two arms that you just described. Let's go ahead and dive into some of the examples you just highlighted. One company that comes to mind when you're talking about manufacturing infrastructure is a company that you had a hand in establishing national resilience. Can you explain what resilience is and how it came about?

24:07
Francisco Gimenez (guest)
Yeah, so resilience is, like you said, it's kind of a broad spectrum biologics manufacturing network. It really came out of like January 2020 COVID of years. Right. Were catching up with Bob Nelson at Arch, and of course, he's incredibly well connected to the world and hyper paranoid about infectious diseases. He was very early on identifying the importance of COVID and the fear there. His intuition here was that if you looked at the first SARS outbreak before it kind of became a major outbreak, he was saying how so many countries were stockpiling vaccines and therapies for an eventual outbreak. If you realize that these things are really obviously we've seen since then how destructive to an economy an outbreak is. Every country is acting very rationally to want to nationalize any therapies being made on their soil for their citizens. And in the US. We did not have onshore manufacturing at scale of any of the technologies that were going to get us out of COVID And at that time, we knew, for example, Madeirana was working on a vaccine.

25:55
Francisco Gimenez (guest)
We didn't know if it was going to work. We'd also know that the fastest we'd ever developed a vaccine in history was four years. The only thing that was going to get us somewhere quickly was the mRNA vaccines. Bob was like, there's no way anybody can make mRNA vaccines at the scale we need today. He wanted to put something around some neural technologies he'd found. He was also thinking, this needs to be a tech company, or it needs to have components of software technology to integrate all of these different manufacturing sites. We want to kind of not just have mRNA, but also biologics, viral vectors, lenti, and all these other things. We should be able to manufacture all of these on US. Soil and have a robust and resilient system to do that, hence the company's name, national resilience. We had experience in building large companies like that, both from kind of the DNA that comes from palantir that is now at ABC, but also just because we invest in a lot of companies that look like this.

27:03
Francisco Gimenez (guest)
We worked with Arch as co founders to build this up, obviously raised a bunch of capital. It was a heroic amount of work by Bob and my colleague Drew and then put the pieces in place to make it look like a tech company, which is, how do we have digital be a very important part of this? How do we have R and D building greenfield technologies five years out while also being able to incorporate technologies today to kind of scale that out. That's what we put in place together. US kind of bring the tech perspective and bob bringing the infinite connections that Bob has in the life sciences world and was kind off to the races in terms of rolling up a bunch of facilities, bringing them into the resilience network and then having this distributed manufacturing network for the world, for the US. Broadening that to the world, which I think other people have seen and have wanted resilience to kind of clone itself in other locations.

28:12
Neil Littman (host)
I think that's such a powerful story and to my knowledge, a lot of what Resilience is doing is trying to bend the cost curve on some of these novel modalities that are being manufactured, selling gene therapies right. Hopefully being able to bring those to a larger patient population in the future. We could probably spend the rest of the show just talking about Resilience, but I do want to talk about some other investments that you've made and particularly about your thinking and deciding to back those companies. Feel free to pick anyone you like. I know you're also incubating a company now, so would love to learn more about what you're incubating now as well.

28:54
Francisco Gimenez (guest)
Yeah, there's a lot of companies in the portfolio, but I would say that's a great example of infrastructure. I think in therapeutics we've done a large amount of cell therapy companies and our perspective has been our immune system is composed of a bunch of immune cell types for a reason. We should be looking at each individual one of those cell types as its own company. There's going to be your standard CD eight T cells, but then there's going to be NK cells, there's going to be myeloid cells, there's going to be iNKTs, gamma, deltas, T regs. Our perspective was we wanted the people who were best able to tune and engineer each of those. That was kind of how we invested in that space is who did we feel had the most comfort making at scale, for example, Inkt or best tuning and targeting NK cells.

30:08
Francisco Gimenez (guest)
Like the former being appian, making Inkt's really beautifully senti, kind of having a lot of logic circuits that allow them to do NK cells, lyell kind of doing exhaustion free CD 80 cells or Jeff Bluestone at Sonoma doing Tregs. All of these were kind of luminaries in their spaces going after each of these individual cell types. All of that together is really exciting because each cell type kind of opens up its own series of possibilities to go after. So were really intrigued by that. Kind of on the infrastructure side, that's where all of these companies are so hard that we started saying salt air manufacturing is hard. We thought a lot about Synthego, who makes reagents for CRISPR and then also using those tools and Reagents for CRISPR to actually engineer the cells themselves. Like at the sort of academic sphere. What an interesting application and use of technology to have all the informatics and tooling to do precise edits on cells and just sell engineered cells to researchers, which is really fantastic.

31:22
Francisco Gimenez (guest)
Solaris building out a full cell shuttle to do GMP grade manufacturing of adoptive cell therapies and kind of building one of the most beautiful boxes I've ever seen, their cell shuttle to kind of do this at. Invested in Selino, who is taking advantage of their manufacturing system, really to focus and double down on reprogramming iPSCs somatic cells into iPSC state and then doing all the relevant engineering on those iPSCs to make them therapeutics, which is outside of the realm of what we think of as standard cell therapy manufacturing. Then, of course, resilience kind of doing a lot of the cell therapy manufacturing, but then also broad spectrum biologics manufacturing and partnering with a lot of these technology companies. Those are two major areas we covered a lot of ground in over the past few years and really have feel very strongly about our exposure to the universe.

32:29
Neil Littman (host)
Cell therapy is an area that's near and dear to my heart, given the time I spent at the California Institute for General Medicine. I, for one, have been really excited to see you investing heavily in the space and investing in the infrastructure to support a lot of these novel modalities, because we know that the infrastructure manufacturing tends to be a major bottleneck. It's been exciting to see your pace of investment in the space. I do want to take a step back, though, and look at it from another high level perspective. What makes an AVC investment in your mind? Without giving away your secret sauce, is there anything you look for in a company that might not be on a typical VC's checklist?

33:13
Francisco Gimenez (guest)
Yeah, well, I'm always happy to give away my secret sauce, because if somebody steals your ideas, that just means they're agreeing with you. We need more allies than enemies, especially when we're kind of looking at solving human health. I think the flavor of investments that we do is really, if I boil it down, is where is an engineering approach an advantage in the life sciences? That's kind of a question we ask ourselves constantly that I think we have a very great eye for understanding engineering approaches in the life sciences and understanding when they're truly differentiating and advantageous versus incremental. When we find a company where engineering is really a full change improvement in the status quo. That's what gets us really excited. Now, I'm using the word engineering in a kind of very fuzzy context because, well, we like to keep it that way. It does not mean computational drug discovery, which is kind of what everybody starts to spring to mind when they think about it.

34:31
Francisco Gimenez (guest)
I don't even. Think it reduces our scope tools or methodologies in particular like it does not have to use computers or robots or whatever. All of those things are enabling towards what I think engineering is to me which is process that's guided by fast iteration with monatomic improvement in each iteration cycle. I think that science is always about iteration but it might be over slow iteration cycles. It's a very binary frequently like can I prove my hypothesis or not? Should we throw bodies at the bench to kind of prove that out? Of course people need to try and try again. It's not to say there is an iteration but how do you do that at scale? Where does speed of iteration actually provide a competitive advantage? If you find and identify a space where speed of iteration is a competitive advantage in the life sciences you almost necessarily start using the tools that are evocative of engineers, right?

35:49
Francisco Gimenez (guest)
Robots, computers, data science, AI and all that stuff because those things speed up iteration cycles. If you were able to say to a scientist like you can do 1000 experiments in a week versus five how much better is your science? If they said moderately then that's not a space we're going to invest in. Still could be a very valuable space. It's just not something we're going touch because it doesn't align with how we think about building companies. I think a lot about John Boyd's work kind of in the Air Force when he conceptualized this notion of UDA Loops observe, orient, decide, act for fighter pilots which is the four step process a fighter pilot has to do before every action they make. Coming to the very clean and neat conclusion that you'll probably win in a dog fight if you can run UDA Loops faster.

36:46
Francisco Gimenez (guest)
The speed of doing those iterations is the difference between life and death. I love looking at companies where they identify a space where speed is a factor of winning and then they figured out a way to go faster or iterate faster really. That's the core of how I think we approach the life sciences both infrastructure and therapeutics companies.

37:12
Neil Littman (host)
Francisco, let's take this one step further because a lot of what you've described this engineering approach to the life sciences is generally become what is now known as tech bio, I think in many instances. I'd love to get your thoughts on what you view as the similarities and differences between traditional biotech investing and company creation like what the flagships, the third rocks, the atlas of the world are doing and what you're doing at eight VC or even more generally what constitutes a tech bioinvestment particularly from a structural perspective. I'm thinking of things ownership details or even the age of the founder or things like that.

38:04
Francisco Gimenez (guest)
Yeah, I think the structural things are way easier to answer than the philosophical ones. I think Twitter is certainly kept interesting by traditional biotech like Bruce Booth fighting with one of the tech biofolks on Twitter, which is infinitely entertaining. I like the idea of like nerdy east coast, west coast rap feuds which is functionally what this sometimes feels like. Okay, so structurally though, I would say that your traditional VC firm that focuses on venture creation, your Atlas flagship Third Rock, Longwood, so on and so forth, typically takes a large I mean they're co founders of the company but also take a large lion's share of the captain upon founding because they are effectively the founders and operators of the company. Right? Frequently it's academic, really smart science, really smart paper, wants to stay in academia, they're outlicensing all their IP into these company, into these companies and then the venture creation together.

39:42
Francisco Gimenez (guest)
That's a fantastic model and it was born of a necessity back in global financial crisis. Obviously Genentech was the initiation of that. I think really institutionalized with those groups around 2008 and I think that's fantastic. The rate limiting step though is time and bandwidth and skill in those groups. We do venture creation as well. Like 25% of our fund is earmarked for building companies and back of the envelope you lose about a year of your time as an investor. I'll lose is probably the wrong way to say it, but you are spending a year of your time building a company versus looking at meaningful new deals. Everybody I've ever spoken to has done a venture creation thing in mixed funds, says about the same, it takes about a year to fully diligence the science, put that seed funding together, do the tech transfer, build the initial team and then capitalize it with a professional leadership team.

40:55
Francisco Gimenez (guest)
I remember talking to one person who said a major incubation that they did, they said doing this deal cost me four Series A's, which I thought was a really interesting way of putting it. The venture creation model, like I said, it's rate limited by how many good people they have in those firms and I think they generate really interesting stuff. I don't think they cover everything interesting that could be done. The Silicon Valley ethos is of course always moving more towards decentralization and permissionless innovation versus centralized innovation that requires going through existing hierarchies. That to means how can you empower this notion of founder driven biotech which is such a funny way to refer to something because we'd never called tech founder driven tech, it's just called tech. That's where people start companies and we invest in externally started companies but that necessarily means we'll have lower ownership stakes and we expect the founders to have high ownership stakes to make this their life mission and to be tightly financially incentivized to the success of the company.

42:24
Francisco Gimenez (guest)
That's what I think about the structure. If you just look at the cap tables of these two types of companies, you can tell very quickly where's a founder driven biotech versus a non founder driven biotech and where tech bio fits in. There something that we do is kind of a way to stick to the ethos of how Tech Bio is doing it, but still also allow us to build is giving a large slug of initial ownership to academic founders, but also expecting them. To be deeply involved in the company and not just sitting on an SAB at a distance and commenting every once in a while in a board meeting, but rather, they're going to be on our weekly calls. They're going to be commenting on the science. We will likely have sponsored research agreements with their labs to continue the innovation and then working with them.

43:16
Francisco Gimenez (guest)
Everybody feels deeply that they are tied to the mast of the ship like us. And I think that's been really exciting. Honestly a lot of the academic founders love that and wish that they had more of that as opposed to kind of having their IP tech transferred away and then kind of being forgotten in the company development lifecycle.

43:39
Neil Littman (host)
Francisco, you had mentioned that some of the structural items were a little easier to answer. I'd be curious what your perspective is on the philosophical differences. Can you comment on that?

43:54
Francisco Gimenez (guest)
Yeah, I'll go off the cuff here, but I'd say there is a model of venture capital that is super lucrative and super consistent in its returns in Biotech, which is essentially the official or unofficial build to buy kind of model of Biotech. That is if you view an exit of the company solely as being sold into pharma, you can end up hyperoptimizing for that outcome. I would say that's probably the and all the differences I think stem from that core difference is that when tech companies, not Biotech but tech companies build a company, they build a company that's supposed to exist in perpetuity as a standalone business entity. Right. The goal is to not have a last time founder in that they will never have to found another company. Larry and Sergey do not found other companies. They're not serial entrepreneurs. Mark Zuckerberg is not a serial entrepreneur.

45:25
Francisco Gimenez (guest)
They built something of lasting now that they're going to stick with forever. That is possible because they make money and profits and are able to stay alive in perpetuity. Biotech obviously is a big cash burning engine that because of both regulatory, cultural and healthcare system structures makes it almost impossible for you to take a novel innovation and take it all the way through commercialization. It's capital intensive, obviously taking somebody through like a phase three trial or something. Even if you had a commercial ready asset that's about $500 million just to build up the commercial engine, just to take it to market. That means that all of biotech kind of exists at the whim of pharma buying and externalizing innovation. If you buy into that thesis, the fact that even an IPO is just a fundraising event, but you're expected to hold until Pharma buys the company, then what do you do to reduce risk?

46:37
Francisco Gimenez (guest)
You go straight to the acquirers and you ask them what's on their shopping list, how much they're going to spend and how derisked it needs to be. All of the best venture creation firms are spending an enormous amount of time talking to CSOs of large pharma saying, what's important to you? What do you want to buy? How much do you want to buy it, and under what time horizon and how derisk does it need to be? Also saying, here's cool innovation, what do you think about this? Would you buy this? But that's the market. The market for biotech is pharma's buying biotechs patients are kind of a fundamental factor that goes into that analysis. Very few of the biotechs end up going all the way and going the distance. That means there's maybe 20 to 50 meaningful pharmas in the market buying companies at prices that would be meaningful to a venture fund.

47:39
Francisco Gimenez (guest)
If you really think about it, that means there's 20 to 50 chief scientific officers at large pharma determining every disease that we're going to cure for the next ten years. That's kind of insane. If you back into it, they're roughly like in my house, everybody who decides what disease we're going to cure for the next 50 years, for the next ten years. What you should be doing, if you're playing this game optimally, is getting very close to them and building what they want to buy that creates these structures and in groups and power dynamics that are highly centralized. Everybody will speak to the Boston in group and network and breaking into it and making sure you're at the right parties with the right people who have the right connections. Of course, if you come from Silicon Valley tech, if anything, that's like the anti thesis of requiring that you go to the right parties and meet the right people to have the ability to do innovation.

48:53
Francisco Gimenez (guest)
To me, the tech bioethos or core philosophy is that of permissionless. Innovation is that of let's start with meaningful technologies and think about where they can take us and which patients that they can cure. I'm not saying traditional biotech doesn't do those things or care about patients, but there's a lot of other factors to think about it financially. Really these are groups of people who are like, I found this really interesting science and I want to pursue it and leading with that science and really being in love with the science and moving it forward and bringing it to patients that manifests differently. It means that they're not raising 100 million dollar series a rounds to kind of spend on platforms. Right. There are frequently people in garages or warehouses kind of doing very cheap derisking experiments before they can move on to the next derisking event and raise just enough money to get into trials.

50:00
Francisco Gimenez (guest)
To some people that sounds scary. They really want that Crystal Palace lab and they want old gray haired folks designing trials. And I agree with that. We don't want to just be blasting a bunch of phase ones out with crazy science. I think that tech bio is saying there are more qualified people out there who can do this and there shouldn't be gatekeeping preventing them from entering it. So that's the core philosophy approach. I'm sure I've managed to probably p*** off almost everybody with that explanation, but it's my kind of analysis of it.

50:43
Neil Littman (host)
I think it's a great analysis, Francisco, and it's just so endlessly interesting to think about some of the philosophical differences and this whole new emerging genre of tech bio companies that didn't exist ten years ago, probably not even six or seven years ago. So I find it really fascinating. I do want to be cognizant of your time. We could literally talk for another three or four days about some of these topics I want to wrap up and just ask what are a few technology trends that you are most excited about over both the near term, but then also the longer term?

51:26
Francisco Gimenez (guest)
Yeah. From a biotech perspective, I think what I'm quite interested in, and this isn't a novel answer, but I think it still remains, is this large amount of excitement and CNS indications. We have a lot of reasons why I think the FDA has decided essentially to want to foster innovation in that space. However you feel about the efficacy or the other or the right to approve Aguanumab, it was very clearly a message to the world that the FDA wanted more innovation in CNS. We've now seen with Lacanumab and we'll see soon with Dunanumab. The Amyloid Beta hypothesis, which I think so many people had written off, is actually has legs. I remember I was talking to one CSO in one of our portfolio companies and he likes to reference the predator and says that Amyloid Beta having it's. Lacana Bab is probably not going to treat his Alzheimer's, but like the predator, if it bleeds, we can kill it.

52:50
Francisco Gimenez (guest)
Has given a lot of excitement towards approaching Alzheimer's disease. I think you add into that the fact that iser is actually coming up pretty favorably with costbenefit analysis of these treatments and also kind of gene therapies that are being used in the space. We have obviously a patient population that's growing older and is huge unmet need. I think there's a lot of really cool technologies out there kind of allowing for this in trial innovation, but also phenotyping of patients. I think that whole space is super exciting. It already kind of feels like Oncology did ten years ago when people really started to subsegment it and really go after it with a bunch of different modalities. That's an indication space I'm quite excited about in terms of enabling technologies. Again, this is maybe too traditional of answer, but a lot of the gene editing approaches are super cool.

54:02
Francisco Gimenez (guest)
Like CRISPR RNA targeting, CRISPR base editing, prime editing, all those things are kind of at the infancy, and we're just trying to figure out a lot of parts to it, but the tooling just opens up a huge area of excitement. I think the final area that one of my colleagues, Seth, has really educated the rest of us on is the whole concept of small molecule induced proximity. Protex having targeted protein degradation, but what else can we do with induced proximity, induced phosphorylation, induced methylation, and a variety of other things. I think the tech is there, and now we're kind of interrogating all the different biology that we can modulate with this concept of induced proximity. That's something that gets me really excited.

54:55
Neil Littman (host)
So many exciting areas there. Francisco, I think we better wrap up just in the interest of time here. If people want to learn more about what you're up to and what you're doing at eight VC, how can people learn more?

55:09
Francisco Gimenez (guest)
I wish I would say it's like there's reading a bunch of stuff, but we write stuff. It's mainly internal or like LV updates. We should be publishing more on our blogs, and we kind of suck at Tweeting, honestly. Meeting with us, really, we do try to meet as many people and have a large surface area and throw a bunch of events and go to a bunch of events. I love throwing our ideas into the ether, but that means you're speaking into the ether, not listening. I think we gain a lot more by listening to folks and so love to have people reach out and teach us about their spaces and why they're excited.

55:53
Neil Littman (host)
Well, Francisco, I want to say a big thank you for joining me on the show today and a really fascinating conversation.

55:59
Francisco Gimenez (guest)
Awesome. Thank you all for having me and giving me the opportunity to speak into the ether, but with an actual audience, as opposed to kind of by myself in a basement. Yeah. Thank you guys so much.

56:15
Danny Levine (producer)
What did you think?

56:16
Neil Littman (host)
I thought that was a really wonderful wideranging discussion with Francisco. I mean, you heard about some of the companies in some of the areas they're investing in. I love the overall synergies between the two arms of their portfolio and how some of their infrastructure investments support a lot of the investments they've made on therapeutic side. From my days at Serum, a lot of the investments that we made were in the cell and gene therapy space, and the critical bottleneck was always CMC and was always manufacturing. ABC's investment in a company like Resilience or other companies that have some of the picks and shovels to support their therapeutic investments, I think makes a ton of sense. It was really nice to hear his perspective on that thesis. I, of course, really loved his perspective on the tech bio versus the traditional biotech venture creation model and the nuances there.

57:13
Neil Littman (host)
He just has a really great perspective on both the structural differences, but then also the philosophical differences, which is just really fascinating.

57:22
Danny Levine (producer)
How unusual is it to see a company take an interest in this infrastructure side like that while still investing in therapeutic side and its approach to leveraging the insights it gets from one to the other?

57:36
Neil Littman (host)
To my knowledge, it is fairly unusual. Most investors will have more of a focus one or the other. We see a lot of investors that maybe invest in the enabling tools and technologies and more of the picks and shovels and stay away from therapeutics, or we have another bucket of investors that only do therapeutics and stay away from some of the enabling infrastructure and tools and technologies. It was, I think, refreshing that Hvc does both because there's clear synergies between the two. I think the key is to have the right members on the team to be able to understand the diligence, vet those two different areas and understand how they support each other. It sounds like they obviously have the team in place to be able to do that. From a high level standpoint, it makes a ton of sense. In fact, Danny, a lot of what we did when I was at the California Institute for Regenerative Medicine was not only fund therapeutic development, but we also funded the infrastructure.

58:37
Neil Littman (host)
At CERN we had discrete buckets of funding for infrastructure programs and that were things like a network of clinical trial sites that specialize in the delivery of cell therapy and gene therapy clinical trials. We had relationships with folks that could help in the CMC department ind enabling studies. I think Serum has a new partnership, actually with Resilience to help in the manufacturing component. We recognized at Serum very early on the importance of providing the infrastructure support for therapies that we invested in, and a lot of VCs aren't doing that. I really like that Hvc is using that approach.

59:19
Danny Levine (producer)
In some sense, though, what you were doing at Serum was solving a problem that you recognized as a market need in another way. You can say that's what ABC is doing by looking at the problems the companies it's backed are facing, but is it making some kind of leap or is it looking at this as market intelligence?

59:42
Neil Littman (host)
I think it's market need. I think there's a common set of challenges and issues that companies that are developing novel modalities face and it's oftentimes in the CMC, in the manufacturing, in the world of regenerative medicine and cell therapy, it's often said that the process is the product and that's very different than the development of small molecules. There are critical bottlenecks and challenges that companies across the space share. If you can provide the infrastructure for one company to navigate some of these challenges and bottlenecks, it should scale to help other companies in the space overcome some of these challenges. There's a lot of nuances in that, obviously, but that was our thesis at Serum and we certainly saw it play out and it sounds like Hvc is using a very similar approach and they wouldn't be continuing the strategy if they weren't seeing it reinforce each other.

01:00:44
Danny Levine (producer)
He made this very cogent and disturbing contrast between Tech and biotech and the perils of optimizing a therapeutics company for an exit through acquisition versus his notion of what he called permissionless innovation. In the case of now tech bio companies, are venture investors focused on satisfying the shopping list of a handful of decision makers in a dozen or so firms to get exits, as he suggested?

01:01:15
Neil Littman (host)
Well, Danny, I don't have the answer to that question. I think it's a really interesting perspective and it is frankly terrifying to think that there's a handful or whatever, a couple of dozen folks that are directing the future of innovation within healthcare in this country. That is a disturbing way to think about the ecosystem and how new therapies are developed, what indications, what therapeutic areas warrant R and D dollars. I think in many ways, if you think about what VCs are in business to do is generate returns for their LPs. If you think about how to do that, it's through exits. Oftentimes, as Francisco said, an IPO is not the ultimate exit for a biotech company. There's a lot of value that could accrue once a company is public when and if it gets acquired by a large pharma company. There could be a lot of value left on the table if an investor exits too soon even though there was a liquidity event.

01:02:26
Neil Littman (host)
There's certainly a lot of dynamics at play here, but it was interesting to hear his perspective about they're not necessarily investing in the build to buy like the traditional biotech VCs are. I've got to believe, and maybe this is a naive perspective of mine, but I've got to believe that everyone at the end of the day has the patient in mind and has the patient best interest in mind. We're all working to build new therapies new tools that will enable the development of new, potentially curative and life saving therapies and I think as long as we keep that in perspective, how you get there almost doesn't matter. The point is that we need to collectively get there. I think that's how I would tend to think about it.

01:03:19
Danny Levine (producer)
Well, until next time.

01:03:20
Neil Littman (host)
Thank you, Danny.

01:03:24
Danny Levine (producer)
Thanks for listening.

01:03:26
Speaker 1
The Bio Verge podcast is a product of Bio Verge, Inc. An investment platform that funds visionary entrepreneurs with the aim of transforming healthcare. Bio Verge provides access and enables everyone to invest in highly vetted healthcare startups on the cutting edge of innovation, from family offices and registered investment advisors to accredited and nonaccredited individuals. To learn more, go to bioberg.com. This Podcast is produced for Bio Verge by The Levine Media Group Music for this podcast is provided courtesy of the Joan Levine Collection. All opinions expressed in this podcast by participants are solely their opinions do not reflect the opinion of Bioverge, Inc. Or its affiliates. The participants opinions are based upon information they consider reliable, but Neil Bioverge.com, its affiliates, warrant its completeness or accuracy, and it should not be relied on itself. Nothing contained in accompanying this podcast shall be construed as an offer to sell, a solicitation of an offer to buy, or a recommendation to purchase.

01:04:33
Speaker 1
Any security by Bioberge, its portfolio companies, or any third party. Past performance is not indicative of future results.