Over the past century, many previously fatal diseases have become almost entirely curable. However, the prognosis and treatments for end-stage organ failure are still bleak.
Chronic diseases lead to wear and tear in organs, such as the liver, lungs, kidneys, and more. Eventually, the damage builds up to a point where the organs stop working — at this point, patients currently have relatively few options. The current standard of care for patients with end-stage organ failure is an organ transplant. Unfortunately, the demand for transplants greatly exceeds the supply of organs.
When you check off "organ donor" on your driver's license, you are opting to make your organs available for donation when you die. What is often overlooked is that 99.7% of registered donors will be medically ineligible to actually donate their organs, causing a backlog of over 100,000 patients on the organ wait list. I addition, while over 90% of US adults support organ donation, only 60% have signed up as donors. Every day, about 150 new people begin waiting for a transplant, while 17 already waiting on the list will die.
Out of the organs needed, the highest demand is for kidneys. Chronic kidney disease affects 15% of all Americans. Over 700,000 patients progress to end-stage renal disease (ESRD), where the only treatment option is a kidney transplant or dialysis several times a week. Older adults with ESRD are a rapidly growing group and they have a mortality rate that is twice that of older adults with cancer. The US currently spends $35 billion each year, caring for ESRD patients.
At age 60, a healthy individual is expected to live 20 more years, while an individual on hemodialysis has a life expectancy of only 4 more years. If the patient is able to receive a transplant, the 5-year survival rate jumps from under 50% to around 80%.
Now, imagine finding out that you or a family member has been diagnosed with kidney failure. However, instead of having to go to a dialysis center every other day or waiting in the organ donation line for years, you're able to opt for an implanted biologic device that consistently operates in the background, much like a real kidney.
This is what the biomedical startup IVIVA is aiming to do: create an artificial, bio-identical, implantable organ that allows the patient to bypass the traditional treatment avenues. The technology will have the potential to impact hundreds of thousands of lives across the country.
For the past 50 years, no significant strides have been made in treatment options for ESRD patients. Now, IVIVA is introducing groundbreaking technology. The team's goal is to create a fully biologic, implantable device that does not utilize conventional dialysis and mechanical pumps or induce the fouling and fibrosis typically experienced by current implants. Essentially, they are creating the most biologically authentic artificial kidney ever devised, potentially eliminating the need for constant dialysis or a kidney transplant. This has enormous potential to significantly improve the quality of life and prognosis for patients.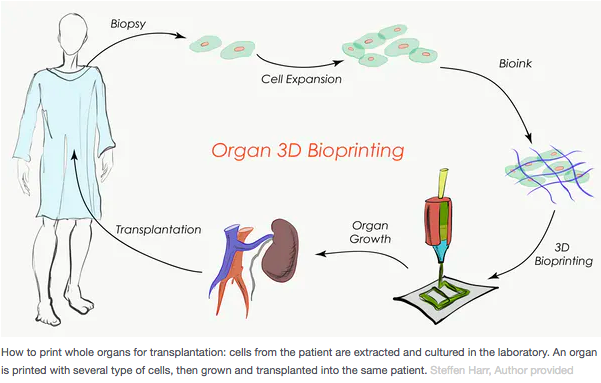 The team has already successfully tested their kidney prototype in a porcine animal model. They plan to start pre-clinical trials in two years for both their kidney and pancreas models.
IVIVA is led by a highly experienced team from academia and industry. The startup was founded by Dr. Brock Reeve, the director of Harvard's Stem Cell Institute, and Dr. Harald Ott, a surgeon at Massachusetts General Hospital and an associate professor of surgery at Harvard Medical School. Dr. Ott has spent much of his academic career working on organ engineering, before and after clinical organ transplants. Throughout his years working in the field, he has personally seen the devastating impacts of ESRD and the difficulties that dialysis patients endure. After working with one particular pediatric ESRD patient, he vowed to create a better solution and founded IVIVA.
With scientific advisors, including the Director of Organ Manufacturing at United Therapeutics, the United Network for Organ Sharing CMO (UNOS manages the national organ donation network), the Chief of Transplantation at Massachusetts General Hospital, the chair of regenerative medicine at the University of Southern California, and a senior Harvard bioengineering professor, the team is well-positioned to become a leader in this field.
IVIVA previously raised over $3 million from forward-thinking groups, such as AstraZeneca, Johnson & Johnson, the Department of Defence, United Therapeutics, and others. Bioverge had the privilege of participating in their most recent round, alongside such notable investors as Bold Capital and Prime Movers Lab.