Arvind Gupta, founder of IndieBio and co-lead of the engineering biology practice at the venture capital firm Mayfield, and Po Bronson, author and managing director and partner at IndieBio, sit down with Neil to discuss their new book Decoding the World, IndieBio, and the future of biotech.
Available on SoundCloud, here.
Available on iTunes, here.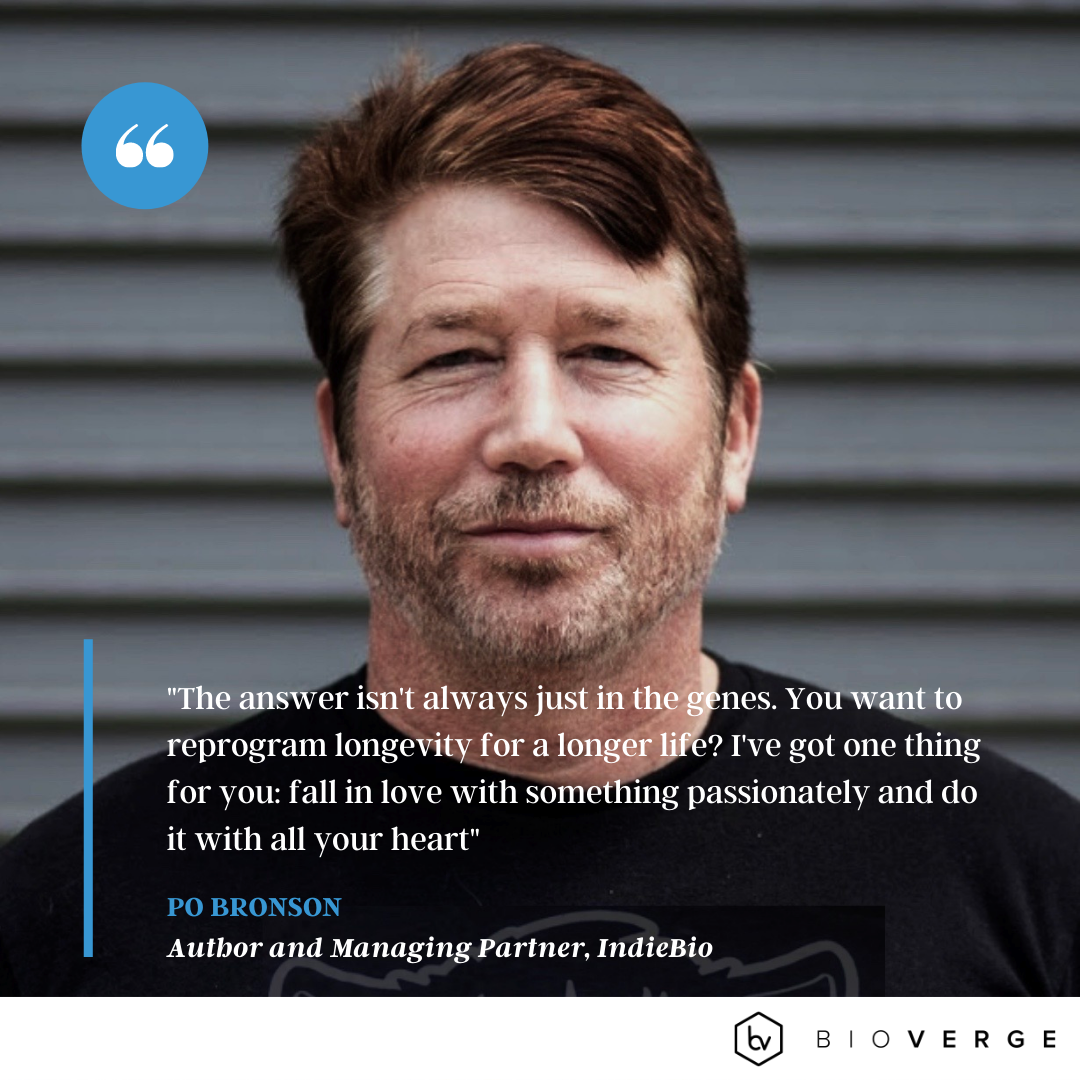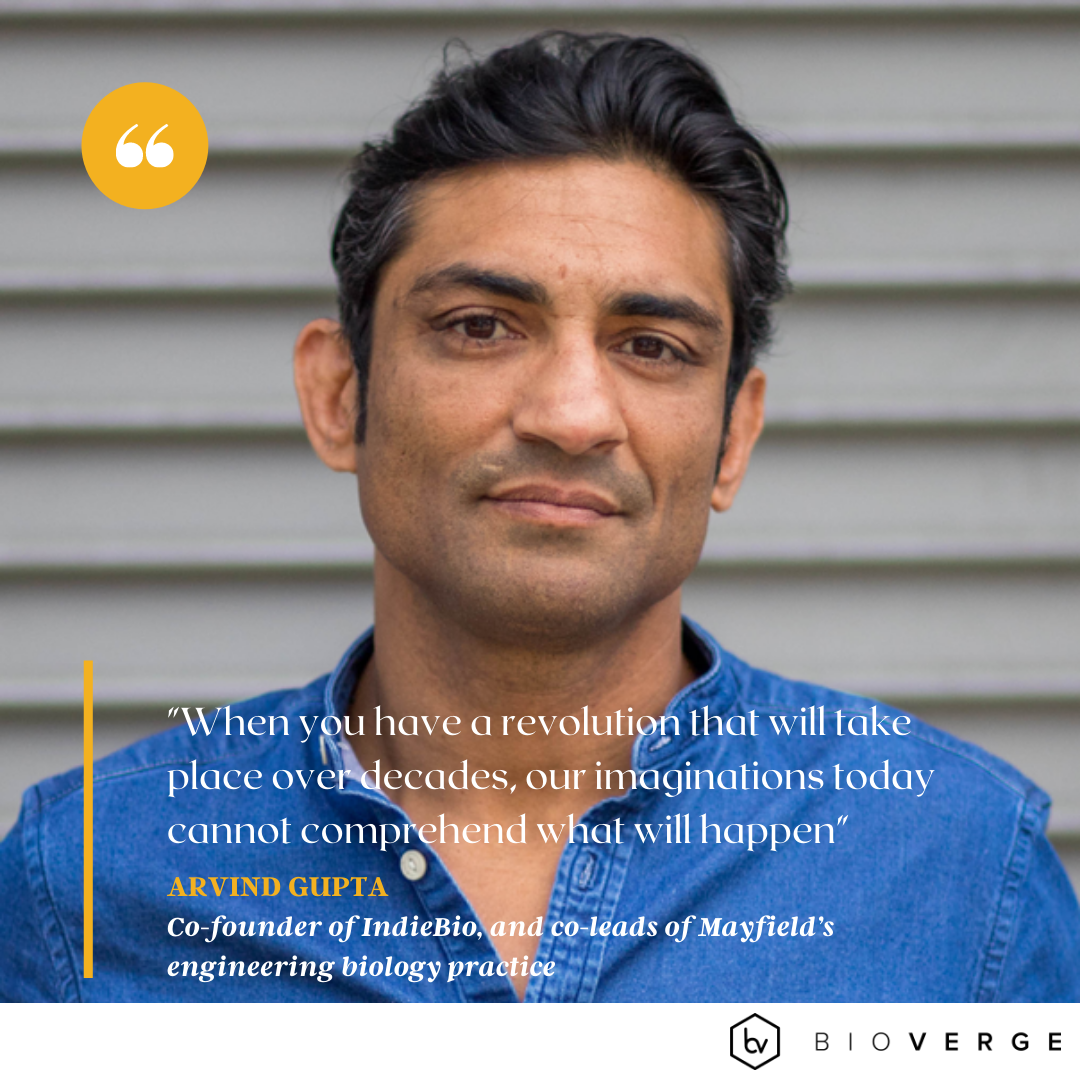 Full Transcript

Danny Levine (Producer)
Now this week we've got Arvin Gupta and Po Bronson. Gupta is probably best known as the founder of IndieBio and Bronson is probably best known as a journalist and author. What are they doing today and why are they here?

Neil Littman (Host)
Yeah, so today we're going to be discussing their new book, decoding the world, which is really their story of their time together at IndieBio. So Arvin is the founder of IndieBio, which is a biotech accelerator based in San Francisco. They have funded a whole wide range of companies, spanning companies that are utilizing biotech to solve fundamental problems in healthcare. In sustainability, in agriculture, they've made a lot of investments in, in food, for example. The whole revolution around, meatless meat, for example. Today is going to be a pretty wide ranging discussion. I think, around how biotech is applied to a whole host of different industries.

Danny Levine (Producer)
How do you think IndieBio change the investment landscape?

Neil Littman (Host)
I think they were very early pioneers in this idea of the young scientist turned entrepreneur. So when IndieBio first started, right, they, they sort of went up against the traditional biotech value creation model, which is essentially that, you know, VCs in the biotech industry would fund very experienced management teams that have, you know, experienced drug developers with 20 to 30 years of experience, right install their own management teams to sort of build, you know, of the old venture creation model, right. They they'd build a, a biotech business. What IndieBio has done is sort of flip that on its head and say, Hey, there's this whole new generation of young scientists, post-docs PhDs who really don't have access to venture capital, but have great ideas and are looking to bring their ideas to the commercial sector. So I think in many ways, IndieBio is sort of a rebel in their own, right?

Neil Littman (Host)
They found the contrarians or folks that wouldn't typically get VC money that tend to be maybe younger. I think it's just a really novel approach to funding biotech. I think a lot of this has been led by this idea of biotechs are now, faster and cheaper to start than ever before. And so I don't know if this could have been done 10 years ago, but it certainly done in, you know, since IndieBio has started where companies need hundreds of thousands or, you know, low single digit millions to race toward initial proof of concept that was never previously the case. And so I think IndieBio is certainly an early pioneer in this area.

Danny Levine (Producer)
And how does the book decoding the world relate to their work at IndieBio?

Neil Littman (Host)
Yeah, I mean, they talk a lot about the types of companies that they're funding at IndieBio in the book, they talk about longevity, they talk a lot about, you know, food tech, for example, they talk a lot about CRISPR and this notion of, you know, designer babies, for example, and how this actually is a misnomer and that's not actually going to be a future state that we find ourselves living in. So I think what the book does is it really takes this far reaching breadth of the types of technologies into IndieBio has invested in and talks about how it is. It is applied to a whole variety of different sectors and how that science fiction technology is actually here today. And, and how things are changing for the better based on some of this novel technology.

Danny Levine (Producer)
What are you hoping to hear from them today?

Neil Littman (Host)
Yeah, I, I'm hoping to hear number one, just a little bit about the origin story of IndieBio. I mean, how did Arvin come up with this idea when it seemed pretty out there, you know, many years ago and you know, many VCs were sort of running the other direction and Arvin really sort of embraced this novel model, both in terms of this concept of the young scientist entrepreneur, but also in terms of, you know, investing in, you know, food related, you know, biotechnology that wasn't really a thing when IndieBio was started. I think that's interesting, Poe has, vast experience in Silicon valley and the ecosystem. He's a very well-regarded journalist and writer. He appeared on the cover of wired. So I'd love to get his thoughts about the evolution of his thinking, what attracted him to IndieBio and what he sees in terms of, you know, his viewpoint on being a futurist and how that's being applied to it sort of biotech and what he's building at IndieBio.

Arvind and Po (Guest)
If you're all set,

Neil Littman (Host)
Let's do it. Arvin Poe. Thank you so much for joining us today. I'm incredibly excited to have you both on the show.

Arvind and Po (Guest)
Thanks for having us.

Arvind and Po (Guest)
Thank you so much for having us really appreciate.

Neil Littman (Host)
It. My pleasure. We are going to talk today about your new book, decoding the world, your accelerator, and the bio and investing in early stage biotech innovation. However, before that, I, to just start with a little slice of each of your backgrounds, so Arvin, maybe we can start with you. You are currently a partner at Mayfield, you coli their engineering biology practice. Actually even before we get into your background, could you maybe just explain to our listeners what engineering biology means to you?

Arvind and Po (Guest)
Yeah, so engineering biology is just a simple phrase that refers to the editing of life by all means. Traditionally people think about it as DNA using genetic engineering with introducing new DNA to a cell and having that cell do something new. As we've learned a lot more about biology, we're learning, we can engineer cells with electricity and other means. It really is this idea that we could make life do things that it couldn't previous lead do better and do things for us that improve our health, both for ourselves and for our planet.

Neil Littman (Host)
And I think that's such an incredible concept that really shows through a lot of what you've done at IndieBio. So prior to Mayfield, you were a founder of IndieBio. Before that I know you were the design director at IDEO in Shanghai, but really among many of your endeavors, something that jumped out to me is you wore, I don't know if you still already a base jumper. There's probably a lot of analogies we can make between base jumping and investing in early stage biotech. One of the things that really surprised me that I read in the book was the goal of base jumping is actually to jump from the lowest object you can, rather than the tallest for listeners, not familiar with base jumping. Can you explain why that is and why you don't search out the highest structures you can find?

Arvind and Po (Guest)
Well, yeah, I mean the higher the object, the more it's like a skydive. The actual, like jumping off El Capitan, which is a very 3012 foot cliff and Yosemite national park, which is illegal to do so I would never do that by the way, jumping off of that, basically, It's like a, it's like a skydive. I mean, my first skydive was at 3000 feet called the hop and pop. So, it, it's incredibly exciting from a visual perspective. You could see the cliff, why wait? Like when you go lower, people just don't understand that, like you can jump off 150 foot bridge. W w we call freefall that nowadays. And, and now, things with the advent of wingsuits, it's gone back to large cliffs and flying, but the goal is always to be in a beautiful world that you can't access another way in other ways.

Arvind and Po (Guest)
And, that comes from the relative visual that are happening as you're flying by a building or a cliff or something like that.

Neil Littman (Host)
I think that idea of that beautiful visual and, I think in many ways is a lot of what both of you have has focused on in terms of creating a beautiful world through engineering biology PO I think most listeners will know you as a writer and journalist rather than a venture capitalist. You're your most successful book was perhaps what should I do with my life, a book about people finding their true callings? What role did that book have in leading you to IndieBio and refocusing how you spend your time these days?

Arvind and Po (Guest)
Oh, that's a great question.

Arvind and Po (Guest)
Because right prior to writing that book, I had spent a lot of time, as on the cover of wired, I wrote for wire's contributing editor in New York times magazine, a wall street journal op-ed I covered tech and I left it to do that book.

Arvind and Po (Guest)
I, that I felt like Silicon valley, didn't really need me.

Arvind and Po (Guest)
I'd help, I'd help grow it into a phenomenon through how people conceived and thought about it, encoded a lot of the archetypes in which people brought to that world and is what should I do?

Arvind and Po (Guest)
I began a journey of how am I going to make all these things happen?

Arvind and Po (Guest)
Because the fundamental thing was I, as a person was publicly and artists, but I was always doing finance.

Arvind and Po (Guest)
I was always doing business building those just weren't part of my public life and built organizations.

Arvind and Po (Guest)
Elections became, I became a coach on so many levels to so many different people in our society of different types, from the highest of CEOs to ordinary people, to war fighters, to athletes.

Arvind and Po (Guest)
I wanted to make an impact on the world, not just write about what needed to be done.

Arvind and Po (Guest)
That journey was with me and with me.

Arvind and Po (Guest)
And I met Arvind maybe five years ago, and I came to IndieBio to write about the future medicine.

Arvind and Po (Guest)
And I had all these questions.

Arvind and Po (Guest)
I'd never seen anyone answer them so fast. And I walked out of her stunned.

Arvind and Po (Guest)
I was a fan of the new bio from the community, but I literally had in my head, I want to get to any bio someday.

Arvind and Po (Guest)
I didn't come from venture finance, get from other dimensions of finance, but I knew I could learn it been here about three years and have Arvin has been my mentor, an incredible teacher of the ins and outs of the VC world, just as I've been his mentor and, bringing the artist inside him out more publicly now,

Arvind and Po (Guest)
Any credible, it's really been an incredible, relationship that way and so much richer for it.

Neil Littman (Host)
And, and I think a lot of that comes through in the book. Let's dive into the book because decoding the world is a bit unconventional in terms of its format. Maybe I'll direct this question to Poe, given your experience as a writer, but how would you describe what the two of you were seeking to do in the book?

Arvind and Po (Guest)
Yeah, because, so you hear decoding the world's book about biotechs, about investing. You think it's a finance book and you think it's a say probably a book about genetics and in a way it is, but it has much more real ambitions, which is ultimately, can you write about science in such a way that it comes all the way around the circle and actually turns into art and interning are just like this bio verse podcast. We want to get science out of its silo, connected to people. We wanted to write a book that was integrating science into climate change, into what's going on with AI and robotics and integrate that science into pop culture and a long history of philosophy. This book has chapters on Camou and Kafka and nature that tie science into it. Were looking for kind of exploding into a unique fractal, this continuity between science and the rest of the world.

Neil Littman (Host)
Paul, I think that is exactly what struck me the most about the book. Just how far wide ranging the topics you cover are and how many aspects of our lives biotechnology touches and can be utilized for. I think that was the, really the number one takeaway. And I guess, you know, Arvin, I'll direct this question to you, but to what extent do you think that far reaching aspect of how biotech can be applied, reflects the world that you set out to create at IndieBio.

Arvind and Po (Guest)
I mean, I think it's really coming to fruition, to be honest. We're just at the very beginnings of the revolution and it's something I've come to appreciate in the past five years is how long these ramps take, but how tall they actually are is they I'm sure to really appreciate that. They're far beyond any one person's imagination. I just saw a company that is thinking about reinventing, how we attract fish underwater to be more sustainable, who would have thought about that prompt. I certainly wouldn't have. I think, it seems like a small thing until you start to realize how many fish are being caught and the amount of pollution that's created. And, and it's just mind boggling what biology as a technology can reinvent a poet. I did this math a few years ago and realized it's a hundred trillion dollars of industry that needs to be reinvented.

Arvind and Po (Guest)
If we are going to save ourselves from the five Earth's trouble, which I'll let Poe describe the fiber problem.

Arvind and Po (Guest)
Yeah. The five earth problem, you'll see this in every startup pitch deck.

Arvind and Po (Guest)
It's like, how are we going to handle the fact that there's going to be 2.6 billion people more on the world by 2050?

Arvind and Po (Guest)
I laugh because it was like, that's a small percentage of the actual problem. Cause the actual problem is that wealthier countries consume massively more of the world's resources than impoverished companies. There are 145 million people joining the world's middle class every year on this planet. There was a massive conversion to 3 billion people joining the current 1 billion people, living at a Western channel, living around the world. What that's going to do is four X, the demands on the planet not go from 7 billion to 9 billion, which is a 20% improvement. We're talking about a four X challenge for all of the precious metals, all of what we get out of the oceans, all of what we get out of the forest for X in production that has to be reinvented for our condoms to stay on track. Our economy doubles around every 23 to 24 years.

Arvind and Po (Guest)
Conway global economy today is about a hundred trillion in the next 23 years. It's going to double again or with the movement party, even more than that. The incredible opportunity in sustainability, and this is the most important part for too long.

Arvind and Po (Guest)
We've talked about sustainable investing or doing things sustainably as a green premium as a thing we have to do.

Arvind and Po (Guest)
We didn't and is essentially being a tax on otherwise good business, but what Arvin were there and I were identifying was that there's a hundred not to say it's a tax to see it as an opportunity, a hundred trillion, do you want it or not? Okay.

Neil Littman (Host)
And I love how you both frame this is, it is a massive opportunity and the types of technologies that you have and continue to invest in through IndieBio are looking to take advantage of this opportunity and solve some of these sustainability issues across a whole variety of sectors. I do want to just take one step back and, you know, I Arvin I came across, I think it was maybe in another podcast in our article, a few stats from some of the, you know, IndieBio by the numbers. Essentially. Could you just give our listeners a sense of how many companies have gone through the program, how much funding they've received and following rounds, how much value has been created? Because the numbers are quite staggering.

Arvind and Po (Guest)
Let me tee you up. Let me jump in and tee up. Some of the Arvin may or may not know the exact numbers cause it's amazing. Cause I've been here three years and at the time Arvin had done 66 companies. It just, in that time, we've gone to 159 companies and we are an accelerator, but it's important to sound. We're part of a venture fund. We were longterm partners for our companies. They, we have 44% of our companies have at least one female co-founders, we're extremely diverse. Our companies come from all over the world, 36 different countries, extremely diverse. We have double the highest rate of getting to price, seed rounds of anyone else industry. The average raise coming out of any bio is about 2.6 million, but Arvin, you can talk about some of the signature companies and the value of they've created.

Arvind and Po (Guest)
Yeah. Some of the more famous companies like Memphis needs, perfect day Clara foods. These are all companies reinventing food gel tour. We have companies reinventing fashion, Miko works alginate others and construction Lynn Grove think they're making word without Trini is concrete without CO2 sequestering CO2. All of these companies together have now aggregated value of three and a half billion dollars, which is absolutely staggering. When you think about they came from nothing and these aren't, we didn't make these investments when they had already gotten a ton of market traction and someone else had figured out taking the risk. This is taking the risk on, from scientists in idea, help them with the business and the business model and go from nothing to something. From something to a company that potentially could change history. That's really, what's been done in the past, six years and it's just a thrilling thing to be part of.

Arvind and Po (Guest)
And, and, for me, moving to Mayfield, the whole goal is to continue being able to, to make this kind of impact and change, but with a lot higher dollars under deployment. What we can deploy per year is the actual goal. My real goal in the end is to subvert theories a and Sandhill road, trench of capital for startups in the same way we did for pre-seed.

Neil Littman (Host)
Yeah. And, and I, I love this, this line of thinking and the proof is in the pudding, so to speak, right? I mean, you guys are essentially bringing, Saifai to life, right? It's becoming science fact these days, and there's a tremendous amount of value that has been created. This isn't pie in the sky thinking this is actually happening today and there are real businesses being built. I think that's critical for our listeners to understand, I did want to , double click and dive into some, the breadth of diversity that you guys are investing in terms of, of founders. One of the key takeaways for me from the book was something I've actually thought a lot about. We, and we think a lot about at bio verge is this idea of, funding, the younger scientists, the scientists turned entrepreneur, right? It's the PhD student or post-doc, who's looking to build a business and not necessarily follow a career in academia.

Neil Littman (Host)
I think in many ways you've taken the traditional, biotech venture creation model, that typical biotech VCs follow, where they fund seasoned management team who have 30 plus years of drug development experience and flipped that on its head at any bio and , the best new companies will be led by the next generation of call them what you will, but rebel scientists, contrarians, pick your favorite term. But it's those folks that aren't getting funded by traditional VCs that go to IndieBio. Those are the companies that you're building supporting. Could you maybe talk about that playbook it's almost in my mind kind of applying the tech playbook to building biotech companies.

Arvind and Po (Guest)
Yeah. You're, you're absolutely right there. Your, your intuition serves you. Well, the whole point of building in the bio was that there is a huge number of people that are under leveraged that have incredible ideas are incredibly creative and haven't been given a chance and why haven't they been given a chance because there's few people with lots of capital that want to minimize the risk in deploying the capital. They give it to their friends and people they know, and people that they trust. To me, that fundamentally limits societies advancement because you just need, you need more people. There's no, there's no one group of people that's going to continue to be geniuses over and advanced society. I just have not elitist enough to believe that. What is the thing that's really holding everyone back, the ability to take risk. And so IndieBio was a way of refactoring the risk equation.

Arvind and Po (Guest)
That comes from my base jumping days. You don't have, when you're base jumping, you're not eliminating risk, you're mitigating it by refactoring it. And so, you know exactly the same. We built a lab, companies could come in, work in the lab to de-risk their science create product. We could help them build a business model. They go out on demo day showing a real company, not a project, which is what they were when they came in. That is, what's enabled a lot of this movement to grow.

Neil Littman (Host)
I've just got to ask one follow-up question. I mean, do you see this new model that you both are pursuing essentially in terms of democratizing access to VC for lack of a better way to say it? Do you see this co-existing with the traditional way biotechs are built or do you see this maybe consuming the more traditional way?

Arvind and Po (Guest)
I think it's both. I mean, while this has been happening exploding, what Arvin did, and there's now a lot of other organizations taking the model and reproducing it everywhere, and we've never had more startups for more post-docs that then we're getting today, but it's not like the old model is somehow no longer operating. And, and I do think that they merge down the road, which is valued expertise and networks, and know-how in these industries is really valuable. It has to come into the companies, whether it's coming in at a CSO role or a CEO role or some part of senior management team, they do come in and they do blend down the road, but it is offering most importantly, a very different idea set when you democratize biotech, NVC, what happens is you get, yes, indeed Arvin and new bio. We created many incredibly wild drug companies, therapeutics companies, healthcare companies, but we also, people started applying it to all sorts of spaces that had not been applying it before.

Arvind and Po (Guest)
And that's what sort of IndieBio enabled when once you democratized it, the scientists saw opportunities that conventional traditional biotech didn't such as food, such as materials, such as energy, such as sustainability and planetary health entirely, such as pollinating, you know, saving the ball, saving the bees, like all these fields that people did not think of as the domain of biotech through this vector democratization, by reprogramming biology and engineering apology has led to disruption in all of the world's markets, not just therapeutics.

Neil Littman (Host)
And Paul. I think that's an incredibly important point. I think when Arvin, when you started IndieBio, right? I mean, you've talked about some of the, the, the food, some of the sustainability type companies you invested in. I mean, back when you started ND bio, that wasn't really an investible proposition back then, right. VCs would run the other way. Could you talk about your thought process, why you thought some of these other areas of applying biotech to war actually, or wasn't investable space, you could build sustainable and valuable companies when it seemed like everyone else was running another way.

Arvind and Po (Guest)
Yeah. I mean, well, first it didn't exist. I started in uBiome, nobody thought biotech was, could be applied to food other than making processed foods, or the way it was already applied. No one thought about biology was something was applied to anything except for human health in therapeutics, life sciences, equal therapeutics. End of story. The thing that got me excited with this, with my undergrad, David's when I was a genetic engineer and understanding that genetic engineering, like I was my degree in genetic engineering and understanding what genetic engineering could possibly do one day in its broad applications, just in the low nineties, it was incredibly slow and cumbersome by 2015, it had gotten super fast, very cheap. And, and there was a technology stack that looked similar to tech. It then took us a couple of secular trends, like broad reaching trends, like lots of postdocs, not having a job in academia, but being incredibly talented and, and creative and wanting to forge your own path.

Arvind and Po (Guest)
The other big secular trend is climate change. That is what's providing the chain, the change in consumer behavior that biology as a technology could provide solutions for. That was the big aha between batch one, two and three. That was like, okay, this is an entire category, planetary health to continue to dive into. And, if you look at batch one, it was almost all planetary health right away. So I think it was already there. Just no one had unlocked it yet.

Neil Littman (Host)
There's one recent example that literally just came across my LinkedIn feed. I don't know what batch this company was in, but I just saw something where micro works has partnered with our mez to create a, a mushroom based leather bag, right. Made from mycelium. Like that is incredible to me.

Arvind and Po (Guest)
And there were batch five, right? Like, so this is what I mean by the revolutions, take a long time to go. And, and they're the tip of the spear on the fashion side. This is a revolution that's going to unfold over decades, not year. Th that is the remarkable thing to me. When you have a revolution unfolding over decades, our imaginations today, including mine cannot encompass or comprehend all the things that will happen in the due course in the same way. Tim Berners Lee and everyone early in the internet could not have imagined all the things that have happened because of the internet, as a framework for communication.

Neil Littman (Host)
Absolutely. And, as we're thinking about out to future decades, I do want to circle back to the healthcare angle of things. There there's a lot of few chapters devoted to the concept of longevity based investments, at bio versus one of our interests as well. There's one particular chapter in the book called what's your purpose? Finding a sense of meaning in life is linked to our health. And just for our listeners. I just, I want to read just to two or three sentences here. Cause I think this is, is quite incredible. It didn't matter if you were rich or poor black or white, healthier ill across every cohort controlling for all variables. If you had a sense of purpose, you stayed healthy. If you didn't have a sense of purpose, you didn't stay healthy. It was more powerful for your health than exercising every day. It was more important than smoking or drinking.

Neil Littman (Host)
It was pretty much the strongest determinator of your future health. That is just incredibly fascinating to me. PO I think this was a chapter that you wrote. Could you, could you talk about this concept of finding your purpose and why it's so important to our health and overall wellbeing?

Arvind and Po (Guest)
Yeah. So, but I first want to assure listeners cause that's what you just described. Neil sounds like, sure. Whatever is that real science, 7,000 people tracked by the university of Michigan for over half a decade. These are all people slightly over 50 and they basically tracked them towards the age of 67,000 people. This epidemiology data. Now, deputy meteorology doesn't get much love these days with all we can do. We can do RNA seek, what do we need checkboxes from epidemiologists for? It was fascinating that it was such a fundamental driver and it questions, this what we're across the whole book. It's like a, book's got philosophy in it. It's got genetics, but like the answer isn't always just in the genes, the answer isn't just in the genes you want to reprogram longevity for longer life. I got one thing for you fall in love with something passionately and do it with all of your heart and you added 10, 20 years to your life.

Arvind and Po (Guest)
The book acknowledges addresses integrates the fact that science has insane, incredible answers to things you could not imagine they could do. We can replace all of our leather belts and all of our leather shoes with something we grow from a fungi, never thought of that, but the rest of life matters. The choices we make in life, no matter what we design our purpose for now, I will say this study did not tease out why that was. What was the, what was the mechanics of it? Where in ourselves is this sense of purpose where in our neuro-transmitters is a sense of purpose. Where in my veins is a sense of purpose. When my brain was a conception of your life, it was a mental state and perception of your life that somehow regulates everything going on in our body, rather than everything want our body regulates our mental frame and the chapter intimately, to be clear because this sounds great, right?

Arvind and Po (Guest)
This is tempting. We did something we've never been done in 300 years of people publishing books, we abandoned the chapter midway and called it a failed experiment because we didn't quite know where to go with this powerful information, but we wanted to share it.

Neil Littman (Host)
And I think it's incredibly powerful. And it actually jives with other studies. I've seen, I, I think actually David Eagleman wrote a book called incognito and he talks about a study of nuns brains. It was looking for signs of Alzheimer's disease. It showed that a third of the brains tested at autopsy showed signs of Alzheimer's. Cognitive tests had revealed that during the nuns life, there were no symptoms of the disease. The one determining factor was, did nuns have quote unquote, the sense of purpose and did they stay active into old age? I think what you highlight here, jives nicely with what that study. It's just, it's very, I think, powerful for folks to keep in mind, propo, you also mentioned in one of the chapters that, in many respects, humans are already optimized for longevity. Could you talk a little more about what you mean by that?

Arvind and Po (Guest)
Yeah. Thank you for asking about this, but like we're trying to use longevity to extend her life. Her live better, live healthier while we have it, but let's understand the starting point and let's understand why it's scientifically irrelevant humans. Like many of say the mice or the rats or the worms that we do. Longevity studies on. We have quite a fast metabolism for the early part of our life, but then we shift gears into a low and slow metabolism, which these other organisms we evaluate and science don't have. We live our productive, w w it's not clear evolutionary, why we're needed on the planet after the age of 50 at all. We have adapted to live in this phase and the model organs we use in longevity science don't have this. For example, a lot of longevity science has done on mice and they have a super fast metabolism.

Arvind and Po (Guest)
Doesn't seem to translate to humans. I would love to see a longevity study on bats because a bad is about the same size of mouse. It's got very similar systems has an even higher metabolism, but they magically, while a mice would live for two years, a bat can live for 40 or 50 years. That's already in optimized animal like a human. If you could make a difference in a bat, then you're more, maybe more likely to make a difference on a human.

Neil Littman (Host)
Yeah. I, and I think that's really interesting, right? Obviously there's lots of issues with animal models. I think clearly one of the issues of using bats as animal model is exactly their long lifespan. Are you going to conduct a 20 or 30 year study? It makes it challenging to produce any translatable results in a meaningful time period. But, but diving into this, just at one level deeper, you, you talk about Metformin as, a wonder drug. A lot of people have done a lot of studies. It is prescribed off label as a longevity drug magic pill, but you actually provide an example of how it counteracts some of the beneficial effects of exercise, for example, and how it may not be this , quote unquote magic pill. Could you, could you maybe talk about that? And then you also give an example. I believe of a company named mighta Nova who was doing things a little differently at IndieBio.

Arvind and Po (Guest)
Yeah, sure. I want to be very clear just to contextualize this, that I'm not a medical doctor. A lot of people were on Metformin. I don't want to alarm them. And, and Metformin largely is been fantastic for people off their biomarkers that said it's important to understand. There's always a trade-off in biology, no such thing as free lunch and extensive studies of Metformin have shown. Not that it's bad for you. No, no. It's not saying anything like that, but just that it counteracts the benefits of exercise. If you take Metformin and you get a lot of exercise, it's not that you're worse off, but then you're not getting as much benefit out of the exercise as you normally would. Exercise is ultimately better for you than Metformin. We, weren't attacking that with the mighta Nova product and we have a new one called panacea longevity.

Arvind and Po (Guest)
That's taking a different approach to help people. It gives people the benefits of fasting without having to fast. It basically is picking up the human metabolites are associated with fasting and providing them to you. We're always looking for different solutions around here that might've Nova product is not on the market. I don't recommend anyone going to try to look for it, but it does just both help us understand an important point here in longevity, which is that the longer you live, the likely you're going to get cancer every time your cells divide, you get of cancer, your cells proofread it, and hopefully we don't get cancer, but the longer you live, the more cancer comes along. You really have to be in anything that's going to work on long Jevity anti-cancer, everyone's taking antioxidants, but Antioch's has been associated with more cancer, like understand there's trade-offs look for the trade-offs, don't accept the idea that there's a free lunch or you'll be fooled.

Neil Littman (Host)
Yeah. I think that's a really critical point, right? There's always some trade-off I, I want to dive into a point around genetics and Arvind, that there's a chapter in the book where you have a great discussion. I think it was in a nail salon about this notion of designer babies. Can you first clarify for our listeners what we mean when we're talking about designer babies, and then can you talk about why you don't actually think that's a future reality? We're going to find ourselves living in.

Arvind and Po (Guest)
Yeah, I'm sure everyone's heard like about CRISPR and the first, next, the little next thing that people say, CRISPR babies, we can genetically modify. We can find anything and edit it. And, and of course our future is going to be all designer babies. What kind of horrifying future do we have? Again? Nothing is that simple. The, the truth of the matter is it's very difficult to edit specific genes in a large genome reliably without any errors and even more so. People are like, oh, well, what about this whole idea of sequencing are our babies? We could just choose which ones are the best, right? That's, that's what I hear. More sophisticated people like start to be talking about like, okay, fine. If we can't just edit our babies to be exactly what we want without it being risky. What if we could just keep pulling the jackpot handle until we see what we want.

Arvind and Po (Guest)
Right. It's, you know, it's hard to sequence. It's hard to sequence reliably where we really know what's in there because you have a limited number of cells. The way the technology works is you're actually reading a lot of cells and averaging across what you read, because it's not perfect. The, the reads that we're having. You, you make an average to get to an idea of what, oh, okay. Most likely it's a C not a T right. Well, when you've got one or two cells from the embryo or developing embryo, you don't have that room. How do to see her T where you normally would be averaging? So, the way it's done now is, well, you go get mom, dad, grandpa's DNA, and you're looking for very specific problems. Therefore you can use that supplemental information to understand what your actual risk is for a disease for your child.

Arvind and Po (Guest)
That is a very valid, high quality technique. To say, we can look for eye color using this technique, which is involving of genes, all that have extremely small, or even not understood ways of interacting with each other to actually determine your eye color is so far away right now that it's not sensical to even talk about as something that's applicable to designer babies, intelligence, all the things, all the qualities that we would want to design for what we call phenotypes, intelligence, creativity, these are all complex traits that, as oppose said earlier, you can't just find them in your genes.

Neil Littman (Host)
Yeah. I think that's a really interesting concept. I, I'm not sure if a lot of people understand the limits of DNA testing and polo, that there's multiple places in the book that you talk about this concept of DNA being the blueprint. However, that's not what actually determines outcomes, right. It's, it's translating or interpreting that blueprint and executing on that blueprint print is what really matters.

Arvind and Po (Guest)
Yeah. I would actually, I would actually say let's push that metaphor. That terminology a little different blueprint is not, it's really a machine shop with fabulous machines. Our body has 25,000 of these incredible machines now, which ones you use and how you use them. That's up to you as you live your life. So, for example, if you clone a cat, everyone would think we cloned the cat. It should look just like the other cat. Nope. You would think if you have the genes for dark skin or being plaque, if you didn't your genes, you would have dark skin or we black. Nope. It's whether you use the genes and whether you use the genes have G all these genes are turned on and off by other tools called smaller nays. Those are highly fluid throughout our bodies. We have more vastly, more smaller and AEs floating around our body.

Arvind and Po (Guest)
We have actual genome and they are little snippets from our genome that float around, but don't just float around from hours. People do 23 and me tests and it identifies, Hey, you may not have known, but you're 2% Portuguese or 1% Thai. When it fact you were also 5% eggplant and 3% celery. In why, because we exchange these small RNs, these machine turning on tools with the plants that we eat. When we drink a glass of milk, we pick up smaller and AEs that turn on and off our genes. Did you know that you can alter your gene expression by drinking a glass of milk? This is so fundamental to the core of understanding what genetic is it almost Eve averts the word code, the genetic code. Is it a code? Yeah, it's all in there and all comes off, but it's not deterministic the way we've always assumed it was.

Arvind and Po (Guest)
It's an if then system, it's a, if it gets hot, do this, if you go to high altitude, do this. If you get hurt, do this. If that doesn't happen, do this other thing. We ended up writing the lines like the environment is the greatest gene editor that nature and nurture are one in the same. It is how you nurture something or the environment you're exposed to that impacts which genes get turned on and off.

Neil Littman (Host)
That's incredibly powerful because cause we've been led to believe it's nature versus nurture. And, and you're reframing the question, which I think is really interesting.

Arvind and Po (Guest)
To be clear for 1% of people who have a particular, modern genetic trait that gives them a very different gene. And that's the only one they've got. They do suffer these health traits for sure. And, and there's people in my family with dealing with these situations, for sure, very intimately familiar with that, but that is a small portion of the people. Even the rest of the genome is still operating in this if then way.

Neil Littman (Host)
I think a lot of the advent of advances in gene therapy that we're seeing today, right, are targeting those types of somewhat rare monogenic diseases that are the result of a single point mutation, for example. There has been some success in the field there. And, and, Paula, there's actually another place in the book where you say that the future of gene editing gene therapy, isn't actually what the genes it's with. I believe you had mentioned M RNA and turning on and off the genes as opposed to editing the genome.

Arvind and Po (Guest)
Right? Most fundamentally we can control which machines are turned on and which machines are turn off and how often they, how active they are. And, and so we don't need to edit the genome to impact so much chemo. We have a company right now, just for example, they're a crop science company. People, it takes four years, five years to design a new crop. You have to figure out the genes and like, what can we just help the crops that are in the ground right now? Why can we help them win? When that cold snap came in mid February, came across all of Texas in the south and like San Antonio was drowning and snow, you think the $5 billion of rice that's grown in Texas was that was going to have a huge hit for that cold snap. You think they were like happy to wait five years for a new crop.

Arvind and Po (Guest)
We can just go, ModuLite the genes of plants in the ground. We can do that in our bodies too. In a therapeutic space, nucleic acid medicines, this is absolutely fascinating.

Neil Littman (Host)
Yeah. I mean, talking about massive opportunity out there that's certainly an area. I think there's a lot of, a lot of interest from investors. There's a lot of research going on. So I think fascinating. I have one last quote from the book that I'd like to share and that's that revolutions, aren't just zero sum. They reframe and reorganize the world along new lines. PO w with that, that quote in mind, what do you see in store for the future of IndieBio.

Arvind and Po (Guest)
IndieBio, the ivory basement, where we work is a way of thinking, yes, it's a community it's, we are here for the people who maybe aren't picked up by the rest of the system. We will always be, and we will be here for as a network to try to create and storytell and inspire an entire generation. That's what we really want. We want inspire an entire generation of people that stop thinking of say biology or sciences that silo, or, oh, I don't understand it. I don't want to do that. Like help understand what's happening here. As a generation, understand that biology, biotech is a domain that if you can go learn it, you can impact the world in so many ways.

Neil Littman (Host)
And Arvin, you had briefly mentioned this before, but what are your thoughts on how your new role at Mayfield is a continuation or a departure from what you built at IndieBio.

Arvind and Po (Guest)
Yeah. It's a, it in a sense it's a continuation and dispart departure, right? Well said, it's a departure in the sense that I'm focusing a lot more time and energy on fewer companies, but it's a continuation of the purpose and the change I want to create in the world, which is to extend this revolution across all of society. To do that, we need more companies working to not just get consumed by other established companies and then shuttered, but for these companies to grow and then shutter the incumbents. And it's hard. Why, because venture capitalists oftentimes are seeing a big paycheck and founders are seeing a big paycheck when their revolutionary company is being offered an acquisition by the incumbents to put it out to pasture. It's hard to say no to that. One of the things that I want to do is be able to help guide and build companies that are clear disruptors to the status quo and working more deeply with companies to do so, is one of the answers.

Arvind and Po (Guest)
I think by, leadership happens not by talking, but by doing, and if I can lead from Sandhill road, I'm sure that others on Sandhill road will follow suit.

Neil Littman (Host)
I, I certainly concur and hope that to be the case. How can folks, if they want to learn more about what you guys are doing at IndieBio, if they want to get in touch with you, if they want to find your book, how can people learn more.

Arvind and Po (Guest)
Well at any bio my email's on the website and go to the website, look, see what the companies are doing. It's amazing. Be inspired. I would say one most fundamental thing, which is that you don't have to be a geneticist or a scientist to come to a new bio. Our companies need marketing people. They need filmmakers. They need HR people, they need everything. We hope that people all domains see we're building businesses and business need everybody.

Arvind and Po (Guest)
That's right. For me, you could get a hold of me, my emails everywhere. It's, arvind@mayfield.com, you know, email me. I'm pretty, I'm one of the easier people in the world to get in touch with.

Speaker 7
Well,

Neil Littman (Host)
Arvind was a true pleasure having you both on the show today. Thanks so much for joining us.

Arvind and Po (Guest)
Awesome. Thank you for having us.

Danny Levine (Producer)
I really appreciate it. Now, these two guys are bursting with ideas. What did you take away from the discussion?

Neil Littman (Host)
Yeah, I thought that was a really wide ranging discussion and it was exactly what I thought would happen from the discussion. I mean, you can see that just the breadth of technologies that Poe and Arvind are involved at involved with investing in, and it's everything again from longevity based research and human health care to, D CRISPR and DNA testing to, companies that are using, mushrooms to replace handle leather bags and things like that. I think it's really interesting the breadth of how biotech can be applied to solve, fundamental problems, not just in healthcare, but really across many industries.

Danny Levine (Producer)
Still taken by Gupta is as a base jumper, but, a base jumper has a parachute. Well, they play in a high-risk pool of companies in many ways. IndieBio is about the risk and companies to attract investment. How do investors look at IndieBio companies?

Neil Littman (Host)
Yeah, I mean, I think that's a, it's a really good question. And I think in many ways, you know, IndieBio has become a sort of stamp of approval for many companies, right? So I think when any buyer first started people, weren't quite sure what to make of the cohorts coming out of IndieBio. I think given you heard Arvin talk about some of the proof points in value creation. I think that, that there are companies, if you look at the value of their combined portfolio of something in the order of like 3.2 billion, I think is what Arvin said, right? That, I mean, that's, that's massive value that have been created. So I think now when companies go through demo day, when companies have, you know, IndieBio as an investor on their cap table, I think in many ways it is a stamp of approval because you heard Arvin and poet talk about a lot of the things that they bring to the table.

Neil Littman (Host)
And, they're not investing in science projects, they're taking those ideas and they're turning them into investible businesses. Even at the end of the interview, you heard Paul talk about some of the available job opportunities with these companies, their businesses. It's not just scientists. They need people with, marketing expertise or HR expertise or whatever it may be. It's not just the scientists, it's all the business wrapped around the science that IndieBio I think is instrumental in helping companies create and build.

Danny Levine (Producer)
The other thing that IndieBio has been early at doing is embracing the full bio economy, understanding the potential for biotechnology to reshape the economy beyond healthcare, into food, manufacturing, energy, where are traditional biotech investors in that regard. I think.

Neil Littman (Host)
They're quickly coming up to the learning curve. You heard Arvin talk about this notion of, investing in biotech in food, for example. At that time, most VCs couldn't wrap their head around that. People just weren't doing that at the time. If you fast forward today, right now, it's a very common investment theme. There are, beyond meat is a, is a public company. The, there's, there's, there's publicly traded, companies in this space today and there's been a lot of value creation. So now it is an investible space, but it wasn't the case when IndieBio was first started. So, it's this concept of, I think sustainability. So, a lot of these things are, could have a dramatic impact on the environment. A lot of them could better for health in their own, right? I think in many ways, any bio was far ahead of the curve in this area.

Arvind and Po (Guest)
Until next time.

Neil Littman (Host)
Thanks too Danny.